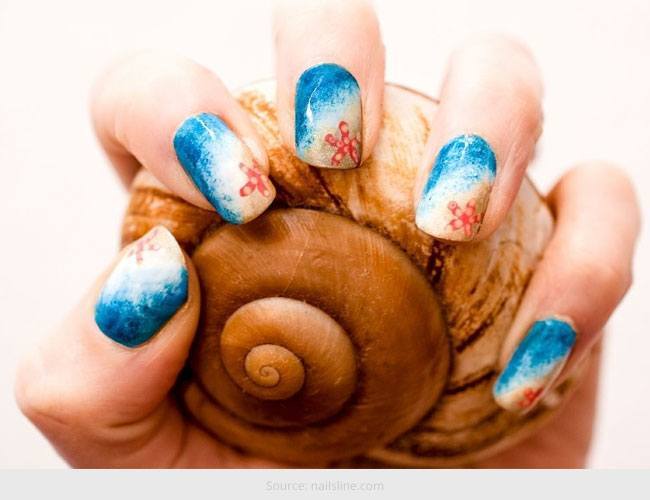 Catwalks to power walks are kind of incomplete without a pop of colour on the nails. Slip into your beachy top or asymmetric skirt and let your nails shout out colour, attitude and adventure the whole new way. That's because, nails are the biggest asset to a women's look. The long and slender they are, the more sparkling hot you look. Not to lose heart, as even short nails can look good. There are chic nail polishes and nail art designs for short nails, as well. Now that summers are staring at our face, brighten up the spirit with some ravishing trendy summer nail art that will make you look chic and mast!
The good thing going for nail designs is that you no longer need to adorn fake nails. Just let your nails grow at least a little bit so that they look fuller and natural. With summers screaming out aloud, there are plenty of inspiring nail designs to shut up the heat, or to bring in the heat (whichever way you take it).
[Also Read: 6 Summer Metallic Nail Art Designs You should Try]
Nail Art – Tips for Beginners
Alternate the Colours: Painting each finger with a different colour is sure to grab attention. It is simple and needs very less effort.
Effect Polishes: The market is flooded with various effect nail polishes such as crackle effect, croc effect, magnetic effect etc. You can use them to get a quick and a different nail look each time.
Water Decals/Nail Stickers/Nail Wraps: Again the cosmetic shelves in departmental stores have ready to use nail art designs like Water decals, Nail stickers and full nail wraps. It is easy for beginners, as instructions for applying these are generally mentioned on them.
Nail Art for you to try
1. Nautical Nail Art
Nautical nail designs hold good as beach nail art designs too. In summers, this nail art is done using bright pinks and blues. In order to create it, first decide on the two main colours. Then start painting nails with one of the colour that you choose. Subsequent to that, use thin stripes of the tape and place them on the nail where you want the base colour to show. Now apply the second nail paint all over the nails. When the nail polish has dried, peel off the tape and you will get the desired nautical nail art design. As a matter of fact, you can add roses, anchors or any other pattern to finish off the look.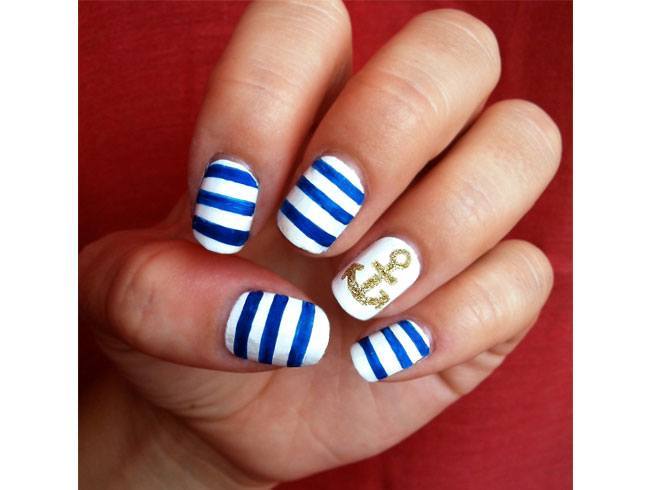 2. Palm Nail Art
Palm nail art designs are spectacular and the coolest nail art for summer, that can easily be done. Just start with a base coat and then using a fine brush make the contour of the palm trees. In fact, you can experiment with many colours in this design. You could alternately buy holiday nail art stickers just so that you get in the groove of the vacation season.
[sc:mediad]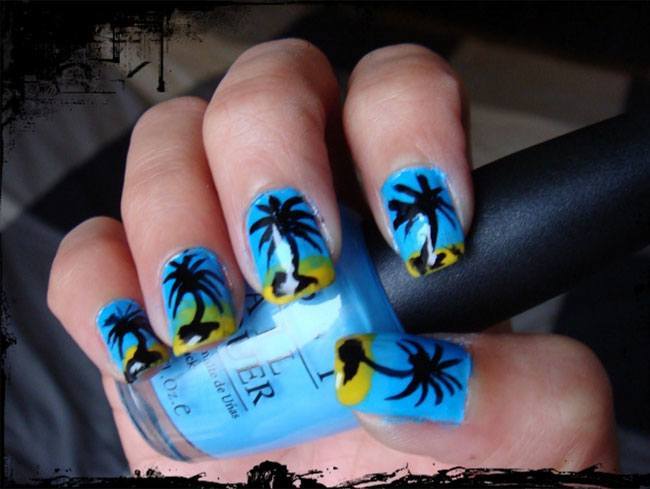 3. Mermaid Nail Art
If you are in love with water and plan to swim with the tide this summer, opt for mermaid nail art designs. They are unique nail art designs inspired from the mermaid tail. A perfect nail art for summer holidays. The procedure is the same as mentioned above, only the pattern is different.
[Also Read: Nail Art Tools]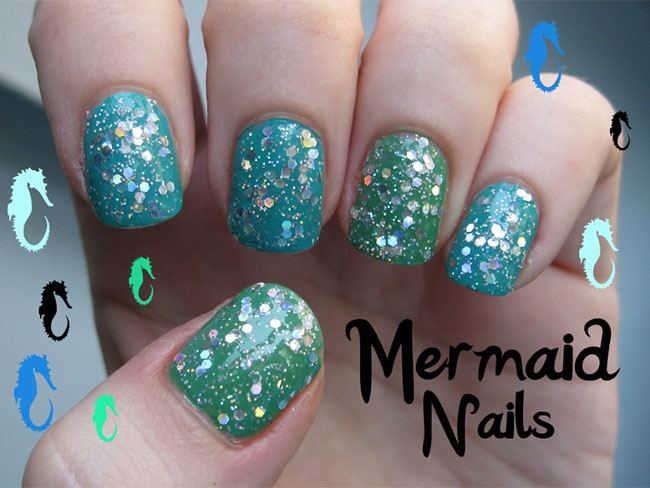 For more nail art designs, watch the video
Popular Nail Trends
The Sun has its ways in raising the mercury levels. However, the hottest and the bravest are the nail trends this season – neon, animal prints, florals, french manicure, rhinestone and a lot more. In short, there is everything you can imagine for perky nails as you can see.
[Also Read: Nail Art Designs]
[new_royalslider id="79″]