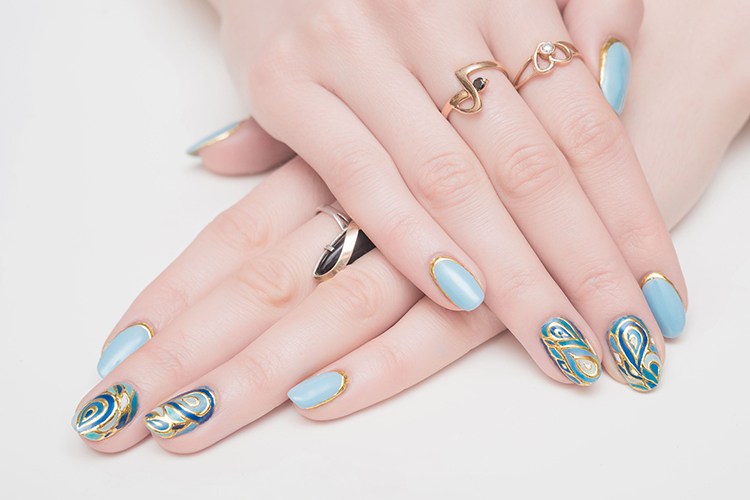 Nail art is one of the hot trends in the world of fashion. Girls are now showing up more interest in this on-going trend. They feel it more easy and voguish to upgrade their look by grooming their nails than spending time on digging up wardrobes to pick a particular outfit.
Here are some of the easiest and attractive nail art designs for your DIY project. You do not have to go for any professional's help to jazz up your nude nails.
To facilitate more, Fashion Lady suggests you top 10 nail art blogs.
If you've been hunting for latest nail art designs, manicure trends and some serious tips on keeping your nails beautiful and healthy, bookmark all those links we've suggested, as those popular nail art blogs are incredibly useful and replete with hot trendy tips for women of all walks of life and ages.
If you're a beginner having some vague and unfeigned ideas, say polka dots, in your mind or you're interested in recreating the looks you'd seen in fashion runways on your tips then going through a professional nail art blog is ideal for you.
[Also Read: Christmas Nail Art Designs]
Go through our top 10 picks of 10 best nail art blogs and get your fingers fired up for their next paint job.
1. Katrina's Nail Blog tops our list. It displays designs inspired by nature and every day art like song lyrics and floral designs. You can even go through the nail polish section where you can learn which brand or color is best to shop for.
2. Polish and Pearls seem to be more friendly. When you go through the girl-next-door blog, you'll come cross step-by-step tutorial on nail art for beginners and even professionals alike. From daisy nail art to polka dot art, you'll get all trendy designs in this blog.
3. Fleury Rose is a US based manicurist who has creations are often featured in Paper magazines, Teen Vogue and also on popular fashion runways. The artist is favorite among the Victoria's Secret angels.
[Also Read: Nail Art Designs]
4. Miss Ladyfinger gambled her forte on nail art and has taken into a full time job by translating looks from the runway to her fingertips. The artist readily decorates nails on fashion runways aptly matching the outfits.
5. Neverland Nail Blog is another great nail art blog which gives easy and amazing tutorials on creating light-hearted and funky nail art designs.
Here is an excerpt
[sc:mediad]
6. Let us tell you Get Nailed is an awesome blog which gives you tutorial videos on how to use nail stampers, creating the galaxy manicure everyone loves and much more. Besides, her blogs are also frequently published in all prominent fashion magazines like Huffington Post, Lifestyle Mirror, Glamour and MTV Style.
7. Nailed It is another superb blog whose designs are frequently featured on Glamour, and StyleList to name a few.  The Faded French Tutorial has been a huge hit. The nail art designer exactly knows how to play with colors and blend them to create a wow effect.
8. A visit to Chalkboard Nails blog would surely give you goose bumps on. This nail art blog is definitely one of the best blogs on nail art designs girls have been checking-out so far.
Here's a snippet
9. Copy That Copy Cat is an Australian based nail art blog which leases out the latest trends and nail paint products, whilst providing tips along the way.
10. The Daily Polish is one-stop solution for your nails if we are not wrong. They feature easy hot tips on manicure, tutorials on nail art, display their timeless nail art designs and also an Etsy store to shop around nail accessories. This blog is for someone who paints her nails as often as once a day is well versed in what it takes to have some great tips.
Another great blog for you
The Nailasaurus is UK based blog, featuring nail art designs and tips for girls looking for a modest budget in which they can get high-end manicures at dollar store prices.
My Nail Art Essentials
Sometimes it's hard to know where to start when you begin exploring the vast world of nail art and all the hundreds of tools and accessories that are out there to help you on your way. Well I've already done quite a lot of exploring and on my travels I've found a few gems which I'm going to tell you about today.
Hope this helps!