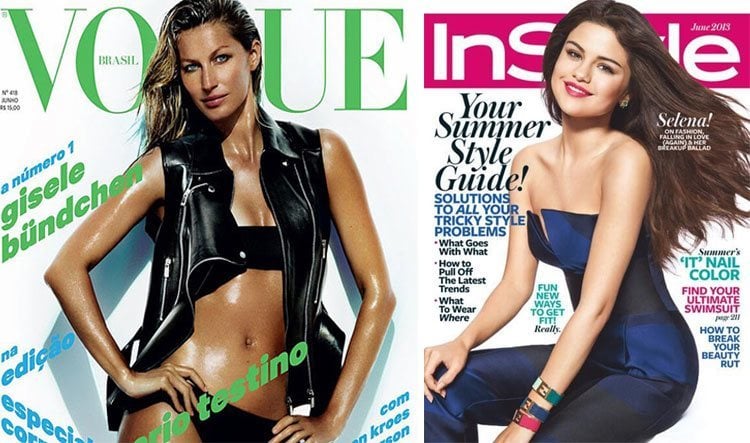 As of now it has become a trend, Fashion Lady is back again with the latest June 2013 fashion magazine covers. As a bikini-clad Gisele Bundchen poses exclusively for Vogue Brazil only two months of her post pregnancy, we take a look at June's other standout fashion magazine covers both Indian and global alike. Have a look!
Gisele Bündchen looks stunning in the cover of June 2013 issue of Vogue Brasil just two months after giving birth to her daughter, Vivian Lake Brady. The photographer, Mario Testinowas so much flattered by Bündchen's post pregnancy shape that he approached magazine's editor Daniela Falcão to call for a photo-shoot with more body-centric editorials for the issue.
June covers bring a dose of inspiration with their cool photo shoots of different celebs who have given some of their best shots. Celebs and supermodels alike cover the major fashion publications including Elle, Vogue, Marie Claire and Harper's Bazaar. The cover girls for this month include Sonam Kapoor, Kajol, Parineeti Chopra, Carey Mulligan, Sarah Jessica Parker, Cindy Crawford, Petra Nemcova, and many others. Continue reading!
The 28-year-old reality TV star Khloe Kardashian looks sun-kissed and pinup ready on the June 2013 cover of Cosmopolitan UK.
[sc:mediad]
Despite being constantly criticized for her weight all these years and not being able to fit to the Kardashian image her sisters have built before her, the star proves that nothing can hold her down, especially with hubby Lamar Odom by her side.
On being compared to her sisters
"I'm confident in who I am. I've always known that I'm not Kim and I'm not Kourtney – I've always been OK with that… I probably thought I was prettier before I entered the spotlight because being compared to somebody else every day does sort of beat up your spirit and soul. But it's made me stronger. I've gained another level of confidence."
They say the simplest things are always best, and it aptly suits the cover photo shoot of Solange Knowles for Complex magazine, which is among the simplest and most beautiful covers we've seen this month. On it, Knowles is seen looking directly up perhaps at the magazine's logo in front of a cool blue background.
Harper's Bazaar Spain covered Cindy Crawford for their June issue. Styled by Juan Cebrian the photo-shoot shows Cindy in a sunny California wearing designs from Roberto Cavalli, Michael Kors, and Vionnet.
Hope you liked it!