The color peacock green is royal in itself that always offers luxury feel to the wearer. While we have always tried to offer the best of the latest collections, this year on the eve of Asthami, we offer you an array of beautiful ethnic wears in peacock green to mark the 8th day of Durga Puja that is considered to be the most auspicious of all the 10 days of Dusshera.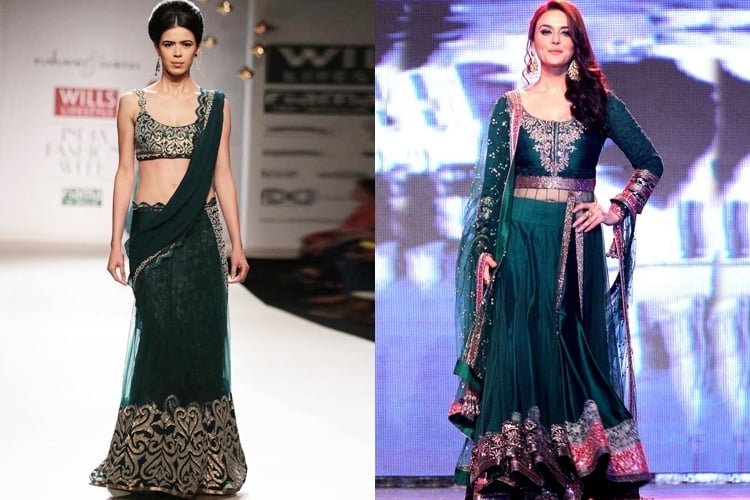 With such beautiful vivid colors shared with you so far for each day of the holy Navratri season 2021, we hope you have been dressing up in fine sarees, lovely anarkalis and ethnic dresses to attend the fun dandiya events and important Durga Poojas.
After color Green for Day 7, today is Ashtami and the color of the day is Peacock Green! This is the day for worshiping Goddess Mahagauri and Goddess Bhadrakali. On this day, Goddess Bhadrakali incarnated to defeat and kill Mahishasur attaining the name Mahishasur Mardini.
Based on the legend of Pandava Brothers taking their weapons from the Shami tree after 14 years of exile, this day is also dedicated for Ayudha Puja.
For this grand and auspicious Ashtami, celebrate by wearing lovely peacock green churidars, sarees and anarkalis. The color Peacock Green is a vibrant shade that has become a popular favorite in the modern fashion industry.
Peacock fashion is the new rage in the fashion world which celebrates brilliant shades like green, blue, pink. Christian Dior fashion house brought out an entire make-up line inspired by the peacock colors which you may want to team up with your outfit.
Peacock print tunics and tops have become popular favourites with the fashionistas.
Another beautiful interpretation of the peacock trend is the peacock feather earrings which looks beautiful and can be worn as danglers. These peacock feather earrings add a bit of mystique and enchantment to the outfit on the whole. They deserve attention on these huge days.
Let your imagination run wild – Peacock feathers can be a part of nail art too! Paint your nails in the vivid shades of peacock green, metallic blue and gold. This can make an interesting matching accessory to your peacock green dress.
We have collected beautiful pieces of peacock green anarkalis, salwar kameez and sarees. Get inspired and dress up in the lovely shade of peacock green for the day! Here we go!
Check out this saree which is an interesting fusion of neon green, peacock green and royal blue. The same pattern is seen in the coat style lehenga blouse which makes for an interesting Ashtami evening wear.
This neon-net pallu on the royal blue saree is inspired by the peacock shades and brings out its vibrancy in the best way possible.
Check out this modern peacock green saree with beautiful royal blue flower motifs running all over the saree. Paired with a red sleeveless blouse, this is a modern twist to the traditional nine yard saree.
Akshara from the "Yeh Rishta Kya Kehlata Hai" serial fame models this peacock green saree in combination with royal blue. Isn't it beautiful?
[sc:mediad]
This peacock green and royal blue saree comes alive with colorful motifs and borders. The multi hued blouse give space for a bright day ahead. Paired with a colorful embroidered blouse, the saree is your safest bet for this Ashtami!
This net style peacock green saree is a piece of beauty with its colorful floral patchwork and delicate gold borders adorning the saree beautifully. Being a perfect combination of contemporary and traditionalism, this one will make you stand out in the crowd.
This saree is a symbol of elegance with its cream colored pleats and peacock green pallu embellished with royal blue flower patches.
Have a look at this lovely peacock green anarkali with its rich silver work and royal blue border along with the stunning neck work.
This floor length anarkali brings out the vivid colors of peacock beautifully with royal blue, green and leaf motifs. Pair this beautifully embroidered anarkali with long danglers and beautiful eye make-up.
The graceful appeal of this anarkali lies in its lovely medley of sea and peacock green. It is perfect for a dandiya night with your partner or group of friends.
Bollywood beauty Sonal Chauhan looks stunning in this pretty peacock green floor length anarkali with the flare of a dancing peacock's feathers in the rain.
Time for the peacock green salwar suit! This is a special one with its beautiful infusion of neon green, royal blue, patch work and embroidery. Pair this one up with peacock feather earrings to look stunningly beautiful.
Take a look at these two peacock green lehengas with hot pink borders and gold motifs.
Good choice for dandiya night?
If money is not your restraint then here is a high end lehenga offered by Zarilane in peacock green. This beautiful apparel is a beautiful mix of navy blue, peacock green, green and white shades that are strategically used in layers to make this outfit look all the more gorgeous. And to give it a rich feel, the navy blue blouse is encrusted with Swarovski crystals and cut-dana hand embroidery in white color.
Besides, the lehenga comes with two layers with golden brocade. The dupatta also comes with matching embellished border to complement the outfit.
Keep reading our blog for more updates on Navratri Day 9 colour.
Happy Navratri!!