It's such an awesome sight watching the hands of small little girls. Dressed they are in pretty frocks, shorts and lehangas, they look so cuddly and cute. The same impact is there, in fact double, once they get mehndi done on their tiny hands. Go about decorating your child's hands with adorable mehandi but you have to keep one thing in mind. Kids are kids and don't have that much patience to sit through the mehndi application. So whenever mehndi designs for kids are being done on kids' hands and feet, classiness in simplicity stands out most.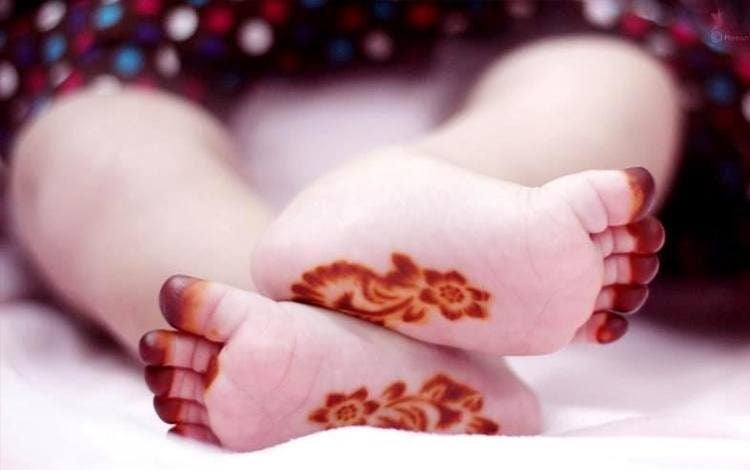 Here we go showing you some fab designs of mehndi for kids that will bring some glitz and glam into their cutie pie hands.
Popular Kids Mehndi designs:
1. Flowers:
Small or big flowers look as pretty on your Barbie doll's hands as the doll herself. Along with flowers, patterns can also be drawn such as peacocks, butterflies, birds, leaves which kids like most. Make sure you don't put mehndi all over the little girl's hands (the way it is done on a grown up female's hands). In the fourth mehndi design shown below, see how beautiful the pattern looks with one big floral design in the centre of the reverse hand.
Let's look at some flower mehndi designs for kids:
This is a simple Arabic mehndi design for kids with flowers.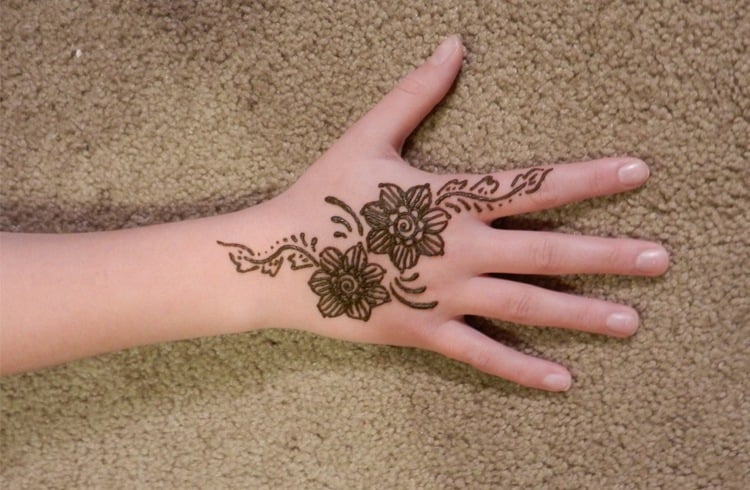 A simple mehndi design for kids that has a flower and a bee. A design like this for kids will encourage the kids to not spoil or want to remove the mehndi.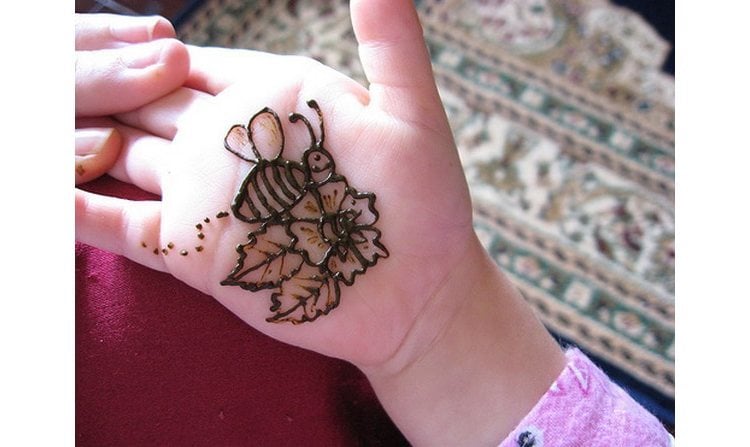 If your girl is the one who loves mehndi and you are confident that she will let it dry on her hands completely before removing it, then this mehndi design is just an ideal one you need.
We always saw Arabic mehndi designs that have the index or middle finger decorated. But this kids mehendi design is surely a unique one.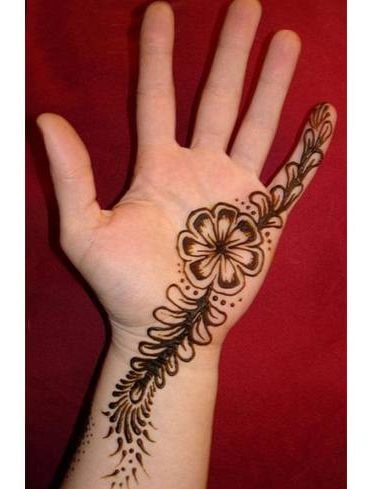 Minimal and traditional, just what defines a kid inside and out.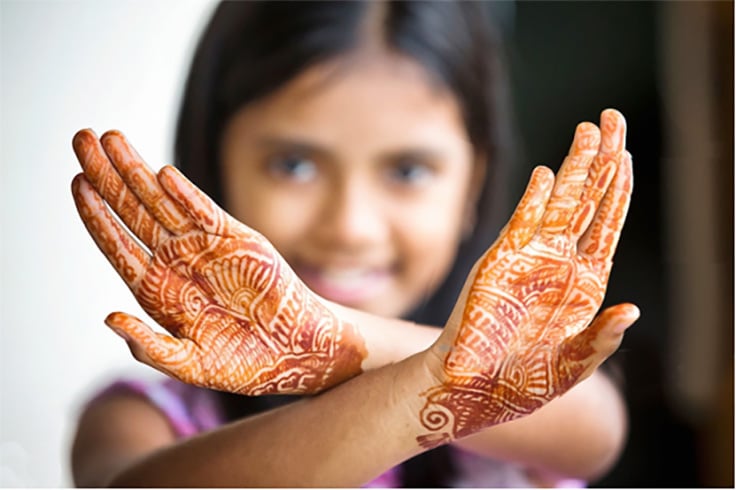 Latest mehndi design that has an easy to make mehndi flower on the back of your kids hand.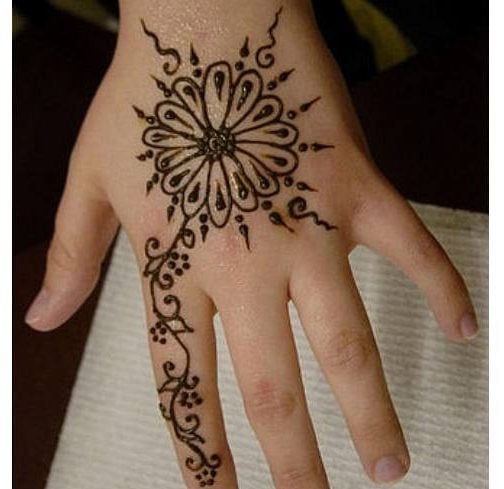 Haven't these beautiful mehendi designs for kids melted your heart already?
2. Glitter:
Bling is the latest trend in mehndi designs for kids. It can range from sparkles to crystals and even glitter which makes it attractive for kids. This way they can show off their mehndi designs to their friends and make it look all the more fancy and glam. While adding glitter to mehndi for kids; hands sound innovative, but don't overdo it as it will ruin the simplicity of the design. Keep it simple and sober rather than going overboard with it. Check out this purple and golden glitter mehndi that beautifully highlights the black mehndi design.
Let's look at some glitter mehendi designs for girls.
If your daughter isn't allowed to have mehendi stained hands according to her school rules, then a glitter mehendi is what you can do for her. The glitters will be available at any stationary stores and can be removed easily using water, acetone or a nail polish remover.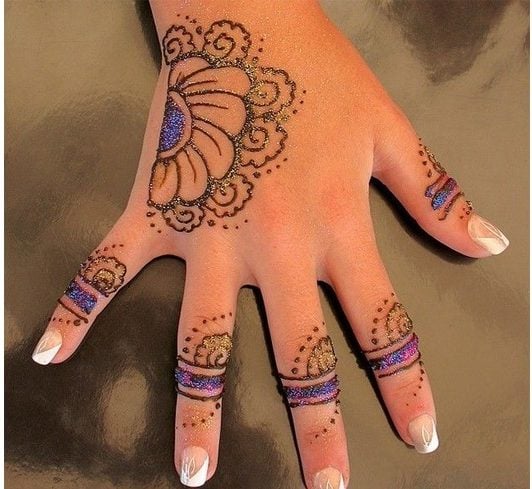 If your girlie loves colours, you can try a fusion of glitter mehenedi and normal mehendi for kids.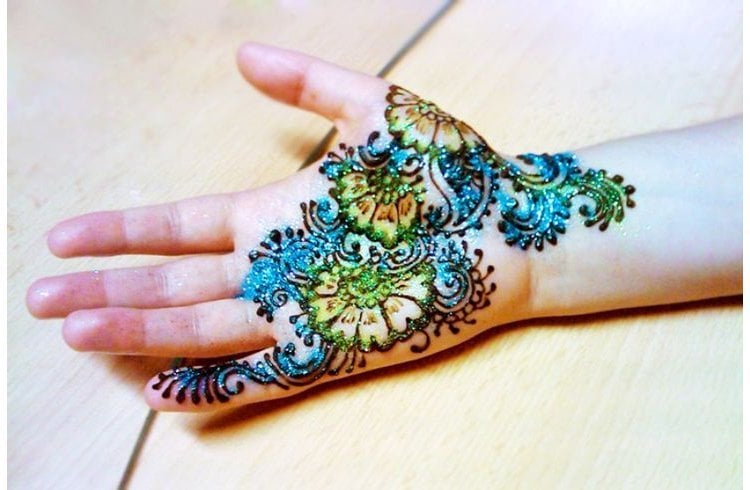 A butterfly mehendi designs for kids with glitter sprinkled all over it is easy to create. This can also be done on the arms of the kids too like a tattoo design.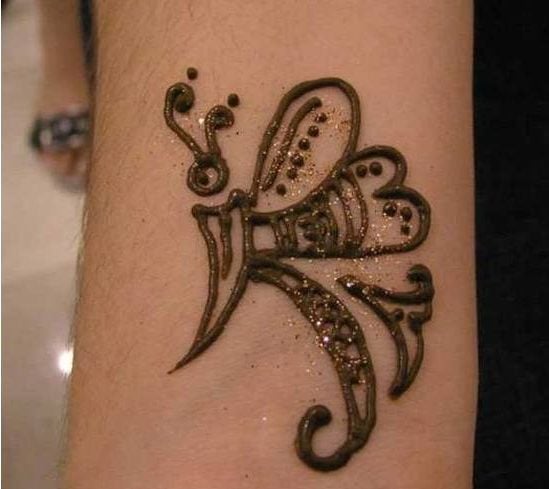 Now this is a unique mehendi idea for kids. The empty heart can have the name of the child written inside to make them feel special.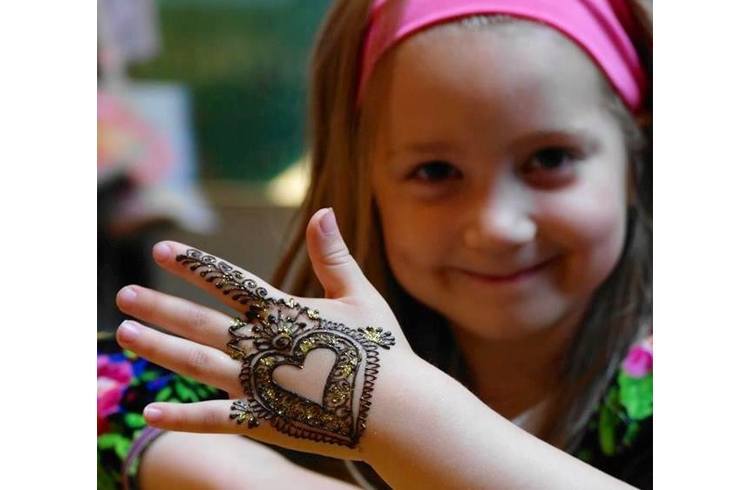 [Also Read: Bangle Mehndi Designs]
3. Paisley:
Mehndi application can be done by a kid too. Check out this design with paisley motif in the back of the hand and supporting floral designs. The finger tips look so cute and drool-worthy with petal-like spiral designs. Make the naughty little girl wear this mehandi design for special occasions such as marriage and evening parties too.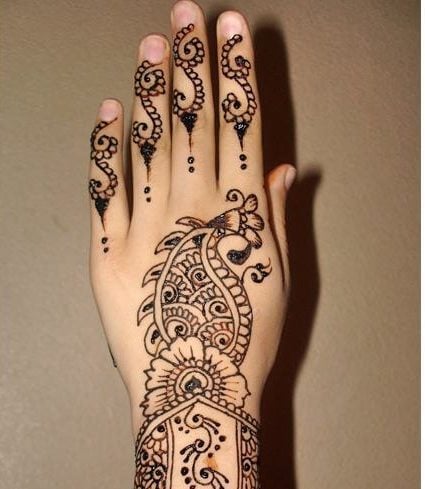 Precautions to take while applying mehndi on kids' hands
We all know how kids are dear to every parent. But it is important and logical for every parent to make sure that applying mehndi doesn't cause a negative reaction on children.
As a point of rule, never make the mistake of using black henna. Did you know that natural henna which is deep reddish brown in colour is never available in black? If you go for black henna, it can prove to be very dangerous for the skin since it has harmful additive paste containing PPD. Try and avoid it at all costs, as it is lethal for both kids and adults.
When it comes to putting mehndi design for kids, the important thing is to let them use their creativity and imaginations run wild. It has to be a fun-based affair as that might lead to new designs shaping up. Start replicating these fashionable henna designs on your trendy and chubby girl and see how she looks absolutely irresistible.
Let's look at latest mehendi designs for kids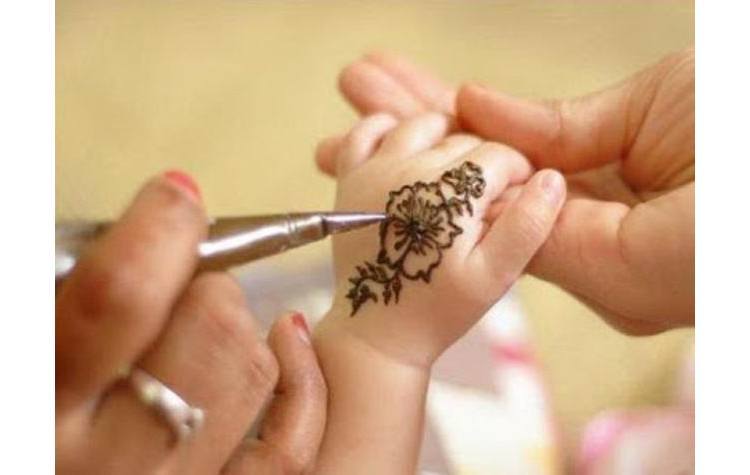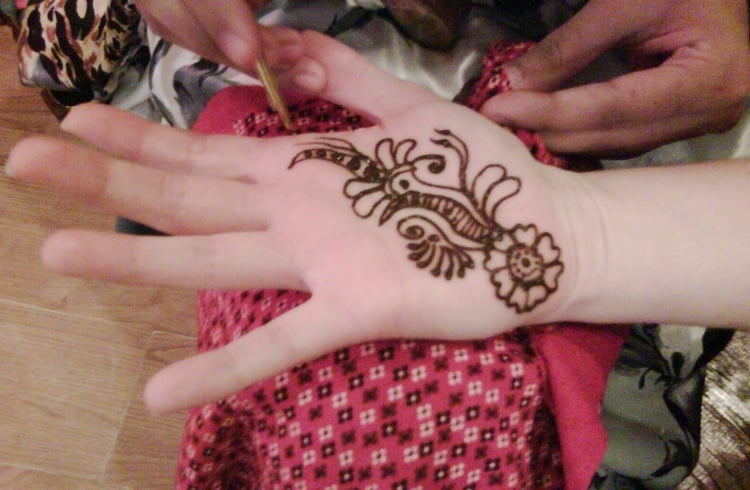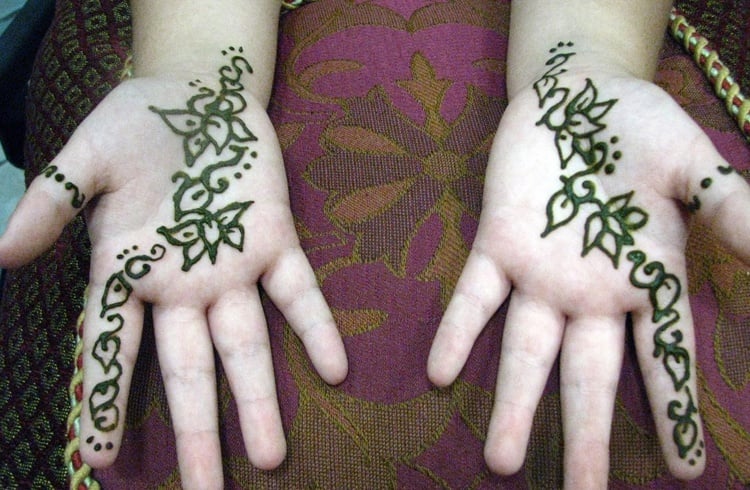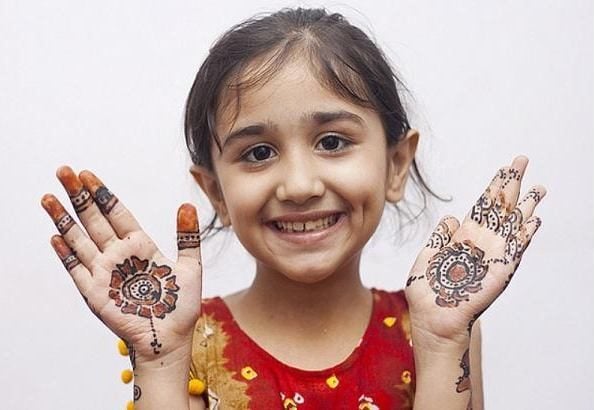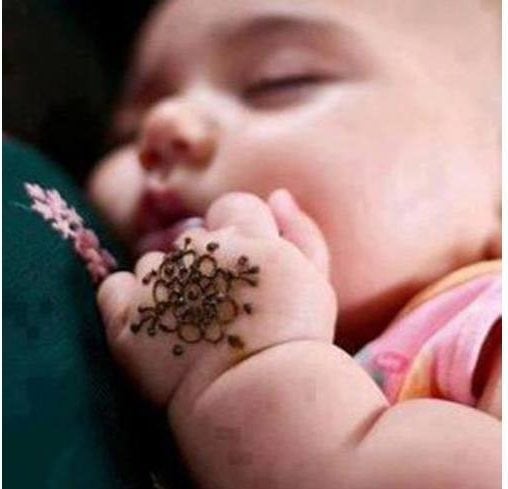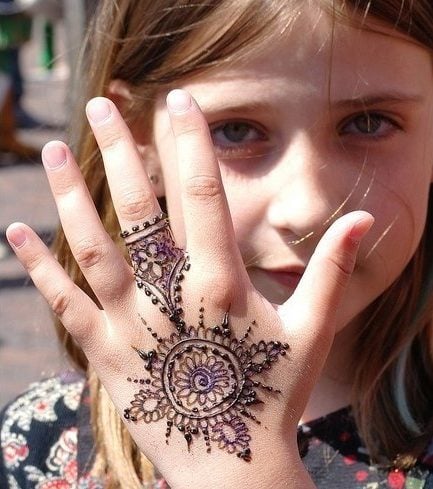 [sc:mediad]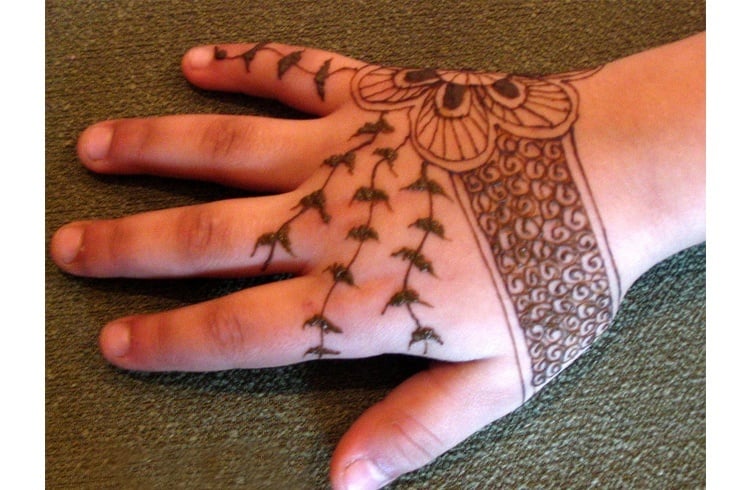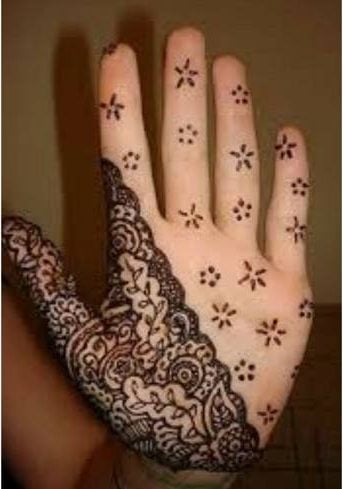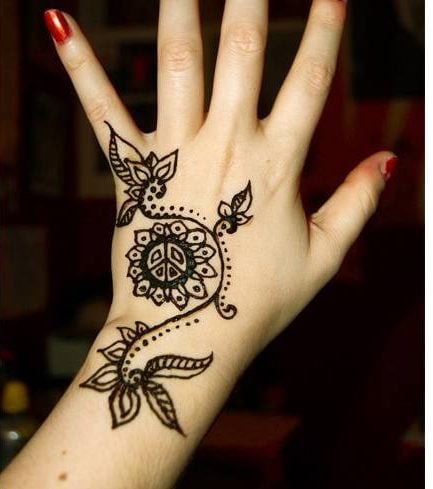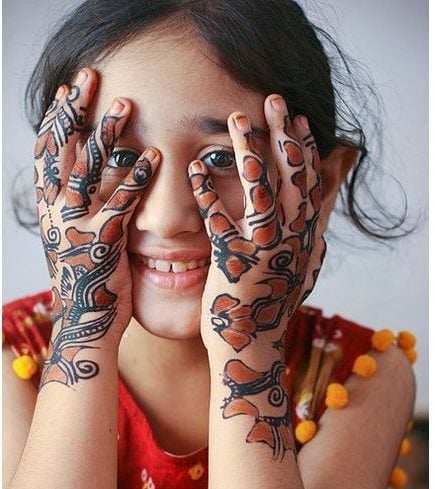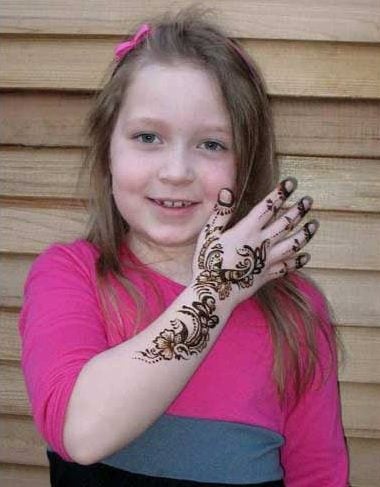 Two best friends with these designs could elate them. A simply design to colour their souls happy.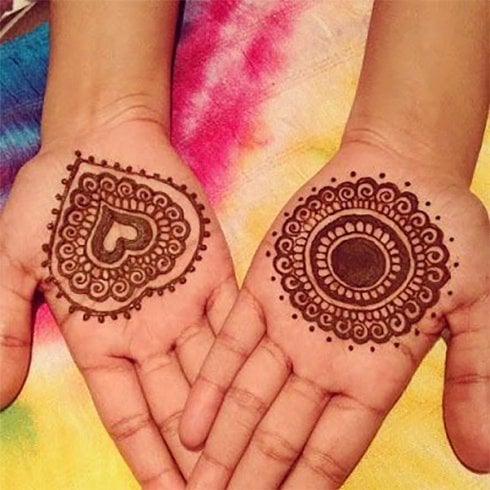 Hearts are pretty when done on kids, too cute. Let the kid embrace these heart designs to the maximum.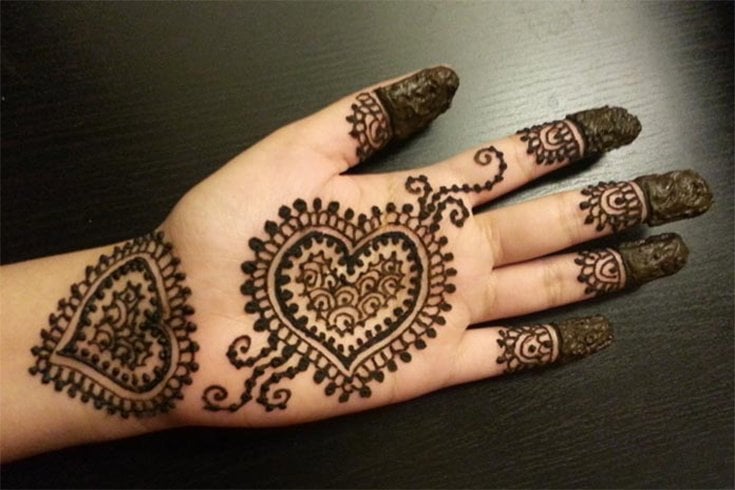 How simple and fun are these designs! Like a child's art depicted on their hand, perfect.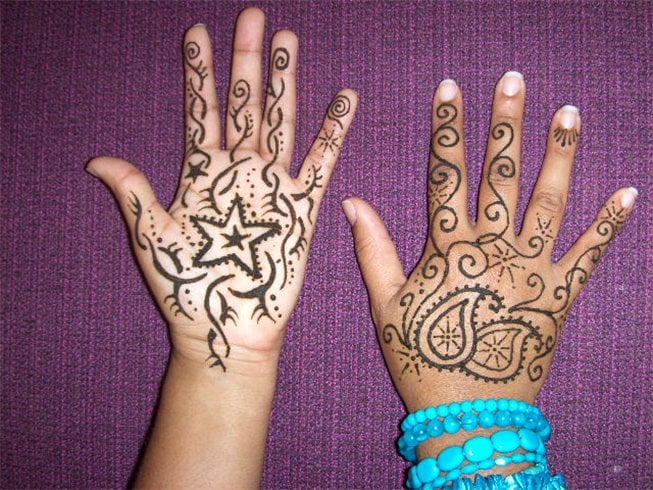 Olden days of mehendi looked like this. So simple, yet lovable and refreshing.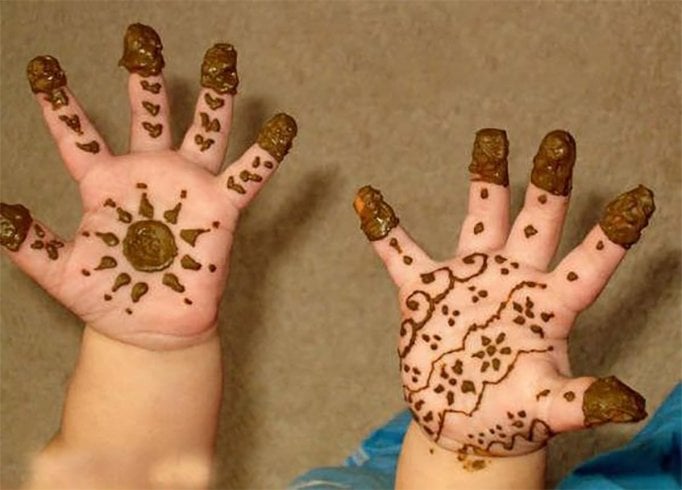 Sure they will never forget what a giraffe looks like! What a cute design to steal hearts!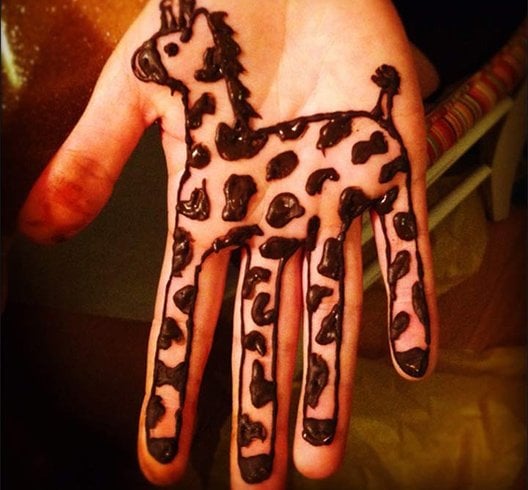 Why just the hands? That soft squishy skin triples its lovable look with patches of mehendi.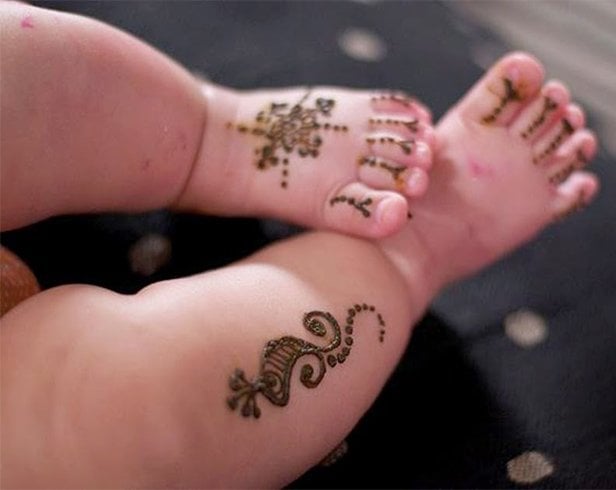 Touching a babys hand and holding hand seems like the most adorable thing, only until you done their legs with mehendi and take a glimpse of them.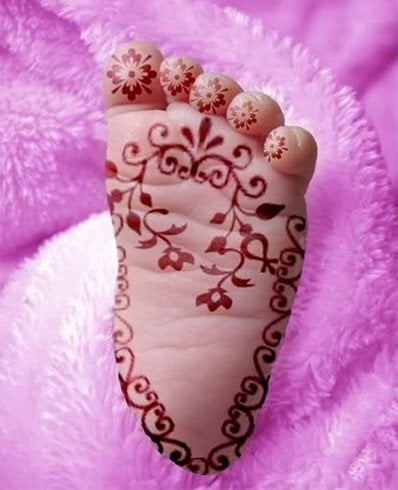 Easiest design for a child, when you're in a hurry but the mehendi is a must.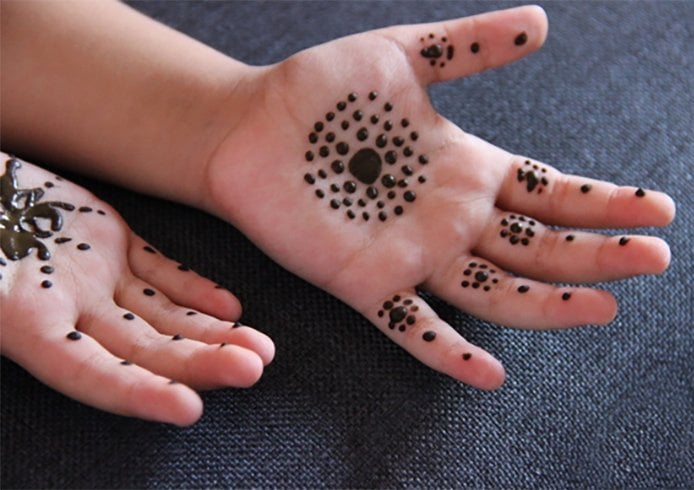 Overly done up designs aren't for kids. This design here is what the kids need.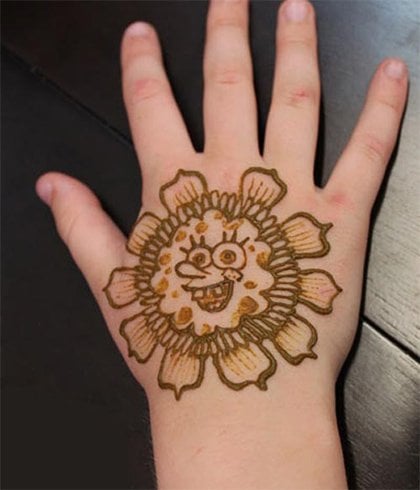 What an exciting design to keep your children occupied staring at it all day long, just fascinated.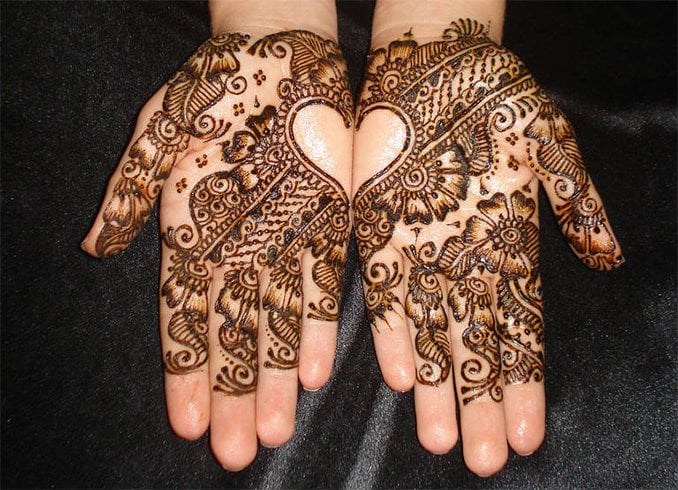 Leaves and branches branching out to keep the little one's hands just as delicate. This kids mehendi design is a picture perfect one.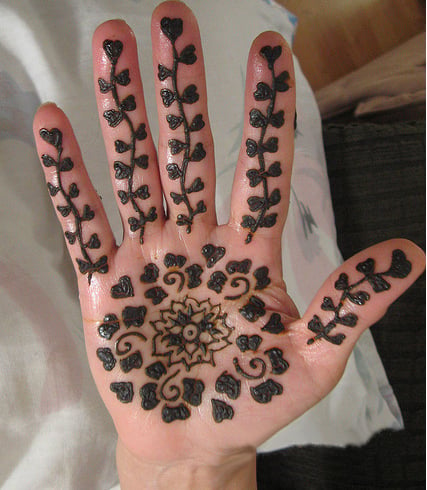 Those little squishy fingers deserve a bit of decoration in the best way possible, and that's only possible with this arabic mehendi design.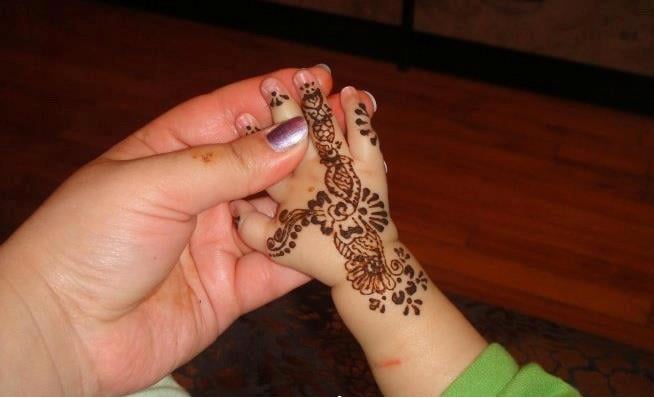 Go back to the olden ways of mehendi, the toe dipping in mehendi all over with a cute patter right in the center.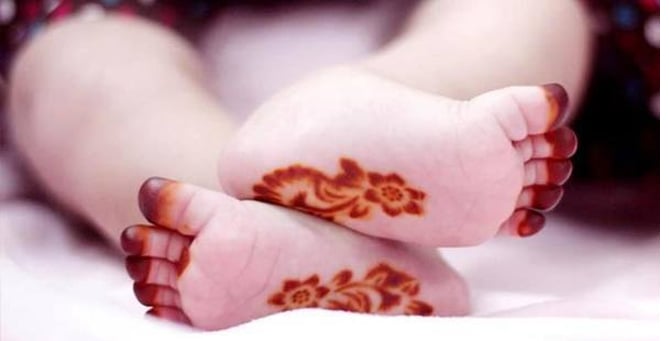 A cute kitten on a cuter kid never goes wrong. Keeping the fun and freshness of a baby kicking, is what this tattoo does.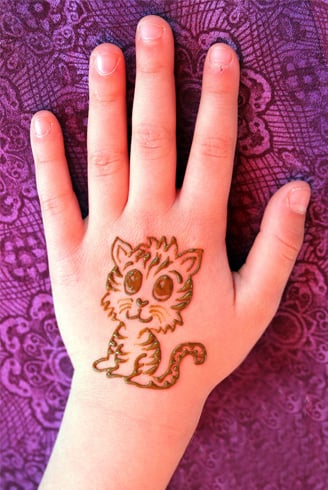 An easy and simple mehendi design for kids. Looks like some marvelous interiors.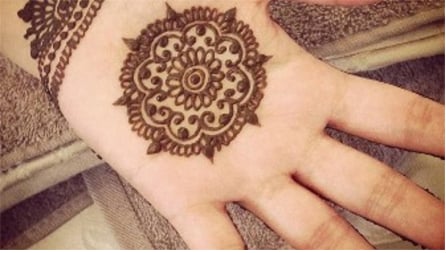 Mehendi for kids is an occupying and cute option to indulge in. This mehendi design on the outside as well as inside of the hand shows every design is suitable for any kid.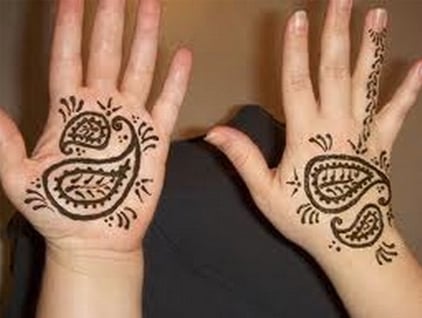 How fascinating would it be to design the babys face itself onto their hands? A new concept that they'll love.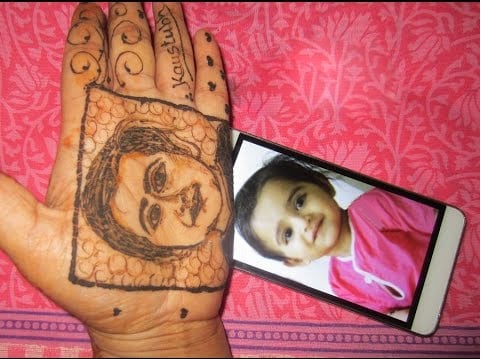 The babys one true love – the teddy bear, right on their hands. Seems like the baby is going to be very fond of the mehendi design.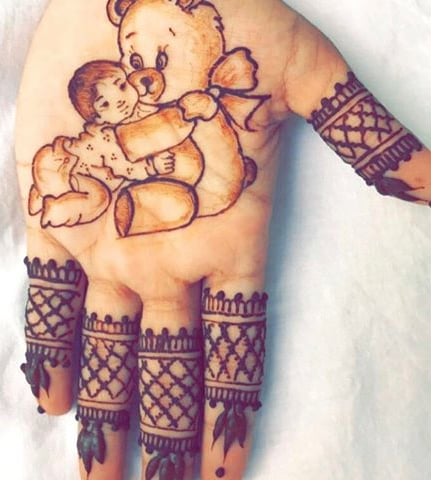 This sweet elephant pattern looks minimalistic and relates to a baby's mindset. The perfect design and a simple mehendi design as well.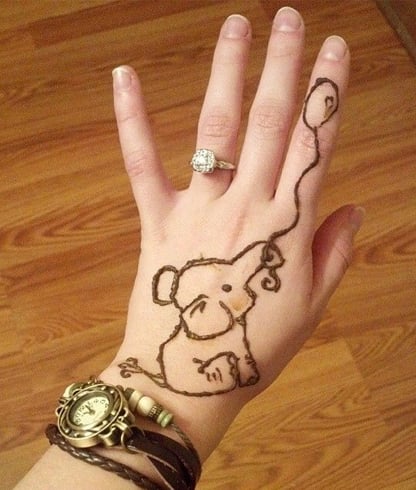 This tattoo is really nice for hand coverage and looks great for functions.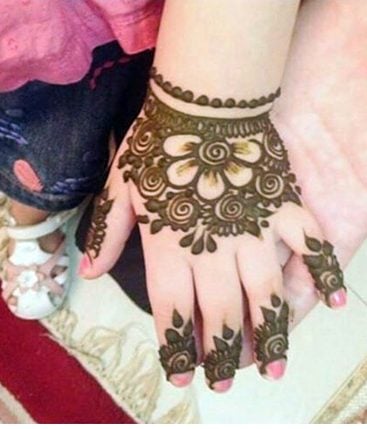 Do share with us how exciting it was making mehndi on kids' hands and feet.
Images Source: pinterest
Conclusion
In conclusion, our journey through the world of mehndi designs for kids has been nothing short of enchanting and heartwarming. From delicate floral patterns to playful animal motifs, we have witnessed how henna art can transform the tiny hands of our little princesses into captivating masterpieces.
These intricate designs not only add a touch of beauty and elegance to their innocent hands but also serve as a celebration of their childhood and the joy they bring into our lives. Mehndi has the power to create cherished memories, not just for the little ones, but also for parents, grandparents, and the entire family.
So, the next time you find yourself preparing for a family gathering or a festival, don't forget to involve your little princesses in the mehndi festivities. Let their imaginations soar as they become the canvas for beautiful henna art, and watch as their faces light up with happiness and pride.