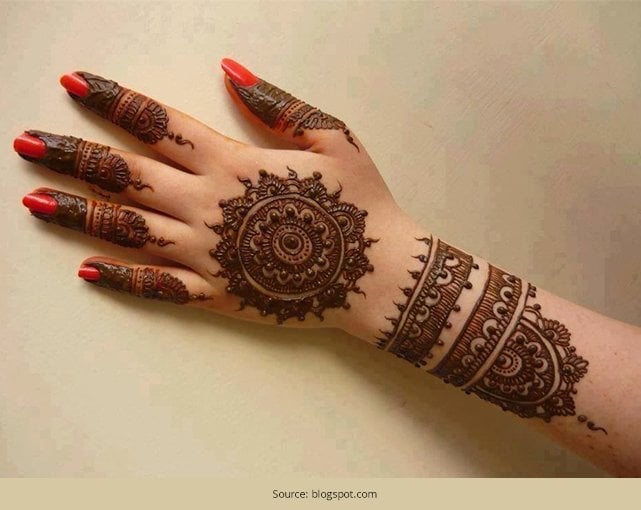 Bangle mehndi designs are increasingly becoming popular. These are not only traditional but contemporary that best suit the likeness of the new age women on the go. With different preferences and occasions, the designs are versatile enough to blend with the mood and style at ease. If you too are a fan then you'll love these top 15 bangle mehndi designs. Do have a look!
Such designs that were originated in Middle East have now taken the country by storm. The unmarried girls are mad about it, as they wear them as a piece of jewelry on their wrist. So here are some lovely bangle mehndi designs to take inspiration from!
1. This multi-colored design in blue, pink, green and gld will catch anyone's attention instantly. This glitter-sprinkled design is an ideal mehndi option for the bridesmaids who can dramatically enhance their outfit, be it lehenga or anarkali and also a western party wear. And with such a simple design, you can easily mimic this one for your next occasion.
2. Here is another fabulous design that you can flaunt it with your nail art skills. While florals and petals are common, you can give an edge to your design by doing a bit of shading work. And to make it look more appropriate, you can create a huge bangle design with elaborate designs in it.
3. This is one of my personal favorites. Don't you just love the elaborate work in it? Also ideal for Navratri, Diwali and Karvachauth, this versatile mehndi design can suit any occasion, irrespective of age.
4. This is another stunning design not only focused on the wrist but covers the hand right from elbow to the finger tips. In this image you can see both the front and back designs that only add elegance to the wearer's overall look. The major highlight of this design is the block chequered design that resembles a broad bangle on the wrist.
5. I bet you'll not resist this design. Doesn't this bangle mehndi design look like some embroidery work? The only difference is while embroidery is performed on merchandise and textiles, the mehndi is performed as a body art. This floral embroidery-inspired mehndi design is bit traditional, so it's best to pair it with ethnic wears. While the gota works and floral patterns make it an intricate design, the smaller motifs and leaflets around the nails just add scores to this bangle mehndi design.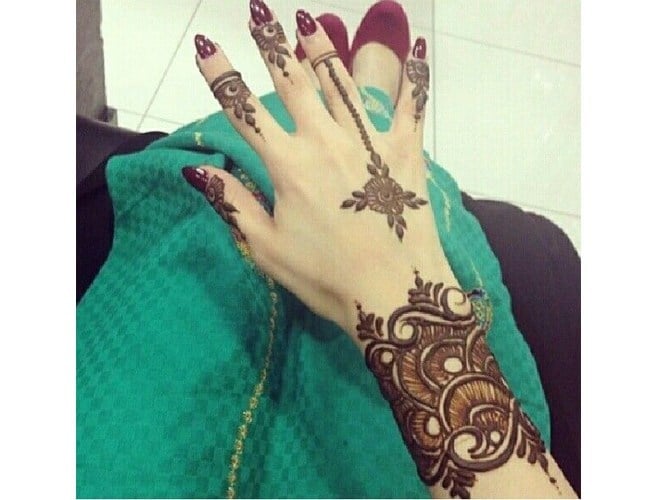 6. Here is an Arabic design that highlights specifically the wrist and the middle finger. While the broad design resembles a huge ornate cuff, the design on the finger also resembles a huge ring encrusted with a piece of rock. This fuss-free design can be tried by any beginners and is a real fun to do as well.
7. If you're interested in only flaunting a wrist design then this one can be your best bait – simple, elegant and beautiful.
8. Here is another elegant design for the back which is simple yet looks intricate. All you need is to follow the framework and decorate it with small floral and leaflet motifs as shown in the picture.
9. If you have a first-hand experience in putting mehndi on your hands before then here is an easy design for you. Even beginners can give a try. While the wrist design is extremely beautiful with thick outlines; the floral patterns on the fingers with a chain train and ending with a central motif is making the wrist mehndi design all the more attractive.
10. This back end mehndi design is looking more fabulous because of the black and white effect. With a huge round design at the center, you can easily continue elaborating the designs with a bracelet design and a chain train to the mid finger. This haath phool mehndi design is another simple design you can opt for.
[sc:mediad]
For those who are professional mehndi designers, below are some exquisite and detailed bangle mehndi designs for you.
This khafif mehendi design exudes the charm of Moroccan magic. One of a kind and one in a million.
This mehendi design that puts its focus on using mehendi to transform plain fingers into show stopper pieces, is a masterpiece. With a simple mandala in between, it rounds up the look.
Ah! The colour combination. What a sight to see! Here is the round mehendi designs that adds its contribution to the bangle designs in the most beautiful way possible.
Have you worn so many bangles till your elbow for functions? Well, doesn't this bangle mehendi design replace all those bangles? Go for it.
Keeping it simple is the new fashion, as we know it. Look at this pretty pretty bracelet mehendi design that is an all rounder.
One of the latest bangle mehendi designs to enter the market, this one has become a favourite already.
So, those were the top 20 picks on bangle mehndi designs. Hope you got some inspiration for your upcoming event!