Who doesn't like mehndi? None! Every woman loves and adores a good mehndi design. Women have always been fascinated with different styles of mehndi designs throughout the years. Occasions are just excuses for women to apply mehndi. With the growing likeness of mehndi in the past years, women not only apply it on their hands but even on their feet, back, shoulder, etc. There are various types of beautiful mehndi designs to choose from, all over the internet.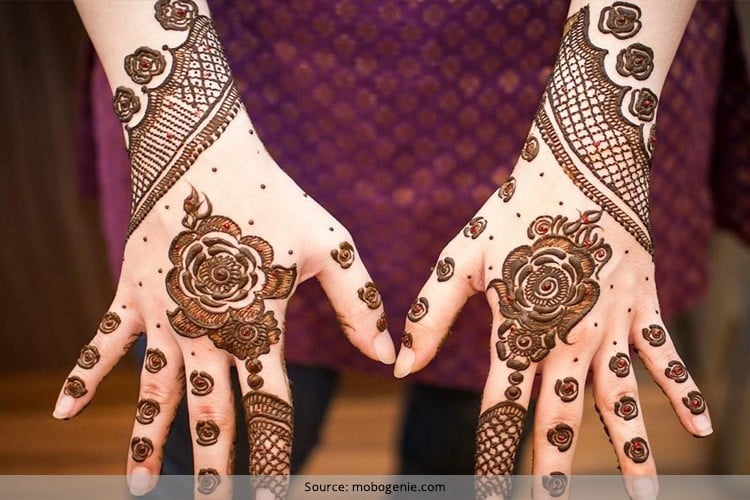 [Also Read: Latest Arabic Mehndi Designs]
List of 6 Types Of Mehndi Designs:
6 most beautiful mehndi designs which are in vogue right now are:-
1. Moroccan Mehndi Design:
Moroccan mehndi designs have come from the middle-east; they are more geometric in nature. This mehndi design consists of small and big types of squares, rectangles and triangles merged together. You can even draw flowery patterns around the geometric figures to make them look more interesting. This design can be applied on your hands, legs, shoulder, neck, back etc. It's one of the best mehndi designs used lately.
2. Bangle Style Mehndi Design:
Bangle style mehndi designs are increasingly becoming popular these days. It's a type of style in which mehndi is designed around your wrist, which gives a beautiful look on your hand. You can make an Arabic mehndi design or Indian mehndi design or any other design patters around your wrist to give it an edgy look. To add a sparkly look to your design, you can even embellish it with colorful stones around it. They are perfect for cocktail parties or destination weddings.
3. The Lace Glove:
The lacy design on the wrist and back of the hand is a very unique and modern pattern; these designs are very intricate and almost give the illusion of wearing a lace glove. It uses common petal-like patterns to create a lacy glove look. This henna design can be the best look for a modern bride. The color of the mehndi can be black or brown, the length of the pattern can be till the arm or wrist or just fingers as well.
[sc:mediad]
4. Minimalist Mehndi Pattern:
Want some easy mehndi design to go with your everyday look? Minimalist mehndi design is your answer! Minimalistic mehndi are simple mehndi designs and it differs from the usual mehndi, because it is not too bold or big. It can be applied on the back of your neck, on your wrist or can even be designed on your fingers like a ring. It is perfect for women who would like to go for a little subtle look.
5. Back Mehndi Design:
Mehndi design is no longer limited to your hands and feet. If you want to be more adventurous, you could get one on your back. You can do a simple small design as well as a big intricate design on the back of your body. It can be best applied when your blouse, kurta or top is backless or has a particular back design. You can get an idea from the following mehndi image:
[Also Read: Heart Shaped Mehndi Designs]
6. Hanging Star Design:
Love unique mehndi designs but don't like your hands filled with the design? Don't fret. Hanging star design is one of the unique and easy mehndi designs. These cute henna designs can be done to celebrate any occasion and to attract attention to your hands. You can create small mehndi designs, by focusing on just one motif. Its half hand mehndi designs are created with traditional motifs for an elegant finish like you can see in this mehndi image below: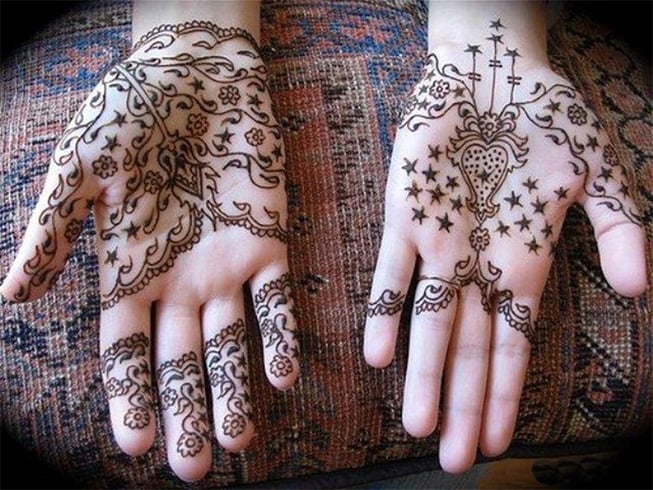 All these designs and many more, old as well as new mehndi patterns and styles, can easily be viewed at ethnicoapp.com. So go ahead, get all artistic and keep your mehndi design game strong!