After months of hiding up your feet in covered-up footwear, it's finally the moment to expose them, which means its' also the perfect time for some mehndi under the feet. Lucky for you, we kept our eye on mehndi design trends for the sole of foot, and we narrowed down to 15 choices. You may recall, we have suggested mehndi designs for hands earlier, now it's time to extend the love to your feet.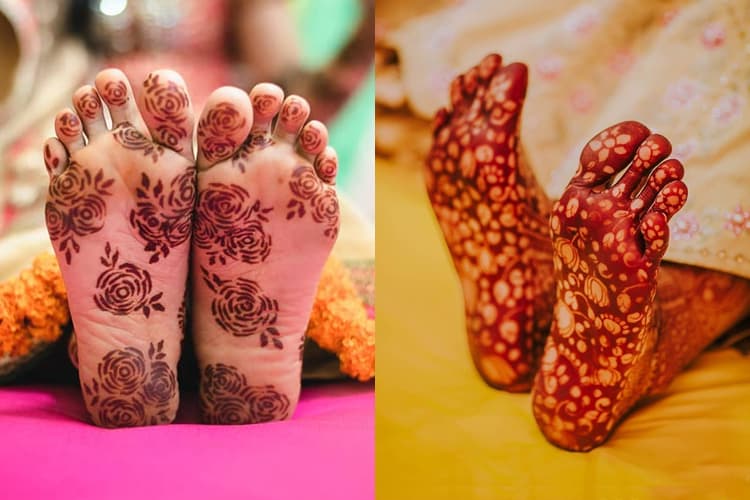 Keep scrolling to find the top designs.
Thoughtful Mehndi Designs For Your Feet:
Now that we have you captive, let's just check through a bunch of pretty mehndi designs perfect for the sole of foot.
As you can notice, they look great without a doubt, layered with rose depictions. They are 'extra fire on the feet. So unique! If you're with us, say amen.
The floral motifs never left off from the mehndi trend platter. And its only getting bigger. Proof is the design below for the feet that read less messy and more refinement.
All-the-way soaked in mehndi designs with sunny disposition is the perfect complement to any happy bridal feet. So be sure to steal this fresh trend.
If you prefer your mehndi design to be one dimensional, then this is the perfect one to go for. The authentic style can usher in room for a little more modern touch.
An intricate mehndi design on the feet like this is decidedly adventurous and stunning. Focus on the checks and flowers as opposed to sophisticated.
Don't fret-there's no need to retire from black mehndi. This year, girls are not afraid to try deep hued intricacies as opposed to similar patterns.
Yes, we're seeing double-just two free-flowing diagonal trials who both get it.
Look closely as to why this feet mehndi design is unexpected yet breathtaking. File this under "best mehndi designs for all seasons."
This mehndi design makes us feel that there is no limit to how you can decorate your soles. Priceless!
Adding a unique checkered mehndi pattern on your soles adds up for a more sophisticated feel and complete look.
Just because others are covering their feet with larger depictions doesn't mean you can't reach out for simple, paisley designs. This is an effortless, yet classy look.
The netted version for the feet is appealing and dynamic. You can wear this design even beyond the bigger events.
Elevate your mehndi look with a cross-dimensional look and easy combination as this one. This blending can succeed on any occasion because of its unexpected finish.
For the especially minimal at heart, a netted floral imprinted mehndi design is perfect. A spaced out design is an unusual pick to the dramatic styles.
A mehndi design that connects all the way from the sole to the legs-big win!
We are pretty sure that you are spoilt for choice with our pick of mehndi designs for the sole of foot.
And we welcome your kind words in the comment section below.