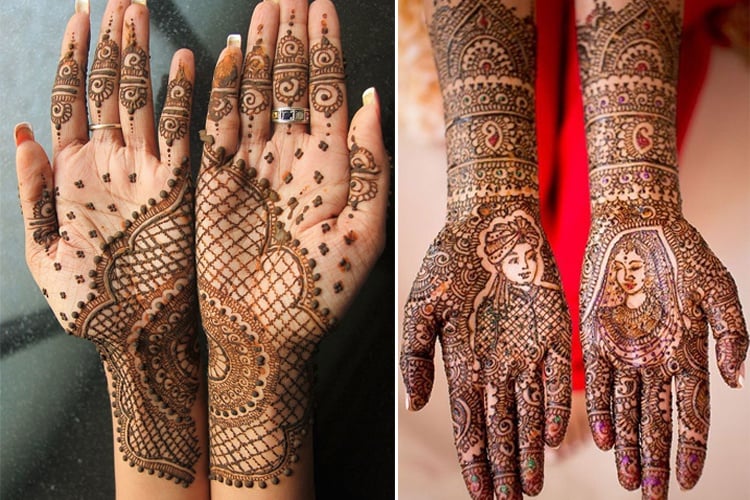 Marwari mehndi designs evolved to reflect the culture of Rajasthan. Their mehndi designs range from simple to breathtakingly beautiful. There is a design for everyone; perhaps this is the reason for their immense popularity. Here's a list of twenty five beautiful Marwari mehndi designs for hand and feet.
1. The dulha-dulhan design is quintessentially Marwari. It has become so popular and is now used all over India by brides of different states.
2. Intricate motifs of flowers make up this elaborate Marwari mehndi design.
[Also Read: Karva Chauth Mehndi Design]
3. This is a relatively simple yet pretty design. While this is considered too tame to be used as bridal mehndi, it is a popular choice among women during the Karwa Chauth fasting period.
4. This design is a little contemporary. It is designed to create a very appealing visual effect. The gaps between the designs are meant to accentuate the beauty of the pattern.
5. The feet are given as much importance as the hands when it comes to mehendi designs. Check out this intricate design that beautifully covers the whole foot. Simple borders and patterns will just not do, we need such intricate workmanship to truly feel indulged and pampered.
6. Another dulha-dulhan design that would be perfect as a bridal design.
7. Putting your hands together completes the pattern. Notice how clean and precise the lines and curves are. Who wouldn't love to have this design on their hands?
8. It would be more apt to call this "mehndi design for the legs" rather than the feet. The design goes half way up to the calf.
9. Another contemporary design that cleverly uses gaps to create an astounding piece of art.
10. A recurring theme in Marwari mehdni designs is the Krishnan-Radha figurines. The mehndi artist has done an exceptionable job in this piece. Krishna and Radha have been outlined with painstaking clarity.
[sc:mediad]
11. The designs don't always have to be over the top and extravagant. Here's a simple design that manages to look exquisite despite, or perhaps because of, its simplicity.
12. While this is definitely not the most difficult or time consuming design in this list, it does need a very steady hand and a very keen eye. Each curve and bend has to be replicated on the other hand to create a design that's even.
13. This is a unique Marwari mehendi design. Instead of Krishna and Radha or the Dulha and Dulhan, this design shows Lord Shiva. A truly unique design.
14. This mehendi design has kalash drawn on it and can be replaced with dulhan mehndi designs for hands and legs.
15. An elaborate dulhan mehndi design like this one is done on both hands and feet. In traditional days, dulhan mehndi as well as other festival mehandi designs were applied on the hands and feet using the back of the match stick.
16. Lotus and peacock mehandi design, apart from the dulha dulhan mehendi are what Marwari's love.
17. Older women who do not like to adorn their hands completely with mehendi, apply mehendi on fingers only.
18. Younger women opt for such designs on the hands during festivals such as Diwali and Navratri.
19. Those who are not very happy about having the complete dulhan mehandi design on their hands for their wedding day, opt for the design shown below.
20. Brides who have to travel abroad immediately after their wedding, opt for temporary mehendi designs or stick on designs like shown below. These can further be decorated with stones and glitters that match the wedding ensemble.
21. This Rajasthani bridal mehendi design for full hands is a stunning piece. So spaced out by going easy on the finger tips, the design would be the perfect piece.
22. Are these dotted designs trending? YES. A big yes. These dotted designs on the finger tips call for an enhanced look.
23. Just look at this mind blowing bridal mehendi designs for full hands at the front and back. Wow. No hand jewellery can do justice to the hands like this design has.
24. Dulhan mehendi design at every angle. This design is so worked on even on the other side of the palm, which keeps it unique.
25.This mehendi design for legs is a stop and stare piece. The beauty of the legs is well defined in the wonderful mehendi design that is so well thought out.
Peacocks, floral motifs, Krishnan-Radha figurines and dulha-dulhan figurines are all typical of Marwari mehndi designs. While the traditional designs are breathtaking, the new designs combine the old and the new, the known and the unknown, keeping mehndi an age old tradition, but with regular updates as far as techniques and designs are concerned.