On popular demand, I am back once again with top 10 most expensive jewelry brands in the world.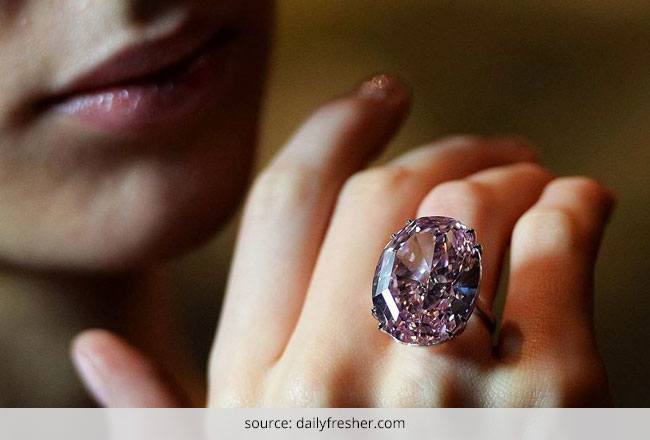 Jewelry adds richness, another layer in the storytelling. Think of Elizabeth Taylor and Jackie Kennedy – Jewelry can make moments iconic. ~ Kelly Framel
A look is always incomplete without accessories. Giorgio Armani had once said that jewelries and accessories have become more important than outfits today. They can completely alter the outfit and moreover, a versatile wardrobe is every woman's preference.
For example, a strong piece of accessories can even make a mundane outfit look elegant. Jewelries have been adorning opulent people since time immemorial. And the jewelry brands should be given equal importance for they have been designing such extravagant pieces, which radiate nothing but luxury. Of course, you can create a mesmerizing look even with affordable jewelry such as from this ladies skull goth ring brand but if you pursue a chic and grand appearance, take a look at our top-10 premium jewelry manufacturers:
List of 10 Most Expensive Jewelry Brands in 2021
Let's go through 10 most expensive jewelry brands in the world, who have been designing some exquisite masterpieces that have become eternal!
1. Harry Winston
Harry Winston, the undisputed name in the world of diamonds tops our list of 10 most expensive jewelry brands in the world. Those, who have a knack for diamonds and high-end ornaments must be aware of the Hope Diamond.
One of Winston's greatest gemstones, the Hope Diamond has a long tale of history from being originated in India and to have adorned many imperial necks right from Louis XIV and George IV to wealthy civilians including Thomas Hope, Pierre Cartier, socialite Evalyn Walsh McLean, and Harry Winston, who donated the rock to the Smithsonian Institution in 1958, after owning it for over 10 years.
Every year Harry Winston's expensive masterpieces are hired by the Hollywood actresses, so as to mark their presence at the Oscar Red Carpet.
It is widely believed that only the finest quality and rarest stones are used for Winston jewelry. For their histrionic legacy and highly elaborate diamond masterpieces, the company may continue to rule the diamond world for years to come.
2. Cartier
Cartier has a long-reigning history of putting some of the world's most expensive jewelries in the auction. Such historical auctions of priceless royal ornaments depict the brand's grandiosity in the world of making royal jewelries.
Founded by Louis-François Cartier in 1847, it is a French brand best known for its jewelry and watches including the Bestiary. It was a Panther-shaped brooch created for Wallis Simpson in the 1940s and has been considered as one of the timeless jewels from history.
The Duchess of Windsor was so enamored by the brand's signature panther that she ordered several pieces with the same animal motif. And the most famous is her 6.5-inch diamond, onyx, and emerald bracelet, which recently went under the hammer for just over $7 million.
Cartier jewelry still makes use of Art Deco elements, thereby appealing to modern tastes, apart from remodeling their panther-signature motifs.
3. Van Cleef Arpels
The eponymous French label was founded by Alfred Van Cleef and his uncle Salomon Arpels in 1896. Originally based in France, the jewelry brand still maintains Old World elegance in their exquisite pieces apart from designing avant-garde pieces.
This prestigious French jewelry maker is worldwide popular for its adroitness in using precious stones and groundbreaking gem-setting techniques. They are known for inducing the Mystery Setting – a process that enables maximum exposure to the gemstone.
4. Buccellati
Buccellati, the Italian luxury brand is known for the impeccable quality of their gold ornaments. True to their heritage, the high-end jewelry company adheres to Roman styles, which can be pretty visible in their collection of cuff bracelets. The brand reinterprets their masterpieces through lacy carvings so as to make them look soft from afar.
The brand is also famed for brushing and mattifying metals, whilst mixing silver and gold for texture and light enhancement.
5. Tiffany & Co
Thanks to The Great Gatsby movie, Tiffany jewels are not only famous in America but now in Asia as well. However, this luxury brand was established back in 1837 and became quite popular for its exclusive designs in diamond jewelries, sterling silver, and watches.
Their diamond jewelry evokes timeless designs that appeal to luxury and class. They are famous for crafting high dimensional whimsical motifs of flowers and birds in the form of a brooch, pendant, earrings, and even hair accessories.
6. Graff
Graff Diamonds is a British multinational jewelry brand based in London. The eponymous label was founded by Laurence Graff in 1960 and adheres to the Kimberly Process.
"The Kimberley Process Certification Scheme (KPCS) is the process established in 2003 to prevent "conflict diamonds" from entering the mainstream rough diamond market by United Nations General Assembly Resolution 55/56 following recommendations in the Fowler Report."
The brand most deals with huge diamonds, as the founder has himself claimed that his company is always in a bid to meet the demands of bigger stones by the clients.
You can go through some of their masterpieces in their famous coffee table book – The Most Fabulous Jewels in the World.
7. Piaget
This eponymous high-end jewelry brand is ranked at 7 in the list of the top 10 most luxurious jewelry brands in the world. The Swiss luxury watch and jewelry company was established in 1874 by Georges Piaget and is now run by the Swiss Richemont group.
Initially, the brand started making high-end watches that immediately became popular among the elite class in Europe. They soon expanded their business to fine jewelry and since they have been considered as one of the world's top jewelry-making companies for their exclusive designs, evoking Old Hollywood sophistication and fantasy gardens.
8. Bvlgari
This Italian luxury brand was founded by Sotirio Bulgari in 1884. This Rome-based brand is popular for its signature jewelries, watches, and also fragrances, and skincare products. Apart from jewelries and accessories, the brand also runs high-end 5-star resorts and hotels. Their list of elite clientele includes Elizabeth Taylor and other celebs, who have a knack for diamond and rare gemstones.
This luxury jewelry brand is famous for colored gemstones, especially sapphires mixed in unique formats. Some of Bvlgari's hallmark ornaments are encrusted with cabochon stones in bold shapes and vibrant colors. The brand is famous for designing Italian staples including cuffs, chokers, bangles, and necklaces. They are famed for using the finest gems along with 18 carats of gold for their elite clients.
9. Mikimoto
The eponymous brand was established by Mikimoto Kōkichi in 1893. The Japanese entrepreneur is credited for creating the first cultured pearl and this subsequently led him to establish his luxury pearl company, Mikimoto.
In 1985 the pearl maker was inducted into the house of peers by imperial decree and posthumously awarded the Grand Cordon of the Order of the Sacred Treasure to commemorate the 100th anniversary of the company of cultured pearls.
The company is credited to be dealing with some of the finest and rarest of pearls including rare South Sea pearls, pink conch pearls, Titian pearls, and white pearls. The elite jewelry brand uses 8 karat gold or platinum, all-natural colored gemstones, and the finest silk thread to string pearls. And the pearl sets offered by Mikimoto are peerless without any match.
10. Chopard
The Geneva-based luxury jewelry brand was established in 1860 by Louis-Ulysse Chopard and today has a network of more than 100 stores across the globe. This brand is counted among the most luxury jewelry brands in the world and is famous for jewelries and watches alike.
Some of their most ritzy time-pieces are set up with trademark modus operandi, as a sign of the brand's position in the market.
And in terms of jewelry, Chopard makes use of the finest collections, thereby making some sui generis pieces made of rare gemstones and gold along with diamonds and platinum. Quality meets precision as far as Chopard pieces of jewelry are concerned.
I hope you enjoyed this list of the top 10 most expensive jewelry brands in the world. Happy reading!!
Conclusion
In conclusion, our exploration of the top 10 most expensive jewelry brands in the world has taken us on a journey into the realm of luxury and opulence. These high-end jewelry brands have truly redefined the art of adornment, showcasing exquisite craftsmanship and unparalleled creativity.
Whether it's the iconic designs of Harry Winston or the timeless elegance of Cartier, these expensive jewelry brands have left an indelible mark on the world of fashion and luxury. Their creations not only adorn the rich and famous but also serve as an inspiration for aspiring jewelry designers worldwide.
So, whether you are an avid collector, an admirer of fine jewelry, or simply someone who appreciates the art of luxury, the top 10 high-end jewelry brands will continue to stand as beacons of elegance and prestige, leaving an everlasting legacy in the world of fashion and beauty.