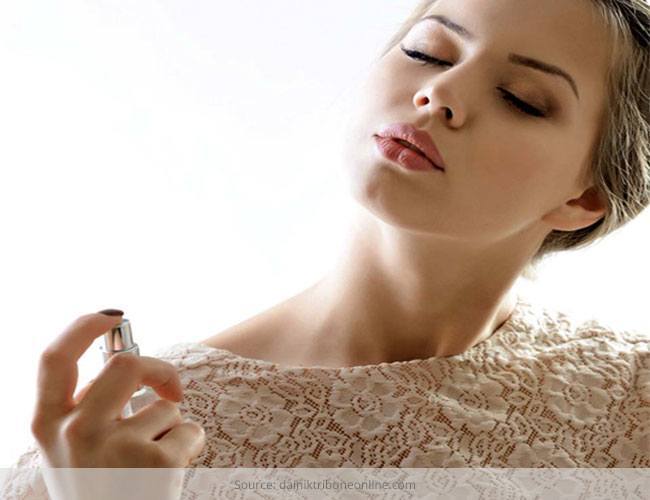 Ask a social celeb and she would be gung ho about few things in life that are a must-must. And the answers could be anyone's guess – diamonds, limousines, SUVs, LBDs and perfumes. What requires a lot of time and effort on the part of the perfume however is to decide on the fragrance that would be the right pick for the social dos. Needless to say, the scent that you choose has to match with your dress code and figure too. After all, social etiquettes demand the right accessories too (read perfumes) so that you keep getting noticed.
Perfumes have come to be getting personalised too. A case in point is the celebrities who have launched their own labels of perfumes such as Kim Kardashian, Jennifer Lopez so as to bring about distinction, novelty and individual standing in the corridors of power. Ever heard of Imperial Majesty perfume by Clive Christian that is decorated with a phenomenal five carats diamond and to top it all a stunning 18-carat gold collar.
Whatever be the reason, let us go through the privileged gallery of luxury scents that would woo that tall, dark and handsome tuxedoed young man you have the hots for.
1. Baccarat Rouge 540
Belonging to the house of French crystal manufacturer Baccarat, the limited edition Rouge 540 has an interesting story to tell. When the molten crystal reaches 550° temperature turning it into red that is the time when the red Baccarat colour evolves. A blend of bloody orange, citrus peels and woods, the Baccarat Rouge 540 captures the essence of woody amber floral scent so well that it can't escape attention.
2. Belle d`Opium Yves Saint Laurent
A product of YSL, this oriental fragrance has a blend of Casablanca lily, gardenia, jasmine as top notes; tobacco, fruity notes and peach as heart notes; patchouli, amber, sandalwood as base notes. Mysterious and powerful, Belle d`Opium is supremely flamboyant for the glitzy you.
3. Secret Obsession by Calvin Klein
This very sexy and intense fragrance is a floral-cum-oriental mix that is sultry and addictive to the hilt. Has an exotic blend of plum, mace, Egyptian jasmine, French orange flower, spicy orchid, Moroccan cedar wood, burnt amber, Madagascan vanilla, Australian sandalwood and many more to please your senses.
4. Versace Crystal Noir
This EDT from Versace is for the confident women of today who love to explore floral and oriental notes. Let your senses play with the exotic top notes of pepper, ginger and cardamom and the heart and base notes of African orange flower, peony, coconut, gardenia, musk, sandalwood and amber.
5. Hypnotic Poison by Christian Dior
The fragrance of mystery, Poison By Dior is an absolute timeless luxury. Smells of lush jasmine combined with orange blossom and tonka bean. Profoundly feminine, the notes of vanilla, cinnamon, tuberose, bitter almond, sambac jasmine, musk create massive appeal leading to a sense of deliciousness.
6. Jimmy Choo Flash
Make the most of the Saturday night fever with this floral EDP. Must-have accessory for those ladies wanting to strike a sensual and effervescent note, this perfume has pink pepper, strawberry and tangerine as top notes, white flowers as middle notes and white powdery woods as base notes. It ss perfect play for the red carpet oriented women.
7. Dolce and Gabbana The One
Floriental in nature, The One from D & G is a modern eau de parfum that has a personality and golden sweetness to it. Contemporary fruity ingredients such as jasmine, creamy vanilla, amber and musk make it sparkling fresh. Fresh top notes of Bergamot and Mandarin combined with juicy Lychee and Peach match with Madonna Lily as heart note and Amber and Musk notes to leave a lingering presence.
[sc:mediad]
8. Estee Lauder Sensuous Nude
Sensuality is like second skin in Estee Lauder EDP Spray. Very intimate and feminine, it has a personal and warm fragrance. Modern notes comprise of Bergamot, Mandarin and Baie Rose, Feminine notes made of Muguet, Honey, Musk and Intimate Notes made of Amber, Musk, Vanilla and Sandalwood.
9. Paco Rabanne Black Xs By Paco Rabanne
This fruity, woody and floral concoction strikes radiance with Pink peppercorn, Tamarind blossom and Cranberry. The heart notes have Black violet, Hellebore Rose and Cacao flower and Massoia wood as base notes. All in all, it's a wonderful mix that explodes with freshness, youth and sensuousness -kind of enough to make the girl feel gorgeous and sexy.
10. Gucci By Gucci EDP Spray
Gucci has always been admired for its spoil-to-perfection perfume collection. Go indulge in this famous brand label that has top notes of Orange Blossom, heart notes of Tunisian Orange and base notes of Vanilla & Honey.
11. Joy by Jean Patou
This divine perfume loved by countless women is truly speaking the choice of the elite. When a fluid ounce (approx 30 ml) is made of a heavenly concoction of 10,000 jasmine flowers and 24 dozen roses, you can imagine the absolute workmanship that would have gone into the making of it.
How to Wear the Perfume Better
No technology is required as such to wear a fragrance of your choice. If you wish to make your favourite label create the maximum sex appeal, then just layer your chosen perfume with a similar looking body lotion. Whenever you apply perfume on your pulse, do remember to dab it in an unexpected place to keep the tag of surprise working wonders. Surely, women look far more sensuous when they have secretly put a drop of the scent at the back of their neck. Let this surprise package work wonders on you.