With Rakhsa Bandhan falling on 26th August, 2018, the festivities are all set to begin. Right from buying rakhi to gifts, all siblings are pumped up with the spirit of the festival. This festival celebrates love among brothers and sisters and is marked with the tying of a holy thread around the brother's arm.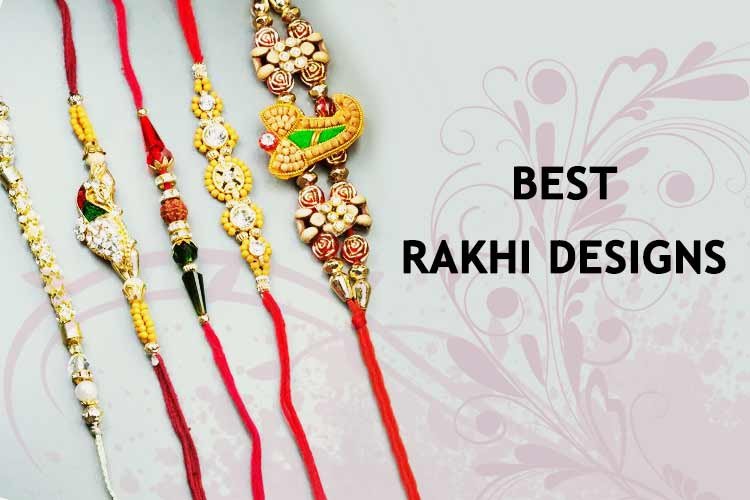 Buying rakhi is quintessential, but having to choose from hundreds of designs can be a big task. But why worry, we have the best of rakhi designs listed for you right here. Have a look and choose your favorite one.
Latest Rakhi Designs for Raksha Bandhan 2019:
There are different types of Rakhi available. But you may also choose to make a personalized rakhi all by yourself to make your dear ones feel special. Here are the best rakhi designs you can find.
1. The Embellished Zari Motifs:
One of the popular rakhi designs are the ones with zari motifs. They come in a number of designs including geometrical, peacocks, and flowers. You may also look up fora rakhi with a fabric backing that is simple to stick or one with a golden thread.
2. The Fabulous Felt:
For creating a rakhi with felt, you will need a designer sticker, satin ribbon, purple felt, yellow felt, scissors, needle, and thread. To make the rakhi, take the yellow felt, satin ribbon, and purple felt. Secure it in place using fabric glue. Stick the designer sticker on top and your rakhi is ready.
3. The Regal Rose:
The rose incorporated Raksha Bandhan designs signifies love for your brother. You may tie this special rose rakhi on your brother's wrist to make him feel special and loved.
4. The Scintillating Sandalwood:
The sandalwood rakhi is also popularly known as Chandan Rakhi. Many people match it with ethnic ensembles. They come in various shapes and sizes.
5. The Fabulous Florals:
This rakhi design is popular in India. The base of the floral rakhi comes in a floral shape. It is intricately designed using glitters, thread-work, and sequins
6. The Lilting Lotus:
The lotus design on the rakhi signifies the beauty shared between a brother and a sister. This is one of the most common rakhi designs worn during Raksha Bandhan.
7. The Mesmerizing Musical:
These types of rakhi are special because they play music when touched. They are fitted with special sensors which get activated upon touching. Perfect for a musically inclined brother!
8. The Dazzling Diamond:
A diamond is special and a forever mark of love. And what better way to express your love to your brother than a diamond rakhi on Raksha Bandhan.
9. The Catchy Colored Bells:
Rakhi with colored bells symbolizes good luck and ward off negative signs when tied on your loved one's hand.
10.The Lovely Lumba
A lumba rakhi is gifted to a sister-in-law. It signifies the special bonding you share with your sister-in-law.
11. The Sparkling Silver Coating:
Rakhi with silver coating is said to be beneficial for health and promotes a lot of success for people wearing it.
DIY Beaded Rakhi Bracelets for Raksha Bandhan
For making a beaded rakhi bracelet, the materials you need are an embroidery floss, scissors, wooden beads of three different sizes and colors, and a tapestry needle.
Steps-by-step:
Take one or two different colored embroidery floss and cut off two strands of embroidery floss of equal size. Measure the size of your bracelet and cut the strands three to four times of the bracelet size. Hold the strands together to form one end and tie a knot using both strands.
Draw both strands through the tapestry needle and insert a small wooden bead through the strands.
Determine the length of the required part for tying the rakhi bracelet and create a knot using both strands. Then insert a small wooden bead and push it through the knot.
Separate the strands and insert two small beads into them; one bead into each strands.
Attach both strands together and insert a larger bead than the previous ones.
Separate the strands and insert the same sized beads into separate strands.
Join the strands again and insert a large bead into both strands.
Next take a different type of bead and insert it into the strands.
Repeat the beading from the first half.
Tie a knot adjacent to the last bead once the process is complete. Keep similar length of strands at the other end. Inset a small bead and tie a knot to secure the beading.
Cut off the excess from the open end if required.
We hope you like our 11 handmade rakhi design ideas. If you have more suggestions or ideas, leave a message in the comment box below.