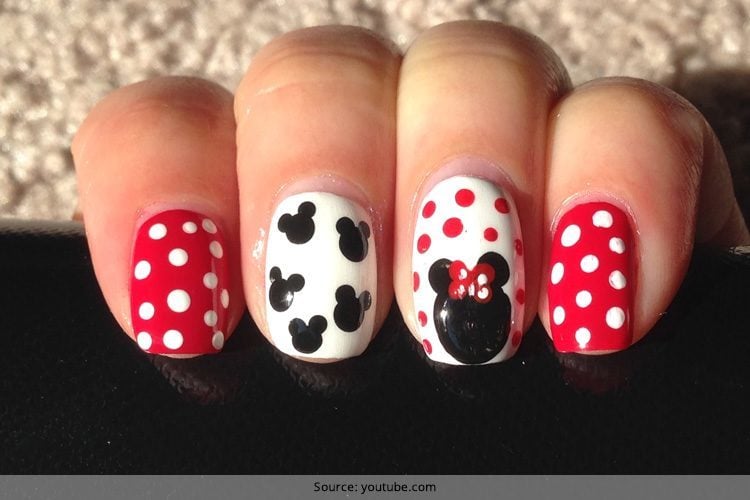 We grew up on a staple diet of Disney and when it comes to Disney, the first thing that would come to your mind is Mickey Mouse and Minnie Mouse. If you are a Disney and Minnie Mouse fan and Minnie Mouse nail art designs fan, then this article is just for you! We will talk about how to pain Minnie Mouse nails and you can flaunt your cutesy Disney nails to all your friends. Minnie Mouse nails in fact are very easy to get. All you need are some nail polish supplies and a very steady hand. After all, you cannot have Minnie Mouse fingernail art where Minnie doesn't look like Minnie at all!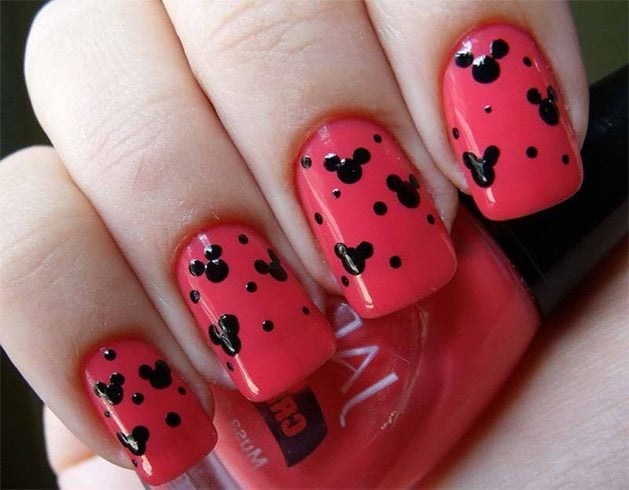 How To Paint Minnie Mouse Nails
There are many different types of Minnie Mouse nails and we have brought together two very different, unique and easy to replicate designs for you. So, let's get started!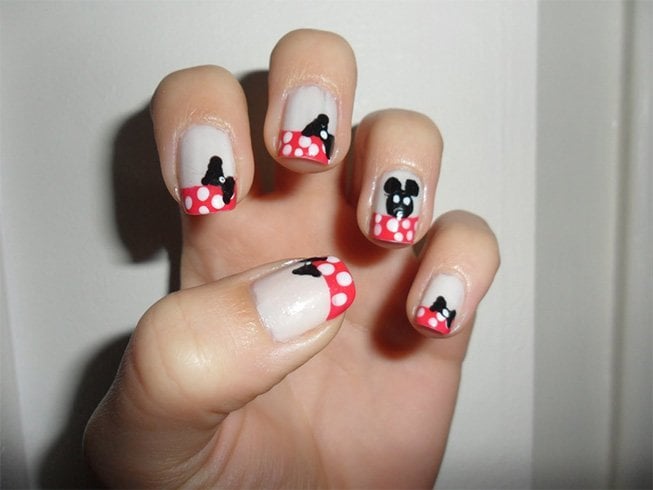 Minnie Mouse Nails: Design 1
Here Is What You Will Need:
Base coat (Transparent)- This is to protect your nails
Red nail polish
Black nail polish
A small slim brush
White nail polish
Dotting tool
Top coat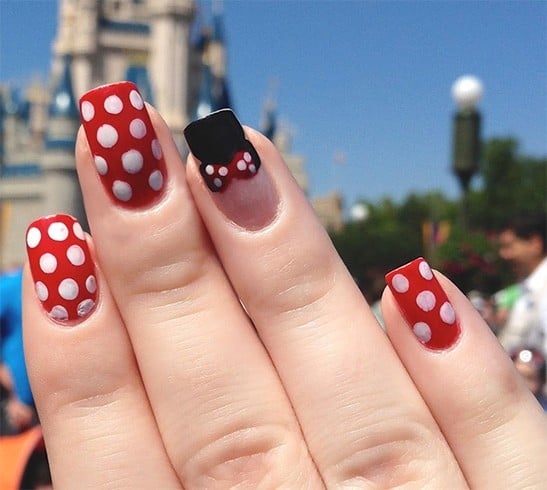 Directions:
Use the base coat and apply it to all your nails. The base coat usually strengthens the nails and is used to protect your nails. If you have weak nails, there are few base coats available that can even help strengthen your nails (Sally Hansen Strengthening Base Coat)
Paint all your nails red except the ring finger
Take the black nail polish and the brush and use it to make three large black circles. These will be used to create Minnie's head on your ring fingers
Make two red triangles on the black to represent her bows
Now take the white nail polish and the dotting tool and dot each and every one of your nails
Now take the top coat and apply it on every nail to finish off your art work. Tada! You are done!
[Also Read: Party Nail Art Ideas]
Here is a YouTube Minnie Mouse nail art tutorial that you can follow:
Minnie Mouse Nails: Design 2
Here Is What You Will Need:
Base coat (Transparent)- This is to protect your nails
Red nail polish or a nail art pen
Black nail polish or a nail art pen
A small slim brush
White nail polish or a nail art pen
Pink nail polish
Dotting tool (An alternative to a dotting tool is also a bobby pin and you can use it to achieve the same effect)
Top coat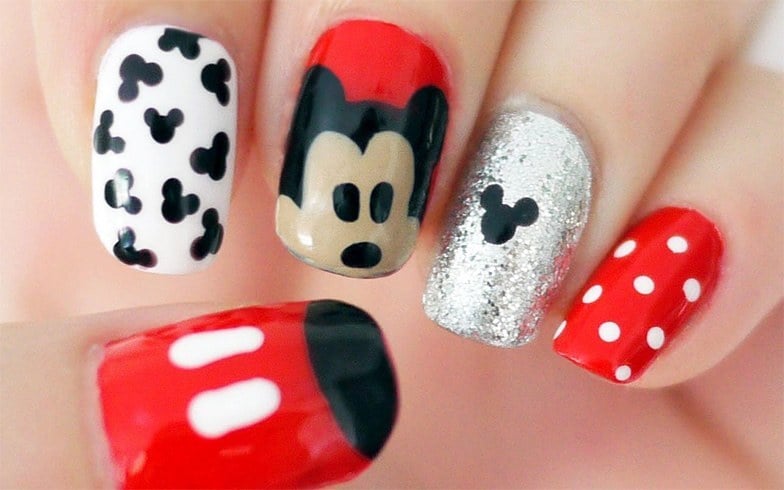 Directions:
Use the base coat and apply it well on all your nails. Not only does a base coat strengthen and protect your nails, but it can also prevent the yellowish staining that appears on nails if you have nail polish on it for a long time
Use red nail polish and apply it on all your fingers except your ring finger
Now apply pink or peach nail polish on your ring fingers. This one will serve as Minnie's face
Use a nail art pen or a dotting tool or a bobby pin and put white dots on the rest of your nails except the ring finger
For Minnie Mouse's face, on the ring finger nail, draw two white ovals. These will now become Minnie Mouse's eyes
Now take the black nail polish and add a black spot to each of the red nails. These are to create the centre of the black bows
Now take the nail art pen to make Minnier's eyes, nose and whiskers
Last but not the least, use the pen to add the bow details in black. Also, finish off any other details with your black pen
After everything has dried off, use a top coat to finish off your Minnie Mouse nails!
[sc:mediad]
Here is a YouTube tutorial for these nails:
Scroll down to have a look at some of the other Minnie Mouse nail designs that you can try out!
Minnie Mouse Acrylic Nail Art – A perfect balance of white, red and black nail paints to flaunt the Minnie style.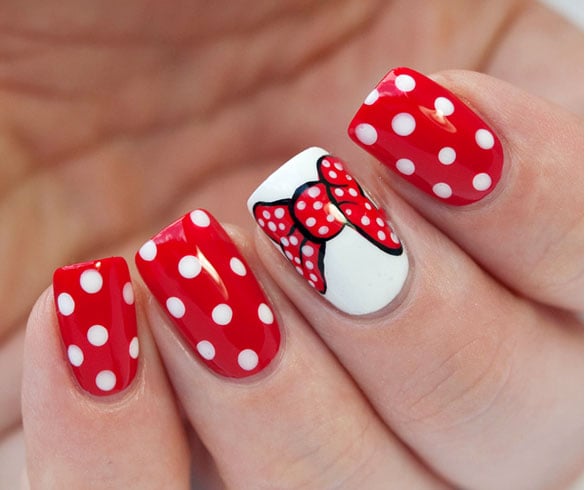 2. Easy Minnie Mouse Nail Design – If you are just starting out and are not comfortable with your drawing skills, you can try this super easy Minnie Mouse nail art.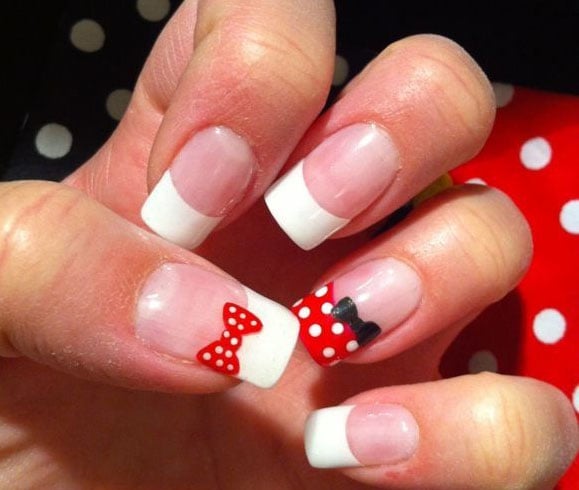 3.  Minnie Mouse Nails With A Twist – Looking for ways to do Minnie Mouse nails but with a slight twist? Check out this design leopard inspired Minnie Mouse nail art.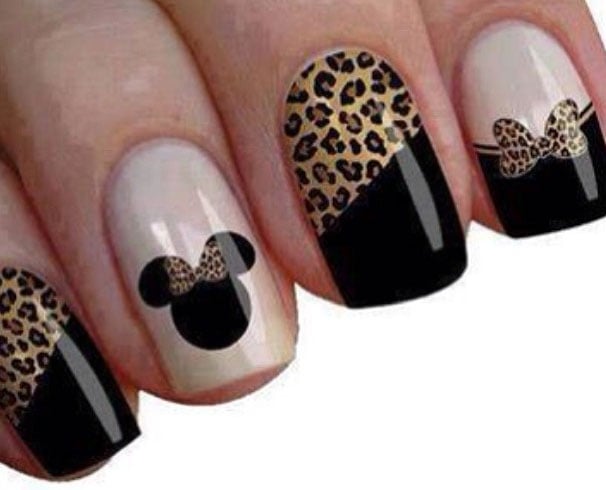 4. Minnie Mouse Fake Nails – Not all of us have the time and patience to draw designs on our nails, right. The next best option is flaunt your fingers with some fake nails.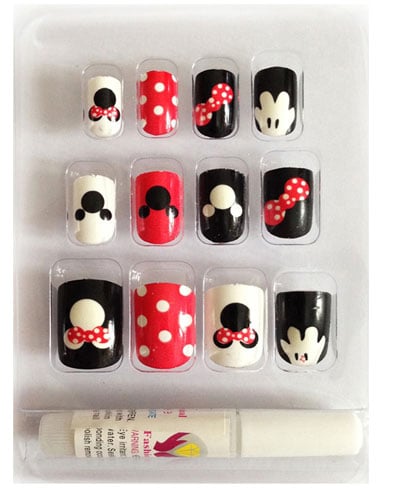 5. Minnie Mouse Christmas Nails – Show some love for the festive season of Christmas with these Minnie Mouse inspired nails.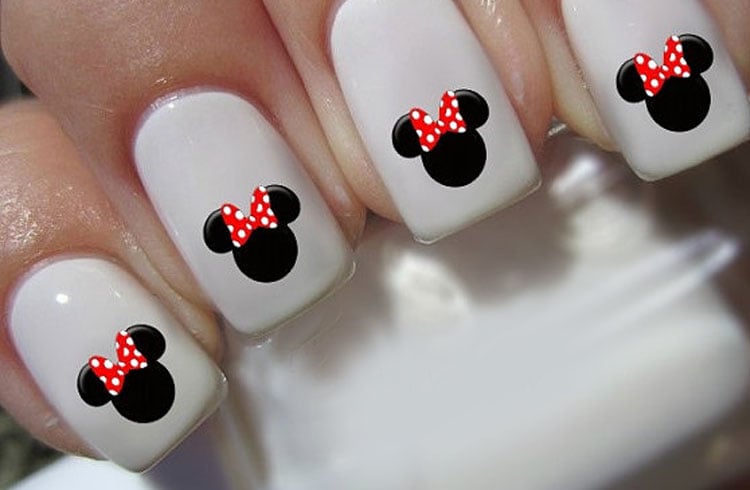 6. Minnie Mouse Pink Nails – Girls who love pink can try out this cute and simple Minnie Mouse design with polka dots.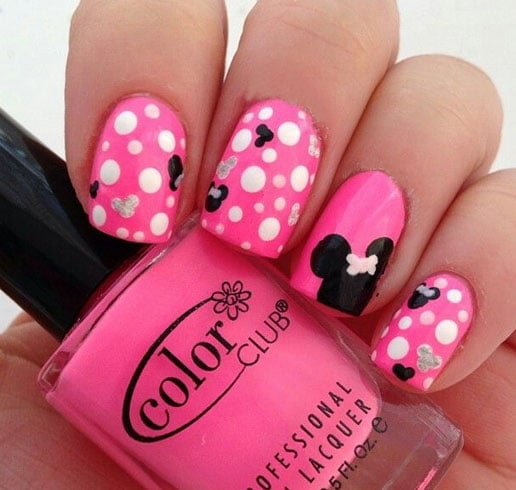 7. Mickey And Minnie Mouse Nails – There is no doubt that Mickey and Minnie are the cutest Disney pairs.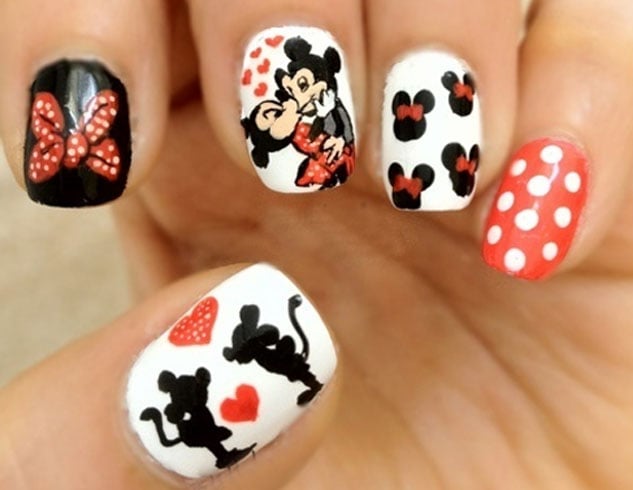 8. Minnie Mouse Nails For Kids – Let your kid flaunt this cute and adorable Minnie Mouse nail art.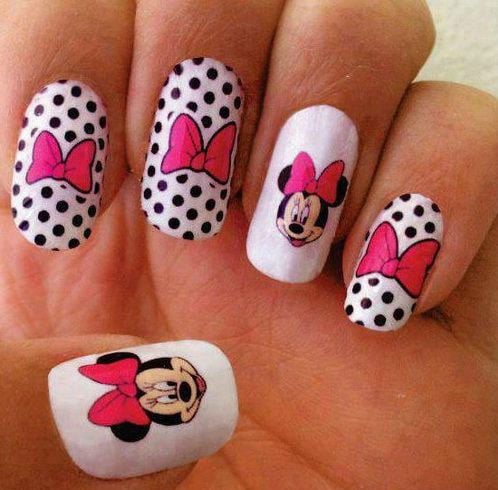 9. Minnie Mouse Glitter Nails – Add some sparkle and shine to your Minnie Mouse nail designs.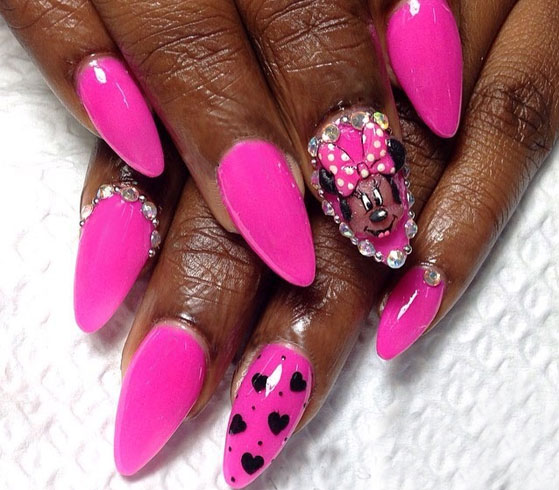 10. Minnie Mouse Nail Art – Seek a professional's help and paint each of your nail with a different design to show your Minnie Mouse love.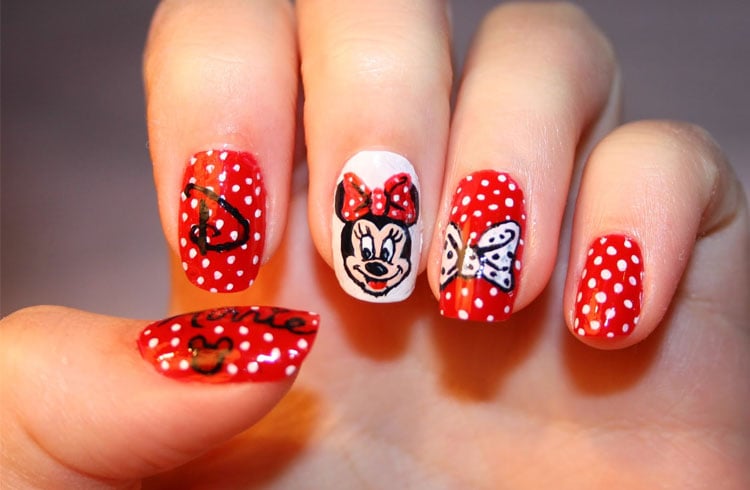 We hope you like them! Let us know in the comments which one you tried on your nails.
Images Source:pinterest.com