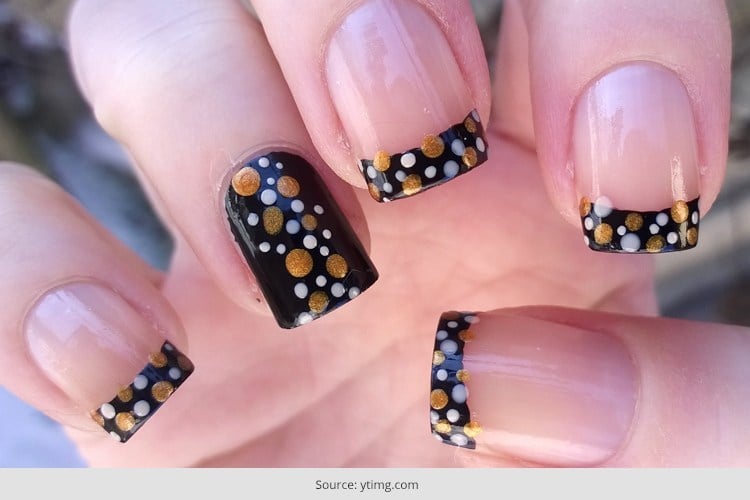 Your party beauty kit might be having loads of staple things and spectacular things. But it takes party nail art ideas to bring the missing razzmatazz.
Be it a glitter top coat or fiery red, party nail art designs are much more than you ever thought. There are dark blues and blacks, deep reds, even mossy greens to create a party rage. Not to forget glow in the dark.
[Also Read: Zebra Print Nails]
Party Nail Art at Home
If you want your fingers as well as toes to look on-trend and stay in the limelight, then go for colours in party nail art designs at home that will make them hungry for attention and love.
Check out on party nail ideas to make your party dos hotter than ever. And don't forget to share them with your friends and long lost friends. For all you know,
What Is Party Nail
Interesting question it is. Well, a party nail is acquired whenever you pick a solid colour for eight of your fingers, and a unique "party" colour for a single finger on each hand.
The trick is you are to use the same nail colour on both your ring fingers, or else it will look out of place.
However, couple of interesting variations have come up in party nails which you would love. Here we go sharing the delight of party nails at home.
1. Two Tone Party Nails
As the name suggests, you need to pick two nail colours and get them applied on your nails in an expert manner so that there are no gaps whatsoever.
2. Yellow Ombre Manicure
See the mellow yellow fading at the nail tip blending into white as you go towards the nail base.
3. Rainbow Glitter
Tell me which girl would shy away from this rocking rainbow glitter nail art. Some party nail ideas are so much filled with energy and colour, and rainbow glitter happens to be one of them.
[Also Read: Gold And Black Nail Art Designs]
4. Sparkled French Manicure
Give an instant boost to your nail appeal by going for sparkled French manicure through this easy party nail art.
5. Polka Dot Nails
Spotting the polka dots nail designs is easy, but what certainly is an eye-stopper is that one nail painted in steel grey colour.
[Also Read: Striped Nail Art At]
6. Naughty Neon Nails
Neon Nails are wonderful for nail art home parties and gatherings. With this easy party nail art you can dazzle the world easily.
[sc:mediad]
7. Bold Is The Nude
Just like you invest in nude makeup, do the same with your nails. Wearing nude nails design is not only easy party nail art, but can be safely adopted as nail art for wedding party.
8. Mint Nails
Feel mint-fresh excitement on your delicate nails as you wear it in the form of party nail ideas.
9. Blue And White Mani Look
For once you will feel nice looking blue as you wear blue and white combo as party nail art at home.
10. Bow-Tie Manicure
Love the bow tie on him? Even you can go for it in the form of party nail design.
11. Glow In The Dark Nails
Is it downright spooky or is it partylicious fun? Bask in this glow when it comes to party nail ideas that is almost enough to grab the eyeballs in your party circle.
12. Bright Dots Party Nails
Look bright in the season of spring with these party nail designs that stand out instantly with their bright dots.
13. Confetti Glitter Mani
Pastel polish that's speckled with matte glitter pieces is what makes party nail art designs such fun.
[Also Read: Long Nail Designs You Would Love To Flaunt]
Hope you have got reasonably charged by seeing the party nail art. Let us know which of them you are planning to adopt and paint on yours.