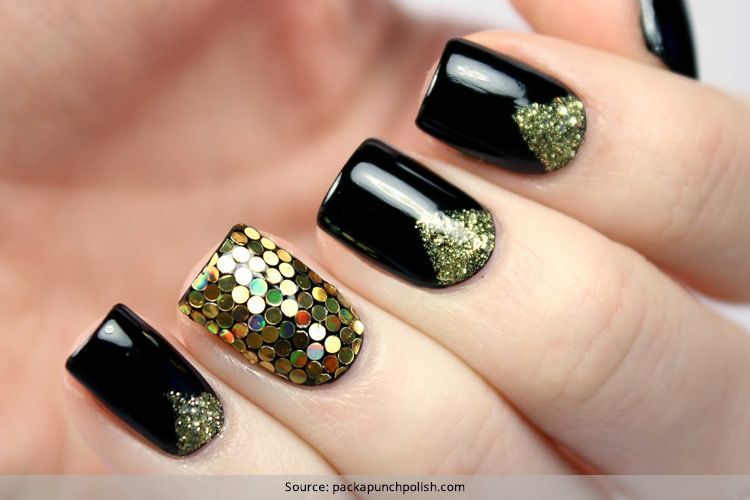 Yes gold is picking up as the favourite metal if one were to read news bytes in print. But gold is making its way into our nails too. No, am not hinting at gold nails but black nail art designs with a touch of gold colour.
[Also Read: Spoil Yourself Well With Nail Art Trends 2016]
If celebrities can look sumptuous in the wintry combination of black dresses with gold accents, why not make the nails speak the same language?
Black and Gold manicures are making their way not just into cocktail parties but boardrooms too. They make a stunning combination which looks chic and glam, deep and so very dimensional.
Whether it is wearing polka dot nail design that looks a rocker with black, nude and gold colour or black and gold stripes nail art, both the combos look perfect for holidays.
I've got some haute nail-worthy designs that even beginner nail artists should be able to adopt easily. And it doesn't take time to doing nail polish design ideas at home, you just need to be in the mood to creating easy nail polish design ideas.
Black Nail With Gold Stripe
The Polka Dot Pattern
If you are developing a soft corner for nail art, then the polka dot pattern should be easy to achieve. You just need a tool to apply dots with on your nails.
[Also Read: Frosty Nail Art]
To get the black nail with gold designs, you need a nail art dotting tool such as dull lead pencil or for that matter the rubber tip of a bobby pin which is bent open.
Once you get these by your side, dip the nail art dotting tool into black nail enamel and then dot it on your nail in an alternate pattern. Give the finishing touch with topcoat to get instantly adorable black nail art designs.
The Distressed Effect
Even if you are not the traditional glam girl, you can still get black nail polish with gold design with ease.
Just pick a few colors of black nail enamel such as OPI Alpine Snow or China Glaze Too Yacht to Handle, throw caution to the wind, and get started by painting your nails.
[Also Read: Gorgeous Looking Mirror Nails For Dashing Divas]
The Cuticle Glitter
To get the on-trend black nail with gold designs the cuticle gradient way, you need to put the glitter drop near your nail cuticle, wipe off the brush and then drag the glitter out towards the end of your nails.
In fact, you can add some more glitter at the base of your nail which will help boost the gradient effect. This is one of the easy nail polish design ideas for beginners that won't cost you a fortune.
[sc:mediad]
Nail Foil/Gel Combo
Though nail foils give you awesome mirror nail like effect, but for the topcoats that end up crinkling the foil and in the process ruin the effect.
However the good news is that sealing the foil inside of gel can maintain the chrome finish.
In order to get this manicure, first apply a black gel nail polish. Subsequently, paint it with nail foil glue. Once the glue turns clear, apply gold foil sheets over the glue.
Once the glue and foil dry up, finish the manicure with the final layer of gel topcoat.
Saw how black nail art designs can be done effortlessly at home? Try doing nail polish design ideas at home such as black nail with gold stripe and see how you become the girl to hang around with in party occasions.
Tell us how you found the concept of black nail polish with gold design. It's very much in the news and party circuit so be the first one to adopt this nail trend and you will go places.
Nails are more of a communicative tool. They make a personal declaration, and can be irresistible in the power games. Which way you want your nails to go is all in your hands.