No one wants to deal with hair products further worsening the condition of your tresses. Or worse- cost a bomb at the drugstore. So what is the next stop? We suggest homemade shampoo made using simple, natural ingredients. Before you frown upon the idea of using DIY recipes, we assure that the ones suggested below guarantee a clean, shiny hair irrespective of whether your hair is oily, dry, or normal.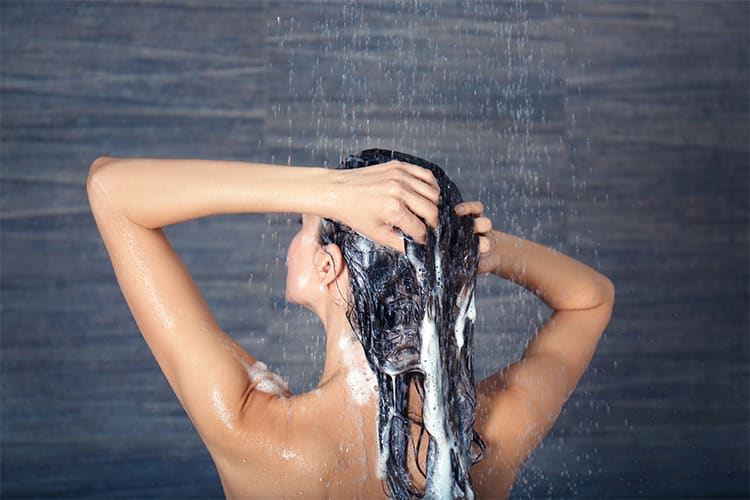 How to Make your Own Shampoo at Home:
Take a look below at our simple, homemade shampoo recipes:
1. Natural Homemade Shampoo:
Description:
This gentle shampoo is ideal for normal hair and can be made using effective ingredients like coconut milk and good ol' Castile soap.
Ingredients:
Liquid castile unscented soap
Jojoba, vegetable oil, or grape-seed oil
Directions:
Add ¼ cup of liquid Castile unscented soap, ¼ cup coconut milk, two tsp jojoba oil or other oil of your choices to ¼ cup of distilled water.
Store the mixture in an empty container or bottle.
Tips:
This basic shampoo recipe will not turn out thick as the commercial ones. For best use, shake the bottle over the head to get the mixture out.
2. Dandruff Shampoo:
Description:
Dandruff is a common problem affecting many. It can occur because of dry, flaky scalp or oily scalp. Other underlying conditions like hormonal imbalance, increased oil production, illness, and stress can increase its cause. To treat dandruff, try this remedy!
Ingredients:
Jojoba, grape-seed, or vegetable oil
Directions:
In a small grinder add ¼ cup liquid Castile soap, ½ tsp of light vegetable oil, one tsp apple cider vinegar, three tsp apple juice, six finely ground cloves, and ¼ cup distilled water.
Mix all the ingredients well on low setting.
Use this solution twice or thrice a week.
Tips:
Cover and refrigerate the homemade recipe shampoo. Do not store it for more than three days.
3. Shine Shampoo:
Description:
Is your hair lacking shine and luster? Then you should try this homemade shampoo which can boost shine to your dull tresses.
Ingredients:
[sc:mediad]
Directions:
Boil ¼ cup distilled water with two tsp of dried rosemary. Steep it for few minutes.
Mix the rest of the ingredients including two tsp sweet almond oil, ¼ cup Castile soap, and ¼ tsp lemon essential oil to water.
Store well in an empty container or bottle.
Tips:
You can use this shampoo thrice a week to see best results.
4. Hair Lightening Shampoo:
Description:
This natural lightening shampoo makes use of ingredients like chamomile which is known for lightening properties. Use it with lemon juice for best effect.
Ingredients:
Directions:
Steep about six chamomile tea bags in one cup of boiled water for 15-20 minutes.
Remove the tea bags and dispose.
Add one cup of castile soap to the mixture.
Mix 1 ½ tsp of glycerin until a smooth blend is formed.
Store in a dark, cool place.
Transfer to an empty container or bottle.
Tips:
Use the shampoo once a week.
5. DIY Dry Shampoo:
Description:
The dry shampoo can come in handy when you don't have time to wash your hair, but wish to tackle the oil and dry from hair. This is also great to carry when you're travelling.
Ingredients:
Cornstarch or cocoa powder
Crushed lavender or other herbs
Directions:
Mix ¼ cup of cornstarch or cocoa powder and one 1 tsp crushed lavender.
Apply this mixture onto hair and brush your hair.
Tips:
You can transfer the dry shampoo solution into a spray bottle for even application. You can make this homemade recipe in bulk and store it for later use.
These are five of the best homemade shampoo recipes you can try from home. You can try any one depending on your hair condition