With fashion becoming all chic and comfy, t-shirts are totally ruling the current space.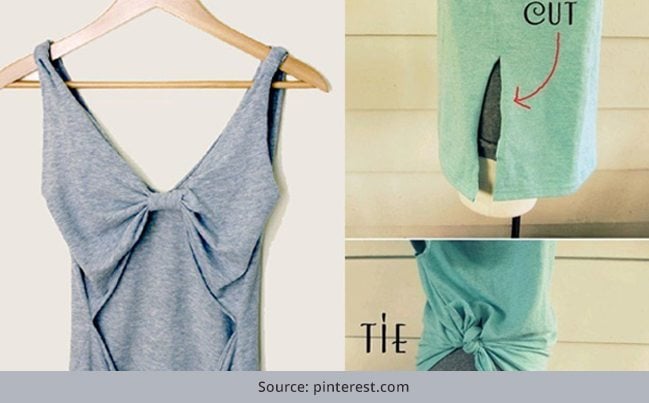 T-shirts are like classics, and the best part being, one is never too old to sport t-shirts.
But what if you could give your older pals who are almost dying in your closet a sweet makeover and dress them up to get your fashion game on point.
For all those days when a t-shirt is too boring, and a dress too dressy, give your plain tee's an upgrade trying some cute ways to cut a t-shirt.
A bit of creativity, a pair of scissors and some t-shirt cutting tutorials is all that you need to de-construct and re-construct your favourites.
So ladies say no to discarding those lovelies because we have done the homework for you, having compiled a host of t-shirt cutting patterns, to get you rolling.
Just scroll down and take a pick from these cool ways to cut a t shirt and flaunt that designer in you.
Here Are Some Quick DIY's On How To Cut T-shirts:
[Also Read: Wearing White Tee in Different Ways]
I'm sure you've tried the different t-shirt cutting ideas by cutting old t-shirts and experimenting with different styles, hence here are 27 different ways:
1. Simply Sleeveless:
A simple hack : Pick up an old t-shirt, cut the sides of the t-shirt all the way down and leave some 4-5 inches from below. You can decide the width of the shoulder strap you want and cut accordingly. Stretch your cuts so that the fabric doesn't look like it's cut unevenly.
2. Crop Tops:
This one is my ultimate favourite. Crop tops are definitely the biggest trend out there and making one with the existing tees is even easier.
To execute this DIY project idea, first, cut t-shirt sleeves by the hemline to restore that crop top grunge. Next, widen that neckline, by simply cutting it from being a round neck to more of a boat neck. Now, cut short the length. While cutting the hem, let the sides be shorter and the front longer. Always remember to stretch the cuts you've made, for it to look crafty and original.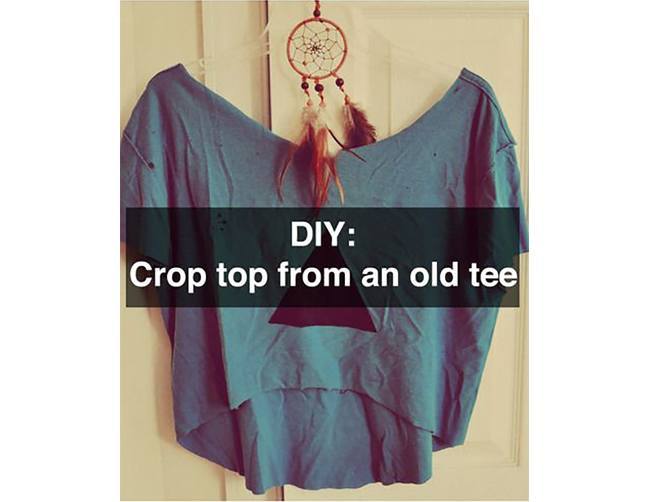 3. A Winged Back:
This isn't really for beginners but you could try. DIY projects like this one, need some practice and patience too.
Get an old t-shirt, a marker and a pair of scissors to make this dragon fly back tee shirt on your own. With your marker, draw the stencil of the dragon on the back of your tee shirt. If you aren't confident about your drawing skills, then print out a picture from the internet and trace it out. With a comfortably held pair of scissors, cut the design one by one. Be careful with the edges because we don't want them to look messy. This t-shirt cutting pattern is surely for the more artistic one's who want to fly high wearing a pair of wings on their t-shirt.
4. Tie-Up Crop Top:
A cute way to cut a t-shirt will be to turn it around into a tie-up crop top that will instantly elevate your chic quotient. Start with ripping the sleeves. If you are still unsure of how to cut the sleeves off the t-shirt evenly, then just take a marker and draw the cuts first. You can do the same for the hem and the neck. Make those lines on your t-shirt as shown in the picture. Remember to cut the hem making that V-shape as shown in the picture. One cut in the middle will render those tie-ups.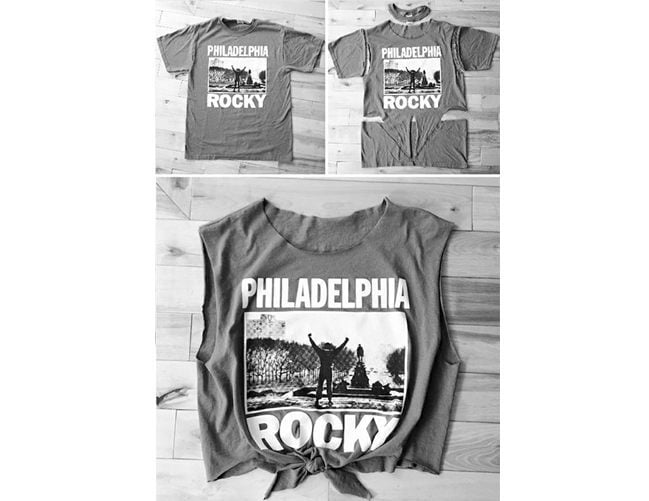 5. Cut-Out Neck Pattern:
If you like to play some peek-a-boo, then here's an interesting way to cut a t shirt, by cutting out the neck yoke to create a high street look. Start with drawing an outline of the cut you want to make around the neckline and the arms, and then get cutting. Take your time to meet that designer finesse.
Continue scrolling for more t-shirt cutting designs.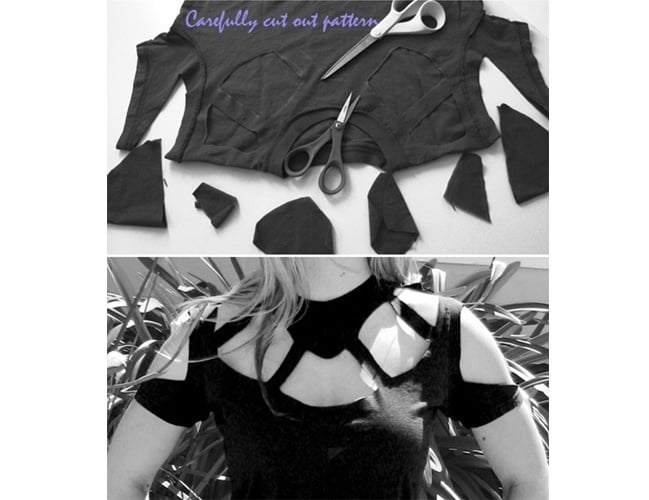 6. Bow-Back T-Shirts:
This T-shirt cutting pattern will let you do the new backless, playing it upside down. Instead of wearing a deep V, wear it the reverse way, showing off your lower back. To do a bow-shaped back, start with making a horizontal slit on the back of your t-shirt from one end to the other. Cut out and widen up the neck too. Then gather the piece from the center, pulling together the neck and the horizontal cut in the middle of the back to create that bow.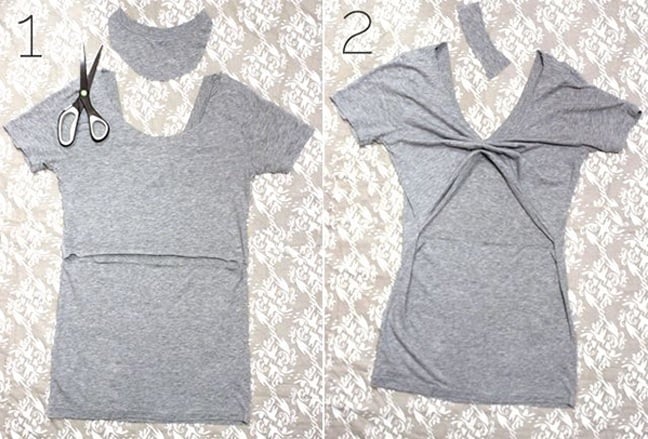 7. Strap Back:
With boyfriend fit being the rage, borrow a loose t-shirt from your guy or your brother and opt for this cool look. Cut out a deep v-neck at the back of the t-shirt. Then, cut stretchable elastic material or another piece of fabric and sew them into those gaps. We suggest you opt for brighter shades for the straps to stand out.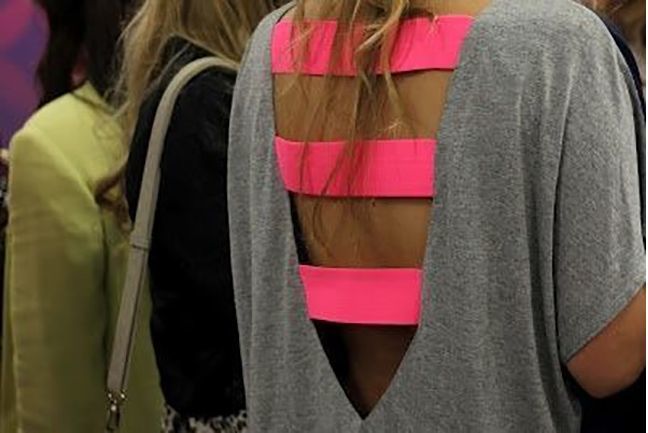 8. Blade Cut:
It is as simple as it sounds. Just mark your territory and get cutting. You can try different shapes and styles like in this one where one is horizontal and the other vertical, both look equally great. This one's surely the easiest of all the t-shirt cutting designs.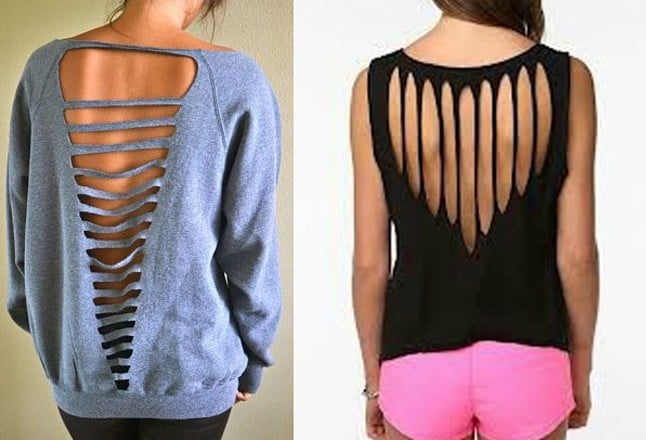 9. Shoulder Cut:
This is one creative t-shirt pattern that requires precision. If gone wrong, it will ruin your efforts and the t-shirt too. Start, with cutting along the sleeves, the shoulder, the neck and then the other sleeve, exactly in the same order. Make equal cuts, as too much gap, will not look aesthetic.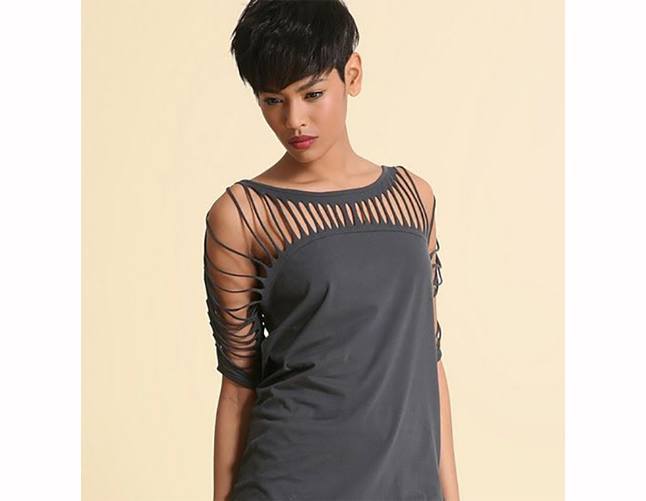 10. Sexy Shrug:
You have to do absolutely nothing here, just cut your t-shirt from centre front and stretch out those cuts to let go of the shabby cutting and Voila you're done!
Wear it like a shrug.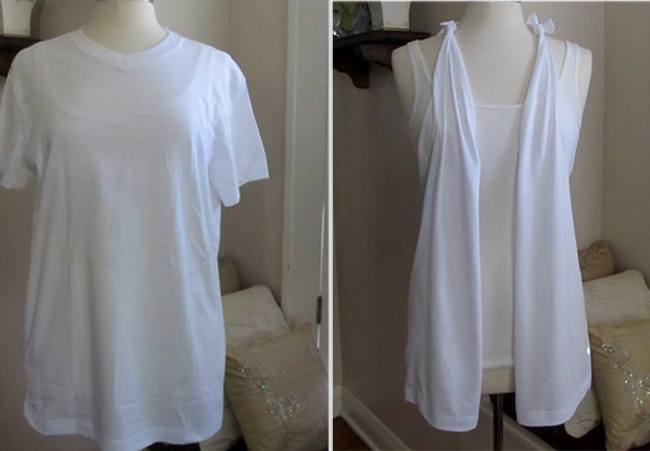 11. Moon:
Like seen in the picture, you ll need the items seen below, cut out the moon shape for the back and then sew the lace.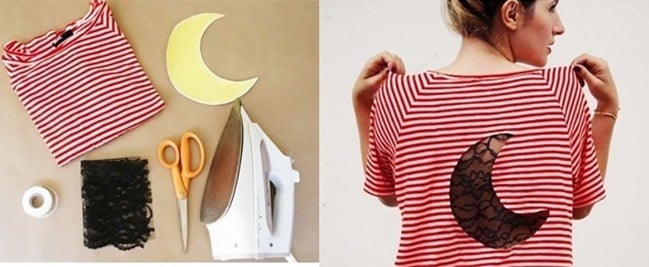 12. Back Cut Velcro:
This DIY t-shirt cutting craft is sure to get your toned lower back, all the attention it deserves. Though it looks a little twisted but is one of the simplest. You just have to cut a straight slit at the back, making the entire top look like a simple long piece. Then put a Velcro on either side like the way it is in the picture. Cut down the fabric to get that angle behind.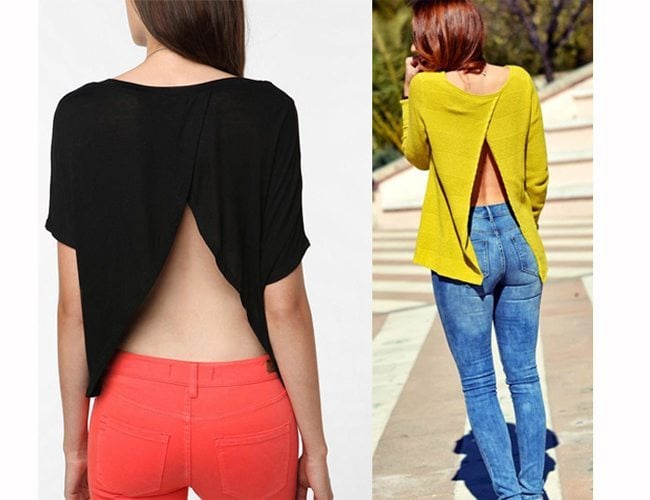 13. Heart Shaped Crop:
If you are all hearts for hearts then this DIY t-shirt cutting design is meant just for you.
The first part of the t-shirt cutting is where you make your old t-shirt into a cropped top. Then make a heart shape at the back and cut that part off.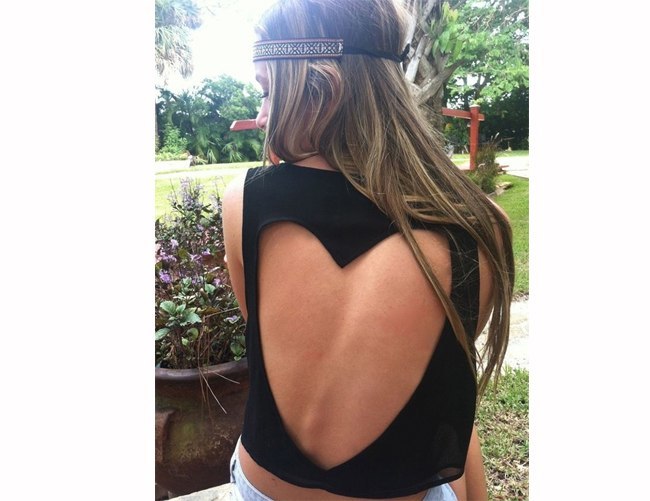 14. Cut-Out Fashion Project:
This cut-up t-shirt looks a little complicated when you see it but with the right approach, it's one brilliant idea. With the results, no will believe, it's made out of a t-shirt. Drawing the stencil is essential here because the design is a little complicated than the others. You could give your own creative bent to this or just follow the simple cut out pattern given here.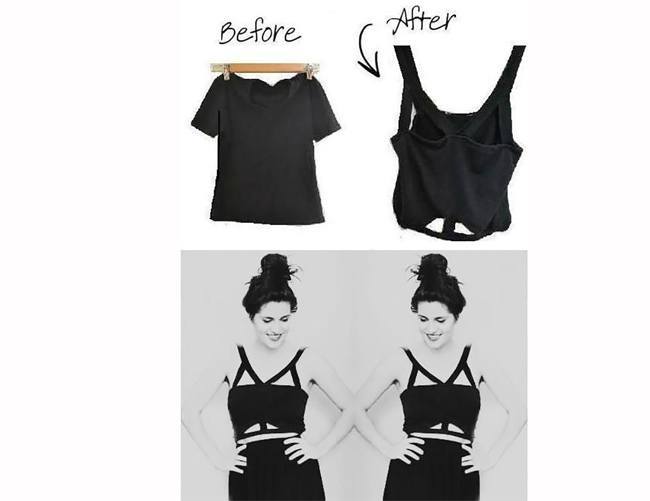 15. Slit Right Through:
There are plenty of cool ways to cut a t-shirt but this one is sure to breathe in some fresh air in your old breezy tops. Nothing but a simple slit at the right point is the need for this t-shirt cutting pattern. Pick up a t-shirt that's loose and has an airy feel, as this look will not do justice to a tight fitted or a short tee.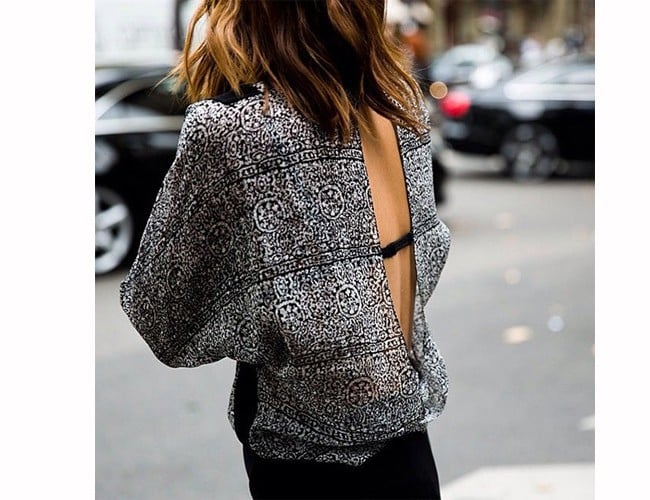 16. Heart Cut-Out:
Pick up a solid color t-shirt for this one. You will first need a tracing paper for this DIY t shirt cutting, to draw the heart out. Once done you can make the cuts. Make sure, you wear a contrasting colour inner-wear with this one to boast your talent.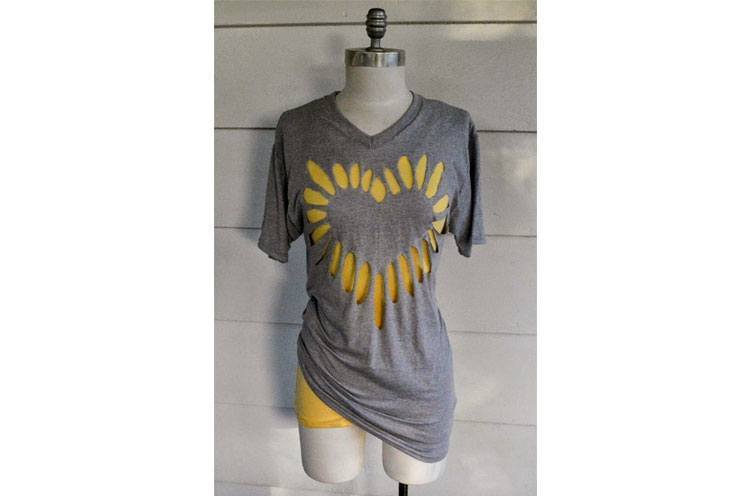 17. Fringed Fun:
Again, a no-fuss DIY t-shirt cutting, needs you to cut the bottom of the t-shirt in fringes. The thickness of the fringe does not matter but, thinner the fringe, the better they look.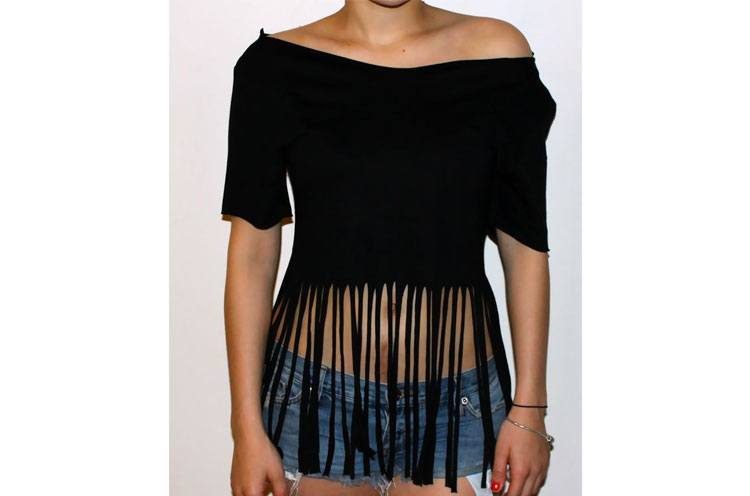 18. Tie-Ups:
If you ask us how to cut t-shirts for a beach vacation, then this one will be our answer. Even if you don't have that beach body, you can work this one with a bright inner.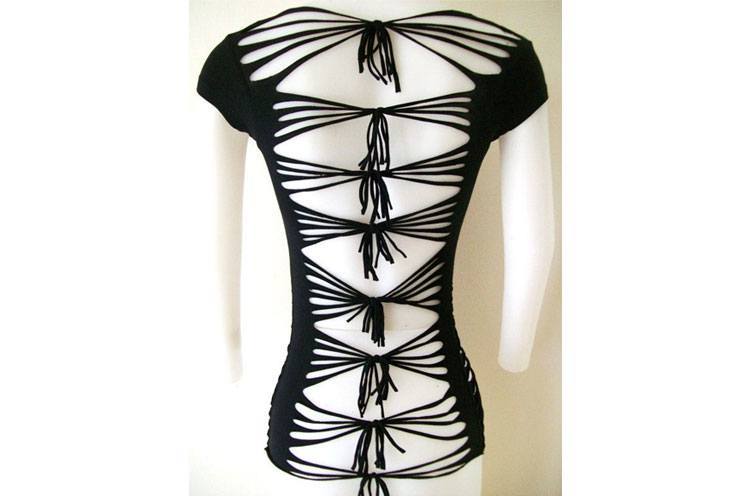 19. Sleeve Cut-Outs:
Want to do cold shoulder with a twist? Then this cool way to cut a t-shirt should be your definite pick. Cut the t-shirt sleeves and make it an interesting DIY project.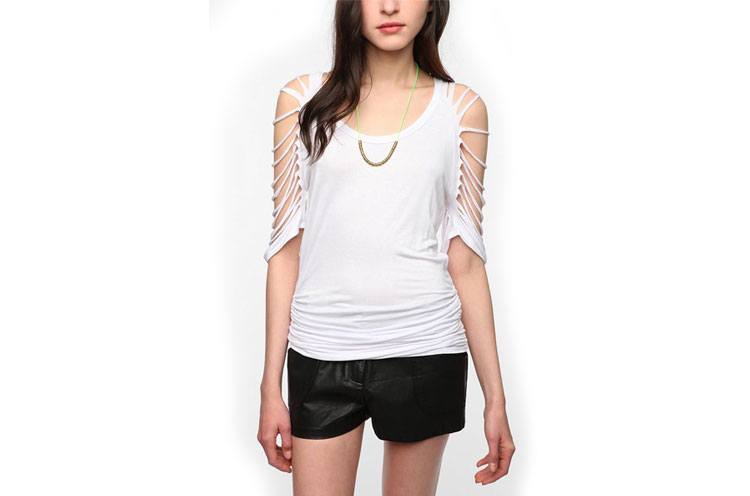 20. Tie-Back Tank Top:
Another interesting way is the tie-back tank top. For this DIY t-shirt cutting design, first cut the t-shirt sleeves. Next, widen the neck and cut the hem into an asymmetric hemline, as shown in the picture below. Once done, at the back, gather the cut sleeves to the centre and seal it with a ribbon. Your tie-back tank top is ready. Isn't this a cool way to cut a t-shirt?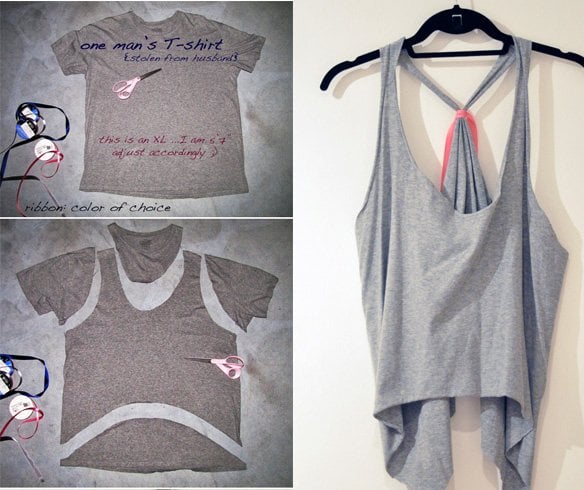 21. Side Cut Tee:
This DIY t-shirt cutting design did be the easiest of the lot. Just cut the sides and tie them at the end. Wear bralettes with lace work detailing on the sides to add some cute femme touch to your look.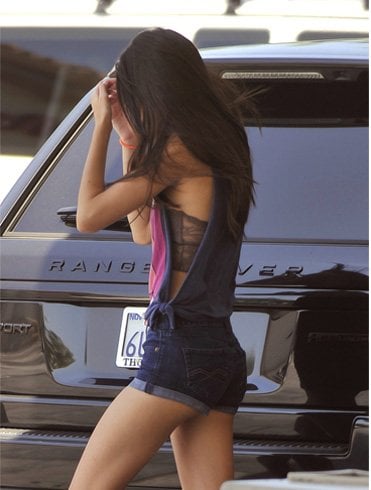 22. Cold Shoulder Top:
With cold shoulder tops being one of the hottest trends of the season. Opt to re-invent one of your old favorites instead of buying a new cold shoulder top. You need to just cut out the shoulders. We suggest you style it up further by wearing it the knotted way.
23. Crochet Back:
Have an old crochet doily at your house? Then this cute way to cut a t-shirt is all the inspiration you need. Just cut out the fabric from the back and sew in your crochet piece.
24. Lace Collar Top:
For refurbishing your oldie into a cute top, this DIY t-shirt cutting design is a simple two-step process. First, cut the t-shirt sleeves, next add a cute lace collar.
25. Pom-Pom Crop Top:
We are currently crushing on pom poms. Instead of buying a trending pom-pom top, just buy a pom lace. Turn your regular v-neck t-shirt into a crop top by cutting short the length and sleeves and finish the hem with the pom-pom lace.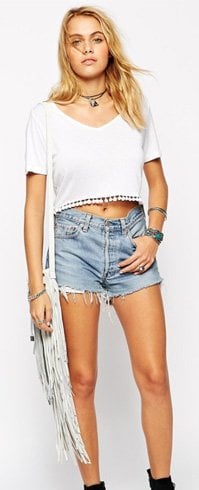 26. Side Crocheted Tee:
Take a t-shirt, cut the side seams as well as the sleeves. Place the crochet on the right seam side. Align it towards the bottom to the trim, and sew it along the inside of the shirt. Repeat the same with the right side. This pretty little crochet shirt is sure to add the oomph to every side profile now.
27. Grommet Shouldered Top:
The sexiest transformation we've seen yet. The old t-shirt gets a fully revamped look, once done the right way. Cut the shoulder seams and a scoop neck that isn't too low. Create your trim by using a hem from an old shirt. Now use the Dritz Plier set to insert gold eyelets into the fabric. Stitch it on top along the collar front and back. Finally, lace it up!
Let us know what you think about these T-shirt cutting designs.