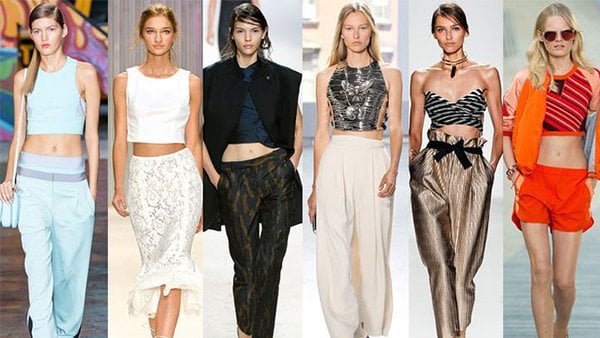 Rev up this summer for stomach baring looks! For crop tops are the season's favorite. From Louis Vuitton, Alexander McQueen, Alice + Olivia to Masaba Gupta, Dev R Nil and Nachiket Barve, fashion designers all over the world have strongly highlighted the trend of crop tops in their spring summer 2014 collection. However, the trend was already on high during 50's, 60's and 90's.
Designer Kresha Bajaj in one of her quotes in The Hindu, defined –
| Crop tops have always been in the fashion scene from as early as the forties and fifties and reigned supreme till the nineties. They did lose popularity in the noughties only to return with a bang a couple of years ago. Making a summer appearance with cute bustier-skirt sets, crop tops became the favourites of the season. From casual tees with a sporty vibe to loose beachy styles and elegant bustiers; I love them because you can dress them up or down so easily. With a variety of styles, there is something for everyone. |
Sexy, chic and sophisticated, crop tops are not only for petite frames, but women of all shapes and sizes can gracefully adorn the trend. As crop top doesn't always require a belly baring look, there are many other ways to wear it that makes it easy one to pull off. Read on our seven styling tips!
[Also Read: Women's Bustiers And Corsets]
1. Proportion Play
Wearing a crop top is all about keeping it in proportion. You will stand out when you strike a correct balance between your crop top and high-waist bottom wear, be it a skirt or a trouser, so that only a sliver of skin gets visible. Feel like a lady with this tip. Definitely, don't go for low-cut jeans!
2. Wrap Around Skirts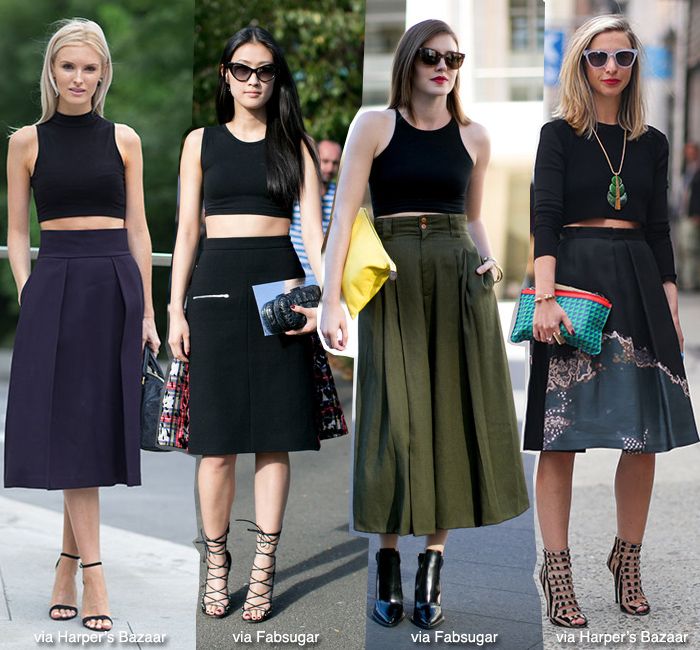 Likewise Freida Pinto nailed the look in her cropped top and skirt outfit at the 2012 Cannes Film Festival, you too can wear the look stylish. In fact, crop top is best worn with A-line skirts or full circular skirts or pencil skirts, depending on what occasion you are wearing it to. For example, pairing it up with a pencil skirt will give you a more sophisticated look while A-line skirt will make you look more chic and sexy, whereas long circular skirt will have a sensuous and feminine appeal to you.
[Also Read: How To Wear A Silk Tunic Top]
3. Feeling Shy, Cover Up!
If you are feeling uncomfortable in letting your belly show, you can modishly cover yourself up with a classic blazer. Wearing blazer over a crop top with a pencil skirt or high-waist tailored pant looks more of a corporate and business affair. You can also layer a t-shirt underneath the crop top, which rides you to the forefront in terms of clever cover up styling. For a unique feminine look, layer your crop top over a maxi dress.
4. Try Shorts & Palazzos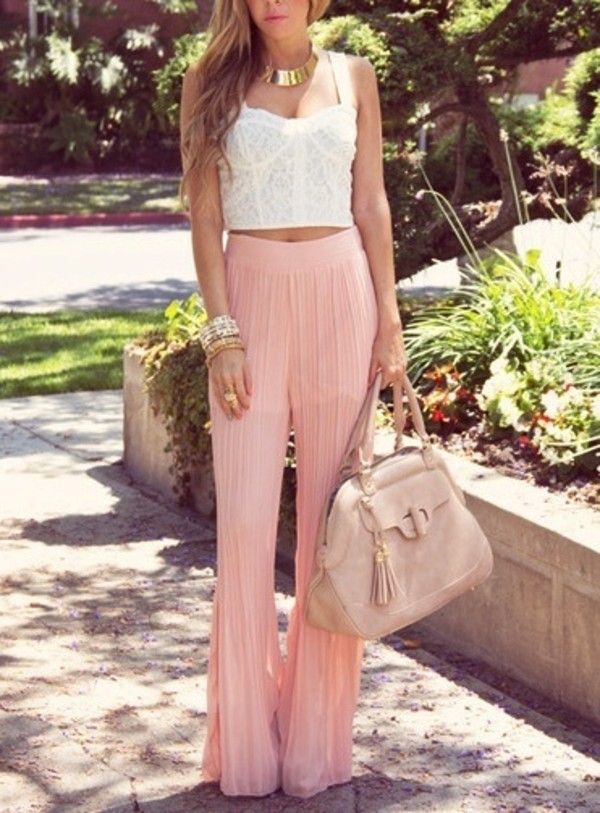 For sexy and casual appearance, wear high-waist shorts with crop tops. You can also combine the shorts with loose cropped sweater. This is also high in trend. Palazzo pants with crop top is hugely stylish. You may have spotted the look in many fashion weeks. Adorn the look with platform heels for the edginess.
[Also Read: How To Wear Crop Tops]
5. Accessorize With Statement Neckpiece
Highly in demand among fashion aficionados, statement neckpieces further highlight your crop top design. Make sure to accessorize your look with bold statement neckpieces.
[sc:mediad]
6. Go For Contrast Bag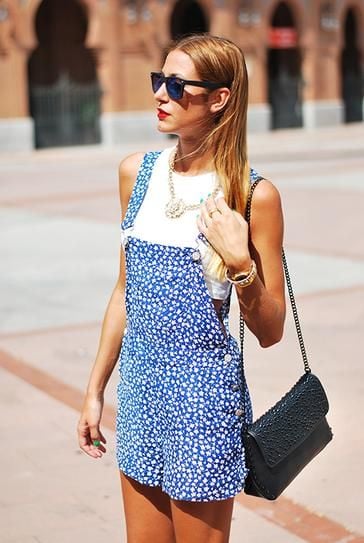 When you are picking your bag to match your dress, always go for a contrasting color to make your outfit standout. You can use a color wheel to find the ideal shade by just locating the hue opposite to one of the main colors of your dress.
[Also Read: Tank Top Styles]
7. Tricks Of The Trend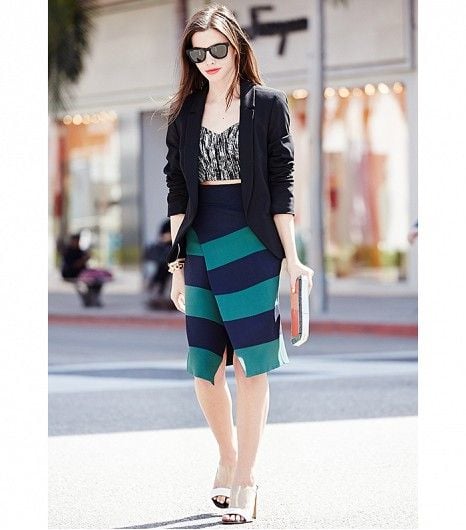 Length of the crop top matters. It should reveal only an ideal amount i.e. three to four inches from natural waistline of skin and must not look like a shrunken T-shirt. Do not wear crop tops with crop shorts. Wearing a crop top over low waist bottoms is also highly avoidable. Crop tops are only meant to give a slight peek-a-boo of your waist.
8. Off-Shoulder Crop Tops
We all know how to wear crop tops, but it is the way you wear that makes or breaks your look. The off-shoulder trend has been on top of our fashion charts and here is another reason why the off-shoulder trend practically goes well with everything.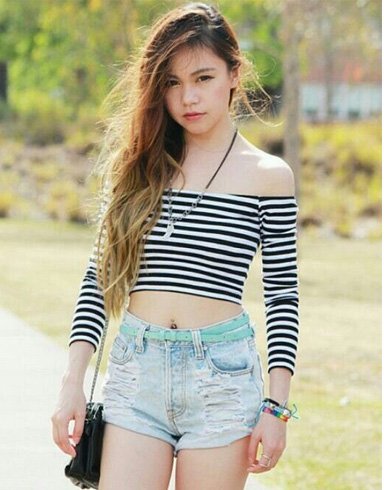 9. Crop Tops With Ripped Jeans
Summers are definitely the season of crop tops! And if you are wondering how to wear crop tops with jeans and increase the temperature around you, then we would suggest wearing it with a pair of ripped jeans. Add a sling bag and a pair of shades to complete the look.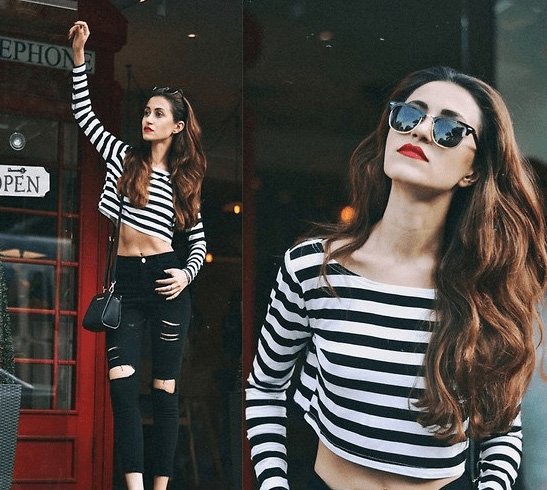 10. Denim Crop Tops
Wearing high waisted skirts with crop tops is one of the most common looks. In order to stand out in the crowd, you would have to experiment with the fabrics, patters, cuts, etc. Here is a tip to get you started. Wear a sleeveless denim crop top with a high waisted lace skirt.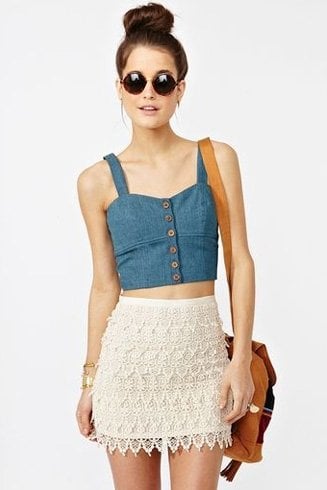 11. Crop Tops And Maxi Skirts
If you are not comfortable wearing short skirts and are wondering what to wear with crop tops, then take a look at this crop top with maxi skirt style. We are sure this would inspire you to start styling your long skirts with a sexy crop top.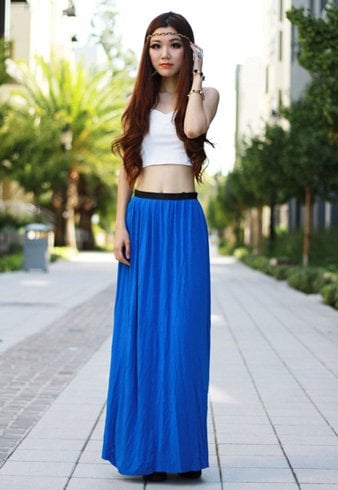 12. Crop Tops For Plus Size
One of the most common questions that we have come across regarding crop tops is, 'how to wear crop tops by plus size women?' Well, a quick glance at the below image will give you not just one but 5 different ways in which a plus size woman can wear a crop top.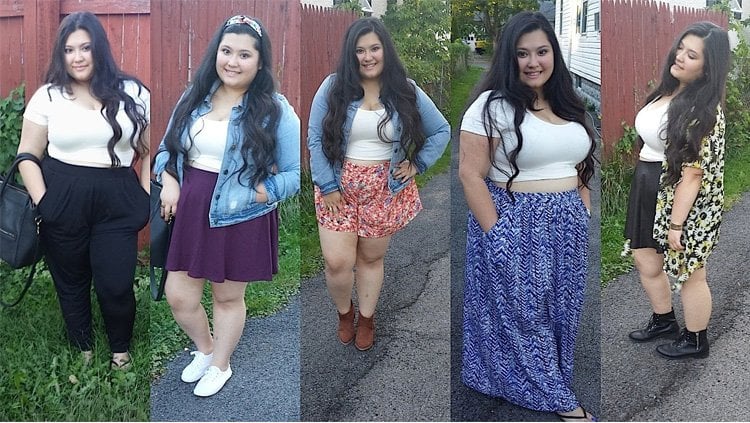 13. Leather Crop Tops
It's time to revamp your party looks by opting to wear crop tops for parties. Since they are available in a number of fabrics, you can just pick up one that suits you the best. One of the best crop top party look that we have come across is a leather crop top paired with an animal print pencil skirt.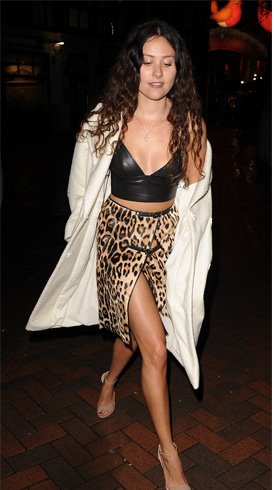 14. Types Of Crop Tops
Did you know that there are different types of crop tops such as v-neck crop top, lace, sequenced, chiffon, blouse crop, printed, studded crop tops, basic t-shirt, bustier, etc. You can actually stock up your closet with all the different types of crop tops.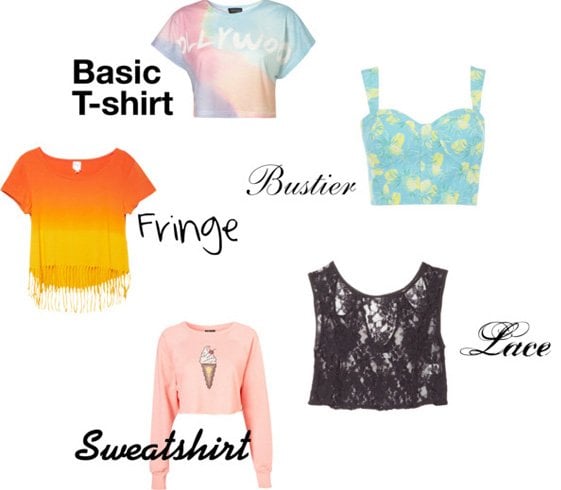 15. Crop Top With Overalls
Overalls are your answer to the query, 'how to wear crop tops without showing stomach?' Not everybody is comfortable with showing their stomach while wearing a crop top and this can be easily taken care of by wearing overalls – short or long.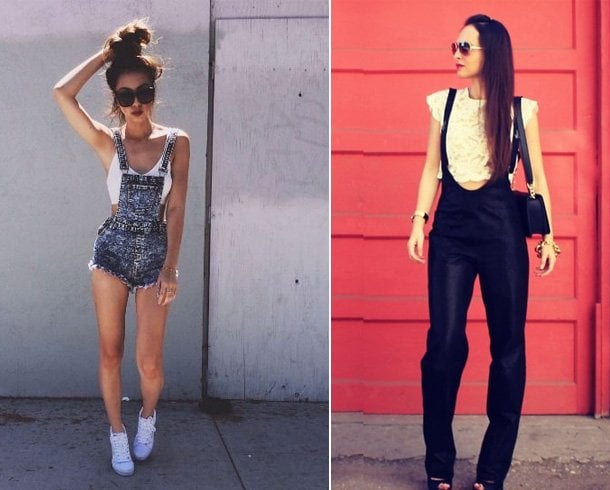 16. Crop Tops In Winter
Our love for crop tops is such that we can't let go off them even during the harsh winters. If you are also of the same thought then it's time for you to learn how to wear crop tops in winter. One of the classiest and easiest way would be to wear a jeans with a button down shirt and the crop top over the shirt. Add a statement necklace to complete your look.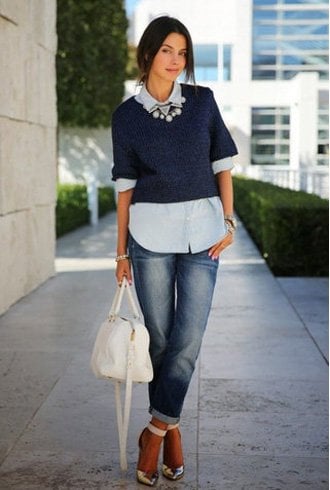 17. Crop Tops With Cardigans
Another fun way to style crop tops is to simply drape a light cardigan over your crop top outfit. You can pick up something in muted colors or match it with your outfit. That's another way to wear your crop top during the winters.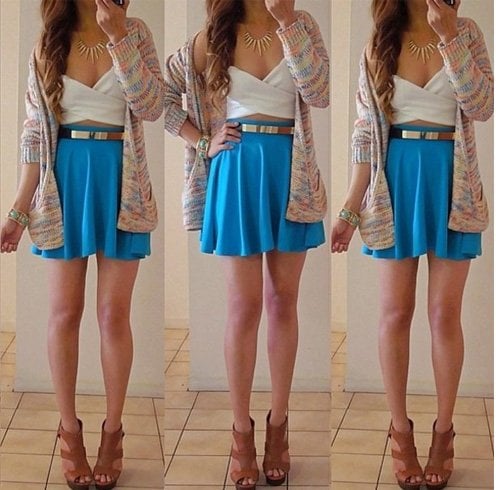 18. Crop Tops And Jeggings
A jeggings outfit with crop top is the 'in-thing' now. This style is hugely popular with college going girls and you can also join the bandwagon by picking up some cute graphic crop tops and wearing it over your pair of jeggings.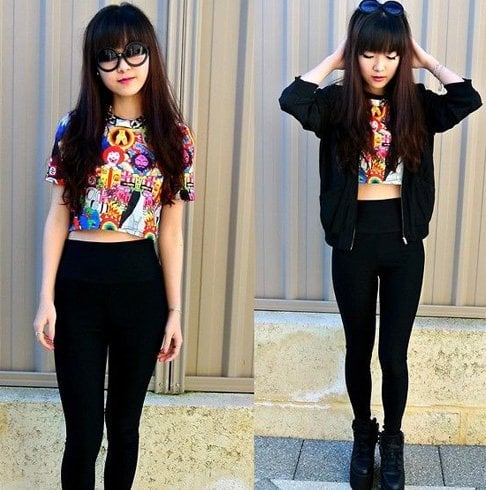 19. Loose Crop Tops
It is not necessary for you to always stick to tight and body hugging crop tops. Once in a while you should experiment with fashion crop tops which are loose and ill-fitting. They look super cool on high waisted trousers.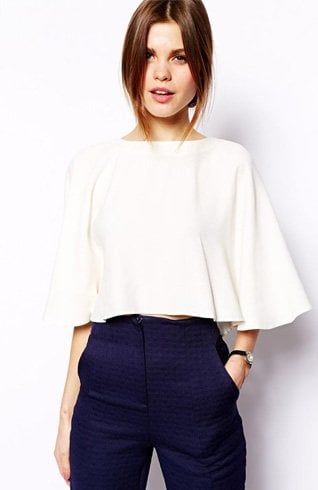 20. Matching Crop Tops
One of the best way to wear crop tops is to match it with your bottom outfit. Whether you wear trousers, skirts, shorts or palazzos, just make sure that you wear matching prints. It makes your attire look as one piece rather than two different clothing items.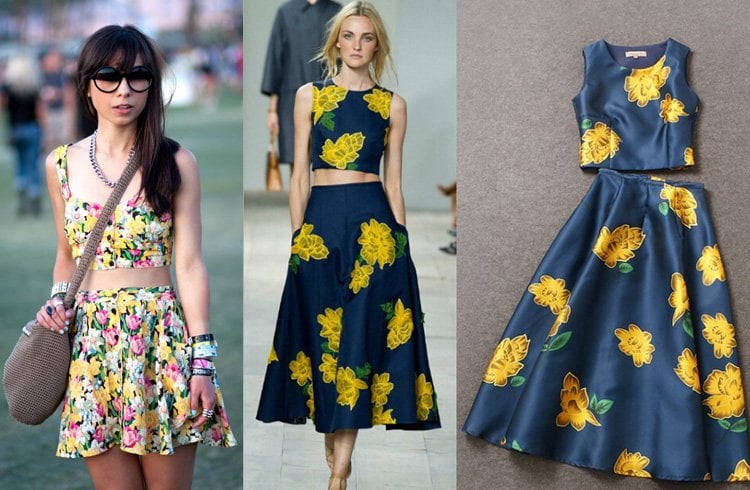 Tips For Different Body Types
1. Pear Shaped – Wear the mullet-style crop top that fits right at the vertical center of your rib cage, which is the thinnest part of every woman's body. Pair it with a high-waist skirt that fits you good.
2. Curvy – A little longer cropper that fits right at your natural waist would be the perfect choice. Wear it with a pencil skirt that also fits till your natural waist. Your curves on the top and on the bottom will get highlighted, giving your waist a super slim look.
3. Petite – Wear a voluminous crop top with structured shoulders, boxy cuts and the inverted curved hem. Pair it with high-waist pants making your shape appear much taller and fuller.
4. Plus Size – Proportion is the key here! Go for a top that fits you appropriately, which means not too tight and not too loose and pair it with pieces that enhance proportions, highlighting your assets. For fuller ladies, a long-sleeved crop top with a full skirt is a killing combo.
5. Rectangular – If you are rectangular in shape, try more number of vintage crop tops that are little longer and looser and pair them up with high-waist maxi skirts. The combination will highlight your bust and hips while making your waist look slimmer. Don't go for short crop top as it may result in making you look boyish.
6. Athletic – Feel confident to show off a silver of skin. You can wear sports-bra length crop top with a pair of low-slung, slightly baggy trousers, which will look fabulous on you! Sports shoes makes a good accessory.
|Crop tops paired with high waist bottoms, showing off just a hint of midriff, creates an illusion of a smaller waistline |
7. Hourglass – If you've got a super slim waist and the rest of you is relatively normal-sized, let me remind crop top flatters you the most. Shorter crop tops and mid-rise bottoms (pants, skirts) look best on you. Avoid longer and looser-fitting crop tops, as they'll just tend to swallow you whole.
8. Inverted Triangle – Your body shape is inverted triangle where your shoulders are a bit broader than your hips. Halter crop top is a good idea. It can make your chest and torso look less wide and highlight your waist. Pair it up with a full skirt to amplify your hips for maximum feminine effect.
Tip – Bust-heavy or apple-shaped women must avoid horizontal detailing and wide stripes in crop styles
Image sources: Elle, Stylecaster, Whowhatwear.com, Her Campus