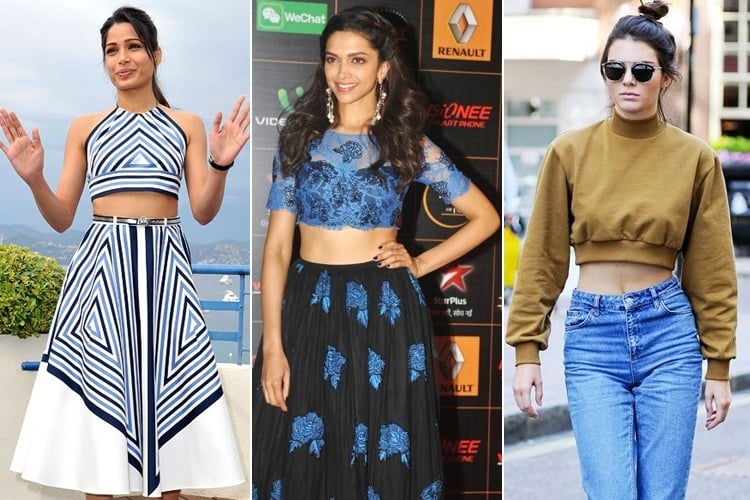 Crop tops are the new breakthrough in the fashion arena. They are stylish and chic, and if you know how to wear them right you can show up anywhere in a crop top. But the fact that crop tops will show a little bit of your tummy makes a lot of women out there apprehensive about trying it out. So read on to know how to wear crop tops§.
Is There A Way How To Wear Crop Tops Without Showing Stomach?
If you are wondering how to wear crop tops without showing stomach, team the top with high waist jeans. Of course you all know the high waist jeans is the new in thing now. Take out a super loose button up shirt and team it with a pair of well fitted denims. Tie the lower end of the shirt in a knot and let the corners hang along. Accessorize with a trendy belt if you want. The shirt will give a flavor of old Bollywood and this Old Bollywood style looks very much in fashion till today creativity.
Having gathered confidence on how to wear crop tops with jeans now, you may buy a few. Team up a closed neck crop top with your jeans. A closed neck will give the illusion of minimal skin show and will fit in even in conservative environments.
What to wear with a crop top can never be a puzzle. You can wear a crop top with long as well as short skirts. A figure hugging crop top looks amazing with a super flared long skirt.
[Also Read: How To Wear A Crop Top In Winter]
However if you have chosen a pencil skirt, you may want to opt for a looser crop top. This would save you from looking tacky.
[Also Read: How To Wear Crop Tops As Blouses For Wedding Functions]
While using it with the short skirts, make sure the length of the top is not unreasonably short. Of course the crop tops will show a little segment of your tummy, but how much you want to expose depends on you. When on an Indian road, you might want it keep the skin show really less, but in a brunch or at a club it is okay to go a little brave.
[Also Read: Tank Top Styles]
Matching separates that include a crop top and a skirt in the same print are widely available at online shopping sites or a mall near you. You might want to check these out. They look very smart and cute at the same time.
However, if you are not into full-on prints, we understand. Chose one part of the outfit in prints and pick out a dominant color in that pattern to make the other half of the outfit. If the skirt is in prints, the top might be plain and vice versa. This mantra is the universal strategy while wearing separates.
[Also Read: How To Wear A Crop Top In Winter]
Plain crop tops also go with plain lowers if the colors are in contrast to each other. However wearing two different patterns of prints are fashion suicide.
Crop tops make for a great team when paired with palazzos. But as palazzos are uber loose, it is wise to pick up a well-fitted crop top to go with it. Remember the thumb rule – print with plains or solids contrast solids.
If you plan to hit the beach, and are not too confident to opt for bikinis, hot pants and crop tops will work for you. They are very girlie and very hot, both at the same time.
Given that we have just entered a brand new year and winter is here to stay for another couple of months, a blazer or a jacket will work perfect to layer up your crop top and keep you warm.
Now let's check out a few style icons who have rocked the crop top with style and are demonstrating the various ways to wear a crop top.
[sc:mediad]
See how Deepika does it with the flared skirt and solid lacey crop top.
Who do you think layered the crop top better?
Evelyn Sharma and Frieda Pinto show what I meant by matching separates –
Sonam Kapoor here explains how to wear crop tops without showing stomach
And then Taylor Swift takes it to new extremes
Only if you think you can carry this number like a pro, like Vanessa Hudgens
This is how Sarah Hyland wears a crop top. Not sure if it gets any better than this.
But remember, Selena Gomez can rock a concert in a pair of hot pants and crop tops and no one raises an eyebrow
Last year was all about crop tops. The popularity of this item in our wardrobe doesn't seem to go anywhere in the year 2016. You better start collecting a couple of these in prints, checks, strips and solids. A few shimmery ones won't hurt either, in fact they will come in handy for a fun party in a posh night club. How do you plan to wear your crop top today?