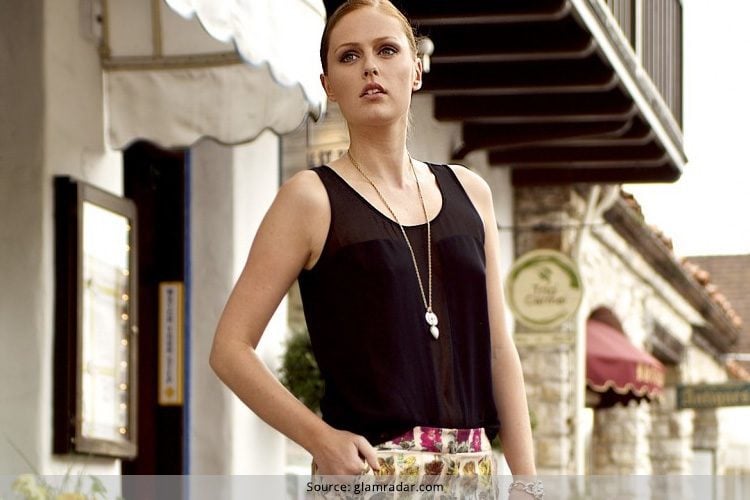 Sometimes things like simplicity and effortless clothes are more fashion savvy than going wild after trends. Because sometimes we need a break, don't we, from the fashion crazy world of wild prints, funky cut-outs, and latest in trousers, jackets and tops – and more so in summers.
Sleeveless Tank Top Patterns
This is where tank top styles become a hot rage in campus and teeny social life to office, parties, dates, dinners and beach. You can live in tank tops the whole year, but it is the brutal summer that makes tank top outfits the most versatile pieces ever that can be styled to any and every look.
TT's are dime a dozen. From simple and basic to sequined, printed, see-through and knitted, long, short, cropped and cut-out, there are umpteen ways to dress up a tank top.
Uses Of Tank Tops
Tank tops are basically sleeveless shirts that have multiple uses. Some are made for nightclubbing whereas others are meant for exercising. So, feel free to stock up the extremely versatile tank top and how.
Workplace: You will often see women wearing a tank top under a blouse, blazer, cardigan or a button-up.
Night Time: When you go to a night club or a bar, a shiny or sparkly tank top is sure to impress.
Exercise sessions: Wearing athletic looking tops while running, hiking, playing tennis, biking, or working out at the gym is the best outfit.
Dinner Time: Yeah, a silk tank top makes up for a sophisticated garment that works well with a shawl or cover-up.
As Lingerie: Such is the diversity of a tank top that you can wear silky camisoles to bed or for daytime clothing.
Daily Wear: No rules required when it comes to wearing a cotton tank top for simple lounging around the house or running around doing errand jobs.
Tank Top Style Names
Not all tank tops are created equal. Some ladies prefer to wear it with thin straps while others love it in the form of a halter top. Here are some tank top style names which you need to know before you pick up one.
1. Spaghetti Strap
This is one such form of tank top outfits that has thin straps. As a result of which they expose a great amount of shoulder. Spaghetti strap shirts are made of cotton, silk, polyester, lace, and even spandex. In fact, they look nice when worn underneath a button down shirt. Many spaghetti strap tops that are tight-fitting are available with built-in bras.
2. Thick Strap
These are a thicker version of spaghetti straps that make up for t-shirt without sleeves. The thick strap tank tops cover the upper chest and shoulder area fully, so you can call them as good and modest outfits. A scoop or V-neck adds a bit of style quotient to tank tops with thick strap.
3. Racerback
A racerback has two straps meeting at the back. The fabric of the two straps meets at an angle in the upper-middle portion of a woman's back, in the process exposing the shoulder blades.
4. Athletic
These are tight-fitting and come with built-in bra. Since the name is athletic, such kind of Tank Top Outfits offer women support, whenever they are working out, playing tennis, or any sports activity or running around.
5. Halter
This tank top has two straps that meet around the neck and do not go over the shoulders. They can be low or high cut. Meant for nightlife or casual daytime activities, halter tops are short, cutting off above or just below the waist.
6. Muscle Tank
They look similar to a t-shirt except for a fact that they have no sleeves. A muscle tank is a beautiful form of self-expression since they come with pictures, sayings, or band names.
[Also Read: Awesome Ways To Wear Plaid Skirt Outfit]
More Of Tank Tops
Here are few tank top styles that would teach you how to wear tank tops.
1. Basic White
2. Printed
3. Slouchy
4. Cut-Out
[sc:mediad]
5. Tight
Wearing tank tops is easy. But if you want a polished look over rustic one, then go for silky flowy fabrics. They may or may not have prints or textures which is fine. All you need to do is tuck them in your maxi skirt or pencil one, trousers or shorts.
Now complete the look by wearing statement necklaces and hot heels. When going for office, put on a blazer and a bag, and when out for dinner, then carry a clutch.
Tank top styles look wonderful with jeans. You just need to have your accessories in place.
Quick Tips On Tank Tops
If you are thinking what to wear over tank tops, here are a couple of solutions.
Adding a scarf to a plain tank top will bring instant style to your look. Keep building your scarf collection from clearance sale during summer and spring shopping.
A cropped jacket that reveals a bit of your chest-hugging tank top is the best way to spice up the summers.
Hi-waist shorts will add glamour to your legs and make them look long enough. You just need to amp up the look by wearing killer heels or strappy sandals.
When you wear black leggings with any simple tank top, you will take your casual look many notches up. Play with funky colors such as neons and busy patterns in leggings so that your plain tank top stands out.
Hope you enjoyed reading the tips and tricks of ways to dress up a tank top. Let us know when and how you wish to style on this fashion trend.