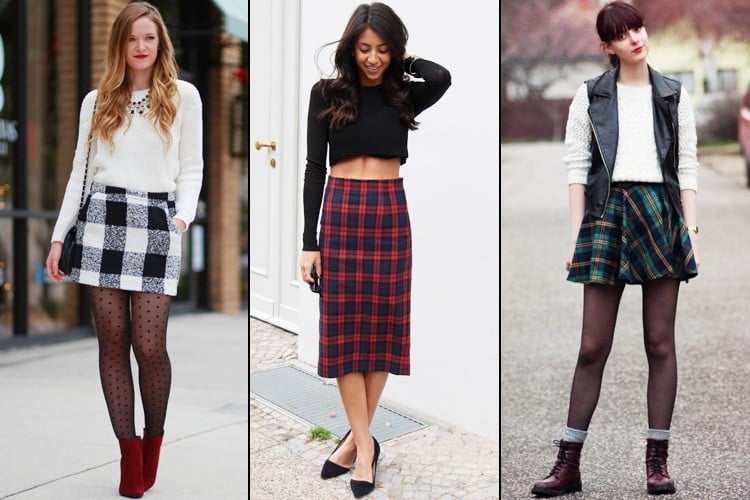 It's stylish, it's chic and it's perfect for the season of spring & autumn especially. Plaid skirts were particularly popular in the 1960's and 1970's and now have a made a comeback since 2009, in the fashion market. The classic print is not only present on the skirt, but on scarves and pants as well.
[Also Read: How To Style Your Sequin Skirt Outfit This Season]
What makes a plaid skirt so brilliant is its' ability to be paired up with even just a tee, and give you a crisp new attire. A plaid skirt is fantastic for mixing and matching other clothing items with it.
So, how to style plaid skirt outfit? We're here to give some great tips on what to combine with red, green or any colour plaid skirts.
How to wear plaid skirts
1. The Sweater Outfit
Simply adorn a comfy grey or black sweater along with your plaid skirt. Correlate this outfit with a pair of warm scarf, tights or hat and ankle boots or heels.
2. The Leather Jacket Outfit
Just grab your leather jacket and pair it up with your plaid skirt. It looks swank yet gives a defining bold look. No need of many accessories.
3. The T-shirt Outfit
Style your tartan skirt with a just a T-shirt. Add on sunglasses and a watch to furnish the apparel. To completely give off easy-going vibe put on a pair of sneakers.
4. The Coat Outfit
For the chillier days or office attire, enrobe your plaid skirt with a coat. Beneath the coat you can choose to put on either a shirt or turtleneck. For the complete look, put on a pair of heels and some shades.
5. The Lace Top Outfit
Just wear a lace top with your plaid skirt. Bedeck yourself with a few pieces of jewelry and shades. Slip into some heels!
6. The Crop Top Outfit
Have a nice crop top? Simply wear it along with your tartan skirt. Pick out a full sleeved one for a more professional vestment and cut sleeves for a more casual one. Heels will correlate superbly with this outfit.
7. The Silk Shirt Outfit
For a light formal getup, enrobe a silk shirt with your plaid skirt. By adding on a beret hat and sun glasses you will get a finished look. Just jump in to a pair of heels or ankle boots.
8. The Denim Top & Jacket Outfit
Match up your skirt with a piece of denim. You could either don a button-down denim shirt or put a denim jacket over a top. Finally, put on some heels or ankle boots.
9. The Tank Top Outfit
For the most comfortable summer ensemble, just throw on a black or grey tank top over your tartan skirt. Put on some sunglasses and accessorize accordingly.
[Also Read: Go From Grunge To Glam – Learn How To Wear Leather Skirts]
10. The Button Down Shirt Outfit
Select out crispy button down shirt and wear it with your plaid skirt. You could even tie your shirt up from the front for the ultimate boho vibes. Pair it up with tights and shoes.
11. The Blazer Outfit
For the professional getup team up your tartan skirt with a blazer. Finish the ensemble with some sun glasses & an office bag, and slip in to some heels.
[sc:mediad]
Tops to wear with plaid skirt
1. Printed Style
You can pick out printed shirts or blouses. Just bear in mind that the colour of print matches colour of skirt.
2. Funky Style
For a casual demeanor vividly designed or funky tops will contrast well with the classic plaid.
3. Checkered Style
A checkered or striped shirt or top will merge well with a tartan skirt. Just be sure to wear a statement necklace and some shoes.
All these styles will fit in well with all sorts of coloured plaid skirts, including red and green. So now you know what to wear with green plaid skirt & what to wear with red plaid skirt. There really isn't much difference in what you wear on top, according to the colour of the plaid skirt. There are various types of plaid skirts to choose from. For example, there are asymmetric tartan skirts, side slit skirts, etc. And all these go with all the tips mentioned before.
[Also Read: How To Wear Long Skirts And Look Super Chic]
So now you have an idea of what to what to along with a plaid skirt. Have fun mix and matching these outfits and attaining that perfect look!