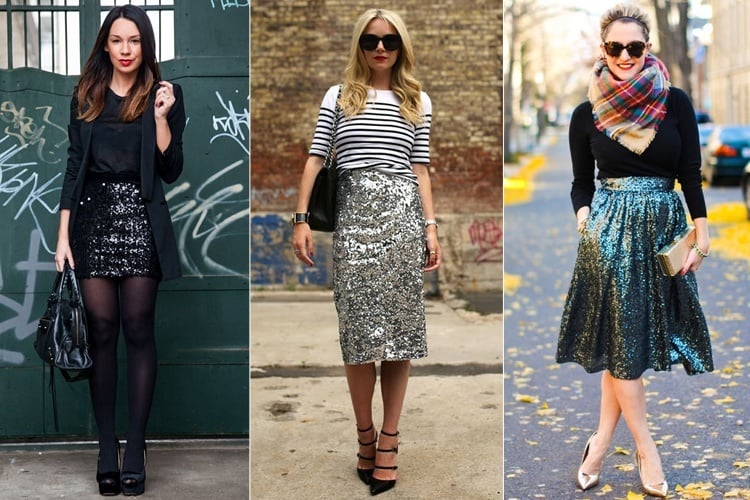 A little bit of glitz and glam is something most of us ladies and girlies want. Don't we at the back of our mind expect to look sequined and sparkled sometimes and bring in a fresh whiff of style in our boring dress sense? I mean the usual jeans-and-tee combo can sometimes get to be too used a formula in Western wear.
[Also Read: Sequin Dresses For Date Nights]
This is where the sequin skirt outfit adds the shining quotient to you, literally and figuratively. The sequin skirt fashion is such that it can be worn on the streets and special occasions. Just accessorise it by wearing suitable tops and fashion accessories such as shoes and handbags and bingo you are the Queen.
How To Wear A Sequin Skirt
Though sequin skirt fashion has been a party season favourite, but this shining separate doubles up well for daywear. Here are some style tips on how to wear a sequin skirt that will give you those luxe glam styles and all-bundled-up looks.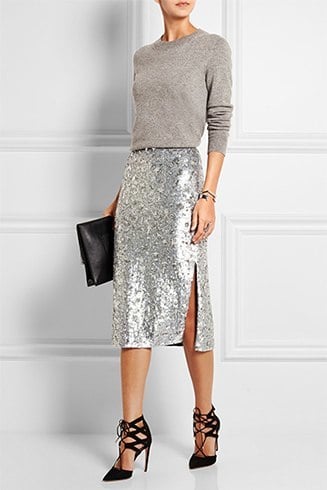 1. Go ahead and turn up the glam quotient in parties wearing a maxi length sequin skirt outfit and bustier top.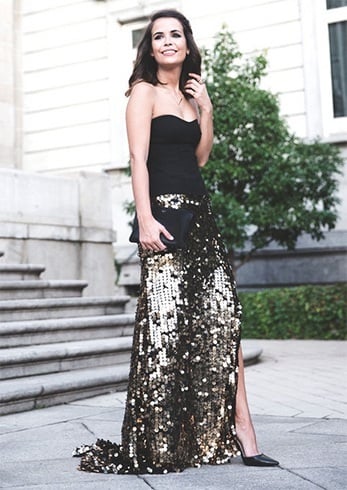 2. Talk of holiday wear and a red plaid shirt and sequin skirt outfit combines the glam and casual appeal pretty well.
[Also Read: Plaid Skirt Outfit]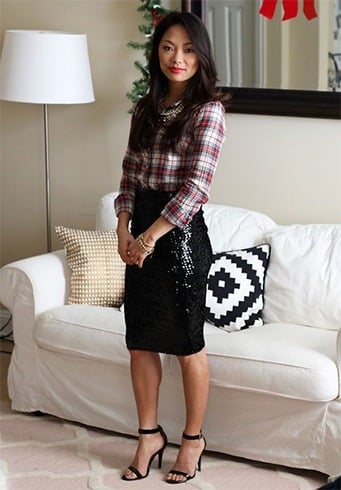 3. If looking super glamorous is on your mind, yet look down to earth, then a sequin maxi skirt will be enough to give you the desired appeal and vibrancy.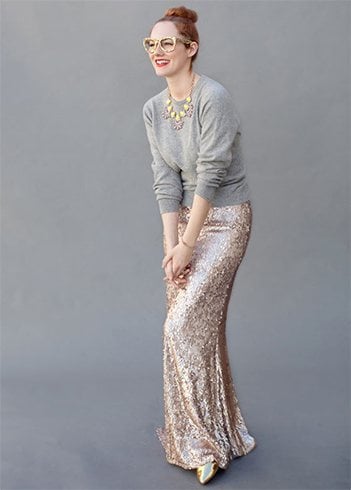 4. Black can never be out of fashion. A black sequin skirt gives you a new sense of joy – an understated look. When you match black sequin skirt with black tights, a black shirt and a black blazer, you can be surely called the Black Magic Woman!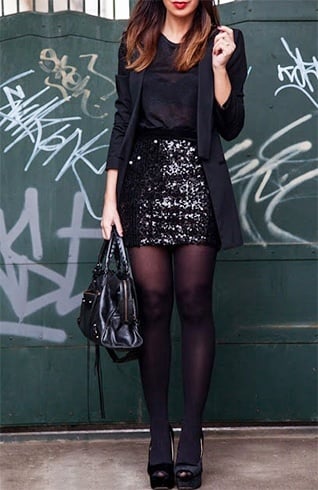 5. One interesting option in sequin skirt style tips is teaming up a sequin skater skirt with a black button-down top. It looks sexy and classy both.
[sc:mediad]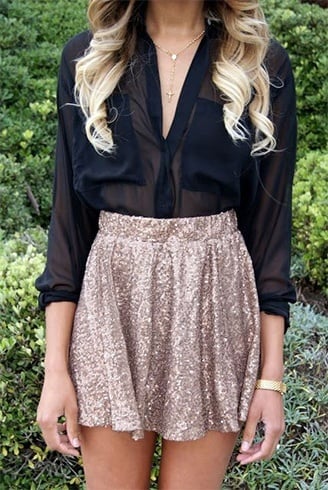 6. Wear gorgeous street sequins outfits by teaming a short and black sequin shirt with a yellow dress top. You can further add style by painting your nails in brown. Spice up your outfit by wearing a long necklace with circular designs to compliment looks and maybe a curly long hairstyle falling free on your shoulders.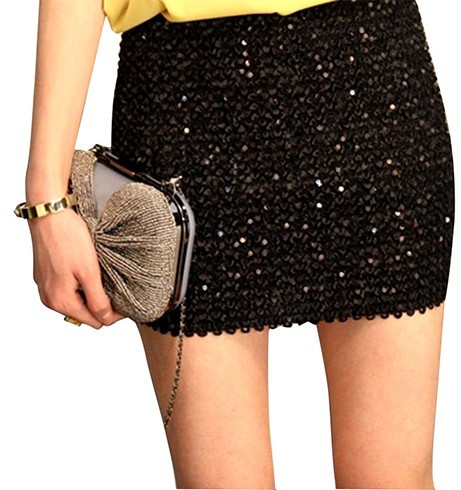 7. It's not important to wear a sequin outfit in a restricted way. You can also have a double dose of sequin by teaming up sequin skirt fashion with a glittery pump shoe.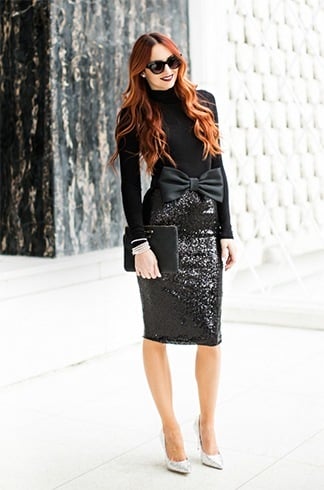 8. Wearing a rainbow-hued sequin skirt has its own charm and statement value. Just pair it with an edgy leather jacket to get a cool contrast.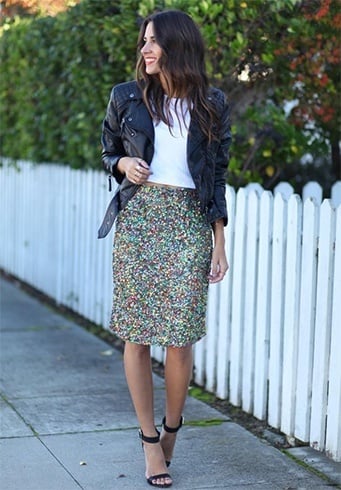 9. Here is an option that we are sure you wouldn't have thought of while looking for how to wear a sequin skirt. Jazz up you gold sequin skirt by pairing it with your chambray shirt.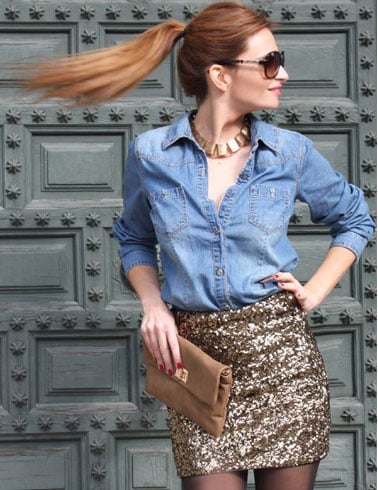 10. Sequin skirt and sweater – sounds interesting? Try an off-shoulder sweater with your sequin skirt outfit and your what to wear with a sequin skirt during the chilly weather issue is solved.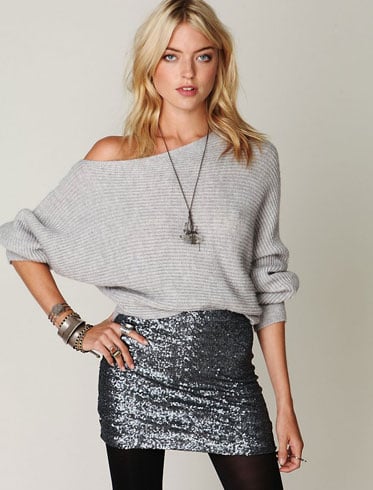 11. Have a red sequin skirt? Just wear it with a casual tee and match your accessories with your skirt.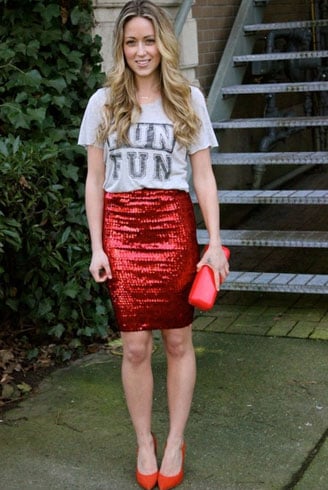 12. Grab some eyeballs by wearing a green sequin skirt with a black chiffon top. A chunky necklace, mile-high heels and an oversized clutch is all you need to complete the look.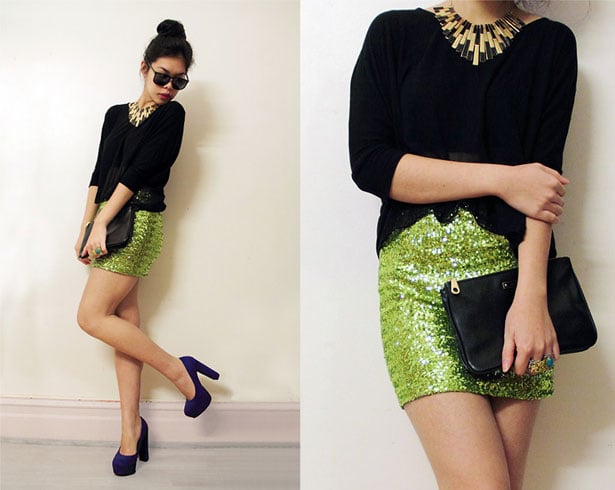 13. Pick up a long sequin skirt, be it a black sequin skirt, silver sequin skirt, white sequin skirt or any other color. Show off your toned abs by wearing a crop top in contrasting colors.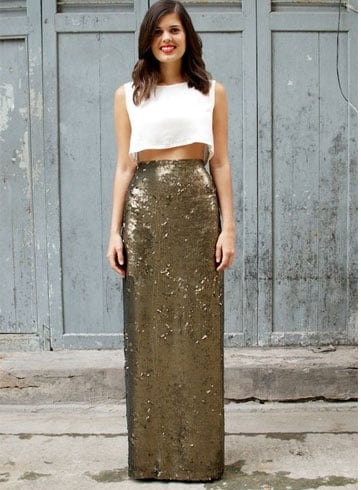 14. Stripes are your best friends since they can be worn in any size, shape and form and also they match up well with every other outfit. So just wear your favorite striped t-shirt with a sequin pencil skirt.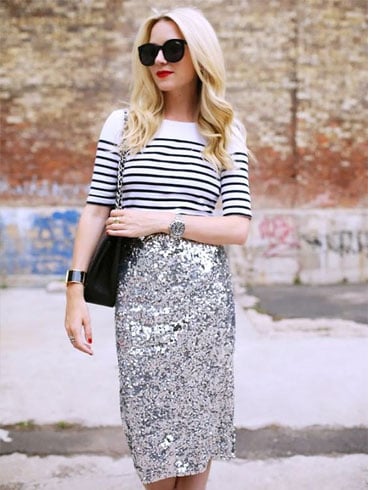 15. One of our favorite sequin skirt looks is the combination of sequin skirt with boots.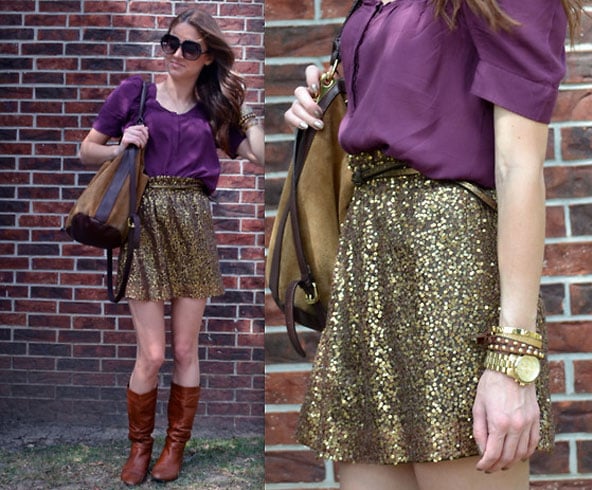 Whether you have a pink sequin skirt or a colorful sequin skirt, whether it is a sequin short skirt or a sequin maxi skirt, just make sure that you pair it correctly and choose the right accessories so that you nail the sequins look perfectly.
Tips On Wearing Sequins – Do's And Dont's
Here are some back of the envelope sequin skirt style tips which will help you strike the right balance in looks and personality.
Mixing sequin skirts with simpler articles of clothing minus embellishments will always look good. It's good not to look overboard.
[Also Read: A style guide on how to wear sequins]
Treat sequins gently. Not always do you need sequins on your shirt, jean pockets, socks, and your shoes because that gets too much, and you might blind someone!
Do accessorize in case you don't want to wear sequins on your clothes. Sequin-decorated accessories such as a pin, hat, sunglasses, or a piece of jewelry work well.
Sequin skirt doesn't necessarily mean it has to be in standard black or silver. Colored sequins give you a good dazzling effect too. They are available in different colors of the rainbow.
Don't wear a sequined skirt to work. It's important to know the difference between appropriate day wear and appropriate evening wear
A dress full of glittery shine will always create magnetism and attract people towards you. Pearl and beads when added smartly along with sequins can make your outfit look heavy in a more sophisticated and less gleaming way.
Which of these outfit ideas for sequin skirt fashion is your favorite? How do you like to wear sequins in daytime and night? What kind of style tips do you use? Feel free to share your tips.
Images Source: pinterest.com