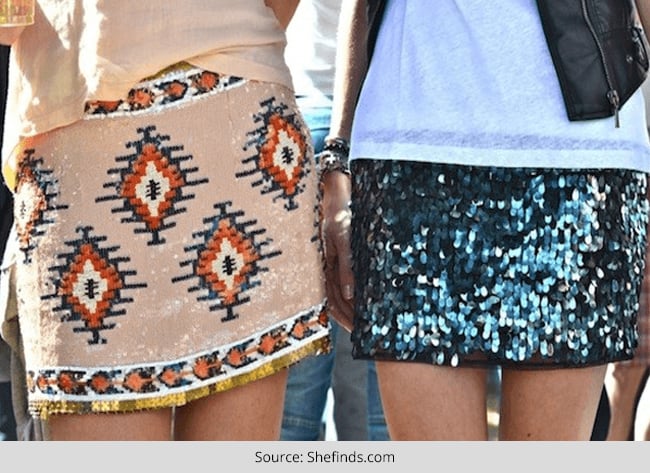 "Sequins? – No way! That's too flashy for my comfort." Did I just guess what some of you are thinking right now? Well then, wait and hear me out. It's possible to add some sparkle to your style without looking like a disco ball. And who said you can't wear bling during the day? True, sequins echoes party wear styling. But it's possible to work them into your casual day wear too. You just need to know how, where and when to use them.
We Indians have an inherent love for everything that sparkles – from gold jewellery to zardozi embroidery. So, why not sequins? Take these tips on how to wear sequined clothing and accessories without going overboard. Once we are done here, you will be ready to introduce some sequined pieces to your everyday wardrobe.
[Also Read: How to Cut a T-Shirt]
Mix 'n Match
Want know how to wear sequins clothing for casual every day wear? Pair them up with simple solid separates with no embellishments.
A sequined blazer or jacket with denims and white shirt or tank top always works well from day to night. The blazer needn't be sequined all over either – a collar or lapel detailing could be fabulous too.
Sequined miniskirts can be worn with denim shirts or leggings and tank tops for the casual chic look. You could also try an oversized t-shirt or a cargo jacket with boots.
For a super cool day time look, try a sequined tank with a flannel or shirt and jeans. Sober it up further with a bandana or fedora.
Statement Pieces
Unless you want to blind someone, don't go crazy with the sequin style. You don't want sparkle on your top, your socks, your shoe and your jeans pocket. Focus on one piece of your outfit and let it enjoy all the attention.
Check out sequined pants or leggings. You can wear the leggings with a little black dress. The pants will look good with a basic oversized t-shirt or a loose tank top. Remember to keep the rest of your look plain.
Sequined pencil skirts are a great fashion investment. Look for some funky colours like blue and purple. You can simple pair them up with a loose t-shirt or tank top. For more sophistication, tuck in a formal shirt and belt it with leather. If you have a thin frame, a peplum top can guarantee high fashion.
Sequined dresses are always a good idea for a happening party. Just remember to keep it simple and ignore every temptation to accessorize. Choose footwear in solid colours and for make-up, just add some colour to the lips.
[Also Read: Sequin Skirt]
Accessorize
If sequined clothing is still not your thing, you can work out this style with sequined accessories. A belt, a pin or a hair band will do to add that instant glam.
Try a sequined bag or clutch in colours that match your outfit – discreet sparkle style at its best.
Monochrome sequined pumps or peep-toes can easily glam up a simple LBD.
Collar necklaces are a perfect example for sequined accessory styling.
Tone it down
Sequins itself are a bit complicated, so keep away from complex cuts and structured silhouettes. Go easy on other aspects of design so that the sparkle remains in focus.
For casual day wear subtle sequin work is great. You don't have to go for sequins all over the outfit – a small detail would be enough. Try a simple monochrome sequined tank or t-shirts with denims. Throw on a blazer or cardigan to balance out the glitter.
Take for example this winter look with a gold sequined vest worn over basic blue shirt and blue jeans. The navy blue blazer balances out the bling and those platform boots keep the look stylish.
Another trick is to pair them up with whites, greys or neutrals for the day. For the night, black is ideal for the required glamour.
Sequined jumpsuits and dresses sound so Studio 54, right? Pick out a plain shirt, jacket or blazer to throw over your shoulders and you need not worry about the bling overdose. Keep the make-up and accessories minimal too.
Instead of sequins all over the body, try dresses with just a sprinkling of aesthetically designed patterns.
Try Colours
Gold, black and silver are not all that is there to sequin clothing. Try something different like a sparkly blue or orange. But don't experiment with more than two colours. A single shade is always better, unless you are looking at a patterned style.
Try this "almost" monochrome look with a sweet pastel skirt and matching sequined top. Floor it with heels and carry a sling bag for accessorizing.
For a happening evening, get ready to sparkle in this blue-green sequined pencil skirt. Pair it up with a simple black top.
Multi-colour sequins make an interesting pattern on this dress.
Finally, once you have decided to wear sequins learn to wear it with confidence. The sparkle and shine may attract a lot of attention – all you need to do is enjoy it!