Walk around any street or fashion street in India, in all probability you will find girls moving around in salwar teamed up with suit. Salwars are the most comfortable outfit as far as women are concerned and a stylish staple for trendy women.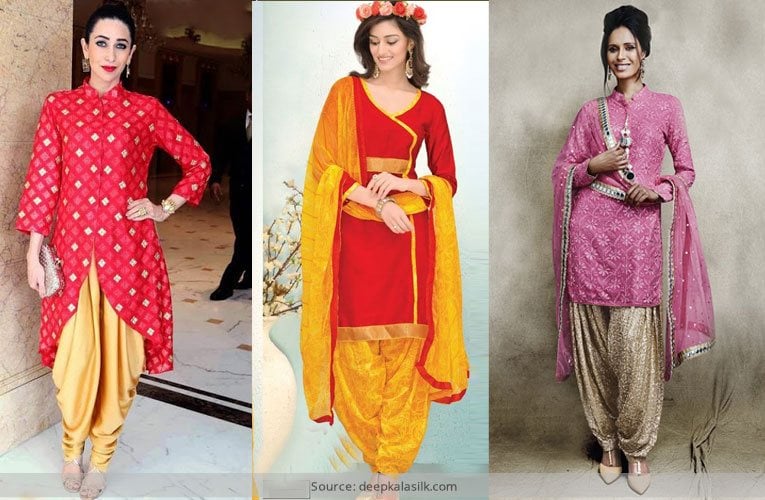 Traditional dresses in India such as Anarkali dresses, ethnic gowns, straight cut suit, salwar suit for wedding party, all need a good base to flaunt with. So, today am going to increase your knowledge quotient on latest salwar designs which can be worn with kameez, kurti or Anarkalis. The latest salwar models 2021 that have the wow quotient in them are some of the best salwar styles which will stand you out in a crowd of many.
Latest Salwar Models 2021
Here goes the different types of salwar kameez that you can pick for your daily to festive moods.
Dhoti Salwar:
Go steal the style of the boys with dhoti salwars. Named after the traditional Indian dress-dhoti, worn by males, dhoti salwars have U-shaped pleats, which start from the front and going in upward direction. In this design patterns of salwar kameez, you will find layers and pleats on the inner sides similar to a dhoti look.
Unlike Patiala salwars or harem pants, dhoti salwars is new salwar styles which are slanting in shape. Since they offer freedom in movement, they are ideal for summers, springs and autumns.
Churidar Salwar:
This is the most known Types of Salwar Kameez which is widely available. Not only do they flaunt the curves of feminine legs, they display minimal pleats and gheras around the waist.
Patiala Salwar:
Hailing from the peppy land of Patiala, this trending women's fashion 2021 of Patiala Salwars is meant for the royal occasions.
[Also Read: Rocking The Boring Salwar Kameez With Chic Salwar Kameez Fashion Accessories]
Many leading ladies of Hindi cinema such as Lara Duta, Kareena Kapoor and Alia Bhatt have worn this salwar fashion 2021. The pleats in this latest salwar designs begin from the waist. While you need lengthy fabric in this latest model salwar collections, they give you maximum freedom while moving around.
Afghani Salwar:
This Types of Salwar Kameez gets its name from the land of Afghanistan. They have a balloon type of silhouette whereas the cuffs are slightly narrower than the normal salwars with much wider pleats.
Aladdin Salwar:
Well, this design patterns of salwar kameez gets its inspiration from the bottom wears of the folk tale of Aladdin and Arabian nights. Tight from the cuffs, and loose between the waistline and knees, the layers of the Aladdin salwar fall long between the legs, offering an amazing look to your ethnic appeal.
Harem Salwar:
The beauty of harem salwars is that they do not come with strict cuffs like Aladdin salwars. Which is why the harem salwars are airy in look all throughout.
Palazzo Salwar:
Seeped in Indo-western grace, this latest salwar models 2021 is graceful and stylish to the core. It is easy to make out palazzo salwars as they fall parallel to the frame of your legs and do not cling to your body as in case of churidars.
[Also Read: 16 Chic & Flattering Salwar Kameez Neck Designs]
Cigarette Pants Or Salwars
This trending women's fashion 2021 is a hit among the college going and trend setting ladies.
Sharara Salwar:
This design patterns of salwar kameez is a sort of wide leg pants. Look like full skirts, and are worn with a drawstring.
Apart from the new salwar styles shown, there are also kali salwar, kite salwar, samosa salwar, kumkum salwar and so on. So, tell me how did you find the awesome range of latest salwar designs? Send us your comments.