Kolam or rangoli is an age-old art that is central to our traditional celebrations during Indian festivals be it Diwali, Dusshera or Sankranthi. The colorful designs not only enhance the vibrant appeal of your home decor aesthetics but also invite good luck.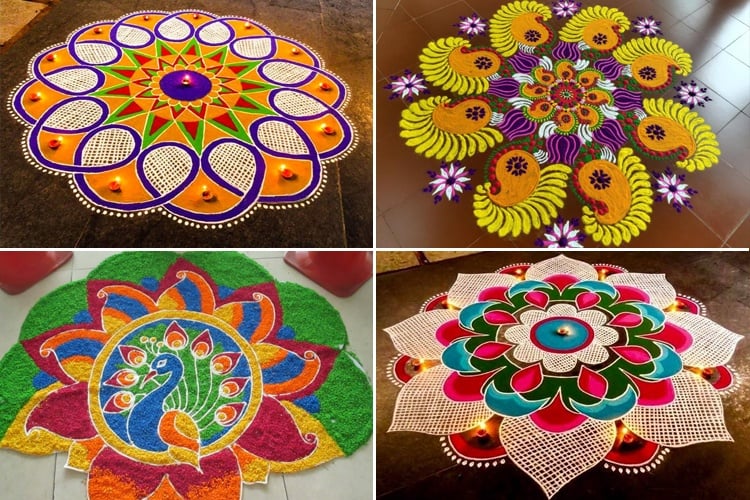 Kolam Rangoli for Sankranthi:
Check out our pick of seven best Kolam designs that will ensure that your creative skills leave everyone floored!
1. The Floral Kolam Designs:
Flowers are a part and parcel of our traditional decor whether it is for a puja, wedding or festival. But this flower-shaped Kolam design is literally a riot of colors! Adorning the threshold with it can definitely up your home's glam quotient from the word go!
The flower is one of the oldest motifs used in kolam rangoli designs. And recently it has been enjoying a fresh lease of life. Thanks to the growing popularity of floral prints, showcasing the lily flower, laurel plant, and lotus flower. These floral kolam designs transcend typical festival colors to embrace lighter shades. All these delicate details celebrate the different facets of kolam tradition, from translucent patterns to huge loops.
2. Intricate Kolam Designs:
If you are a pro at rangoli making then the below Kolam design will definitely appeal to you. It is a mix of myriad traditional motifs like mango, flowers, and dots woven together to beautify your home and usher in good times!
The traditional kolam motif designs combine sleek outlines with directional shapes. Collating a few kolam for Pongal images can give you a good headstart in choosing an attractive kolam design. The options are limitless as you can look through imaginative symbols and fantastical designs. The most unusual designs would be a toss-up between the central parts of a flower spreading across the floor with motif detailing and leaning against geometrical shapes.
3. Mango Motif Kolam Design:
If you are looking for a colorful kolam design that will grab attention, then you can turn to this creative mango motif design. These designs are characterized by their fresh appeal. If you are skilled in making these mango motifs, then you can easily create this design.
4. Round Kolam Designs:
In kolam designs, round circular designs are most preferred. To make a perfectly round shape, you can take the help of round stencils. You can blend traditional motifs like lotus, peacock, elephant, etc to reflect a unique style.
5. Peacock Kolam Design:
This is a gorgeous peacock kolam art with the colorful image of a peacock done on a colorful backdrop. The contrast of the colors is beautiful minus excessive details. The design is bright and apt for any house décor. The bright contrasting colors are used beautifully here.
[sc:mediad]
6. Kolam Dot Design:
This Kolam design is made using a mix of dot technique, floral patterns, and linear designs. It is an example of a basic Kolam design using dots.
The below Kolam design is unique as it uses a square as the defining geometrical shape and peacock motifs. It looks like a good mix of arithmetic precision and creative imagination at work!
Yet another Kolam design that can double up as a safe bet you can choose if you are trying your hand in this art form for the first time.
Small and simple kolam with dots is one of the most popular choices. This symmetrical design is created using special kolam with dots technique. Few of you might be aware that it is a technique where a grid is drawn as the outline and complex designs are drawn connecting the dots like magic.
7. Simple Kolam Design:
The art of Kolam making allows a free flow of the imagination. You can try simple to complex Kolam designs depending on your skillset.
This is one of the simplest of all designs for kolam and even beginners can practice this one. Once all the grids are designed, you can draw lines or kolam designs with dots like the one shown in the picture. It is a flower rangoli or flower kolam using 9 to 5 dot pattern also known as idukku pulli or pulli kolam.
Hope you liked our collection of Kolam designs that will surely add cheer and warmth to your home this festive season. Do let us know which one is your favorite Kolam design in the comments box below.