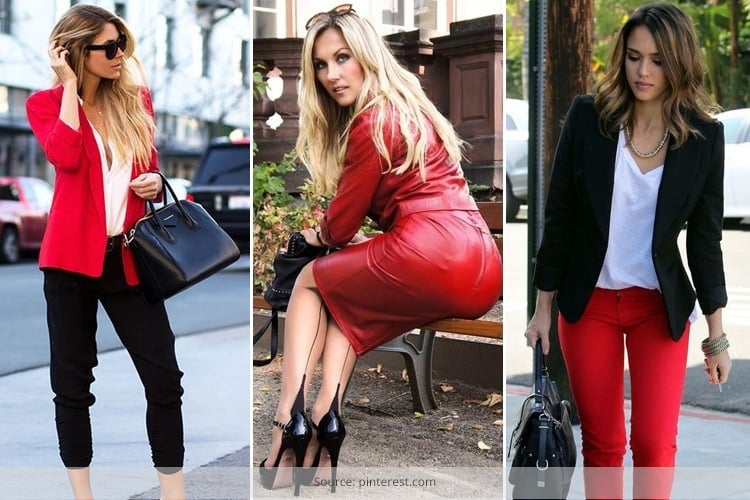 Ready or not, the 'paint the town red' saga is so last century and with the monsoons hitting left, right and centre, we girls need to invoke the she-devil of fashion to teach us a thing or two on how to make heads turn while the heavens scream hoarse.
[Also Read: 10 Ways Ways to Go Red]
Your prayers are heard- 15 red and black dresses for women to flaunt on a rainy day, just as the she-devils would wear them pretty as it pitter-patters around!
Check out this cool red and black dress for women
As seen at the Aigner Fall Winter 2014-15 collection on the ramps, who wouldn't want to wear this sexy number to the party or the bar this weekend? A metallic touch to the red and the deep hues of black, oh yeah!
How to Dress – Red and Black – Baby doll lingerie
Spice things up a little more than the usual with him, roleplay if need be in this sexy polka-dotted, red and white Babydoll lingerie set!
[Also Read: Sexy Lingerie Every Man Wishes to see his Woman Wear]
Friday dressing so chic
Red low neck round top and a black pencil skirt, accompanied by a statement neckpiece and loose hair; your boss wouldn't be annoyed this Friday!
Dress it up like Vassilis Zoulias
Everything about this sexy black and red combination office wear speaks of the bold and daring woman that you are. Light a ciggy if need be, but flaunt those black shades and heels, while the black and red combo on the dress makes your day!
[Also Read: Sexy Low Cut Dresses]
Red blazer, black pumps
Getting to the mall made easy and fashionable, and it doesn't look like you have tried too hard as well- Red blazer, black pumps anyone!
TGIF as usual
Partying after work and wouldn't have the time to change? Slip into a sassy red pair of denims and a black overcoat over your crisp white shirt, and you are ready!
[sc:mediad]
Dots and dots on red and black
A polka dotted shirt inside, with a red overcoat on top and a pair of black ciggy pants for the bottoms, along with nude pumps for the feet. Anything more to say!
[Also Read: How to Wear Bold Colours – Fashion Tips]
A red cardigan over a printed graphic black and white monotone long dress
Off to work and would want to impress the client? Here's a look that wouldn't bring about a fail for sure. Just ensure oodles of confidence along with it, and don't use too many accessories!
Picking up your kids from school
Blaze the heat around a little more than the usual in a red cardigan, a pair of red ballet flats and a black dress!
Royal Black Couture and Corsetry shows us how
From the house of Royal Black Couture and Corsetry, we are shown how to sizzle at a monsoon evening event or a cocktail party- sizzling for sure!
[Also Read:  Leather Fashion]
Monsoon bridesmaids by Bella Donna
Sassy and elegant, the off-shoulder red long gown with black hand gloves does it all! The groomsmen aren't alive anymore!
Haute CoCo in red and black
CoCo is Haute, CoCo is Haute and once again we say, CoCo is Haute! Need we repeat, we don't think so, because the style says it all!
Oh My Vogue
By Oh My Vogue, we love the red skinnies, teamed with a touch of black and yes, of course the white too!
Summer fun times in black boyfy shorts
A Red shirt and a pair of black boyfy shorts, didn't burn the roads enough. Now you get to burn the streets a little more than the usual in this chic style!
Hapa Time
Heeeehaww! Polka dotted pants with a red shirt and a summer coat thrown over, and you are ready to floor the client at the boring boardroom meet!
The she-devils of red and black styles have borne them all, and now we shall leave it to you to sparkle and shine!