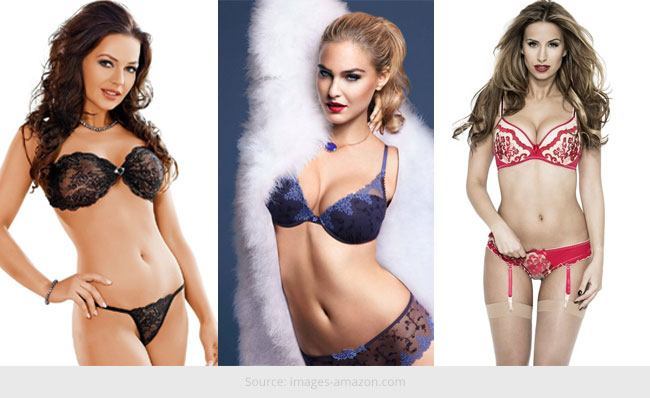 Now there is a difference between shopping for lingerie and sexy lingerie, what say? After all, this prefix makes a whole lot of difference in exciting your man's senses and his thoughts about you. It's like the bait that attracts the fish (in this case, men)!
The question that comes is how to make your lingerie shopping 'exciting' enough so that it arouses his attention. Whether he would go crazy seeing you in a classic or a naughty voluptuous style in lingerie must be running at the back of your mind. Okay, let's not jump at conclusions but have an exploratory view of what will titillate him to madness. Here we go babe.
[Also Read: Top Lingerie Brands]
Types of Lingerie
1. Classic Lingerie
Anything that's satin or silk without being revealing is what classic lingerie is all about. The colours are usually solid white, red or black (the ones that we often see in lingerie catalogs). Classic is one design form that has the ability to make you look sexy and seductive without making you look a slut, if you know what we mean. So in ways more than one, classic lingerie is safe and with a tinge of naughtiness that he would be happy at.
[Also Read: What To Wear Under A White Dress]
2. Stripper Lingerie
Ever heard of the saying 'the lesser the better'. That's what we mean here. But yes, whites are strictly out in stripper lingerie. Stick to colour combinations such as black and red, or black and purple etc. to enhance your sex appeal. Even thongs can be a sure stunner in the bedroom when the lights are dim. In case the room is lit with only candles, then go with bright neons. Imagine the impact it would create – hot and desirable, which is certainly shades up than the classic lingerie.
[Also Read:  Lingerie Trends]
3. Raunchy Lingerie
This type is being bold and daring, almost letting his imagination go wild. The more confident you are wearing a raunchy piece, the sexier your partner will find you. When you put on a thigh high stocking and stripper shoes, you know the heat you will generate, don't you? Prepare yourself at this stage. After all, you need to step out of your comfort zone and do something, in this case wear lingerie, that will make the night go absolutely steamy.
[sc: mediad]
4. Special occasion Lingerie
You must have heard of a naughty nurse or a young catholic school girl (females we see even in our Bollywood classics). They also have worn sexy outfits at some point of time in their role that drove men to watch the movie.
[Also Read: What Your Panties Say About You]
The Role of Colour
What tickles our tongues when we see the recipes being served on our dining tables? Apart from the nature of the dish, colour plays a major role in satisfying our senses. The same formula holds good when it comes to selection of saucy-looking lingerie. Here are some colours that look appealing to a man (woman, hope you agree)!
White: Ask men and they view white as pure but revealing too. It is this mentality that makes them think there is a naughty and a hidden side to women wearing white lingerie.
Black: White reveals, and black conceals. Sad? Not quite as black has a sense of mystery that makes men go wild in their thoughts. By the way, black is one color that's oomph for ladies who want to look slimmer when dressed in lingerie. When teamed up with pink, red, purple, and blue, black adds visual effects that are seductive.
Pink: It is not such a popular color in lingerie because it conveys childish and girlie feeling to a man. But if your man likes pink, then no harm going for it.
Red: Research has shown that whenever men see red they think of sex. That could be the thought bubble coming to your man when he sees you dressed in red lingerie.
Nudes: Nude lingerie is not something men are eager for as psychologically it reminds them of too much flesh, which is why it turns them off.
Lingerie shopping is a matter of fun but you must know exactly what he would love the most, apart from you and your curves. Take help from the sales girl when it comes to choosing sexy lingerie. Happy shopping Sexy Lingerie for yourself for your man!