If Audrey Hepburn and Marilyn Monroe worn one-piece swimsuits it is no reason you to not offer them a chance. During the last years the one-piece swimsuit was a hot trend, but before purchasing one, you have to check the dos and don'ts because it is not as simple as you may think to choose the perfect one.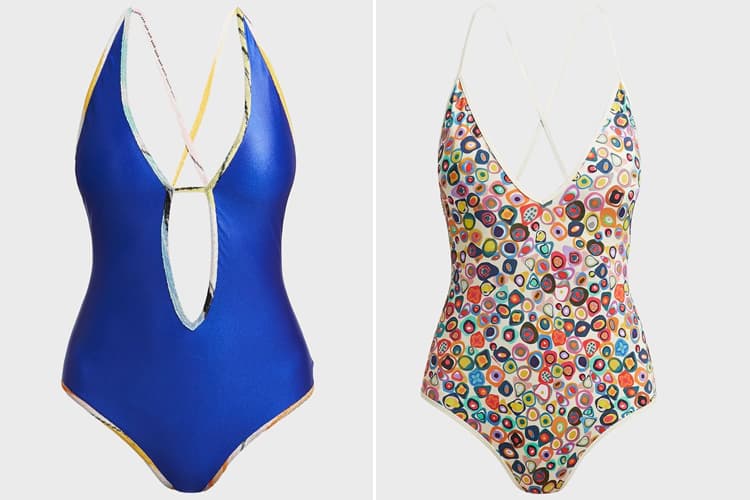 Do You Know Your Body Shape?
Yes, this is the first question you have to ask yourself before placing that swimsuit in your shopping cart. Women avoid wearing one-piece bathing suits because they consider that they will not look flattering. This is a wrong assumption, it is important to find the right piece for your body shape and it will highlight your body in the right ways.
A skirted bottom is perfect for the women who have a pear-shaped body because it hides their hips. A suit in a ruching style is the right choice for the women who want to hide their belly and have an apple shaped body. If you have curves then you should go with patterns.
Avoid Details In Unwanted Places:
You should stay away from the pieces that feature patterns and details on the waist and abdomen area because they will make you bigger than you really are. Details create optic illusions and they are useful for your chest area but if you do not have the slim figure of a model, you should not have them on your lower body part.
Big details draw attention to the area where they are placed, therefore if you are not satisfied with the way a certain part of your body looks, you should choose a simple swimsuit. It is always a good idea to opt for a minimalist model for the areas that pose problems. If you want to choose a patterned bathing suit, you should opt for one that has details on the areas you are not afraid to show off.
The persons who have a smaller bust should choose one-pieces that have accents on the top, like ruffles.
Simple Colours Are Always a Good Choice:
If you want to look slimmer then it is advisable to select the piece that comes in a simple colour. Black is the perfect colour, but if you want a pop of colour you can try a dark purple or a navy blue one. The number one rule for the persons who want to wear a swimsuit that makes them look slimmer is to choose the one that has the same colour on the top and bottom. Have you noticed that a little black dress flatters everyone no matter their size? The same principle goes here. Make sure you buy a high-quality bathing suit, Boutique 1 has great luxury fashion designers who have created chic models made from high-quality fabrics.
You should never wear a suit that comes in a combination of multiple colours because the details will fade your natural beauty.
White Is Difficult To Wear:
The one -colour rule has an exception, you should stay away from white if you want something to slimmer your body. White is not a colour you would want to wear in a one-piece swimsuit, or any bathing suit. If a black swimsuit will instantly slim you the moment you will put it on, a white one will do the exact opposite. The last thing you want when you hit the beach is to wear a bathing suit that adds you pounds.
You can wear a white swimming suit if you are a person who hits the gym more than 5 times a week or you are a very slim person and you want to offer your appearance some proportions.
[sc:mediad]
A great choice is the swimsuit that comes in white on the top and in black on the bottom. It will add volume to your upper part of the body and it will slimmer the belly and hips. This swimsuit is the work of art of a genius.
Choose The Right Moment When To Hit The Store:
Many people hate buying swimsuits because they find it one of the most horrible shopping experiences. However, it does not mean that it has to be a horrible experience for you, the trick is to follow some tips pro shoppers have come up with.
The best way to transform a shopping session into a pleasant experience is to ask a friend to join you. Your friend is the right person to offer feedback on the way a certain bathing suit looks when you dress it on. In addition, they can offer you a second opinion on certain styles because if this is the first time when you try one-piece swimsuits, you will probably check multiple styles.
A key rule when shopping for bathing suits, no matter if they are one piece or two pieces is to do it in the morning. During your day, your muscles are swollen from drinking, eating and being active. You want to buy a piece that fits your actual weight and the best way to see how your body really looks is in the morning. And, avoid that special time of the month, it is not a good moment to buy any type of clothes during those days.
When trying on different swimsuits you should step outside the changing room and take a pose in natural light. The worst light to check how a swimsuit looks is the one from the dressing room, fluorescent and blind. You can have a true impression on how it looks when you try it outside that space. You should choose a store that has natural light in the dressing rooms area.
You should hit the store on a period when the latest collections are launched because you will have the chance to try multiple styles. If you do not like the models, you find in the store, online shopping is a good idea because digital stores always have more models than malls. Another advantage of online stores is that they list their products at affordable prices and they offer countless discounts, compared with local shops.