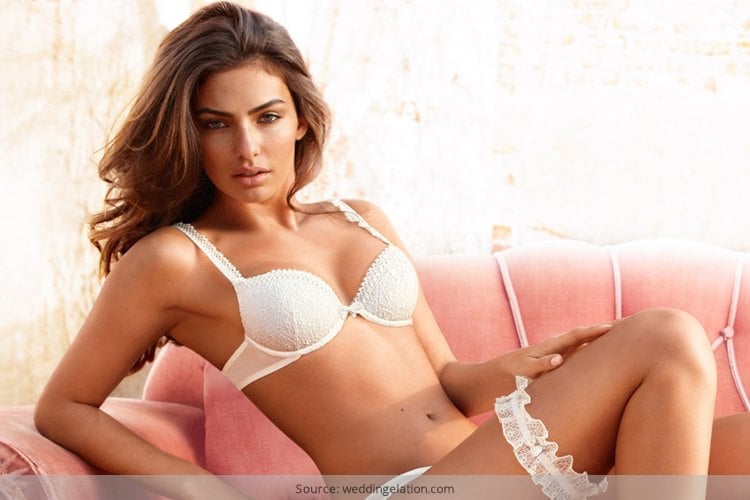 When we talk about picking and wearing the right wedding lingerie, we aren't just referring to the sensual lacey or white ones seen on the runways or glossy magazine covers. Fashion is important and it must be respected, even when deciding what to wear beneath at your wedding. This is because, it helps you stay in shape and also helps with the comfort levels as well. That is why the foundation of your bridal wear, wedding lingerie should be chosen with utmost care and diligence.
What You Should Do!
Never ever make the mistake of not measuring your body, especially the bust. Most brides end up with the wrong bra size at their weddings, and that makes things very uncomfortable for them. Stick to what the stylists have to say, pick and try the bra first to check for comfort and if it helps cup the breasts well, or else do not buy that piece of wedding lingerie, irrespective of how chic it looks on the models that endorse them.
Patience Is The Key
When trials happen, use it as a platform to learn which of the bridal underwear and lingerie work best for your body frame. However, don't jump in to buy them at that time. Foundation garments are to be chosen only after the trials of the bridal wear are done, because alterations would need to be made as well, and hence the lingerie needs to be a size big or small accordingly.
Size Matters
Do you buy big or small, because you've been on a wedding diet and don't know what the ultimate body shape would look like? Let's assume you are wearing a strapless number for your wedding, keeping in mind the size of the bust line you have, you need support accordingly. You also have to think about the small bust line and how to fill the bra in, should you lose weight on a large count. If all else fails, bridal undergarments and wedding day lingerie can be customized within the bridal wear too!
[Also Read: Best Bridal Lingerie Shopping – What To Buy]
Bra Type To Wear
Always keep in mind the gown or lehenga or the choli you would be wearing, so that you pick a bra type that gives more comfort and coverage than your normal bra you wear everyday.
You could try wearing bustiers that have no seams and give plenty of comfort under the choli.
There are bras that help with good coverage for women wearing low backless cholis and blouses.
Convertible bras too help cover the needful with sheer and lace wedding gowns and lehengas.
An adhesive bra works best for low back numbers, backless ensembles and low cut cholis, and the have cups that hold on to the sides
Underwear For The Wedding
Talking about the type of underwear for your wedding, here are your options
[sc:mediad]
Large flared lehengas and gowns can be worn with any type of underwear- boyshorts, panties, thongs, boyshorts et al.
Mermaid lehengas and form fitting bridal wear with fabric that clings to the body need seamless touches- nude panties, shapewear and thongs are best to wear for the wedding then.
Color Wise
Pick colors that blend very well with your skin tone, and closest to the color of your bridal wear, so that the two amalgamate well. If you cannot find lingerie in shades you want, you then can opt for neutral toned or nude shades, which blend in well with any warm or cool toned wedding wear you plan to doll up in.
What About Shapewear?
Keeping in mind the climes and the rituals at Indian weddings, we don't pretty much advise shapewear, but there are brides that wear them nevertheless. This is because it is a radar under the gown that helps the bride look her contoured best, body frame wise. You could choose longline bras to bodysuits, full coverage shapewear to thigh shapers and more, which help nip and tuck what you think are problematic areas of the body.
[Also Read: An Ultimate Shapewear Guide For Women Revealed!]
So do think about the classy lingerie you plan to wear for your wedding, and instead of just opting for sensual lace bridal lingerie and lingerie slips, speak with your stylist as to which of the wedding lingerie sets would best suit your body frame!