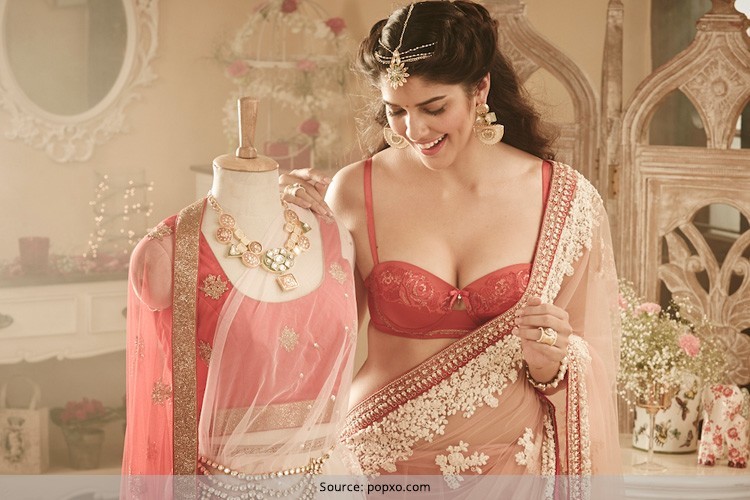 Your wedding day has been fixed and you have no idea how to go about the wedding lingerie? What will look best under your traditional wedding dress and how to coordinate for the post marriage nights? Not many articles are written on this rather private topic, however it is an essential thing to keep in mind along with your other wedding preparations. The two types of bridal lingerie mainly consist of – wedding day and wedding night lingerie. For the day ritual comfort is the key. The garment should provide support and a good silhouette of your wedding dress. However, your lingerie can run wild for the honeymoon and wedding night. You need to wisely select the best bridal Lingerie for yourself for both these special occasions.
[Also Read: Choosing The Right Bra For Your Wedding Cholis]
A few things need to be kept in mind while selecting the delicates – your body shape, budget and quality. Bring these together along with other factors to get that perfect lingerie for both your wedding day and night. So how to choose your bridal lingerie? Read on –
Wedding Day Lingerie Guide
For your special day you should consider wedding undergarments that provide a lot of amenity and ease. You are probably going to end up spending hours just sitting there while the customs and ceremony goes on. You really don't want lingerie that sags or pokes you here and there. Imagine having to adjust your bra every now and then!
1. Bra
Wear a snug bra as you don't want its under wires piercing into your bust area continuously. You need to ensure the bra is strapless or convertible so that nothing is uncovered through your wedding dress. Add volume to your bra by stuffing it with either cotton or gel to give an innate yet augmented appearance to the bust area. Carefully match the bra colour to the colour of the dress.
2. Panties
Search for smooth and continuous designs so that the garment doesn't peek through your wedding dress. Avert from laces or ribbons that show through. Again, the colour should coordinate perfectly with the dress.
3. Slimmers, Shapers, Corsets etc
To assist in keeping your figure flawless slimmers & shapers are worn commonly by brides. They compress the tummy flab, remove the excess bulge and give your body & outfit a smooth and delicate shape. Corsets help spawn a curvy and marvelous figure. Select a seamless bustier for you wedding day.
Wedding Night & Honeymoon Lingerie Guide
For the honeymoon or wedding night you should adorn a more inviting attire. Most women in India don't have the chance to change into any intriguing wedding night lingerie (as per the Indian Wedding tradition), but this should not stop you from spicing things up for your honeymoon.
[Also Read: Most Beautiful Bras, You Wouldn't Want To Cover Them Up]
[sc:mediad]
1. Bra
A bra with ribbons and laces will allure your husband to a night of romance. A bra with a tad bit of lace intricately designed is rather provocative and enticing. Going for an even steamier look? Why not choose a full lace bra. Select attractive and interesting colours for your bra as per your wish. Black works for a daringly sensuous appeal, where white is preferred if you are going for a more traditional look.
2. Panties
Fabrics that can be seen through with a sophisticatedly patterned lace will grant your skin to vexingly glance through. Try and choose a pair of panties that coordinate with your bra to keep things in place and give a more tempting look. Put on a thong maybe?
3. Slimmers, Shapers, Corsets etc
Again to get a flirtatious and curvy figure slimmers & shapers are superb. For the honey moon why not purchase molded and racy corsets, with maybe stockings attached for the extra appeal. These come in sets so pick the few which seem interesting and well-coordinated for your special after wedding nights. Don't blush!
[Also Read: Lingerie Selection for Bride and Honeymoon]
Your wedding day undergarments will make you a beautiful bride and make you feel confident. It will make everyone jealous of your fiancé, that he managed to gain such a beautiful bride. We know you want that! Furthermore, an appealing attire for you wedding night or honeymoon will help create that additional special and memorable emotion between the two of you. After the honeymoon, you could even keep one of the lingerie garments to amaze your husband on your first anniversary. Also it is possible that years into the future, this lingerie will continue to awaken memories of the amazing time you and your husband spent together after the wedding.