A wedding is undoubtedly one of the most special occasions in one's life and getting the makeup right is a concern for the bride-to-be! It's because the wedding foundation can make or break the look. You can either ruin it by applying a shade darker than the rest of your face or end up wearing one that will melt as soon as you sit on the mandap.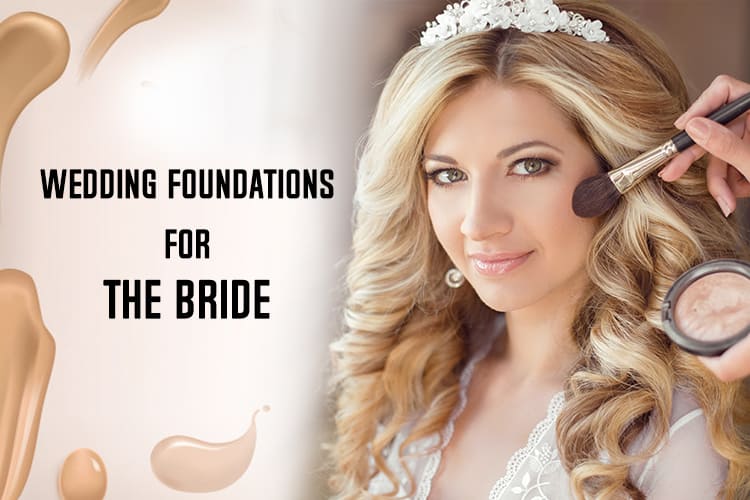 The risks are high here but fret not because we have done the research for you. In this article, you will get to see the best foundations that can help you achieve the perfect bridal look.
Best Foundation for Wedding:
Most women forget an important step before they begin with their foundation – prepping the skin. If you are not laying down the right base for your foundation, of course, you will end up with makeup that's running down your face. Make sure you prep your skin with the right primer and this will ensure that your skin is ready to accept the foundation and looks flawless on your skin.
Before we begin the list of best foundations that can be used for a wedding, here are some top tips to keep in mind (these will also help you shop for the best foundation for bridal makeup):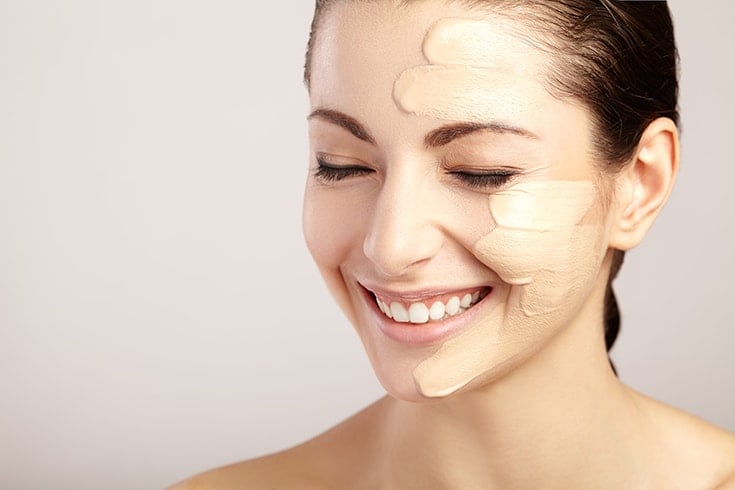 Tip 1 – Go To The Store:
We get it, online shopping is cool, quick and hassle-free. But there's a major risk of your foundation not matching your skin tone and this can be a disaster with the bride's makeup. Always go to the store to see which foundation matches your skin. Contrary to popular belief, do not try the colours on your arms, instead, use them near your jaw to see whether they match your skin or not. Go for a good foundation company because this will ensure that your makeup will stay put.
Tip 2 – Give It Some Time:
Another major blunder that most buyers end up making is picking up the first colour that matches their skin tone. An important thing to remember is that the foundation will bake on your skin and will turn a different shade. So once the makeup artist at the store has put on a foundation, let it rest on your face for about 20-30 minutes to see the actual colour. Makeup stores usually have a lot of bright lights and these lead to oxidation that may change the colour of the foundation.
Tip 3 – Don't Be Afraid To Ask For a Sample:
The buying of the foundation is a really tricky business and if you don't get it right the first time, you should ask the makeup artists to give you a full demonstration and also ask for a small sample that can be taken back home. Try it again the next day to see whether it really works for you.
[Also Read: Natural Wedding Makeup Ideas]
Tip 4 – Price Tag Isn't Everything:
The common misconception we all have says that the more expensive one is, the better. But it isn't true. Of course, some of the more costly ones do come with their own perks, but you don't have to break your bank by buying a foundation that will cost you an arm and a leg. In the later part of the article, you will get to see foundations that are from different price ranges, so you can always choose the one that best suits our budget.
Tip 5: Some Reviews Can Be a Little Misleading:
We are saying this because sometimes you would have read a review and believed it and bought a foundation but it didn't look that great on you. So always read reviews with a pinch of salt. What worked for others may not work that well on you, so you have to try and test it before making the final decision for your wedding foundation.
Here are our tips for purchasing the best foundations. Now let's get started with the best brands that are available in the market:
1. Tom Ford Traceless Foundation Stick:
Price: Rs. 2500
Skin Type: For All Skin Types
What makes this foundation stick extra special is that it's hassle-free and can stay an insanely long amount of time on your skin without even budging! It's very versatile and has a light matte finish. It can also be built up for more coverage depending on the skin type. The best thing about this foundation stick is that it makes your skin appear radiant, healthy, and glowing – a must for a bride!
2. Bare Mineral Original Foundation:
Price: Rs. 3700
Skin Type: Best For Oily Skin
A bride with some oily skin is most troubled because no matter what, she cannot control the amount of oil that her skin secretes. But this bare minerals foundation can stop the oil in its track and give you a flawless coverage. They do not clog up your pores and they are also very light on your skin. Plus, using it will not alleviate your oily skin problem. It's a must for the ladies who are always distraught about their oil-secreting skin!
3. Laura Mercier Flawless Fusion Ultra-Longwear Foundation:
Price: Rs. 3500
Skin Type: For All Skin Types
This is a foundation that promises to give you a coverage that lasts an insanely long amount of time. It is thus immensely useful for the Indian ladies because our wedding ceremonies can last very long. This foundation lasts for 15 hours and is oil-free so you would look like you just put makeup!
It's a heavy-duty foundation and easily covers any of the flaws and makes you look really shine-free in all your photos. The formula is also very heavy duty so it will resist every other element – including sweat, dust, and humidity. So even the heat from the wedding pyre will not melt your makeup, you can be rest assured about that! It gives a very no-makeup look so you wouldn't look like you have a lot of makeup on.
4. The Ordinary Serum Foundation:
Price: Rs. 570
Skin Type: For All Skin Types
If you are looking for a foundation that gives you a sheer finish, this is the one for you. It also comes with an SPF 15, so if you are planning an outdoor or beach wedding, this foundation will protect you from the rays of the sun and at the same time, make you look like a goddess! The semi-matte finish can give a medium coverage and is good for brides who are not looking for a heavy makeup look.
5. Estee Lauder Stay in Place heavy Wear Makeup:
Price: Rs. 3700
Skin Type: For Uneven Skin Tone
When you see a foundation that is named like that, you can be doubly sure that this makeup wouldn't budge and that's exactly what this is. The long wear formula stays put on your skin for a long time without making it look like it is overloaded.
[sc:mediad]
You will have a good coverage on your skin and it wouldn't even need to be reapplied again and again. Even though it may be on the expensive side of foundations, you need a very little amount. So a little amount will go a long way and you can use it for up to 6 months if used sparingly.
6. NARS Sheer Glow Foundation:
Price: Rs. 3300
Skin Type: For Dry Skin
If you are one of those brides who is troubled with a really dry skin, then you should steer clear from dry and powder-based foundations because these powders absorb excess oil. NARS liquid foundation has a lot of hydrating agents, including something called the hyaluronic acid, which can hold up to 1,000 times its own weight in water. This foundation mattifies on your skin but it doesn't make it very dry. You still have full coverage and you still feel like there is enough moisture on your face.
So these were our list of some of the best foundations that can be used for your wedding. Remember, buying a good foundation means laying the basics for your makeup at your wedding! So make an informed decision and follow the tips that we taught you at the beginning of this article. Also, our range of foundations is for different skin types and budgets to help you make a better choice. Start shopping, and write to us in the comments box if you wish to add something to the list.