We all have grown up witnessing two people getting married and becoming partners for life. But have you ever heard of a lady marrying herself? Sologamy is the latest trend that is taking the wedding industry by storm. Curious already? Read on!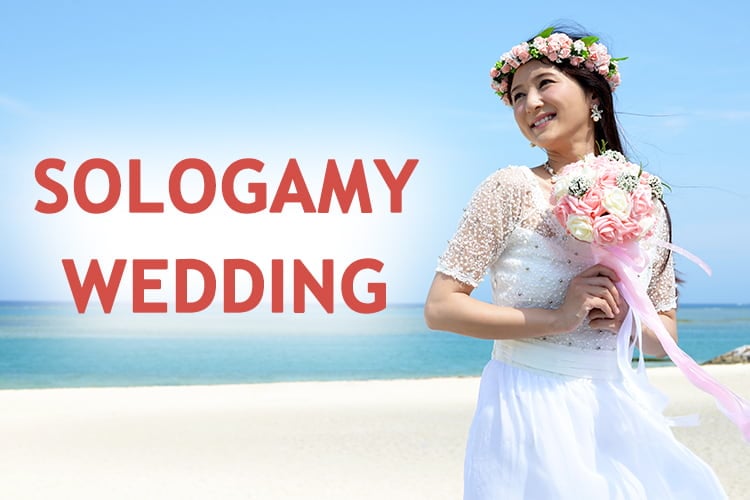 Are you thinking that there will be no bridal costumes, diamonds, champagne and all that in a sologamy wedding? You are mistaken! The only difference is that this time, the wedding cake will have a figure of just the bride on top. Everything has got to revolve around the woman who is marrying herself. No place for Prince Charming here. Got the point?
What Is Sologamy?
The very definition of a solo wedding means marriage to oneself. Those who believe in this practice believe that it publicly establishes one's own value and paves their way for a happier life.
It's like saying – "I wed myself", not "I am wed". There are no usual trappings in the solo wedding trend, such as flowers or a romantic meal for two, not even a card sealed with a kiss. A solo wedding is like cherishing yourself for eternity.
Solo Wedding Trend – Concept And Examples:
Every trend has a story behind it. Same is the case with the solo wedding trend. Let us first get our facts right about the origin of the concept of a solo wedding. Well, the credit goes to a lady called Linda Baker. She was the first person to marry "herself" in the US, way back in 1993, which means 25 years ago, to celebrate her 40th birthday.
The story is getting interesting, or rather juicy. In the presence of seven bridesmaids and a bunch of 75 people (including her family and friends), Linda Baker pledged to be good to herself.
Why did Linda decide to go for a solo wedding? Because she wanted to celebrate herself at that particular time in her life and felt there was nothing better than a marriage ceremony to do that. According to Linda "It's about doing things for yourself and not waiting around for someone else to make it happen". What a liberating idea!
What inspired the solo wedding trend? In one of the episodes of the American TV soap 'Sex and the City' aired in 2003, Carrie Bradshaw played by Sarah Jessica Parker, announced that she was marrying herself. So you could say that planted the seed of the sologamy wedding.
Do a recap of it, and you will remember Sarah Parker happy to celebrate the life choices of her friends although she complained that her friends never celebrated her choice of being single and childless. Point taken!
This episode of an on-screen solo wedding of Carrie Bradshaw triggered off the trend. The same year as the telecast of this 'Sex and the City' episode, a 30-year old artist Jennifer Hoes took her own hand in matrimony when she married herself in the Netherlands in 2003. Her marriage got wide publicity as it was seen as an avant-garde move.
After this, there have been many reports of 'single' women marrying not someone else, but themselves in the UK, Netherlands, Taiwan, Canada, Australia, and the USA. But there is one point to make note of – that sologamy is not recognized in Europe and the US as a legally binding union.
Who are all the poster girls of sologamy? Though the concept might look a bit tongue-in-cheek, there have been women who have happily opted for a sologamy wedding. Take for example – 39-year-old business analyst Lynne Gollogy. She bought solo wedding dresses, hired a venue and even booked a honeymoon to Rome (which she wanted to go on all alone) – in celebration of her marriage to herself!
Lynne was determined not to "fit into today's society" so she sent out invites to her buffet dinner, disco, and two hen parties. She was clearly not interested to find the right man for herself. Lynne was "happy being me".
And what does Lynne have to say? Plenty.
"I've been single for a while now and have no interest in being in a relationship. I did get engaged once when I was younger, but it was silly and nothing came of it. I thought this way I could give loved ones an opportunity to wear their wedding outfits and celebrate just being my quirky self….The staff at the Wed2B store were absolutely beside themselves when I told them I was actually planning to marry myself."
Apart from the usual bridal makeup and wedding dress trials, Lynne Gollogy's solo wedding would not have been complete without the solo wedding photos.
[sc:mediad]
The next example is that of an author Sophie Tanner who decided to marry herself in a wedding ceremony in Brighton "as a gesture of solidarity". According to her, she can "make myself happy without needing anyone else to make me complete". Sophie opted for a solo wedding in May 2015 after writing a book on the subject.
Sophie Tanner's novel titled "Happily" is about the story of a young woman who eventually marries herself. The author's investigation of the concept intrigued her more. That is how she came to the conclusion that she needed to take a shot at a sologamy wedding.
Then there is Laura Mesi, 40 – an Italian woman who married herself in a lavish ceremony comprising of cake, bridesmaids, bridal pictures, and over 70 guests!
Does a solo wedding involve a Church ceremony? No, it is not required. This concept is of a 'self-uniting' marriage and does not require the presence of an official. For all you know, it can be a private moment with you in a room, and just a candle and a mirror or a full-scale wedding bonanza with a dress, cake, reception, and vows thrown in.
What are the solo wedding photos like? A great opportunity to have a photoshoot which will showcase you and with no fear of sharing the limelight with anyone else. Just choose your setting/location/ambiance and the pics will serve as a timeless memory of the epic moment.
How did you find the unique concept of sologamy? Do you think we Indian women are game for it? Can it liberate women from the orthodox social stereotypical norms? Feel free to share your views with us in the comments box below.