Talk of hair and Asian women are naturally gifted with beautiful and silky black strands. This is why Asian hairstyles have a glamorous appeal naturally. Since most of the hottest hairstyles (I will add the word 'bold' too) have come from Asian beauties, scroll below to be in-the-know of the choicest Asian hairstyles young chicks to office babes should try out during their next salon visit.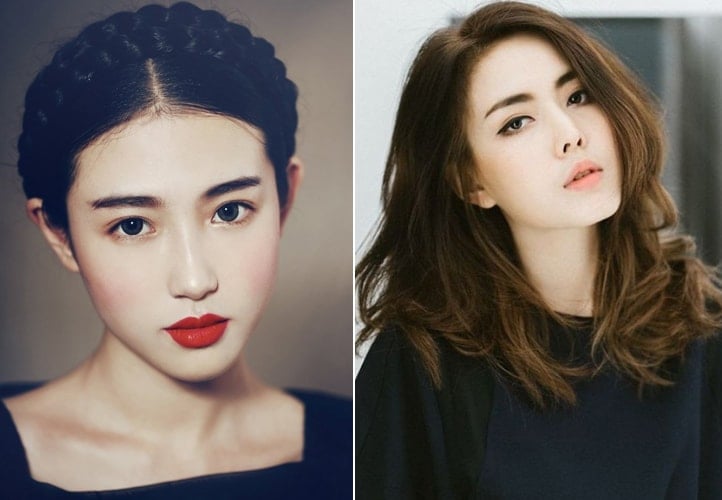 Check out the best possible Asian hairstyle options you can try irrespective of the length of your hair.
Glamorous Asian Hairstyles You Must Try:
Check out our top picks of super glam hairstyles that will surely give you a complete mane makeover and up your style quotient too.
Asian Hairstyles For Short Hair:
1. Try The Textured Pixie To Be Trouble-Free:
If you have fine and frizzy hair, a textured pixie is one of the hottest short Asian hairstyles for you. Make sure you don't grow the pixie too long in the back, as you leave long strands in the front. This messy hairstyle is cute and easy to maintain and gives you a young and spunky look.
2. Look Awesome In An Asymmetrical Bob:
Hola! Women with oval faces can now make the most of their Asian short hair through this asymmetrical bob. Just make one side shorter than the other and you will look incredible. When you add long bangs, you get to frame your face in a better way.
3. Bowl Over Everyone With An Asian Bowl Cut:
This is one of the trendiest short Asian hairstyles. It is a straight haircut which has got short bangs. Suits slim girls and looks fab with the right fashion accessories like danglers in the ear, and choker in the neck.
4. Sizzle In A Short Bob:
Check out one of the most popular Asian hairstyles with side swept bangs. Wear it with an off-shoulder dress and you will look scorching even while chilling out with friends.
5. Ooze Some Oomph With An Ombre Bob Cut:
Asian haircuts for short hair go one step ahead when colored ombre. Urban and suave they look, just right for college.
6. Make A Style Statement With A Side Swept Adventure:
Explore the side swept nature of short Asian hairstyles. With a bouncy top, you are going to look a sweet sixteen all over again.
7. Wave Your Hair Woes Farewell With A Wavy Short Bob:
This is a cute looking Japanese short bob hairstyle. It is looking wonderful when paired with a V-shaped long red skirt.
8. Steal The Show With Side Bangs:
Looking fun and flirty is easy when you go for side bangs. This is a trick in Asian haircuts for girls which gives you an opportunity to have your hair long enough to pull to the side during a hot summer day.
9. Make Heads Turn With A Messy Pixie Cut:
Doing your hair to perfection is not possible every time. That is why a messy pixie is one of the most fuss-free short Asian hairstyles to sport. Use products such as a mousse, gel or a hairspray to get you the messy look.
10. Create A Lil Magic With A Cute Bob:
Korean celebrity Yoona puts up such a demure look in this Asian short hair, it is hard to not melt. The bob gently frames her face, in the process, softens her features.
[sc:mediad]
Asian Hairstyles For Long Hair:
1. Win Compliments With Wave Perm and Side Swept Bangs:
When you have got long hair, you can make them look gorgeous by getting a combination of wave perm and side swept bangs.
2. Be Bang On With A Blunt Cut:
Asian haircuts for long tresses can go one step ahead when you do the following – do a blunt cut with a partial C-curl perm.
3. Attract Attention With Asian Pastel Colors:
It is a long ash "bronde" ombre hair. No, Bronde is no typo here. It is what you get by combining brown and blonde shades. The result? A cool ashy tone, which is a popular choice for Asian hair highlights.
4. Up Your Glam Quotient With Ombre Waves:
Long and layered hair curled into waves is a popular choice when it comes to Asian haircuts. But when you enhance it by coloring it with a caramel ombre color against dark roots, the chocolate swirl effect can get intoxicating. It is universally flattering.
5. Spice Up Your Look With Soft Waves:
Center-parted hair and natural bouncy waves are perfect for everyday wear. The colors of the hair – from medium and light browns to the occasional blonde, black and pink give you a carefree, effortless look.
6. Get A High With A Sleek Ponytail:
One of the most promising Asian hairstyles for girls because it truly highlights your features. Place it at an upward angle, tie it in place and get ready for a flattering hairstyle.
7. Look Your Best With Layered Hair And Bangs:
This Asian haircut is hugely popular among Korean celebs. The bangs add a great feminine touch – softening the facial features and elongating the face. Light and wispy, these bangs look great on ladies with a thick head of hair. You can call this one of the best thick Asian hairstyles.
8. Let Your Long Hair Down With A Mid Parting:
You will love to don this Asian hairstyle when you get the perfect mid-parting done. It can help you get a simple yet sleek look.
9. Look Ramp-Ready With A Long And Wavy Asian Hairstyle:
Got long locks? Enhance the beauty of it by wearing a headband after you have left your hair open in a wavy manner. Good to wear it to a rock show.
Asian Hairstyles For Medium Hair:
1. Be A Show-Stopper With This Shoulder-Length Hairstyle:
This attractive shoulder-length Asian haircut is college-ready. Wear it with a maxi skirt and a bit of makeup on your cheeks and lips and you will look perfect.
2. Add Some Charm With A Marvelous Medium Hairstyle:
Now that's taking Asian beauty to greater heights. With hair ends falling over the collarbone, the impact of Asian medium hairstyles is not medium, but large and stunning.
3. Up Your Cuteness Quotient With A Medium-n-Cute Haircut:
For cute faces with medium wavy hair, this hairstyle with full bangs scores a point. To do some styling, make big curls towards the hair ends.
4. Turn On The Fun With This Cute Emo Look:
If you have medium-length straight hair, then make the front section longer. For styling, spray the highlights on the hair and then blow out the straight hair. This hairdo looks cute and casual for daily activities.
5. Look Bold And Beautiful With Bangs:
This cute hairstyle with bangs for medium hair is so very cool and cosmo-looking. The bangs are like adding a cherry to the top of an ice-cream. Don't forget to highlight your cheekbones and maybe hide a broad forehead.
6. Have A Blast With This Bang-N-Layer Hairstyle:
Not just bangs, this Asian hairstyle for medium-length hair has layers too. Terrifically cool this is. Wear it for weekends and parties too.
7. Make News With This Medium-Length Hairstyle:
A perfect medium-length Asian hairstyle that suits round or oblong faces. It is perfect for both light as well as dark hair.
8. Add A Twist To Your Tress Tale:
Now this one is attention-grabbing. This medium-length Asian hairstyle is just right for a cocktail party.
9. Flaunt The Korean Medium Hairstyle 2018:
Looking ethereal and picture perfect is this Asian haircut for girls. Leave your medium hair open and you are ready-to-kill.
10. Floor Everyone With This Flower Power-Packed Hairstyle:
Do flowers enhance this Asian haircut for girls? I think it is the other way round. Poking hair ends and slightly wavy hair add to the dramatic appeal of this Asian haircut.
Tips To Look More Fashionable With Asian Haircuts:
You can enhance the appeal of your Asian hairstyle by following the below tips:
1. Many female celebs like model-actress Lee Sung Kyung have sported tousled waves to up their glam appeal. Without perming your hair, you can recreate this youthful hairdo.
2. The ribbon highlights start at mid-length, not the root. Seen here on former Girls' Generation member Tiffany Hwang, it is definitely one way to look super hot!
3. The lob hairstyle is a safe bet as it flatters every face shape and a number of hair textures. Which is why it is a popular hairstyle choice.
That completes our list of the hottest Asian hairstyles.
So which of these Asian hairstyles impressed you the most? If you have found an Asian hairstyle which is trending, let us know about it in the comments section. We would love to hear from you!