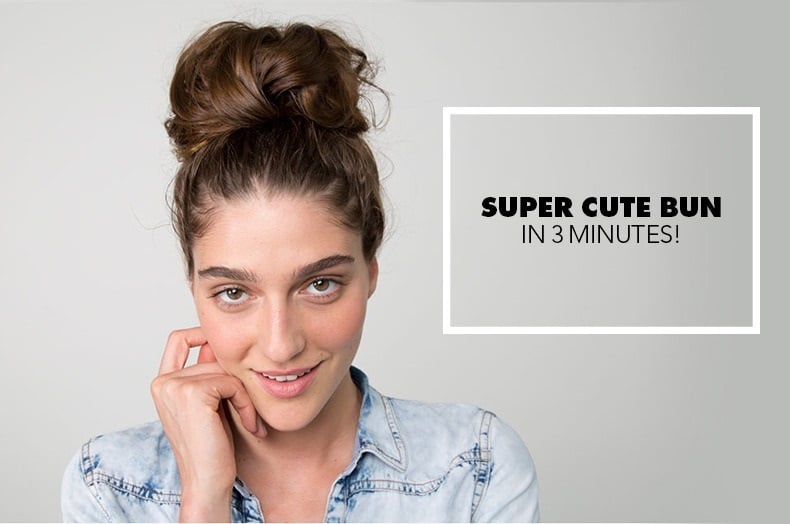 Only last week I had mentioned in one of my posts how Kareena Kapoor loves to do a messy bun when she is at home and as per her stylist this is her favorite look which she flaunts when she is not working or in public.
If you though messy bun is only for house wives or busy wives who hardly find time to groom their strands then here is an elaborate post for on top 10 celeb messy bun hairstyles plus with an easy DIY tutorial.
Before we have a sneak peek on the season's top 6 messy bun hairstyles, let's go through this quick and easy tutorial by celebrity hairstylist Creighton Bowman featured on Beautylish.
Let's have a look at this pretty undertone updo!
Things you'll require
TONI&GUY Creative: Extreme Hold Hairspray
Mousse or a volume-boosting product
Toni & Guy Rough – It Texturizing Spray Dry shampoo
Bobby pins, clips, and a comb
5 easy steps to tie a messy bun!
Step 1
Give your hair a piece-y look: Before making the bun, it's necessary you give your strands some texture. The stylist recommends Toni & Guy Rough – It Texturizing Spray and Volumizing Foam to create shine on the bun.
[Also Read: Hairstyles For Wavy Hair]
He even suggests that if your strands are already blessed with natural shine then don't use these products too much. And if your hair is thick or curly then use a little more or else avoid using too much of the spray.
After shampooing, dry your hair and then use the spray.
Step 2
Tie all the hair up: Now use a ponytail elastic band and pull all of your hair up. However while tying up the hair make sure the ends are pointed towards your face as shown in the image. Leave a loop of hair meanwhile over the elastic.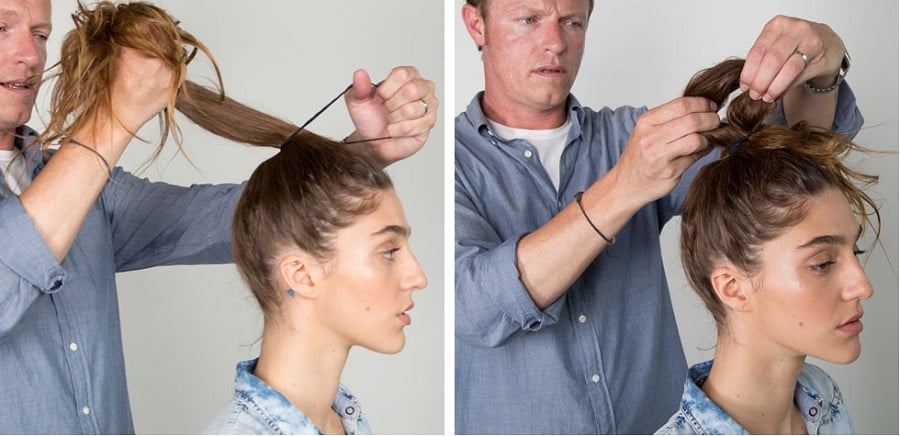 Step 3
Create the bun: Now grab the ends that you had left out. Separate them and pull the hair towards the back covering the entire base of the elastic band. By this you can create a bun shape on the top of the knot.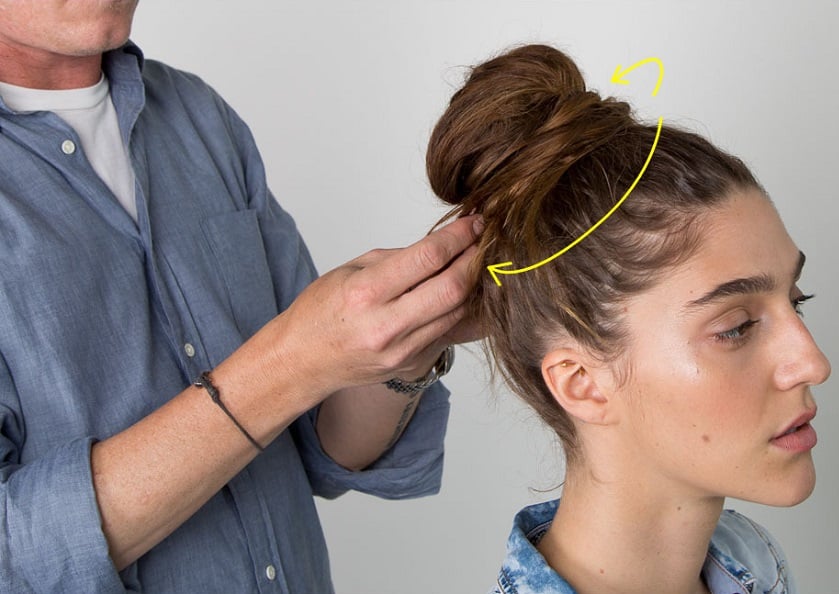 Step 4
Pin up and use hairspray: In order to make sure the locks stay in place, use pins on the top and sides of the loop. Use your hand to loosen it a bit to volumize the knot while using the pins. Now use TONI&GUY Extreme Hold Hairspray to hold it in place.

Step 5
Get the desired shape: Once you're done with getting the basic move right, get the desired shape by use the booby pins at the required spots. All you need is to tuck the ends in or leave them out as per your preference.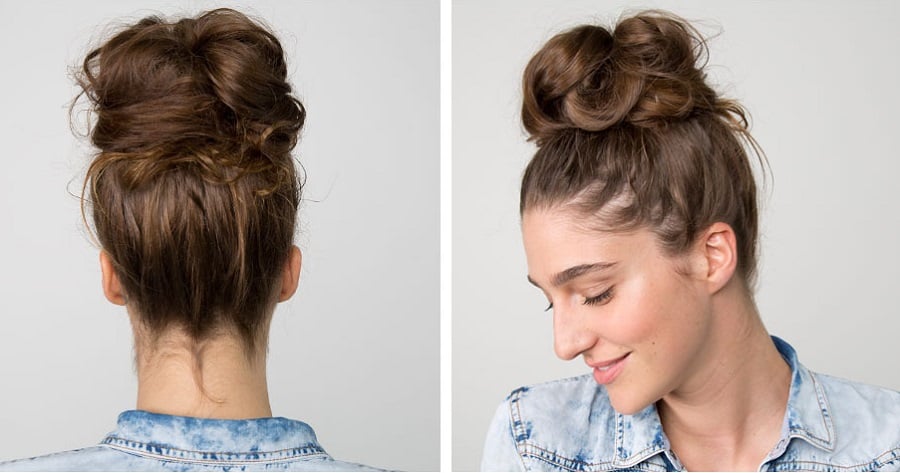 Image Source: beautylish.com
Top 10 Celebrity Messy Bun Hairstyles you would like to try!
The messy, unkempt bun has never been out of fashion and these days it's quite a rage apart from the trending modern ponytail hairstyle. These buns are extremely helpful whenever you're having bad hair days. With no extra effort, you can quickly give a glamorous touch to your look if there is a party after office and you're at time crunch. Continue reading!
[sc:mediad]
1. Low Hung Messy Bun
Take a look at the hairstyle by Emma Rose Roberts. The actress here is sporting the simple version of the low tied messy hair bun. This style can be easily created with your wavy hair. Keep the bun low instead of on the top and use some shine serum to add glamour to your look. Also leave a few bangs at the side to give a hot touch to your look.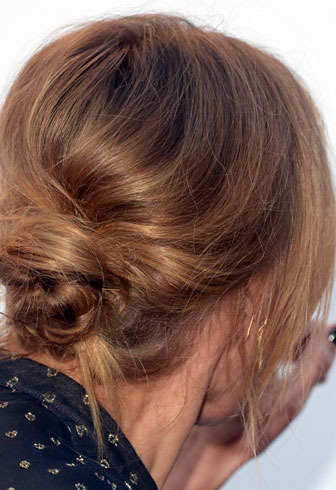 2. Top Twisted Messy Bun
You can get this look by combing your hair and tying it at the crown. In this look serum is not required as it's a dry look. Just twist some section and tuck them into the bun using bobby pins. This gives a better messy look. If you prefer then you can leave two thin sections of hair on both the sides to complete the look.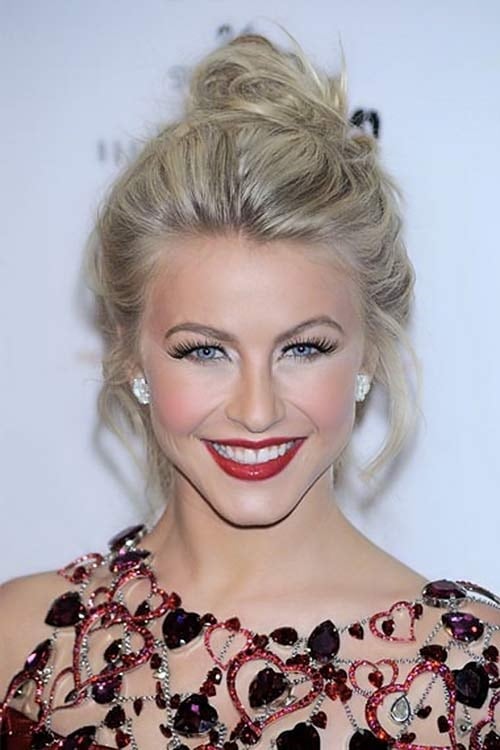 3. Bouffant Top with Flat Messy Bun
I have always adored the bouffant style from 80's. These days it is one of the hot workplace hairstyles. Getting this hot bouffant bun is quite easy. After you're done with the teasing and pinning, take the rest of the strands and create a normal bun. Don't use any serum for this look as this is also a dry look. In this hairstyle, the less shiny your hair is the sexier you look.
One of the best messy bun hairstyles, the bouffant bun has been one of the most iconic retro hairstyles which has been imitated throughout the years – right from college going girls to our favorite celebs. The internet is filled with bouffant bun tutorials and you wouldn't have any difficulty in replicating this style.
[Also Read: Winter Wedding Hairstyles]
Be it your wedding, a sexy date or a day at work, this hairstyle is sure to grab eyeballs wherever you go.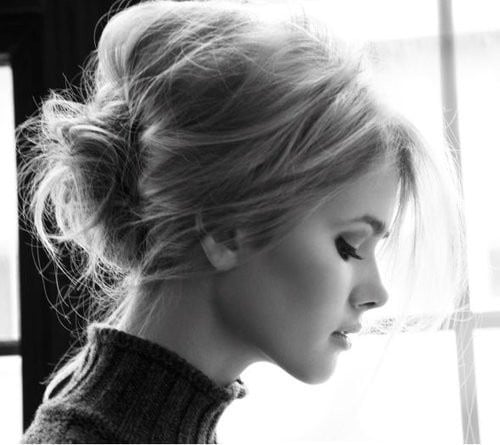 4. Braided Messy Bun
If you love braids then you're going to adopt this style instantly. Trying out this fusion hairstyle is fun and easy. Just create some thin braids using your crown hair half way. Now take the rest of the hair and secure it into a bun at the top. Meanwhile make sure the braids are visible from the front through the sections. This is one of the super fusion hairstyles you can go for to give an edge to your style statement.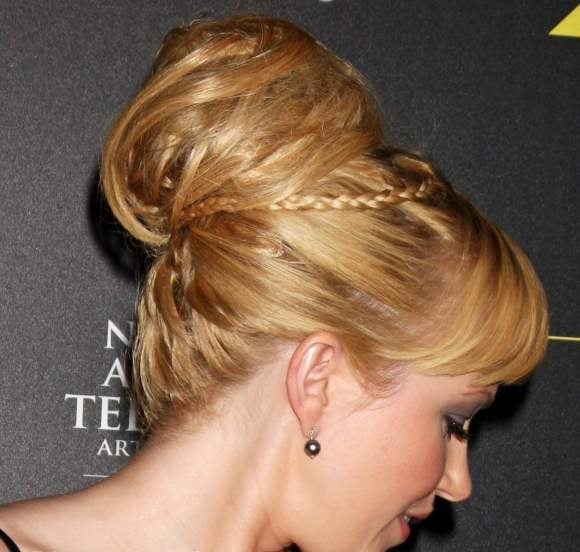 5. Low Messy Pin Curl Bun
Now this is another fabulous low lying messy bun, provided you're fond of pin curls. All you need is a strong hair spray and some tiny pins to create the pin curls. And not to mention you'll also require a fancy hair band or a few hair accessories if you want to create the Gatsby look.
[Also Read: Short Natural Hairstyles]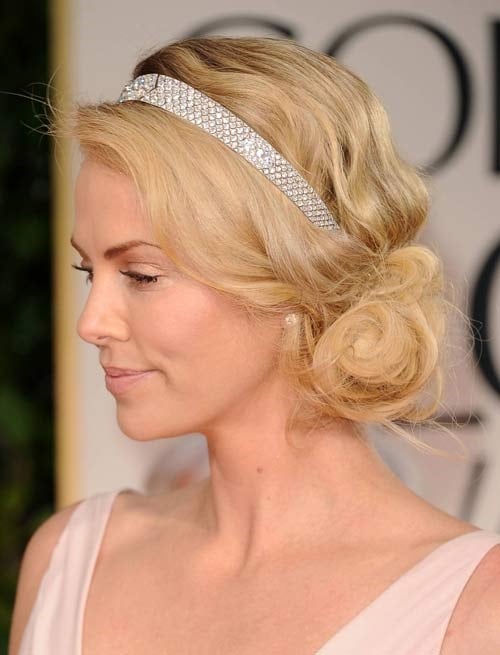 6. Messy Waves Crunched-up Bun
Take a look at the Vanessa Hudgen's hairstyle, as she sports some nicely put big curls in the shape of a bun. Use a hair spray to hold the curls in place. Use a paddle brush to comb and crunch it up into a bun. You're surely going to enjoy this purely messed up bun.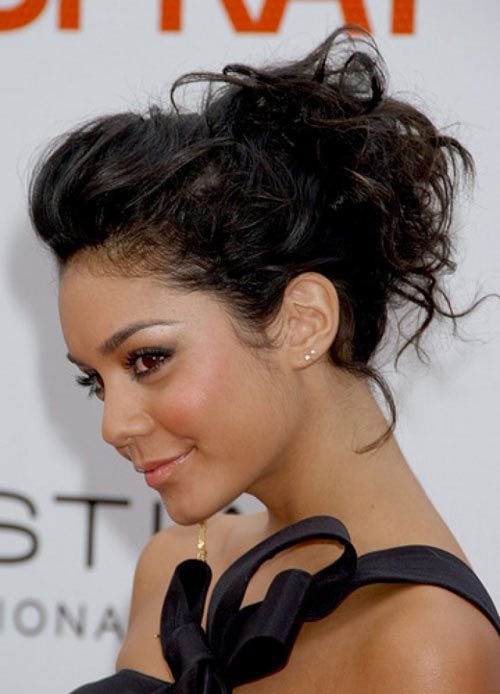 7. Messy Top Knot
Just like how we have different types of messy bun, there are different types of messy top knots too. Here is an easy peasy messy top knot that you can try. How to do a messy bun was never this easy. It is also the perfect messy bun hairstyles for short hair.
[Also Read: Hairstyles for Round Fat Faces]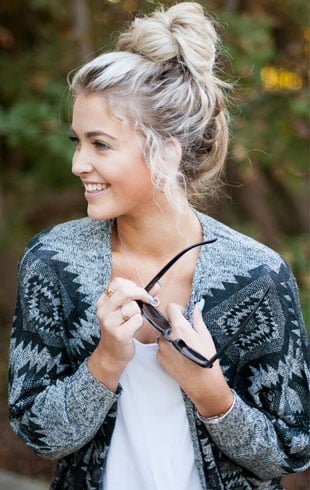 8. Messy Bun Updo
Creating a messy bun updo is not only easy but also super fun. Since there is no set rule on how to get the perfect messy bun, you can experiment with your creativity. This messy bun updo looks super chic to be worn on the red carpet as well as on a brunch date with your girlies.
This is the perfect messy bun hairstyles for long hair. Twist and turn those locks of hair and you will have the best messy hairstyles.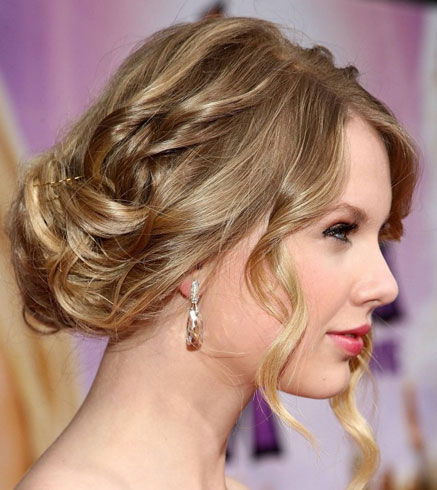 9. Elegant Bun
Want a cute bun hairstyle but not sure how to carry it for your formal meeting? Relax! Try this elegant bun which will fulfill your messy bun desire as well as ensure that you don't look out of place in your formal meeting. This is one of the messy cute hairstyles that can never go wrong. Also, it is a cute easy messy bun which will suit everyone.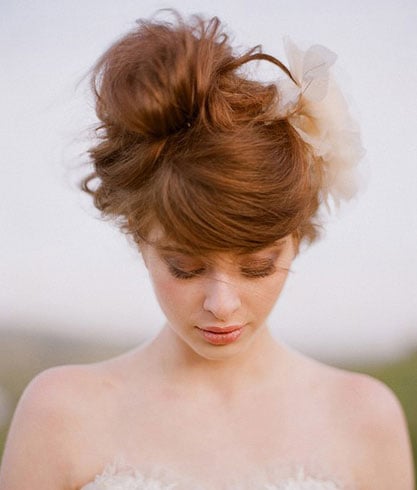 10. Fancy Buns
Looking for how to get the perfect messy bun which is super stylish as well? This is one of the best messy bun hairstyles that you can sport. Take some inspiration from Selena Gomez and try this fancy bun with a messy look. The bangs and the loose tendrils give it a perfect messy look but still manage to keep the entire look quite fanciful.
Isn't that a cute easy messy bun?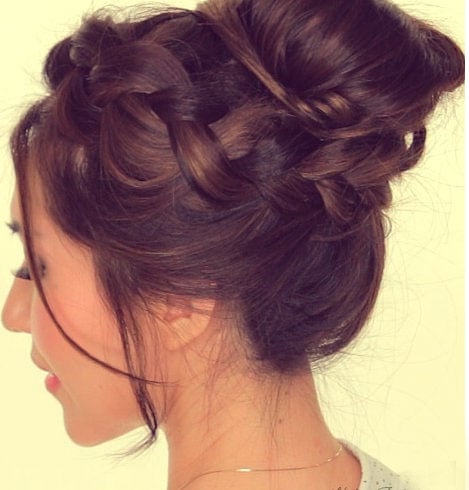 Hope this helps! Stay tuned for more interesting tutorials! Meanwhile you can check out other hairstyles here