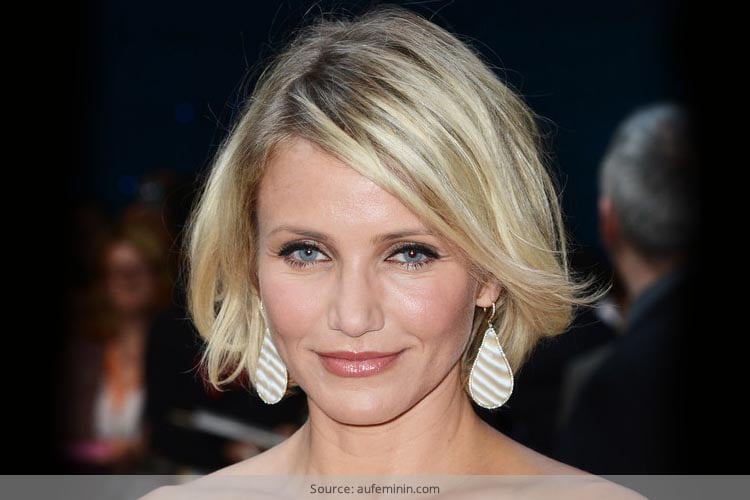 If you have a round face, then you are blessed with a symmetrical face structure that is visually pleasing. But the one drawback of having a round face is that it can look chubby and one dimensional at times. So when picking hairstyles, you need to pick ones that will enhance your face structure, giving it angles and depth.
Let's look at a few Short Hairstyles for Round Faces.
1. The Choppy-Layered Cut
If you're looking to create an illusion of length, making your round face appear longer, then you can opt for a choppy bob hairstyle. Here, instead of a nice sleek bob, you get your bob done in choppy layers that start from your cheekbones to just brushing the top your shoulder. The layers help give an illusion of a long face, making your cheekbones appear higher and more pronounced.
Look at how Kelly Clarkson made a choppy bob work for her. Her usually chubby round face appears more angular with this hairstyle.
2. The Pixie Cut
The pixie cut can work well for round faces. You just have to know how to style your hair to frame your face. What you don't want is for the hair to fall flat against your head, so use some hair styling products to set your hair in interesting ways so that it adds dimension to your face.
Check out how Ginnifer Goodwin works the pixie cut. Notice how she's even styled her sideburns to frame her face and make her face appear more angled.
3. Side-Swept Fringe Razor Cut
When you have a round face, make sure your haircuts are all sharp. You don't want blunt edges softening your look and making your face look rounder than it is. If blunt ends soften the look then what should you have to make your face look sharp and angular? That's right, razor sharp edges. So consider getting an angled bob with a side-swept fringe. A side-swept fringe is ideal for a round face as it elongates the face, making it appear longer. Never opt for a straight fringe, unless you want to accentuate the roundness of your face of course.
Here, check out how a straight fringe makes Hayden Panettiere's face look more round, while a side-swept fringe gives her a more angled look.
4. Side-Parted Curly Bob
Hairstyles for Round Faces can also include this style. This is an edgy look where you curl and tease your hair to make it look voluminous and big. The usual rule for round faces is to avoid adding to much volume to the hair on the sides of their faces. But in this instance, we make an exception with gorgeous curls creating a messy look. Just make sure you have a side-parting as parting your hair right in the middle is not a great idea for a round face. Your parting doesn't have to be perfect. Just use your hands to roughly part your hair in the side and tousle it and set it with some hairspray.
Get inspired by actress Lily Cole's look.
5. Traditional Bob Cut
While it is generally advised that people with round faces should have their hair either shorter or longer than their chin-length, but never just till their chin. This is because when your hair ends right at your chin, it frames your face and makes it look rounder. But if you like your roundness and want to highlight it, then you can opt for a traditional Bob cut where your hair ends at your chin level, nicely framing your face and accentuating its roundness.
Hairstyles for short hair includes these cuts too which are very sweet and innocent and can be adopted if you want your face to appear round rather than oval or angular. Check out how Katie Holmes rocks this girl-next-door look.
6. Asymmetrical Bob
The Asymmetrical Bob is not only one of the best hairstyles for round faces but also one of the trendiest. People with round faces with look quite stylish in this hairstyle as it is short from the back side and long in the front side with an asymmetrical cut which covers part of your face and gives the impression of a longer face structure.
7. Side Swept Bangs
The Side Swept Bangs are ideal for short hair for round faced people. To get this style you need to part your hair from the side. Let your bangs end diagonally just below the cheekbones. The diagonal bangs will give the illusion of lengthening your round face. This would be perfect is you have short thick hair.
8. Short Choppy Haircut
As the name suggests, this short haircut for round faced people looks as if the ends have been chopped haphazardly. The blunt edges of your chopped locks give an edgy look thereby taking away the softness that is usually seen on round faces. This is apt if you want to break away from the stereotype looks of round people with short hair.
9. Asymmetrical Pixie Haircut
Do you want to stand out in the crowd and have people look up to you for the best hair cut for round faces? If yes, then you have to get this trending Asymmetrical Pixie Haircut. We have shown you how you can work the pixie haircut to your advantage. Add an asymmetrical cut to it and see the transformation it brings to your round face.
10. Graduated Bob Hairstyle
One of the cutest hair cuts for round faced people is the Graduated Bob hairstyle. This is one of the most common style that people opt for. In a graduated bob style, the hair at the back is more curved and stacked with layers. The amount of stacking can be decided by you as per your preferences.
[Also Read: Hairstyles For Oval Face]
What To Avoid?
Centre parting of hair – Always part your hair to the sides. A centre parting does not flatter a round face and should be avoided at all times.
Straight fringe – This again should be avoided as it will cover your forehead completely, and will highlight the roundness of your face. So unless you're absolutely sure, always opt for side bangs over straight ones.
Volume – Too much volume in the hair does not work in favour of round faces. Try to thin out your hair with a layered cut or tame it with some frizz-easing serum and a straightener.
With the right hairstyle and makeup, a round face can be made to look leaner and longer. Everything from how you apply your blush to what kind of eye makeup you put on can be used to create an illusion and structure your face to its best advantage. But the most crucial part that makes the most difference is your hairstyle, so take your time to decide which one will best suit your face.
[Also Read: How To Get Chubby Cheeks]
You can even try one of those softwares that allow you to upload your picture and try on different hairstyles virtually to see if they suit you. Although not very realistic looking, the results will help you get an idea of how a particular hairstyle will look on you. So go ahead and use it as a guide that leads you to your dream hairstyle.
You could also read our article on Haircuts to flatter your face shape.
Hope this article on Short Hairstyles for Round Faces helps!