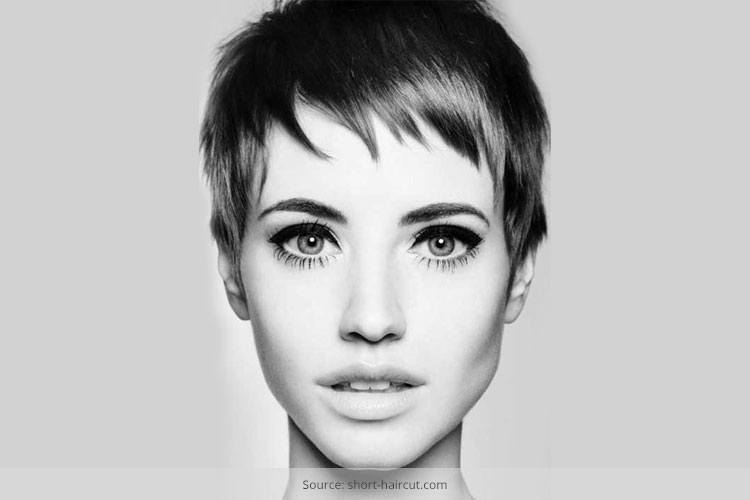 A pixie cut is a super cool haircut that allows you to look chic without the hassle of having to spend lots of time setting your hair. It's an awesome haircut that highlights and defines one's facial features. From the arch of your eyebrows to your high cheekbones and pointy nose, everything looks more defined and pronounced when you frame your face with a pixie cut. But the problems start if and when you decide to grow out your hair. Ask women who've gone through the nightmare of growing out their pixie and they'll lament about how difficult it was. This is because there are so many awkward stages that one has to go through while growing out one's hair.
[Also Read: Celebs Who Decided to Chop Off Their Tresses]
So is there no way to bypass the ugly stages and grow out your hair while still looking good? Well, we've done some research and come up with some pointers to help you grow out your pixie without having to look like you belong in an 80s rock band.
1. Go For Regular Trims
Keeping your hair neatly trimmed on a regular basis is one way to ensure your looks its best at all times. While trimming your hair regularly might seem like a counterproductive move when you're looking to grow out your hair, what you need to remember is that trimming will keep the split ends at bay. Split ends not only damage your hair but also prevent them from growing longer. So keeping your hair trimmed regularly is the first step towards growing out your pixie.
2. Invest In Some Hair Styling Products
Use styling gels, mousse, and volumizing spray to make your hair look its best. Experiment with different hair styling products to achieve a good look. You can sleek out all your hair using some styling gel or you can use a mousse to give your hair a messy look.
[sc:mediad]
[Also Read: Does Hair Mousse really Help?]
3. Grow Out The Front
One mistake that most women make is to grow out both their front and back together. Since the hair in the front tends to grow slower than that at the back, this leads to that awkward look where the front hair is short with a bang growing out while the hair at the back is longer and looks weird. To avoid this scenario, grow out the hair on the front while trimming the hair on your back. This way the hair will grow out in a more balanced fashion and will not look too awkward.
4. Make The Best Of The Situation
Instead of cribbing about it, go on and make the best of the situation. While growing out your hair, you will invariably go through a phase where your hair looks a little awkward. Instead of trying to hide your hair with scarves and hats, go on and make it look as good as you possibly can. Get a nice hair colour or highlights done. There are several temporary ways to color you hair, if you aren't into permanent hair colors. Go in for a hair spa to deep condition your hair, making it look shiny and nice. Get an asymmetrical bob cut done for a dramatic look. Remember, it is all about your attitude. If you believe you look good, then that is what people will see when they look at you. So set aside your doubts and make the best of your situation any way you can.
[Also Read: Short Bob Hairstyles with Bangs]
5. Style Up The Shag
While growing out a pixie cut, you can try different hairstyles so that you don't have to get worried about letting your hair fly around. One such hairstyle which will look super cool is the Short Shag Hairstyle. Use a blowdryer and some hairspray to add volume to your hair. Indulge yourself in this carefree yet stylish hairstyle.
6. Explore Styling Tricks
Follow these tips for growing out your hair and see the magical difference. Surpass your awkwardness by using simple tricks to style your hair differently. One trick would be to use bobby pins. These simple bobby pins can be your savior. Using a trial and error method, try different ways of styling your hair with placing the bobby pins strategically. You don't have to rack your brains and opt for elaborate hairstyles. Just pick up something that is simple and easy to do.
7. Bob It Up
The initial months of your pixie hairstyle are great and you are ecstatic with all the attention but the trouble starts when your hair starts growing. You start looking for styles for growing out your short hair. We would suggest you to go for the bob style as soon as your hair grows to the appropriate length. There are a number of bob hairstyles for you to choose from and hence it won't be a problem for you to decide on a style that would suit you the best.
If none of this works, we suggest you try some cool hair accessories like a hat, scarf or a hairband. It will take a lot of time and patience to grow out a pixie. At every stage, you need to try a different parting or some highlights to make sure your hair looks good. Another aspect to watch out for are the clothes and accessories that you use. Not all the clothes in your wardrobe will go with your hair. So take care to select pieces that work well with your hair. The same goes for accessories as well. With confidence and the right attitude, you can ensure that you look good every step of the way.