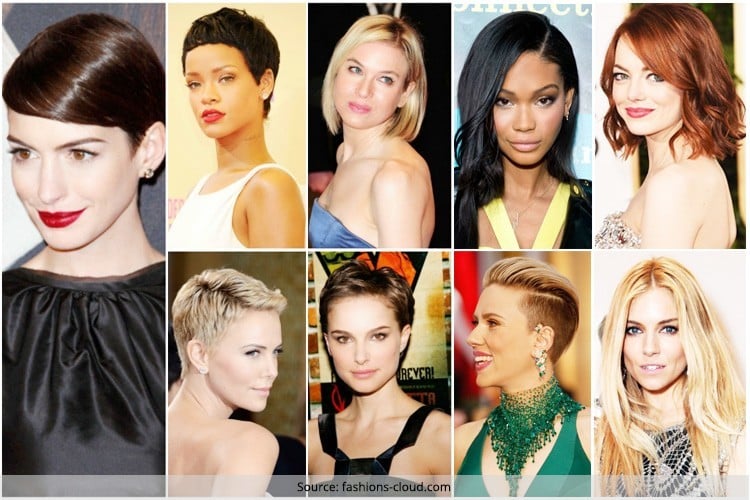 A wise fashionista had said, "The best way to get a cheap makeover is to have a fabulous haircut". These really are words of wisdom and a simple or a drastic haircut can really make quite a difference to your entire look. So, if you want to get summer ready, what's best than taking cues from the most popular people on earth? Yes, our celebrity divas are quite fashion forward and to get a hairstyle which would be perfect, you can easily take cues from what their million-dollar stylists predict!
So get your pens and notepads and start taking hints from some of the celebrity hairstyles that are inspiring us this summer.
1. The Sleek Pixie
Yes, summers are hot and sticky and a pixie cut would be awesome to beat those sweaty blues. Some very young stars like Shailene Woodley have recently sported this look. This hairstyle is short cropped in the nape and is longer on the top of the head. If you want to give yourself a chic look, make sure you have your side parting a little streamlined.
2. The Boy Cut
Gone are those days when you actually used to shout yourself hoarse when parents gave you the dreaded boy cut. Thanks to our bombshell Scarlett Johansson, a lot of women are following suit and sporting this boy cut now! It is a more versatile form of pixie cut and is buzzed on top of the ears. Warning: This is not for women who expect their hair to grow back soon. If you are taking the risk, you have to be prepared to have your hair grown back in a really long time.
[Also Read: Trendy Hairstyles]
You can give this look a bad girl or good girl aura with the right amount of accessories and apparels. Or you can go bombshell style. Such celebrity short hairstyles need real guts to flaunt though.
3. Wavy Bob
This summer it is all about keeping it simple and short. A lot of celebrities are styling different types of hairstyles which are in the shorter range. For instance, the pixie cut, the boy's cut and now the wavy bob. This is one of the styles which is totally low maintenance and requires absolutely no styling agents!
[Also Read: Flower Girl Hairstyles]
So for women who are in the mood to go as they are, this would be the perfect celebrity hairstyle to fashion. The bob is cut in a way that is just grazes the top of your shoulders. So, if you want to give your look a more definition, definitely go for this look and don't forget to bare your shoulders! This look is best when you are wearing off-shoulders or halter necks. Brownie points for shimmer on your collar bones! This is one of our favourite celebrity hairstyles.
[sc:mediad]
4. It's all about Layers!
Everywhere you see there are celebs sporting all kinds of layers. Whether it is the longer version or the shorter one, layers are definitely in vogue. So, while Emma Watson is fashioning the one length layers (It's a basic cut and the layers fall perfectly without much bluntness), Sienna Miller can be seen sporting a slightly longer look with graduated layers (It is shoulder length and the layers gradually decrease).
[Also Read: Flower Girl Hairstyles]
[Also Read: Must-Try Celebrity Hairstyles]
5. The Asymmetrical Bob
Another one of these short hairstyles, this bob is steeply angled at the ends and can be even modified by changing the partings. Victoria's Secret Angel Chanel Iman sports this look with so much sass. Take a look at this celeb hairstyle:
[Also Read: Hair Contouring]
6. Short Wavy Curly Bob
Summer haircuts are not just about getting a short haircut but it is also about finding that perfect hairstyle which would complement you. If you are one of those, who are blessed with thick hair and are planning to chop it off to beat the summer heat then we suggest you copy this cute celebrity haircut and style it up like Anne Hathaway. She had rocked this cute hairstyle at the Interstellar premiere in Shanghai. The Short Wavy Curly Bob is quite adorable and very chic. Let those tresses frame your gorgeous face!
7. Straight Short Cut With Side Swept Bangs
The options for a summer haircut are endless and one of the most popular hairstyles among those endless options is the Straight Short Cut with Side Swept Bangs. Try this slightly edgy looking summer hairstyle if you have straight hair. You can even indulge your love for bangs in this short hairstyle. Check out how Emma Watson has rocked this look. The sharp razored haircut accentuates her young glowing face and gives her a very trendy look.
8. Top Knots
If you think that celebrity hairstyles are always too elaborate and difficult to copy then you are wrong! To get through the scorching summer, a lot of celebrities opt for simple hairstyles which can be done in less than 5 minutes. One such actress is Sarah Hyland who tied up her long tresses in a knot on top of her head. All you need to do is gather your hair into a high ponytail, twist it in a swirl and pin it up using bobby pins. With the hair away from your face, you can play around with makeup to highlight your facial features.
9. Braids
Wondering how something as simple as braids can make you feel like a celebrity? Check out this latest celebrity hairstyle where Blake Lively looks absolutely mesmerizing in a simple braided hairstyle. People with long hair will love this hairstyle as this would keep the hair from sticking to their necks in the sweltering heat! Pull up your hair in a medium ponytail first and then braid it. Once done, you can gently pull apart few hair strands to give it a casual look.
10. Short Shag
When you have celebrity haircuts as cool as the Short Shag, it definitely inspires you to go ahead and get the same cut. A perfect example of less is more, this short hairstyle is perfect for oval, square and heart shaped faces. Low maintenance and trendy are the 2 things that you want for a summer hairstyle and celebrity Emily Browning shows you why this is the perfect hairstyle which combines both of them.
There you go! Our top picks for summer hairstyles this season. If you want a major makeover, don't worry! We have got you covered. Go for any of these above celebrity hairstyles for some massive impact!