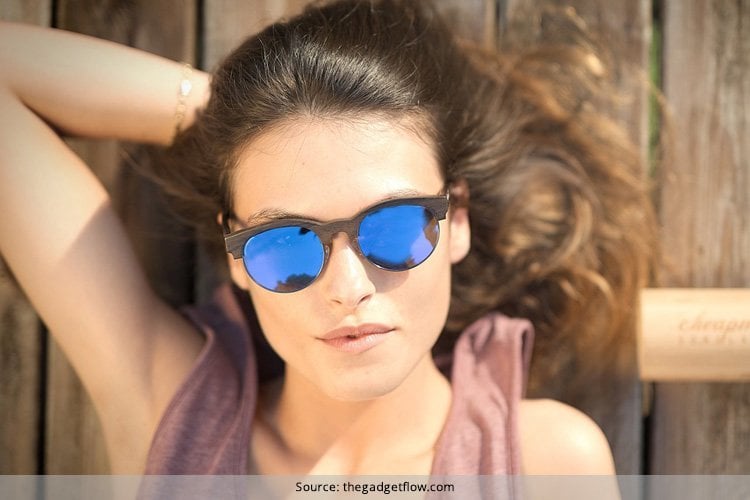 With the soaring heat and rising temperatures, sunglasses are becoming a quintessential accessory. No longer settle for shades that are bulky or boring. Now, you probably see many women donning a pair of aviators or mercury sunglasses too, instead of the typical girly ones. Why's that? Well, they not only provide better protection from UV rays but they look so much more rad. The mirrored lens finish looks more enigmatic.
Literally! By putting on a pair of these sunglasses, you'll see it instantly changes the whole ensemble of yours. The lenses come in a variety of shades; from blue, to green, to orange to pink! Even the frames are in contrasting funky colours. This is what makes these cool pair of sunglasses perfect for the hot summers.
[Also Read: Best Sunglasses Brands List]
But the colour of the frame and lens is not all that matters, the shape and size of the frame should adjust well on your face. For that you really need to get an idea of what type will go on your face.
Mercury Aviators
Rave up your style quotient for the upcoming sunny days with mercury aviators that lend a cool vibe and casual appeal.
So how to style the mercury sun glasses as per your face cut?
That's what we're here for! With a few easy steps you'll get of gist of what will go best.
1. Select The Sun Glasses That Offer Maximum Protection
Your eyes can undergo severe problems due to the harsh sun and UV rays. For utmost shelter from these search for a pair that inhibits approximately 95% UVA and 99% UVB rays. Most mercury sun glasses are made as per these specifications. Also, aviators usually canvas all areas around the eyes, so that none of these harmful rays make it through.
2. Size And Style
See if the size and shape of the glasses look good on your face. If your face is round, frames which are angular and thick will look better. For a square shaped face, round frames will suit well. On long faces pick out bigger lenses.
[Also Read: celebrities in sunglasses]
Some styles of the lens and frame of mercury sunglasses are round, cat eye or round circle top.
3. Proper Fitting
Be careful that the sunglasses fit well. This is why sunglasses shouldn't be purchased online, you need to be careful to try them on and see how they go. They should feel slanted on your forehead or nip it. The weight should be shared all through your eyes and ears and eyelashes shouldn't brush against the lens.
If you do purchase online, and the sun glasses don't balance suitably you can visit an eyeglass shop and get them corrected.
4. Picking the Mercury Lens Color
Along with how the color looks on your face you need to judge how much difference it will cause to your eyesight and visibility. Some colors may alter your vision such that you're unable to distinguish between shades while driving.
After choosing the color hold the lenses up to a fluorescent lamp. Keep moving the sunglasses towards it and away while checking for any distortion.
[sc:mediad]
5. The Correct Lens Material
The lens you choose should be resistant to scratches and high impacts, flexible, light weight and have great optical clarity. Such lenses are made of NXT polyurethane or glass. But all this is rather pricey.
You could opt for more reasonable lens materials such as polycarbonate. It is not really scratch-resistant and also has lower optical clarity but at least it is less costly. Another less expensive choice is a lens out of acrylic.
And there you have it. These were the few simple, yet handy, steps on styling the mercury sun glasses. You have a variety of colours to choose from, each providing distinct clarity.
[Also Read: Best Sunglasses Brands List]
Grey lenses are usually the best as they cause minimal perversion. The yellow & brown lenses augment the contrast as they obstruct most of the blue light. Wonderful to adorn while doing snow sports and also while hunting. They are not suitable for wearing while driving. If you're a golf player, copper sun glasses are perfect for the sport as they enhance the hue of the golf ball.
So now that you've selected the perfect pair, you'll be amazed to see how significantly they improve your overall attire. Pair them up with anything, whether a skirt or shorts, or a jacket of denim or leather, even just a simple tee with jeans. They add coolness to every getup! You could, maybe, purchase one or two different colours or types mercury sun glasses and mix and match them up with each vestment.
Once you start wearing them, we're sure you won't stop!