If you're tired of your long tresses, get inspired by these stunning short curly bob hairstyles. Whether your hair is naturally curly or straight or somewhere in between, the short hairdo can be versatile. From tousled bob to practical lob, basically every woman is into chopping their tresses at the moment.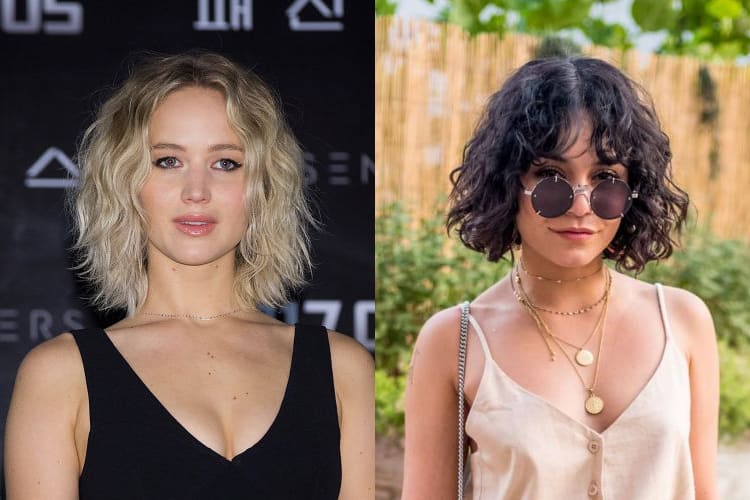 So get major inspiration over the short hair game from the looks below:
Gorgeous Short Curly Bob Hairstyles to Try Right Now:
We have collected amazing hair looks that are not only super stylish but extremely versatile, as well. Take a look.
1. Tousled Bob:
The short tousled bob is a total head-turner. Achieving the hairstyle is really simple especially with short hair. All you need is a curling iron to create it. Alison Brie' tousled bob shown below is the perfect illustration for tousled bob.
2. Curly Black Bob:
The curly black bob makes a strong statement for creating a middle-parting wavy bob. The beach curls as seen on Diamond singer Rihanna is kind of cute, don't you think?
3. Loose Waves:
If you are dicey between tousled bob or beach waves, then why not combine both? Take inspiration from actress Diane Kruger's tousled loose waves. You can take the image to the hairdresser or create it yourself using curling tongs at home.
4. Icy Blonde Bob:
Currently we are obsessing over icy blonde bob. Cara Delevingne rocked a similar style at Chanel's AW'17 show. Makes us think- we're so going to try this retro 'do.
5. Bleached Bob:
The bleached bob is a whole new level of hair goals. Wear it with undone texture using a texture spray. Look at how Chloe Moretz defies hair laws and dived into the style.
6. Short Platinum Tresses:
Call us partial, but this is again one of our favorite Short curly bob with bangs. Our short curly bob hairstyles list wouldn't have incomplete without the mention of this short platinum tresses. To get Jennifer Lawrence look, all you need is five minutes. That is pretty much it.
7. Old Hollywood Bob:
If the vintage look fascinates you, then what better hairdo to opt for than the old Hollywood bob? This hairstyle doesn't look simple but surprisingly it is. It is a classy look. Case in point is Anna Hathaway's short bob cut.
8. Practical Lob:
Allow the practical lob cut do the talking. If created right, this type of hairdo won't need much styling. Just like how it has worked for Beyonce, it should work for you if you're trying to keep your curly hair in shape.
9. Edgier, Harsh Short Texture:
The hairdo is edgy and feminine at the same time. Take a look at singer Kelly Rowland's harsh cut. If you are a bohemian at heart, then this look is for you.
10. Crop Curly Cut:
Can we please take cue and embrace curly hair? The crop curly short hair as shown is giving us hair inspiration for days. Team the curls with hair accessories and a pop of eye color.
11. Short Wavy Bob:
The short wavy bob updo is worth it especially for recreating on your next weekend out. Give the hair a beautiful dose of hair spray shine for added glitz.
12. Glamorous Ringlets:
Are you tired of your long mane? Then you can totally take the plunge for the big chop. The classy look as shown by actress Ariel Winter is totally right for her.
13. Laidback Waves:
Lucy Hale's shoulder-skimming bob with waves is an excellent choice if you want to wear a crop but aren't prepared to sacrifice your hair. The actress' bent style hairdo is a cool take on laidback waves.
14. Corkscrew Ringlets:
Can we take a moment to appreciate the corkscrew ringlets as worn by Vanessa Hudgens? The natural messy ringlets are a major hair inspiration. We are 100% stealing this look.
15. Faux Bob:
This hair look is what dreams are made of, right? If you're grown out of your long hair but don't fancy getting a chop either, then twist your locks up. This allows you to create a faux bob illusion just like Jessica Chastain.
[sc:mediad]
16. Wavy Crop:
Proving that your mane doesn't have to be long to channelize the ringlets, Charlize Theron wavy crop is gorgeous.
17. Accessorize:
To uplift your short hairdo look, wear an embellished halo braid as shown by Janelle Monáe in the image.
18. Stacked Bob:
The stacked bob looks naturally pretty. You can lift the blonde looks for a softer look just like how Emily Blunt has done it up.
19. Curly Bob Weave:
Singer Rita Ora is thankful to her hairstylist Chris Appleton for her curly bob weave look. She chopped her tresses into an asymmetrical bob but is often given to playing with long extensions. Here, she puts her short hairdo on display with the heavily textured style.
Hope you loved these 19 gorgeous short curly bob hairstyles? Which one are you game for trying out? Let us know in the comment section below.