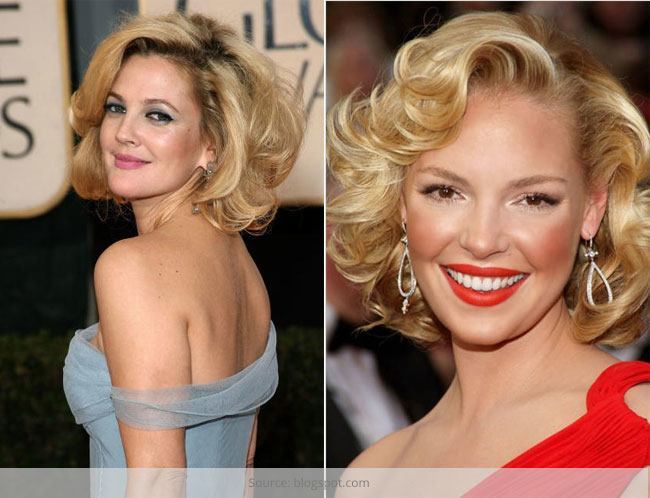 We women have had a never-ending affair with our fringes and bangs. Most of us have tried one version or the other of it in our lifetime and are always on the lookout for a nice hairstyle to try out. Let's here take a look at some interesting short bob hairstyles with bangs that are easy to maintain and style.
1. Asymmetric Bob With Side-Swept Bangs
This is a bold look. The idea is to have your hair cut in a bob with one side of the bob longer than the other. How much of a variation in length you want to sport depends on how much of a difference you are comfortable with. Start with a quarter inch difference and if you like it, you can chop off a little more on one side for a more obvious difference in length. Paris Hilton has been sporting this asymmetric bob with soft side-swept bangs.
This is a total love-it or hate-it look; you either love it or you don't there's no midpoint when it comes to the asymmetric bob.
2. Posh Spice Bob
Victoria Beckham is also fondly called Posh Spice. She is one of the celebrities who has managed to time and again create some modern hairstyles that later attain an almost cult status. Her famous pixie/bob hairstyle was labelled the Posh Spice Bob. It is a clash of a pixie cut with a traditional bob cut. The end result is a very modern, very chic look. The bangs are kept super long, while the rest of the hair is chopped off in a very artistic bob that shapes the head and frames the face, resulting in a very edgy look. We can definitely call it a 'posh' short bob hairstyle.
3. Pageboy Bob
The pageboy cut started out as a short haircut that reached just about the ears. Over the years the length has varied and now the pageboy hairstyle is a short bob that reaches just below one's ears. This bob hairstyle for women is typically accompanied by a thick straight fringe. This hairstyle is definitely not for the faint hearted. Check with your hairstylist to find out if this style will suit you. And be very sure about it. This is a look that is quite dramatic and needs to be carried off with oodles of confidence; there's no room for doubts or regrets when it comes to the Pageboy.
4. Sleek Bob
Rivalling all the modern variations of it is the sleek bob. With not a strand out of place, the sleek bob is sophistication at its best. It embodies all that is glamorous. And the best part? It goes well with everything—from red carpet gowns to office suits to denim dungarees. Now you know why so many Hollywood celebrities swear by the bob. It is a timeless look that embodies sweet femininity while at the same time exuding an aura of elegant sophistication.
[sc:mediad]
All you have to ensure is that your hair is relatively straight as if you have curly or wavy hair, then you cannot do full justice to the sleek bob. Even with straight hair, you need to straighten it with a straightening iron and set it with a fixing spray to achieve the absolute sleek look. It's all about clean lines and angles with the sleek bob.
5. Marilyn Monroe Bob
No article on bob hairstyles will be complete without mentioning the iconic Marilyn Monroe bob. In her lifetime Marilyn Monroe was a trend setter; we can still see her influence on fashion and beauty. Her famous bob, with glorious blond curls, has ever since become an iconic hairstyle. So many celebrities have tried to emulate the look. Marilyn was not afraid of going big; her hair was always teased and curled to nice voluminous Bob Hairstyles, with her bangs in curls as well, almost blending into the rest of her hair. With her platinum blond hair, the artfully done bob became as famous as her red lipstick and her white dress.
Check out some of the celebrities who tried the Short Bob Hairstyles and were inspired by Marilyn's hairstyle.
6. Gwen Stefani
Gwen Stefani shows you how to look stylish in short hairstyles. This Marilyn inspired hairstyle looks absolutely perfect on her. Use a blow dryer to give volume to your hair and to make it look fluffy.
7. Katherine Heigl
One actress who has been sporting different kinds of hairstyles over the years is Katherine Heigl. We think she looks absolutely adorable in this short bob with bangs. With the curly bangs styled away from her face, this look is has enhanced her facial features.
8. Paris Hilton
Paris Hilton is one socialite who has impeccable fashion sense. Along with her fashion sense, she has also been in news for the different hairstyles that she has sported. Short bob hairstyles with bangs have been tried by a lot of celebs and Paris is one of those who has nailed this style.
Let's look at some more short hairstyles with bangs:
9. This short bob hairstyle can be tried by women who are either middle aged or above 50 too. These hairstyles are easy to maintain and are fuss free.
10. This side parted bob hairstyle for black hair is just too sexy for us to handle. What do you think?
11. A flirty short bob like this with bangs will make any woman want to chop off her locks and let their hair do the talking.
12. This is a short layered bob with bangs that can look great on round faces. Also women in the age group 40-50 years can also carry it off with most confidence.
Beauty is just a matter of perception and what society perceives as beautiful is constantly changing. Long hair was considered beautiful and was much coveted. While long hair still holds appeal, more and more women are stepping out of that circle to try out more edgy, fun hairstyles. Depending on your face structure and lifestyle, bobs can sometimes look even more beautiful and make you look prettier than you would with long hair. Whether it is a layered bob, sleek bob, curly bob or asymmetrical bob, all you need to do is just take a leap of faith and plunge into the world of bobs.