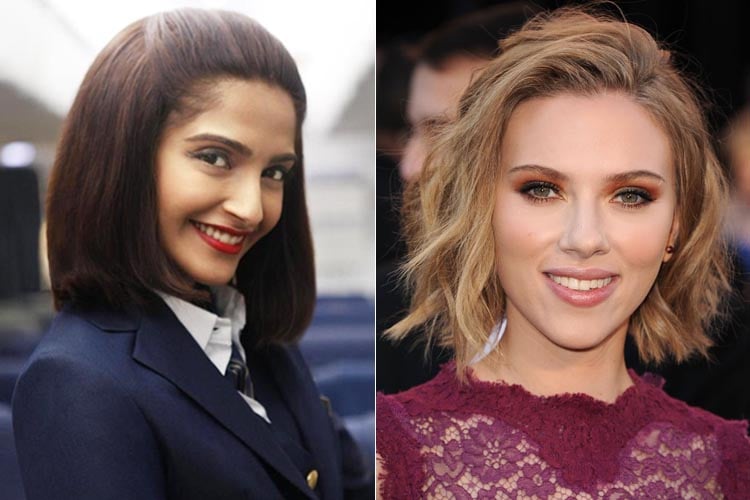 Alright we know that being "brave" is important – whether it is in a heart break situation or a loss of business. But being scared of a lizard, cockroach or any other petty thing? Is it so horrendous, that one has to get scared without any business?
[Also Read: Celebs sporting the No Makeup Look]
Well most celebrities have been in the news for their fears and phobias (as much as awards and wardrobe malfunctions). Some happen to be rational but few others irrational.
Let's take a closer look at the phobias that the celebs are victims of. They are not tear-jerkers but scares are after all scares, some big and some small.
Priyanka Chopra
"Hi Sonam…So this is really a difficult question and I thought over it for a really long time…Love is what you are born with…Fear is what we learnt here…So my biggest fear is..it's a new fear which is taking over the world, it's called No-Mo-phobia. Which means no mobile phone phobia. It's the fear of losing signals, it's the fear of running out of battery, it's the fear of losing sight of your mobile phone and it makes you crazy and you don't know what to do."
Sonam Kapoor
"My biggest fear is letting my father down…He is my biggest inspiration…And my life's mission is to make him proud….and to be the best actor and person that I can"
Alia Bhatt
"My biggest fear I think would be fear of missing out. I need to be everywhere and I need to be doing everything, and I just need to be there…you know…be there.. "
Parineeti Chopra
"Is plane landings…Like I need somebody sitting next to me to hold my hand because I feel I'm going to crash and die. Is it strange that I am saying plane landings when I'm doing this for Neerja?"
Sunidhi Chauhan
"Hi everyone…my worst fear is being hypnotised by someone and do something really wrong that I would never think of doing in this life…that's it"
Huma Qureshi
"The really scary dream I had when I had no teeth…so I would really wake up clenching my jaw and I would clench it so much that it would hurt…But hey you can't stop sleeping right because you never know when you would get a really sweet dream"
Esha Gupta
"I think the one thing that used to scare me was the idea of free fall…So I just decided to conquer my fears and go for a ski diving and honestly that has been the best decisions in life…so that's what I believe in"
Celina Jaitley
Well Celina babe has got married to an industrialist, but her phobia is quite strange. She panics at the sight of butterflies considering it's an insect. Scientifically, it's called Entomophobia.
Tanisha Mukherji
Kajol's little sister Tanisha has been in the news for the wrong reasons, considering her split with Armaan Kohli after her love equation with him in Bigg Boss. But it is her fear of live audience that is a major phobia to her. Makes sense as her films kind of flopped and her only claim to fame is being Kajol's sister.
[sc:mediad]
Vidya Balan
The Dirty Picture superstar Vidya has been quite bold and phenomenal too in the roles she played in films. Nothing can faze this actress, but for a cute and cuddly house cat who she fears. This is called Ailurophobia which is affecting Vidya.
Anushka Sharma
Yeah, according to news and rumours, Anushka and Virat Kohli have reached a breaking point in their relationship.
But what fears Anushka most is riding on a bike. She even avoids pillion riding on a bike. It means Cyclophobia makes her lose sleep.
Scarlet Johansson
This American actress seems scared of birds. When you see her screaming and panicking, it could be because of a peacock or any other bird flapping its wings. This process is called Ornithophobia. Oh yes, Scarlet Johansson is also scared of cockroaches.
In an interview to New York magazine, Scarlet revealed "Something about wings and beaks and the flapping…I'm terrified of them. That still hasn't gone away… I was terrified of the peacocks on set (of her new film We Bought a Zoo). Like, 'Ahh, don't get too close.' They're like, mean".
Megan Fox
This actress seems to be suffering from multiple phobias. She has Bacteriophobia, Achluophobia and Papyrophobia and many more.
Did you know Megan is heavens afraid of touching dry paper and germs? This is one reason why she avoids using public toilets or cutlery in restaurants. She is scared of the dark too.
Fox said to Allure's June 2010 issue, "Every time someone uses a bathroom and they flush, all the bacteria are shot into the air. Putting my mouth where a million other mouths have been, just knowing all the bacteria that you carry in your mouth? Ucch!"
Megan Fox has yet another fear, of looking at her own photographs. She was afraid of looking at her photos and videos from Transformers, after its release. According to a report, she drank champagne to get the courage to watch her blockbuster movie.
"I don't watch playback. I don't look at still photos. I have a phobia for it," she said in another interview.
Britney Spears
American pop star Britney suffers from Herpetophobia. She starts to panic when she sees reptiles, lizards and Komodo dragons.
Madonna
Guess what this superstar musician and actress is scared of? Thunder, which is why you will never spot her when it's raining cats and dogs or thundering. This is called Brontophobia which is one of the most common phobias in the world.
Oprah Winfrey
The phobia of the reputed talk show queen Oprah Winfrey is interesting. Chewing gum is what has scared her since childhood. So much so that she banned it from a building in Chicago, Il.
Said she to Contactmusic.com" My grandmother used to save it (chewing-gum) in little rows in the cabinet. I'd be scared to touch it because it was so gross, so I have a thing about gum," she said.
"One guest in my home sat at the dinner table, took out some gum from her mouth and put it on her plate – after she left, I threw the plate out," said Winfrey.
Which of these phobias brought a shiver down your spine? Send us your replies on our Facebook, Insta and Twitter engines.