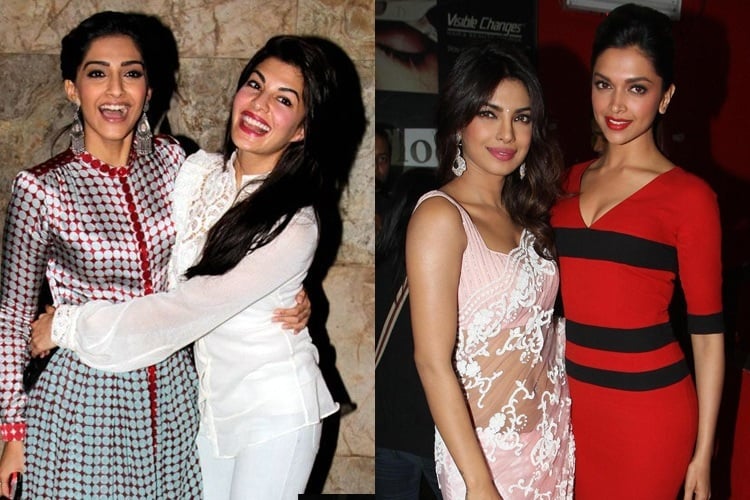 If you believe two leading ladies in the same league can never be friends, these divas from B-town are here to prove you wrong! Many believe that friendships between Bollywood stars last until their fame lives. However, FashionLady bust these myths by unveiling the BFF's of B-Town. The article will present to you some friendships between our Bollywood queens that have endured for a long time. Also, for all the new friendships, we hope they soon flourish into an inseparable bond.
1. Kareena Kapoor Khan and Amrita Arora
Camaraderie between Kareena and Amrita has always been talk of B-Town. With no reported cat fights, misunderstanding or hurling curses, these actresses have topped the chart of BFF's in Bollywood. These childhood pals have been there through each other's thick and thin for decades now, however, their friendship made noises on the sets of 'Golmaal Returns'.
For years, these actresses have managed to remain best of friends. They are frequently seen at parties and get-togethers with one another. Kareena Kapoor was the bridesmaid at Amrita Arora's wedding too.
What makes them BFF? Bebo says Amrita is fun, easygoing, hassle free and honest… just like her!!
[Also Read: Bollywood Celebrities on Christmas Eve]
2. Aishwarya Rai and Preity Zinta
The friendship between these two celebrities is much talked about in Bollywood gossip channels. Very few know that these two actresses have remained friends for a long time. Many believe that they started bonding after their World Tour, in the year 2000. Although they haven't really starred in any movie together, yet they have an immense bonding. They have been with each other through tough times and good ones too.
Preity Zinta has been heard saying "Ash is someone who I can call a friend. We have kept in touch, shared our ups and downs through the years. We've always been there for each other during the tough times. And I know that I can pick up the phone and call her up anytime." in an interview. Even after arguments and cat fights their friendship has remained intact, and we hope that it continues to.
3. Priyanka Chopra and Deepika Padukone
Currently the hottest divas on the sets of Bollywood, Priyanka Chopra and Deepika Padukone are a complete package. They both can easily be crowned with the title: Beauty with Brains. Together they make the screen sizzle.
Calling each other "soul sisters", the pair was seen brightening up the whole set with their chemistry, when they came on 'Koffee with Karan'. Even after Bajirao Mastani there have been reports that Priyanka Chopra had a great time shooting with Deepika Padukone. Further we have heard that Priyanka Chopra ordered a dance kit for Deepika as well as for herself. Their friendship is known to be genuine without any competition between the two.
[Also Read: Beautiful Celebrity Outfits For Parties]
4. Anushka Sharma and Katrina Kaif
The latest duo of best friends in B-town is Anushka Sharma and Katrina Kaif. Eyebrows up?!! Katrina Kaif and Anushka Sharma shared great chemistry on the sets of their film 'Jab Tak Hai Jaan'. They have been BFF's since. Along with Ranbir the duo had a blast in Sri Lanka, while shooting Bombay Velvet. It has been reported that Katrina Kaif said that if there ever was a remake of Dostana, then she would love to be cast with Anushka Sharma. Hope Karan Johar gets this message!
5. Sonam Kapoor and Jacqueline Fernandez
Sonam Kapoor and Jacqueline Fernandez are being seen together since the success party of 'Any Body Can Dance 2'. Both of these divas drove to the party together, even held hands and posed together for the shutterbugs. In the party, Sonam Kapoor took selfies and uploaded them on Instagram. Sonam Kapoor has even uploaded selfies with Jacqueline in the car with her. BFF Alert?!!
[sc:mediad]
6. Shraddha Kapoor and Alia Bhatt
The duo from the next gen of A-listers are the new besties in town. Young and bold, setting to their own rules to stardom, these divas from Bollywood families share more than just parental legacy in films. The Kapoor lass and the chirpy Alia are have often been spotted on outings and clubbing together. These free-spirited souls love to party hard, as is evident from Shraddha's tweet – "@aliaa08 had a blast breaking it down to #saturdaysaturday with you
[Also Read: Best Dressed Bollywood Celebrities]
These gen-next actresses are not just there to compete or be rival. Happy in their own space and at their own pace, these B-town babes have rewritten friendship rules.