A widely known artist, singer, writer, producer, actress, and the rarest superstar, Taylor Alison Swift is a true inspiration for women around the world. Her tales of heartaches, beautiful melodies, and relatable lyrics are what got her to the heights of success. Being compared to legendary artists like Dolly Parton and Willie Nelson, Swift was only 16 years of age when she released her debut album. From doing extraordinary things to getting involved in controversies, here's a little sneak peek at Taylor Swift's journey.
A Quick Intro About Taylor Swift
Here is a quick intro of Taylor Swift
Taylor Swift Biography:
Full Name: Taylor Alison Swift
Nick Name: Swifty
Date Of Birth: 13 December 1989
Father's Name: Scott Kingsley Swift (Stock Broker)
Mother's Name: Andrea Finlay (Home maker)
Siblings: Austin Swift (Actor)
Nationality: American
Height: 5'11
Education: Doctorate in Fine Arts
Debut: Album-Taylor Swift (2006)
Occupation: Singer, Philanthropist, and Songwriter
Taylor Swift's Body Stats:
Build: Slim
Taylor Swift Height: 178 cm or 5.8 Feets
Taylor Swift Weight: 54 kg or 119 pounds
Waist size: 25 inches
Hip Size: 35 inches
Body Measurements: 34-25-35 inches
Shoe Size:5-9 (US)
Eye color: Blue
Hair color: Blonde
Taylor Swift's Favorite Things And Hobbies:
Color: Red
Food: Cheesecake
Place: Australia and Kansas
Sport: English Horse Riding
Brand: Jimmy Choo, Victoria's Secret, Elie Saab Oscar de la Renta, Ralph Lauren, Christian Louboutin (to name a few)
Singers: Katy Perry, Dolly Parton, Shania Twain, Keith Urban
Film: Love Actually, Legally Blonde
Actress: Emma Stone and Jennifer Lawrence
Taylor Swift Early Life
Taylor Swift was born on December 13, 1989, in West Reading, Pennsylvania. Her father is a former stockbroker for Merrill Lynch and her mother is a former mutual fund marketing executive. She also has one sibling brother named Austin Swift who is an actor and producer.
At an early age, Taylor Swift developed a strong liking for music. She used to perform on weekends at local festivals and events that would make her super happy. At the age of 9, she started taking vocal and acting lessons in New York. However, after giving many auditions in New York and not getting any success, she switched her focus to country music.
At age 11, after several attempts, she finally won a local talent competition and was given an opportunity to start an opening act for Charlie Daniels, at a Strausstown amphitheater. At an age of 12, with the help of a computer repairman named Ronnie Cremer, she learned how to play the guitar which eventually helped her to write her first ever song "Lucky You" and that's when her journey began.
Taylor Swift Career
To help Taylor follow her passion, her father transferred his job to an office in Nashville. The whole family relocated to a lakefront house in Hendersonville, Tennessee, where Taylor attended high school. In Nashville, she started working with songwriter Liz Rose and had a 2-hour long writing session after school in the afternoon. After a while, she left school and did home-schooling because she wanted to concentrate on her songwriting and singing career.  After becoming the youngest artist to get signed by Sony/ATV publishing house, she left the group at the age of 14. Since the publishing house wanted her to record other song writer's work, she felt that she was ready to launch her career.
So, one fine day, she caught the attention of Scott Borchetta, a record executive who wanted to form an independent record label, Big Machine Records. She became Big Machine's first signing and got a chance to release her debut album.
In 2006, she released her debut album called "Taylor Swift",  which quickly occupied the 5th position on Billboard.
Her first lead single, Tim McGraw break up the music charts that were about her high school boyfriend.
Songs like 'Our Song' and 'Teardrops on My Guitar' became youth anthems that made her gain a huge young fan base.
She also made a debut as an actor in Crime Scene Investigation where she played the role of a teenager.
After seeing success from her initial hit songs, she released "Love Story" and "You Belong to Me "under the album named Fearless which gained no 4th position and 2nd position on Billboard respectively.
After 2 years, she came up with the album called "Red" which was way different than her usual songs. The album consisted of different genres to show her fans and critics that she was not only a country artist.
In 2014, she released her critically acclaimed album called "1989" which went on to become 3rd consecutive album to sell over 1 million copies within the first week of release.
She went on "the 1989" World Tour which crossed almost 250 million dollars which is till now her highest collection
After a successful tour, she became the brand herself and launched her own line of perfumes. Along with that, she became the brand ambassador for other popular brands as well.
In 2017, She launched her sixth album called 'Reputation' which again got listed at no 1 on Billboard 200.
In 2019, she released another loved and praised album called 'Lover'. It sold approximately 500,000 copies in the US within one week.
In 2020, she released two studio albums back-to-back namely 'Folklore' and 'Evermore'.
In 2022, she completed her studies and received a doctoral degree in Fine Arts from New York University.
Taylor Swift's Iconic Albums
Taylor Swift has given many popular albums that broke all the records. Here's the list of all popular albums you should definitely check out.
Taylor Swift (2006): Taylor Swift's debut album called "Taylor Swift" is still an iconic album of hers. Tim McGraw was one of the most loved songs from this album written by Taylor and Liz Rose
Fearless (2007): This album made her win the Grammy 'Album of the Year' award. It had some exceptional songs like 'Love Story' and 'You Belong With Me' that were earworms and got stuck to everyone's mind.
Speak Now (2010): Speak Now was her third album. This album had some underrated songs like 'Mean' and 'Sparks Fly'. The album also consisted of some of Taylor's best lyrics which made this album more popular than ever.
Red (2012): This album had some mainstream and pop songs with snarky lyrics that won people's hearts over. Yes, songs like " We are not getting back together" and "I knew you were the trouble" were smashing hits.
1989 (2014): 1989 is a pure pop album that left a massive impact. It had 80's influence, hooking melodies which made the album stand out. The album also made her win Grammy.
Reputation (2017): Reputation was another album that had some fine songs that one can enjoy. 'Look What You Made Me Do' and 'This is why we can't have nice things' were totally fascinating songs with relatable and earworm lyrics.
Lover (2019): Lover is an album that had one of the sweetest songs you can ever listen to. The song 'Lover' impressed everyone with its meaningful and adorable lyrics while 'You need to calm down' and 'Me' did okayish.
Folklore(2020): Folklore had a stunning collection of folk songs. This album had Taylor's career-best songs. Songs like 'Cardigan' and 'August' were some romantic songs that gained a lot of traction. Moreover, this album also made her 3 times Grammy winner.
Taylor Swift's Popular Songs
Taylor has led a successful career. There are many blockbuster songs in her kitty. Here is the list of top chartbusters that broke all the records.
| | |
| --- | --- |
| Song Name | Album |
| Tim McGraw, Tear Drops On My Guitar | Taylor Swift |
| Love Story, You Belong With Me | Fearless |
| Back To December, Mean | Speak Now |
| Safe and Sound featuring the civil wars | The Hunger Games: Song from District 12 and Beyond |
| We are never getting back together, I Knew You Were The Trouble | Red |
| Blank Space, Shake It Off | 1989 |
| Look What You Made Me Do, Delicate | Reputation |
| Lover, The Man | Lover |
| Willow | Evermore |
| All Too Well | Red(Taylor's Version) |
Taylor Swift's TV Shows And Movies
Taylor Swift has appeared on numerous shows and movies as well. Check out the list below.
Shows
Saturday Night Live – Appeared as Host
Crime Investigation Scene – Played the role of Haley Jonas(Small role)
Taylor Swift: Journey to Fearless – Played the role of herself
New Girl – Played the role of Elaine(Guest Appearance)
Movies
Jonas Brothers: 3D Concert (Cameo)
Hannah Montana: The Movie (Cameo)
Valentine's Day(Film debut)
The Giver(Small Role)
Cats(Main Role)
Miss Americana
City Of Lover
All Too Well Short Film(Supporting Role)
Top Awards and Achievements by Taylor Swift
Taylor Swift has been the owner of many awards and has achieved a lot at an early age. Here's a small list of some big awards she made to her name.
BillBoard 200 declared Fearless as the no 1 album of the year in 2009 because it sold out half a million copies in the first week itself.
In 2010, her album "Speak Now" entered the Guinness Book Of World records for the fastest-selling digital album by a female.
Taylor Swift also won her first Grammy award for "Album Of The Year" for Fearless and was recognized as the youngest artist ever to win this award.
In 2021, she won album of the year at Grammy for Folklore and became the first woman to ever win the Grammy's highest honor 3 times.
She has also found a place for herself in "The Songwriters Hall Of Fame"
Taylor has won several awards as a vocalist including 10 'Grammys', 23 'Billboard Music Award', 11 'Country Music Association Awards', 8 'Academy Country Music Awards', 19 'American Music Award', and 1 'Brit' and 'Emmy' Awards.
Controversies Surrounding Taylor Swift
Taylor has led a very controversial life as a celebrity. She has always been in the news not just for her excellent music but for other reasons as well. Here is a quick look at some of the popular controversies surrounding Swift:
Taylor and Kanye West Dramatic scene at VMA Awards: Taylor received a VMA for Best Female Video Award, for her song 'You Belong To Me'. Kanye all of a sudden jumped on the stage and interrupted Taylor while she was giving her acceptance speech. He said, "Yo, Taylor, I am really happy for you. Imma let you finish but Beyonce had the best videos of all time". Later on, when Beyonce won the Video of the year award at VMA, she called Taylor on the stage to complete her speech. This controversy gained a lot of traction. Moreover, Kanye even apologized to Taylor on Twitter for his behavior.
Taylor Swift and Scooter Braun: Swift held Scooter Braun responsible for Kanye West's song called "Famous". So the speculations were that the song 'Famous' was the reaction of Kanye West regarding VMA controversies where he interrupted Swift in mid of her speech. When Taylor denied being warned about Kanye's song, Kim Kardashian shared the video of Taylor accepting the concept. As West's manager at that time, Taylor held Braun responsible for both the video and the song.
Taylor and Demi Lovato: Demi made a comment on Taylor's generous help to Kesha a pop singer, in the case against Dr. Luke which made headlines in 2016. The tweet said, "Take something to Capitol Hill or actually speak out about something, and then I'll be impressed". Moreover, Demi denies Taylor being a feminist because of Taylor's song "Bad Blood" which was rumored to be aimed at Katty Perry. The confident singer said that having a song to tear Katty Perry down is not women's empowerment. To date, people speculate that Demi and Taylor still do not like each other.
Taylor's old master recordings: Taylor Swift began her music career working with Big Machine Label Group until recently she joined hands with Universal Music Group's Republic Record. Everyone thought its a business decision and she is cordial with the former company until she made an emotional Tumblr post. So the thing is, Taylor didn't hold the rights to master recordings of her previous songs. Master recording means the first recording of the song, through which copies are made. And anyone who wants to have a copy of the song has to ask for permission and pay them if agreed.
Taylor was always against this policy. However, she blamed Borchetta, the record executive of Big Machine for selling her master recording rights to Braun without even giving her a fair chance of buying herself. Therefore, she started re-recording her own old songs.
Fun Facts About Taylor Swift
Here is a list of some interesting and fun facts about Taylor Swift that you did not know. Read on to find out.
Taylor's grandmother was a professional opera singer which inspired her to become a singer one day.
At the age of 12, she wrote a 350-page novel which she won't be publishing soon.
Her lucky number is '13'.
During her childhood she loved horseriding.
'Kiss Me' was the first song that she learned to play on guitar
In one of her interviews she said that some of her lyrics are things she wanted to text people in real life
She wrote every song for her album 'Speak Now'.
Taylor swift Without Makeup
This singer who throbbed the hearts of millions with her sensational music has been creating waves ever since. Unlike a lot of other celebrities, Taylor Swift looked gorgeous even without drowning in makeup. Her soft curls, which are now straight, have always complimented her face to the utmost level. her angelic face looks just the same even without makeup.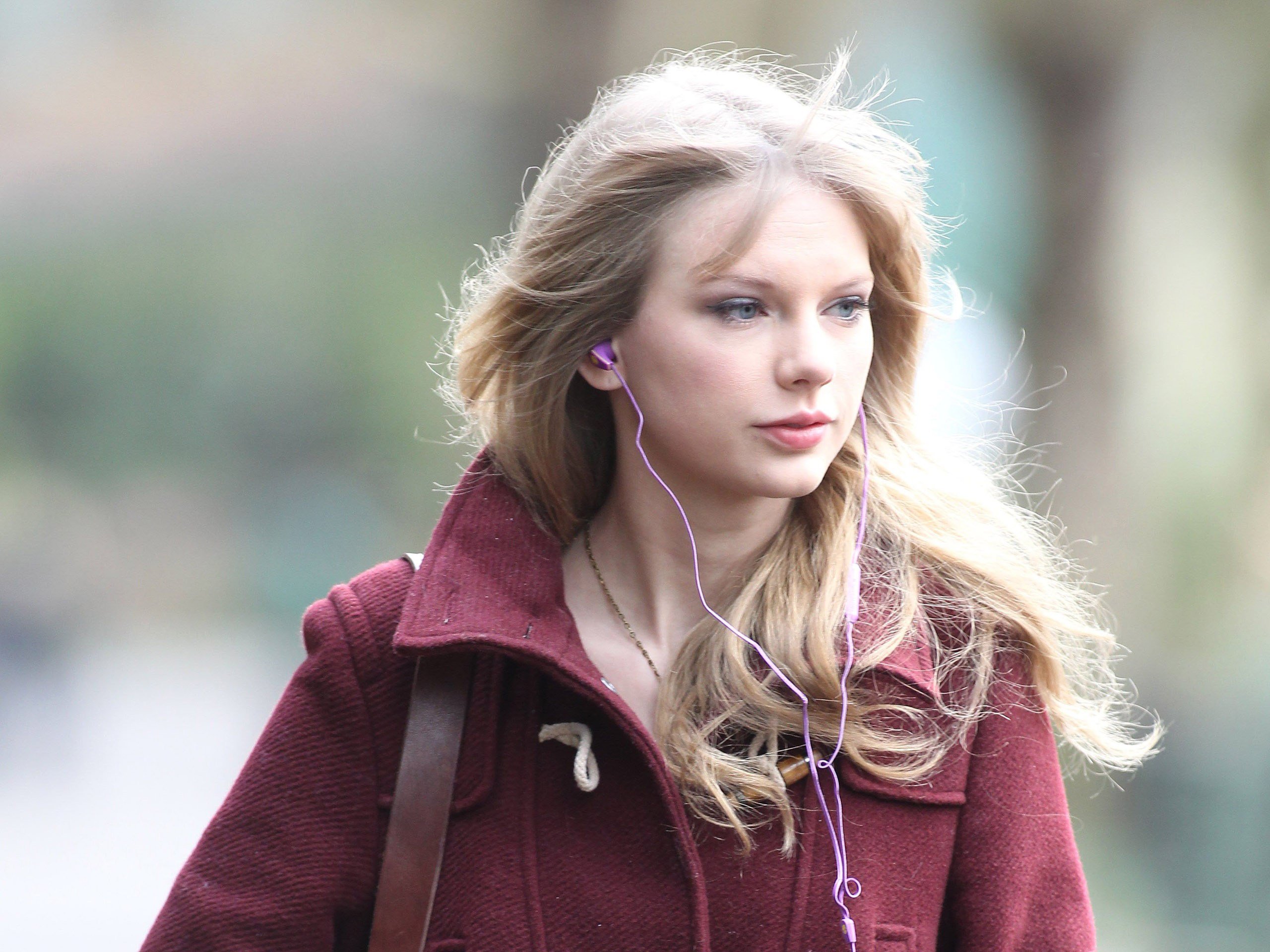 Taylor Swift Red Carpet Moments
Mostly seen in shimmery floor-length gowns, Swift is now experimenting with knee-length and short dresses as well, however, the sophistication in appearance refuses to desert her, no matter what she wears. Take a look at Taylor Swift's red carpet fashion moment.
1. 2008 CMA Awards
The award winning singer and song writer flamboyantly appeared in her trademarked sparkly Taylor Swift red carpet style in the 2008 CMA Awards. The Kaufman Franco gown of the 18 year old Fearless singer made all heads turn and eyes glued to her charismatic display. With her hair neatly tied in a bun she kept jewelry to the minimal. Lorraine Schwartz studs and Christian Louboutin shoes were more than enough to complement the sequined floor length apparel.
[Also Read: Taylor Swift Fashion]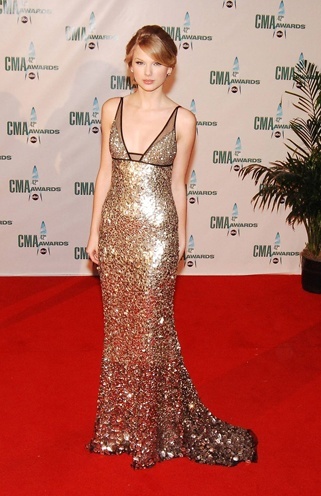 2. 2010 Grammy Awards
Keeping up with her love for sequins, Taylor graced the red carpet of Grammy 2010, covered in this Kaufman Franco midnight blue sparkling number. She chose to stick to her favorite line of jewelry, Lorraine Schwartz to add some drama to the ensemble, and had chandelier earrings swinging down her ears.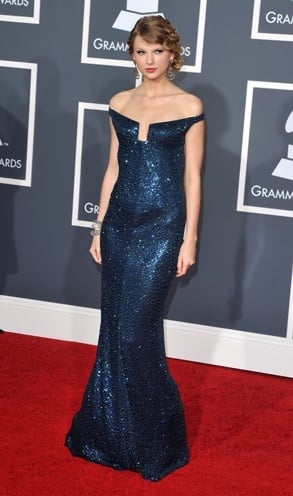 3. 2011 American Music Awards
The Country cutie looked phenomenal in her signature sparkly metallic red carpet dress. The almost endless Reem Acra ensemble boasted a graceful train and was covered in metallic dust all over. The only accessory she added was a gold bracelet. Her hair was swept to the side and neatly tied in a pony. Shimmering in gold, she was nominated for Favorite Country Album and Favorite Country Female Artist.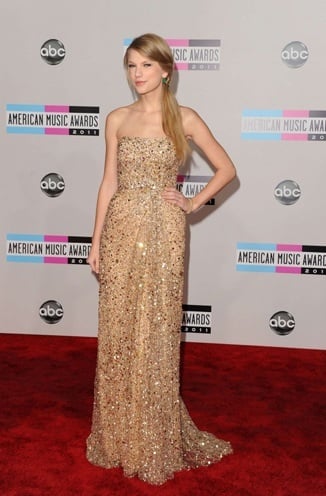 4. 2012 Billboard Music Awards
Tay walked the red carpet of Billboard Music Awards in a very girly red Elie Saab gown. The look of the extravagant chiffon dress laced with chiffon panel was completed with Neil Lane Jewels. She wore her straight hair down with fringes falling on her forehead. Whatever the paparazzi cameras were craving for, girlfriend had it all.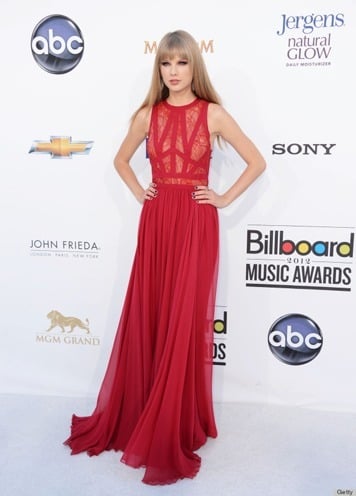 5. 2013 CMA Awards
The 47th CMA awards saw a fiery side of the artist setting the red carpet on fire with her red satin Elie Saab Fall 2013 Couture gown. The Taylor's floor length dress was detailed with beads and displayed an open back that sat perfect for Tay's sculptured silhouette. Her hair was neatly arranged in an updo with bangs covering her forehead, the red pout blended seamlessly with the look. By now we know, when it comes to jewelry, our star girl trusts only Lorraine Schwartz. Jimmy Choo was what she picked up for her delicate heels.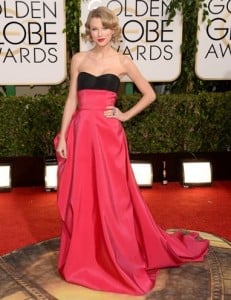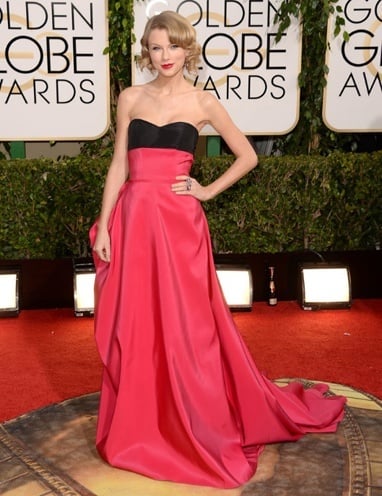 How To Get Red Full Lips Like Taylor!
Take a good look at Taylor's lips when she is without makeup or in nude shades, you would notice her upper lips are thinner than the lower ones. If you have thin lips up and down or one of them thin, here is what you need to do and we call it lip correction. Without surgery and with a lip pencil closest to your skin tone, we shall acquire Taylor's hot lips.
Pick a bold bright lip pencil- bright reds or bright pinks and line the lips deep and nice.
Choose the same shade of colour in lipstick or from your lip palette and apply right inside the lip lining you just made
Use a lip filler brush to do the filling
Apply a little shimmery powder and wait
Now use a glossier shade of the lipstick to fill in with the help of a lip filler brush
Take a blotting paper and pound it between your lips
Apply a final coat of gloss and you are ready.
The True Blue Inspiration
Taylor Swift is a star and true blue inspiration for all the young women out there. She recognizes herself as a feminist and has always raised her voice when needed. Swift is generous, kind, and an exceptional artist. She is a great human being who respects her peers and supports them with her whole heart. That's all we have to say about our singing sensation Taylor Swift and her journey to success.
FAQS
What is Taylor Swift's best-selling album?
1989 is Taylor's best-selling album which sold over 14,332,116 copies.
Does Taylor Swift write all of her songs?
Yes. Taylor Swift has written 54 songs on her own and the rest are co-written with other writers.
Which was Taylor Swift's first hit song?
Tim McGraw was Taylor's first hit song.
When did Swift get her first Grammy?
Taylor Swift got her first Grammy Award for the album Fearless in 2009.