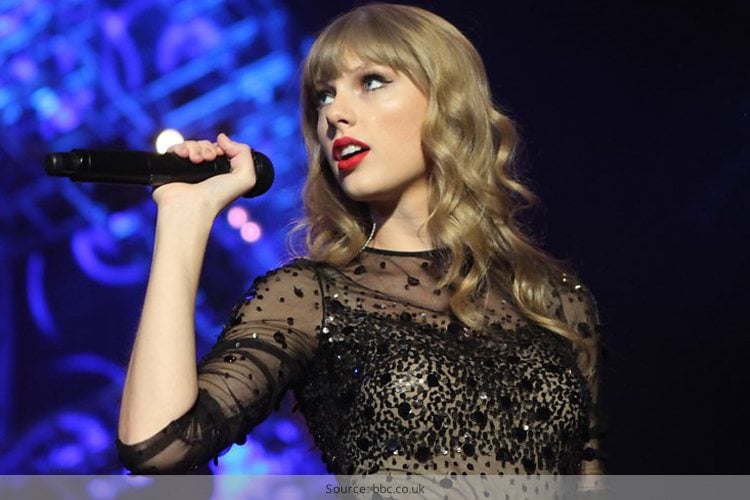 Personal Details
What's in a name? Plenty, when you read everything about Taylor Swift!
| | |
| --- | --- |
| Name | Taylor Alison Swift |
| Birthday Date | 13 December, 1989 [celebrity_age_calc data="1989-12-13″] |
| Birth Place | Reading, Pennsylvania (USA) |
| Sun Sign | Sagittarius |
| Eye Color | Blue |
| Hair Color | Blonde |
| Nationality | American |
| Religion | Christianity |
| Education | Schooling done in West Reading Elementary Center; and Wyomissing Area Junior/Senior High School |
| Occupation | Singer, songwriter and philanthropist |
| Marital Status | Single |
Taylor swift Without Makeup
This singer who throbbed the hearts of millions with her sensational music has been creating waves ever since. Unlike a lot of other celebrities, Taylor Swift looked gorgeous even without drowning into makeup. Her soft curls, which are now straight have always complemented her face to the utmost level. her angelic face looks just the same even without makeup.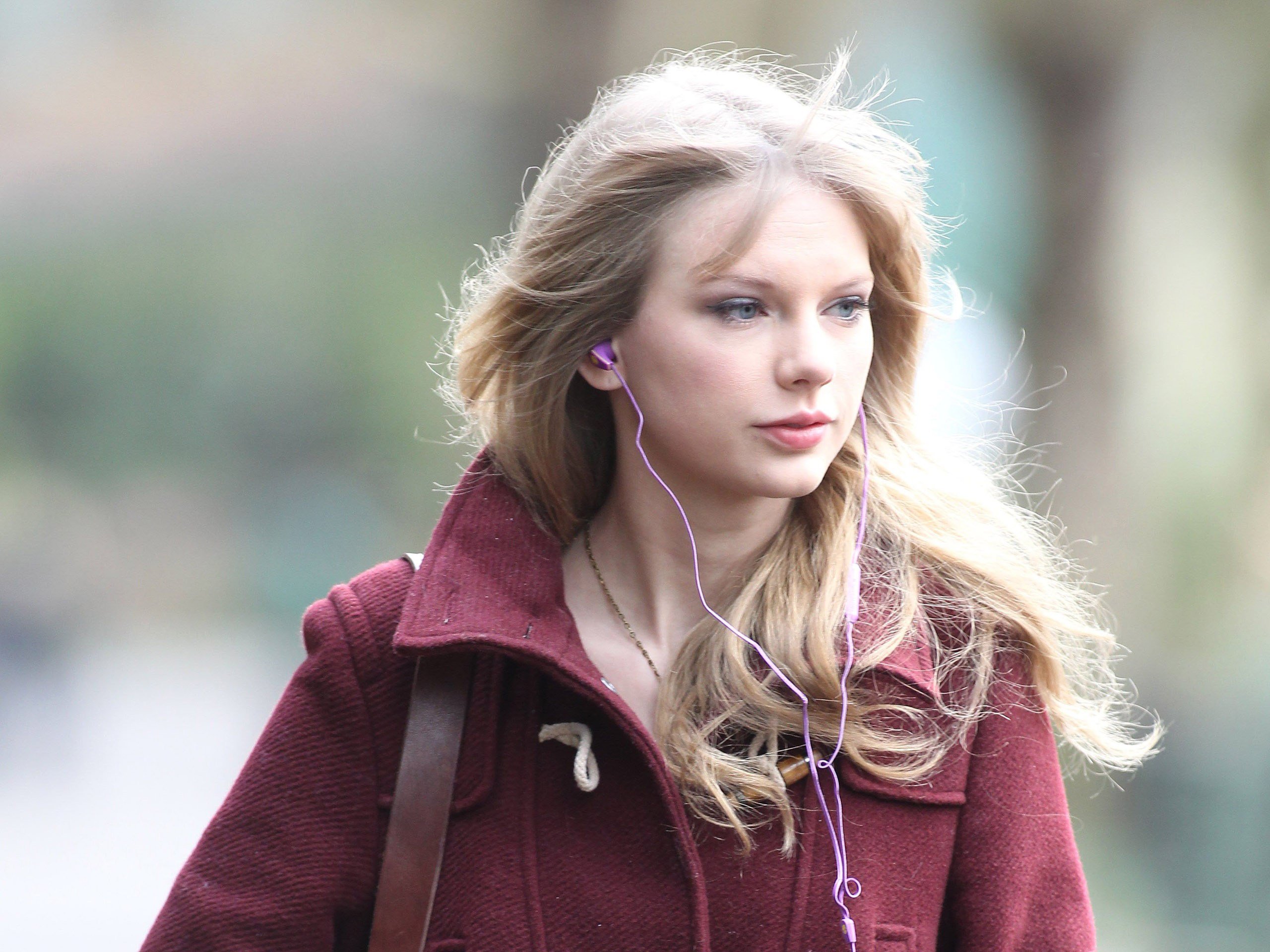 After individual, comes the family. What does the family chart of Taylor Swift look like? Take a look:
[Also Read: Ariel Winter]
Family Details
| | |
| --- | --- |
| Father | Scott Kingsley Swift (financial adviser at Merrill Lynch) |
| Mother | Andrea Finlay (Homemaker, who previously worked as a mutual fund marketing executive) |
| Siblings | Austin Swift (Brother) |
| Spouse | None |
| Children | None |
Body Status
| | |
| --- | --- |
| Build | Slim |
| Height | 178 cm |
| Weight | 54 kg (or 119 pounds) |
| Waist Size | 25 inches |
| Hip Size | 35 inches |
| Shoe Size | 8.5 to 9 (US) |
| Dress Size | 2 (US) |
| Body Measurement | 34-25-35 inches or 75-62-77 cm. |
Like all girls have, there are things in life which T. Swift loves and swears by. Here are some of them listed below.
Favorite Things and Hobbies
As humans, we all have our set of loves and hobbies. What did Taylor Swift have?
Read below:
| | |
| --- | --- |
| Color | Red |
| Food | Chinese, Japanese, and Fast food (though Taylor Swift is fond of Cheesecake) |
| Place | In her bed in Nashville, with her Scottish Fold cat Meredith (meow!). |
| Sport | English horse riding |
| Brand | Victoria's Secret, Jimmy Choo, Christian Louboutin, Oscar de la Renta, Elie Saab, Ralph Lauren, H&M cigarette pants (there are so many) |
| Actress | A tie between Emma Stone and Jennifer Lawrence |
| Film | Love Actually |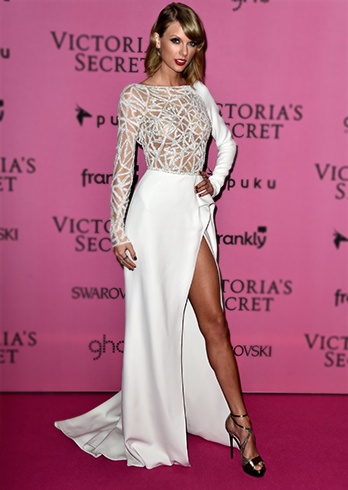 [sc:mediad]
Taylor Swift Weight Loss
'Svelte' body is a major plus point of Taylor Swift. And her pictures go to prove that. It also shows how much of effort she must be putting in 'weight check' and diet. Let us find out more.
Workout Plan: Of all the things that she does on the fitness front, 'Treadmill' is the focal point of Taylor Swift. An hour-long cardio workout, sweating, and kicking out stress are some of the areas where Swift stresses upon.
Diet Plan: Being thin is not important for Taylor Swift. She loves to eat, as much as she loves to cook. But she makes it a point to stay away from 'sugary' drinks. Drinking water is her top priority, eats light on weekdays and eats like a king on weekends. Burgers, fries, cookies, and ice creams are meant for weekends. That's quite an admirable diet plan looking at the self-imposed restrictions and control.
Social Profiles
August 20th, 2017
Author: Deepika Dewan
---
A Break Down Of 10 Best Looks Of Taylor Swift From "Look What You Made Me Do"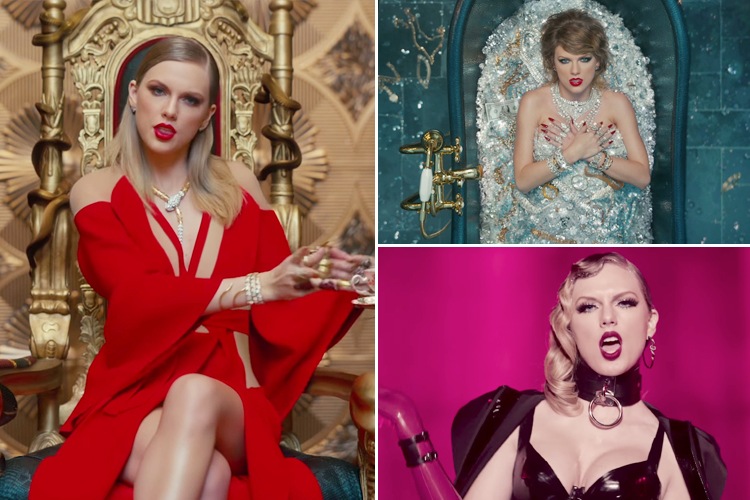 The world came to a standstill for a hot minute as Taylor unveiled her most anticipated music video of all times at the MTV Video Music Awards and boy oh boy was it worth all the wait. 15 Taylors, one different from the next, and each suggests a milestone in this country singer turned pop diva's meteoric career. From her signature red lip, to goofy Tees, to the snake persona that is now synonymous to her name – the Bad Blood singer has embraced it all.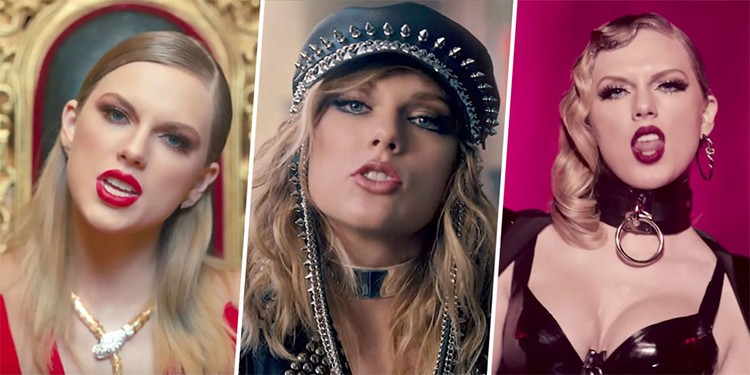 The video started with her looking like the zombie version of her 'Out of The Woods' looks that did shock us for a hot moment, but the narration swiftly (see what I did there) moved to a much glamorous Tayloy bathing in a tub full of glazing jewels empties from a renowned Hollywood store. Yes, every stone in that tub is a real diamond. Get some glared before you behold for that choker around her neck can put the sun to shame. With her soft curls swept at a side, the gorgeous face is adorned with glossy red lipstick and smoky eye make-up. We generally don't see Tay wearing her nails long but here is she flaunting some super long red claws.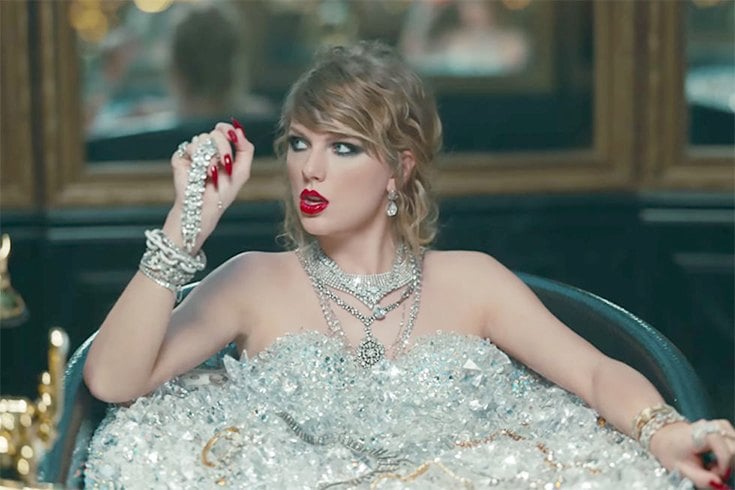 Red continues to be the theme for her next when she hits back at the haters embracing the 'snake' her twitter and Instagram were flooded with last year following the Kimye fiasco. She switched her red nais for gold while her pet snakes serve her some tea. That red kimino dress is times better than anything any red carpet has seen. To keep the look uncomplicated she straightened her hair out and combed it in a middle partition.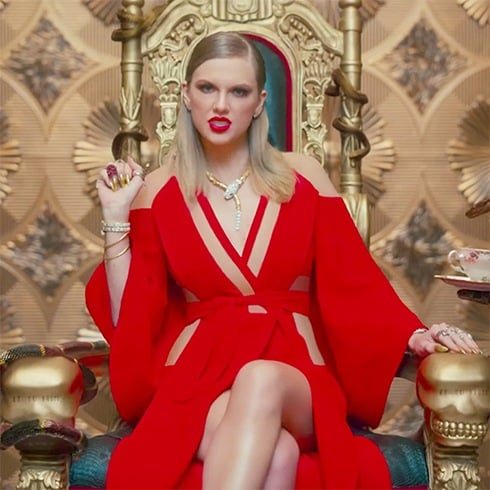 That the songstress is also an amazing dancer was evident from the high energy dance routine that she had packed with back up dancers sporting the infamous I heart TS shirts. Taylor opted for a blond curly lob and styled the dark look with fishnets, black high waist shorts and crop top. Don't miss that cape-ish addition. The deep tome of plum lipstick isn't something we are use to see the star in.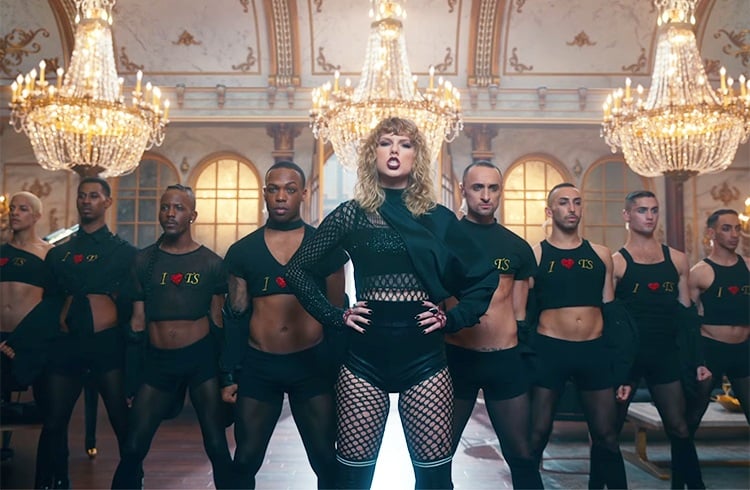 Many say Kanya and Katty's arch nemesis is taking a jibe at both her enemies at one with this look. Notice her over the top fur rob she throws over the snake leather dress. If you haven't guessed who she is trying to emulate here, then you've been hibernating all this while for sure. In a luxury car, behind the flashy shades, dayum, is she throwing some serious shade at Kim Kardashian or what?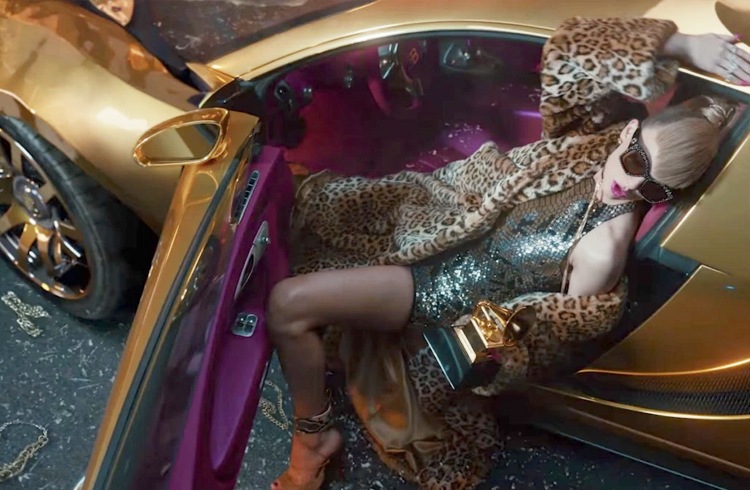 Do you remember the last time a fugitive looked this hot? Nor do I! Home girl was swinging her way to glory in this orange fiesta. To channel the engaged bird she played in this routine, she grabbed a bright orange shirt and teamed it up with thigh high silk boots in the same shade. The look, with its Marlyn Monroe wibes, was kept as simple as could be while allowing those wild curls do the work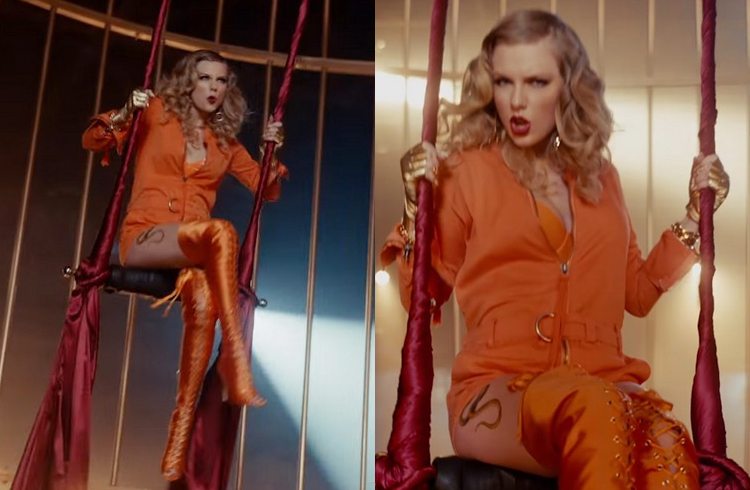 Here is the Taylor that rose from the dead, in a high neck full sleeved fur leotard dedicated to her "dead" reputation. Look at how think the material is, I bet she is boiling inside it. The hair style was kept wet and swept away and the face was plain but the dark plum lipstick.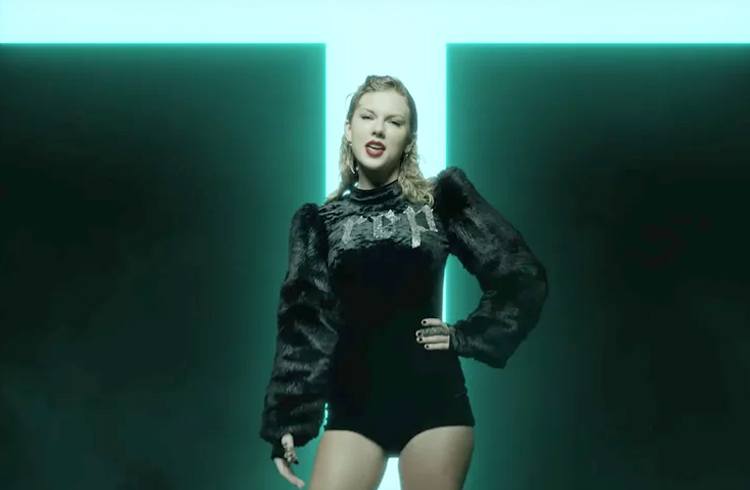 We saw this fearless Taylor at the fag end of the video on a stage with 15 Taylors lined up. If you haven't figured it out yet, this look was the Grammy winner homage to her older self, from Red tour. The rig master's hat, with a dazzling red coat and black trousers brought back all the feels.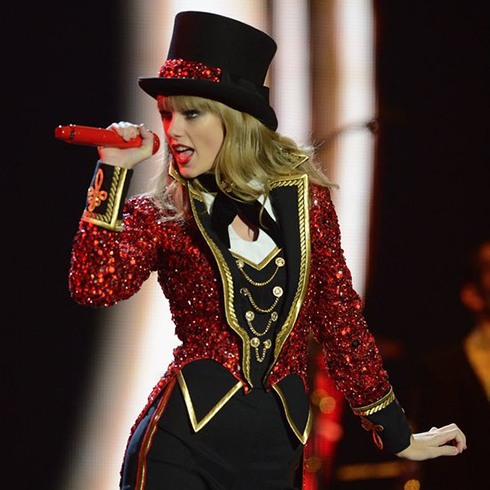 The next look is something everyone can slip into for a sleepover. To loot the Stream.co treasury, the singer throws on an oversized black sweater with the words "Blind for Love" blinging – as though we don't she calling out all the haters that dragged her for being in one relationship after another. The hair is kept messy, and the look is rounded up by thigh high shiny maroon boots.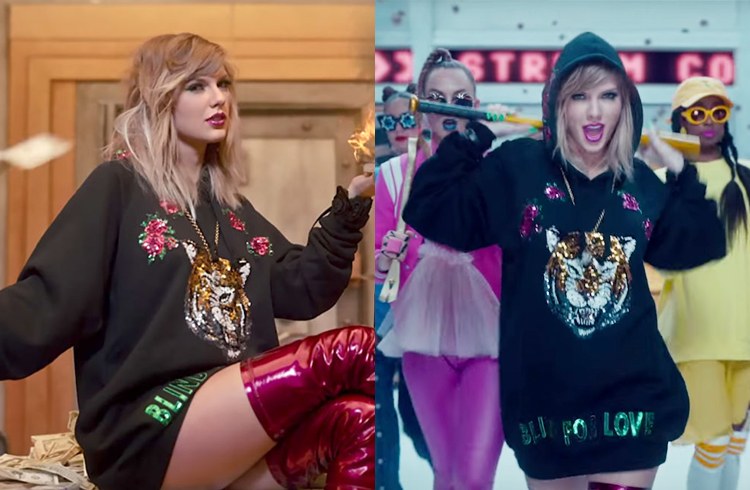 Finally we get to see Taylor in a rock punk avatar, and fans were fast to notice her similarity to yesteryear's pop queen Britany Spears. Her biker jacket is flooded with silver studs and so is her hat. She tore up her navy blue denims to her thigh so we could have a look at the high boots speckled with more studs. Now this is how to take badass to a whole new level.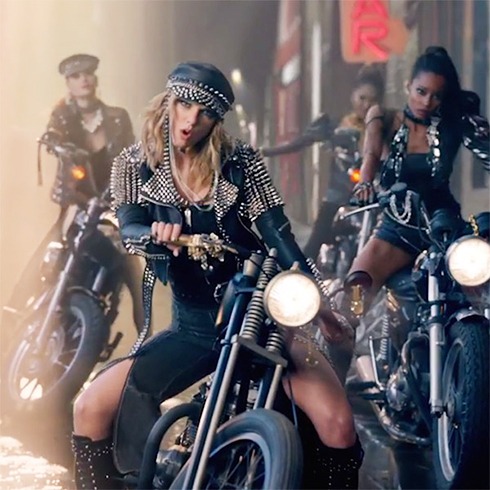 You know the video would have remained incomplete without a throwback to the historic moments that birthed the feud between Kanye and Taylor. So here we have, the iconic look of Taylor from the VMAs 2009 in her single shoulder white gown slathered in sequins – 8 years since that fateful evening and the 27 year old diva still looks equally gorgeous if not more.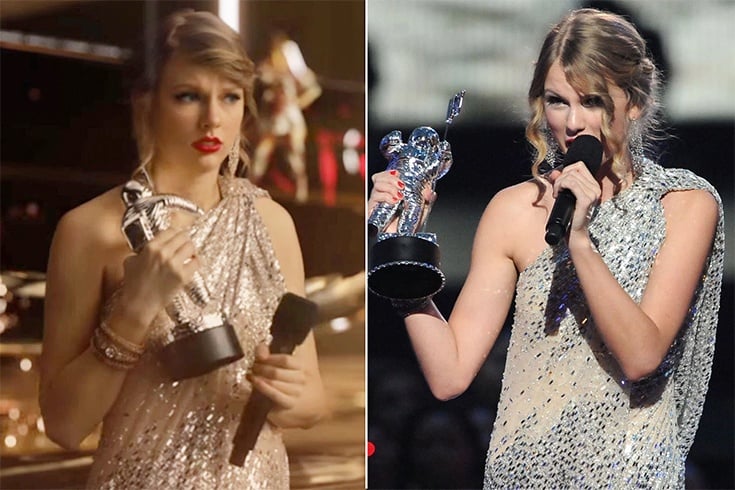 So these were our 10 picks from a myriad looks the Look What You Made Me Do singer. But we'd like to know which one was your favorite? Like and comment to let us know.
September 4th, 2017
Author: A Debnath
Recommended Articles:
Amy Schumer Latest Updates
Megan Fox Latest Updates
Demi Lovato Latest Updates
Kat Dennings Latest Updates
Ariel Winter Latest Updates
Jennifer Lopez Latest Updates
Mouni Roy Latest Updates