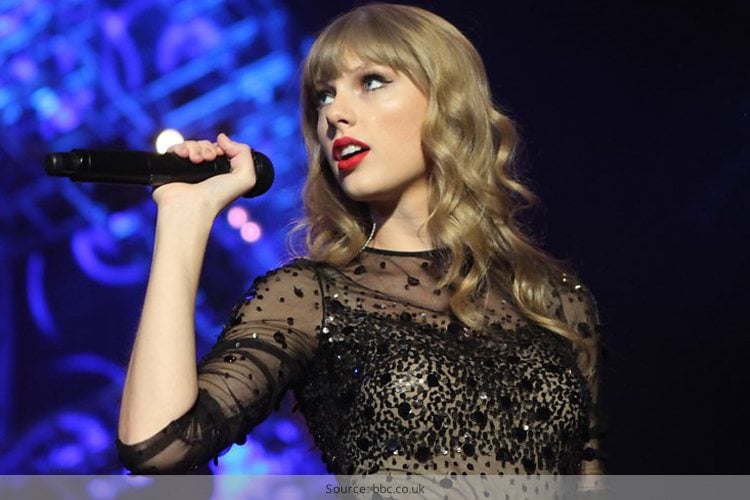 Taylor Swift Bio
Swifty, Aly, Tails, Tay Tay….no, this is not an exercise to rack your brains, but to introduce you to the Pennsylvania-born singing sensation Taylor Swift.

For all music lovers, she is a true phenomenon. She is the first teenager who made it big in the the genre of 'country music' since LeAnnRimes in 1966. This makes T. Swift one of the youngest in history. She is also an occasional actress who has won many Grammy awards, ever since she started her musical career. She is the only artist in history whose album hit the 1 million first-week sales figure not once, but three times (2010's Speak Now, 2012's RED and 2014's 1989). She is all of 25! And she does charity. Way back in 2014, she said "From the girl who said she would never cut her hair or move to New York or find happiness in a world where she is not in love…"

Taylor Swift Height | Taylor Swift Age | Taylor Swift Boyfriend | Taylor Swift Family | Taylor Swift Without Makeup | Taylor Swift Career
Everyone has a favourite Taylor Swift song, and there's no denying that. With catchy music and mind blowing concerts, Taylor has got quite a fan following. What's more is that this fan base extends into her fashionista life too.
Taylor's trademark style is mini skirts, crop tops, short dresses etc, basically anything that is remotely cute. Flaunting those flawless legs is something that comes naturally to her. Her style to be described in one word is – chic.  Her feminine signature styles have become a trademark over the years.
Let us find out more about Taylor Swift and find out why there might never be another Taylor Swift, not in this century!
Personal Details
What's in a name? Plenty, when you read everything about Taylor Swift!
Name
Taylor Alison Swift
Birthday Date
13 December, 1989

(28 years)

Birth Place
Reading, Pennsylvania (USA)
Sun Sign
Sagittarius
Eye Color
Blue
Hair Color
Blonde
Nationality
American
Religion
Christianity
Education
Schooling done in West Reading Elementary Center; and Wyomissing Area Junior/Senior High School
Occupation
Singer, songwriter and philanthropist
Marital Status
Single
Taylor swift Without Makeup
This singer who throbbed the hearts of millions with her sensational music has been creating waves ever since. Unlike a lot of other celebrities, Taylor Swift looked gorgeous even without drowning into makeup. Her soft curls, which are now straight have always complemented her face to the utmost level. her angelic face looks just the same even without makeup.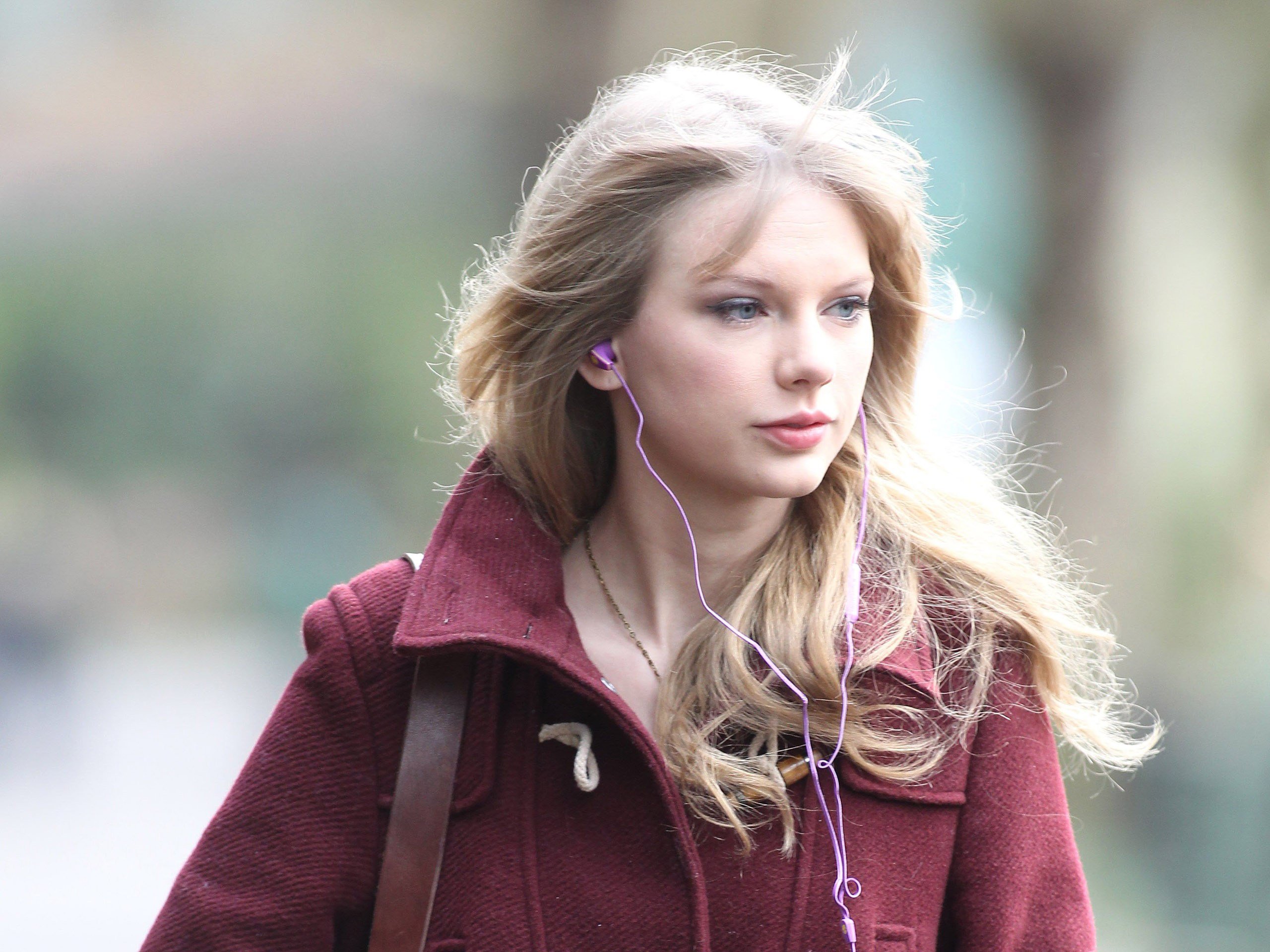 After individual, comes the family. What does the family chart of Taylor Swift look like? Take a look:
[Also Read: Ariel Winter]
Family Details
Family plays a crucial role in the upbringing of a child. The background of Taylor Swift reflects a modern family, with some amount of professional competencies.
| | |
| --- | --- |
| Father | Scott Kingsley Swift (financial adviser at Merrill Lynch) |
| Mother | Andrea Finlay (Homemaker, who previously worked as a mutual fund marketing executive) |
| Siblings | Austin Swift (Brother) |
| Spouse | None |
| Children | None |
After family, comes friends – girlfriends and boyfriends. You might be curious to know what has been the relationship chart of Taylor Swift? The answer is – quite spicy!
Past Relationships
With such a hot dame as Taylor Swift, it would be wrong to estimate she never had any flings, ever since the time she became a celebrity. Here are few men whom she has dated. Rumored BFs or real-time? You will have to ask her!
Patrick Schwarzenegger – He is an American model and entrepreneur.
Tim Tebow – American Football player for New York Jets of National Football League (NFL).
Zac Efron – American actor and singer.
Joe Jonas – It so happened that Taylor and Joe dated briefly in the year 2008. Like all love stories, there was some passion involved. So much that Taylor wrote a song on their relationship – "Forever & Always", "Last Kiss" and "Better than Revenge". But for destiny – Joe broke up with Taylor over the phone in late 2008. End of the story…love story, I mean!
Lucas Till – He is an actor and younger to Swift (which explains why 'heart' never sees age difference). The two of them met on the sets of Hannah Montana: The Movie. In six months time, they went their ways.
Taylor Lautner – Let me clarify things first – this Taylor is no way related to Taylor Swift. It was on the sets of Valentine's Day (movie), that the two Taylors met and then took to dating. They didn't stick around with each other for quite some time, and parted ways. Call it 'in memory of' or whatever, Taylor Swift penned two songs dedicated to Lautner – "Back to December" and "Begin Again".
Does this list end here? Never! After Taylor Lautner, here are the names of those men/boys who have dated Taylor Swift or vice versa (some are 'rumours') – Canadian actor Cory Monteith, John Mayer, English actor Toby Hemingway, Jake Gyllenhaal, American socialite Connor Kennedy, singer Harry Styles, Bradley Cooper, Thomas Odell; actor, model and artist Matthew Gray Gubler, Alexander Skarsgård, Douglas Booth, Australian actor, Brenton Thwaites; Scottish Disc Jockey, Calvin Harris; British actor, Tom Hiddleston.
This means Taylor Swift must be gifted with a bod, apart from her looks and talent, which these men fell for. What are the body stats of Swift, by the way? Find out yourself:
Body Status
Does this highly acclaimed 'country musician' – Taylor Swift – have a body to die for? Stats never lie!
| | |
| --- | --- |
| Build | Slim |
| Height | 178 cm |
| Weight | 54 kg (or 119 pounds) |
| Waist Size | 25 inches |
| Hip Size | 35 inches |
| Shoe Size | 8.5 to 9 (US) |
| Dress Size | 2 (US) |
| Body Measurement | 34-25-35 inches or 75-62-77 cm. |
Like all girls have, there are things in life which T. Swift loves and swears by. Here are some of them listed below.
Favorite Things and Hobbies
As humans, we all have our set of loves and hobbies. What did Taylor Swift have?
Read below:
| | |
| --- | --- |
| Color | Red |
| Food | Chinese, Japanese, and Fast food (though Taylor Swift is fond of Cheesecake) |
| Place | In her bed in Nashville, with her Scottish Fold cat Meredith (meow!). |
| Sport | English horse riding |
| Brand | Victoria's Secret, Jimmy Choo, Christian Louboutin, Oscar de la Renta, Elie Saab, Ralph Lauren, H&M cigarette pants (there are so many) |
| Actress | A tie between Emma Stone and Jennifer Lawrence |
| Film | Love Actually |
Let us look at the 'pro' side of Taylor Swift – meaning her career graph.
Professional Career
This is one segment – which will put you in a 'state of awe' the moment you read it.
First Debut: When she was 16, Taylor Swift came out with her debut album (self-titled and single) 'Tim McGraw' on June 19, 2006. Such was the popularity that the song topped at No. 6 on the country charts and at No. 40 on the pop charts.
Brand Endorsements: L.E.I. Jeans, CoverGirl (American Cosmetics company), Elizabeth Arden (for her celeb fragrances), Diet coke are some of the brands which signed up with Taylor Swift.
Career Achievements: No doubt, Taylor Swift will go down in history as one of the greatest singing voices of this generation. And to prove this – here are the awards she has won – 7 Grammy Awards, 15 American Music Awards, 7 Academy of Country Music Awards, 11 Country Music Association Awards, and 12 Billboard Music Awards. There is no stopping her!
Remuneration: As of 2016, Taylor Swift is world's top-earning celeb with $170 million. This income can come only in the wildest of dreams!
Net Worth: $250 million (as per June 2016 estimate)
Get yourself a glass of water, now that you have read the truly fascinating list of achievements of T. Swift. Now let us have a look at T. Swift's diet and weight plans.
Taylor Swift Weight Loss
'Svelte' body is a major plus point of Taylor Swift. And her pictures go to prove that. It also shows how much of effort she must be putting in 'weight check' and diet. Let us find out more.
Workout Plan: Of all the things that she does on the fitness front, 'Treadmill' is the focal point of Taylor Swift. An hour-long cardio workout, sweating, and kicking out stress are some of the areas where Swift stresses upon.
Diet Plan: Being thin is not important for Taylor Swift. She loves to eat, as much as she loves to cook. But she makes it a point to stay away from 'sugary' drinks. Drinking water is her top priority, eats light on weekdays and eats like a king on weekends. Burgers, fries, cookies, and ice creams are meant for weekends. That's quite an admirable diet plan looking at the self-imposed restrictions and control.
Social Profiles
Interesting Facts
At a ripe young age of 12 years, Taylor Swift learned how to play guitar, especially how to go about playing three chords on a guitar. I guess, this explains – why Tay Tay was born to 'string and sing'.
Know the background of her first name – Taylor? One fine day, it was her mother Andrea who came up with (and coined) the first name 'Taylor' after the singer James Taylor. Why did she do that, you may ask? Andrea – the mother of Taylor Swift thought it to be a gender-neutral name which would get her daughter the success and recognition in life. This wish was granted and fulfilled by Almighty. As a result of which, Taylor Swift was born to the world as a singer, as a global superstar.
New York Times considers Taylor Swift to be the finest songwriters of pop. That's a huge praise for her and a fine one!
Talk of influence of genes, Taylor's grandmother was a pop singer. It seems the vocal cord has passed down the family tree.
In the year 2011, Taylor Swift was named "Billboard's Woman of the Year".
In 2015, Taylor Swift was positioned at #1 spot on Maxim's Hot 100 list.
Look at the power of money. T. Swift didn't bat an eyelid when it came to donating $75,000 in the year September 2010 to Nashville's Hendersonville High School. And pray tell the reason behind this donation? Taylor wanted to improve upon the look and feel of the auditorium.
When she was all of 15 – the age of puberty – Taylor Swift made an attempt to get the driving licence, not once, but thrice!
Guess the lucky number of the pop star Taylor Swift? It is 13!
The number of awards in her kitty are phenomenal – Taylor Swift has 10 Grammy awards, 5 Guinness World records, 1 Emmy award, 23 Billboard Music awards, 11 Country Music Association awards, 8 Academy of Country Music Awards (my God – look at the ever-expanding list) and 1 Brit Award.
Taylor Swift enjoys the privilege of appearing in Time's 100 most influential people in the world (both in 2010 and 2015), Forbes' top-earning women in music (2011-2015), Forbes' 100 most powerful women (2015) and Forbes Celebrity 100 (2016). In fact, Swifty happens to be the youngest woman to be included in the third of these and ranked first in Celebrity 100.
OMG! Taylor Swift is terribly scared of spiders and snakes. As much as we are (don't you think)?
T. Swift loved to compete in horse shows, as she had a fascination for the horses.
Guess where Swift spent her childhood in? On an 11-acre Christmas tree farm.
The first song Taylor Swift ever wrote was 'Lucky You'.
So, how amazed are you at the 'swift, swifter and swiftest' Taylor Swift? Write in your comments and tell us what you like most in her – other than her voice!
August 20th, 2017
Author: Deepika Dewan
---
A Break Down Of 10 Best Looks Of Taylor Swift From "Look What You Made Me Do"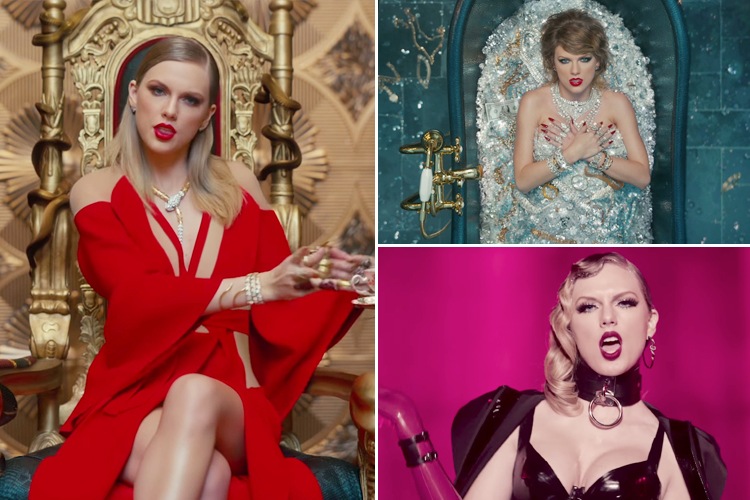 The world came to a standstill for a hot minute as Taylor unveiled her most anticipated music video of all times at the MTV Video Music Awards and boy oh boy was it worth all the wait. 15 Taylors, one different from the next, and each suggests a milestone in this country singer turned pop diva's meteoric career. From her signature red lip, to goofy Tees, to the snake persona that is now synonymous to her name – the Bad Blood singer has embraced it all.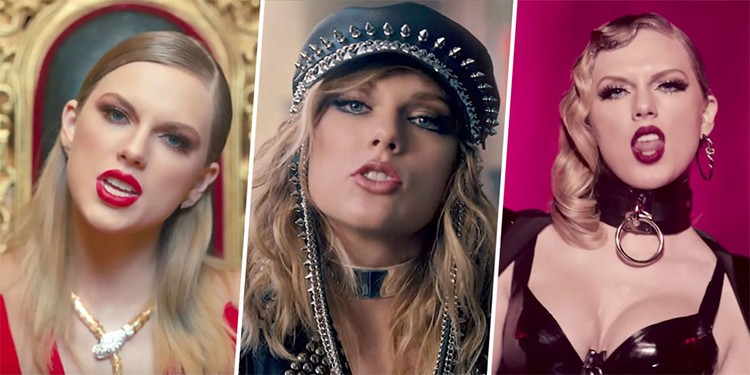 The video started with her looking like the zombie version of her 'Out of The Woods' looks that did shock us for a hot moment, but the narration swiftly (see what I did there) moved to a much glamorous Tayloy bathing in a tub full of glazing jewels empties from a renowned Hollywood store. Yes, every stone in that tub is a real diamond. Get some glared before you behold for that choker around her neck can put the sun to shame. With her soft curls swept at a side, the gorgeous face is adorned with glossy red lipstick and smoky eye make-up. We generally don't see Tay wearing her nails long but here is she flaunting some super long red claws.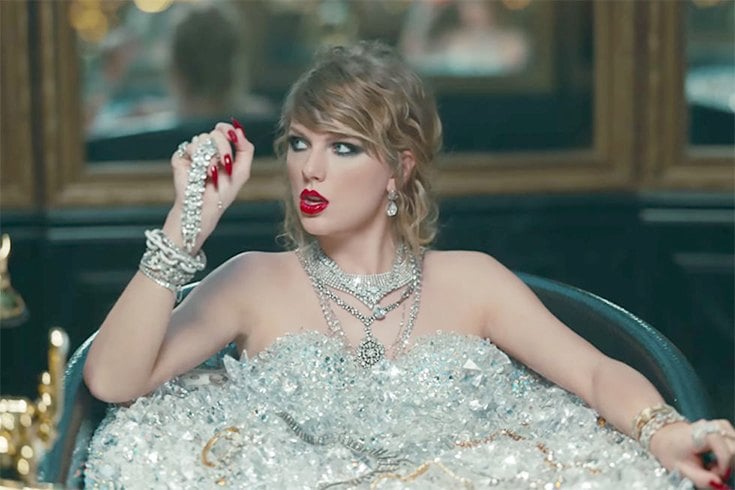 Red continues to be the theme for her next when she hits back at the haters embracing the 'snake' her twitter and Instagram were flooded with last year following the Kimye fiasco. She switched her red nais for gold while her pet snakes serve her some tea. That red kimino dress is times better than anything any red carpet has seen. To keep the look uncomplicated she straightened her hair out and combed it in a middle partition.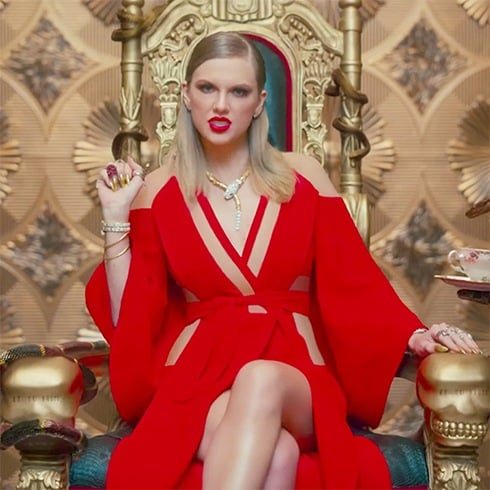 That the songstress is also an amazing dancer was evident from the high energy dance routine that she had packed with back up dancers sporting the infamous I heart TS shirts. Taylor opted for a blond curly lob and styled the dark look with fishnets, black high waist shorts and crop top. Don't miss that cape-ish addition. The deep tome of plum lipstick isn't something we are use to see the star in.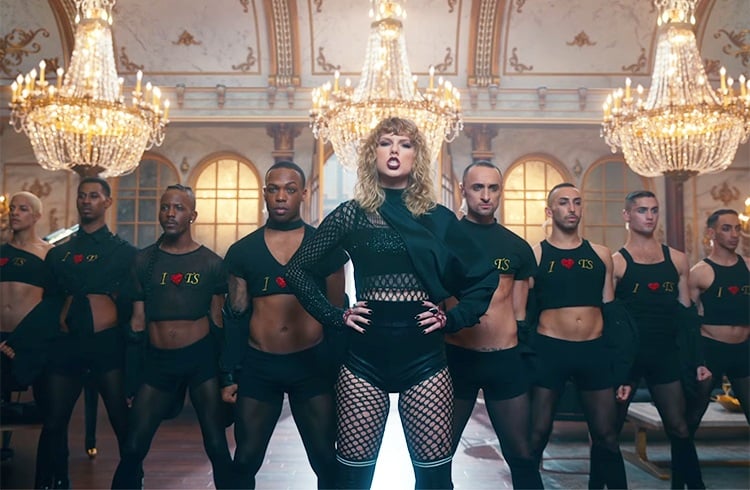 Many say Kanya and Katty's arch nemesis is taking a jibe at both her enemies at one with this look. Notice her over the top fur rob she throws over the snake leather dress. If you haven't guessed who she is trying to emulate here, then you've been hibernating all this while for sure. In a luxury car, behind the flashy shades, dayum, is she throwing some serious shade at Kim Kardashian or what?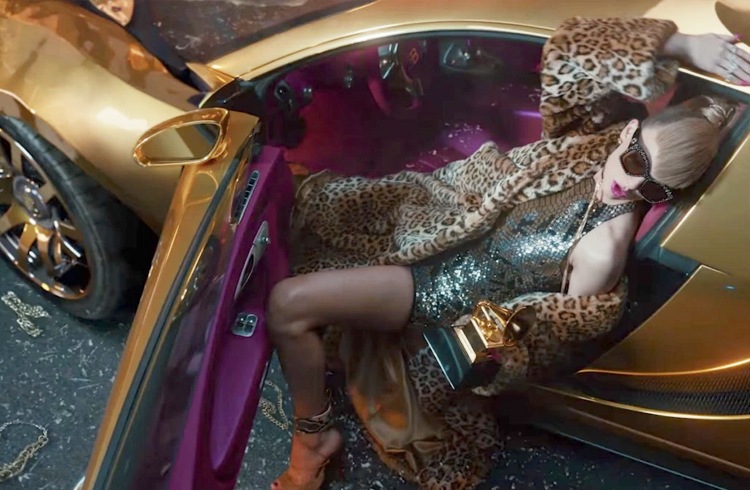 Do you remember the last time a fugitive looked this hot? Nor do I! Home girl was swinging her way to glory in this orange fiesta. To channel the engaged bird she played in this routine, she grabbed a bright orange shirt and teamed it up with thigh high silk boots in the same shade. The look, with its Marlyn Monroe wibes, was kept as simple as could be while allowing those wild curls do the work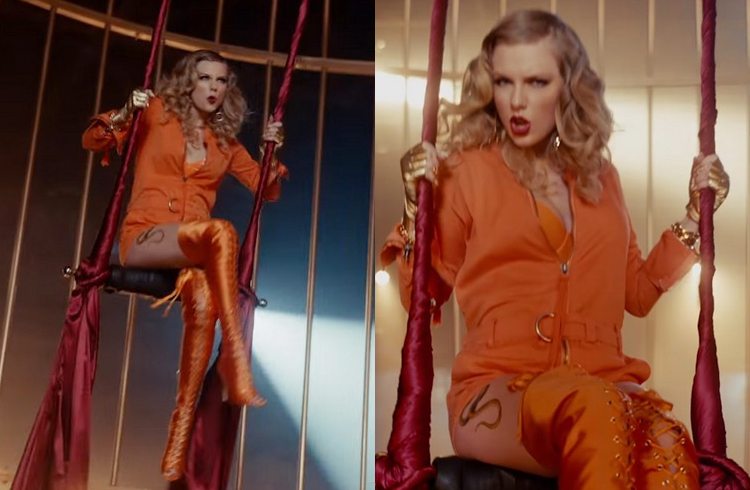 Here is the Taylor that rose from the dead, in a high neck full sleeved fur leotard dedicated to her "dead" reputation. Look at how think the material is, I bet she is boiling inside it. The hair style was kept wet and swept away and the face was plain but the dark plum lipstick.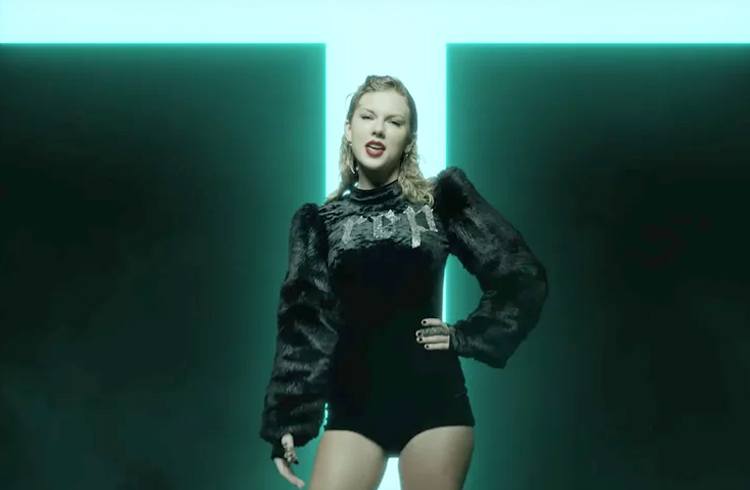 We saw this fearless Taylor at the fag end of the video on a stage with 15 Taylors lined up. If you haven't figured it out yet, this look was the Grammy winner homage to her older self, from Red tour. The rig master's hat, with a dazzling red coat and black trousers brought back all the feels.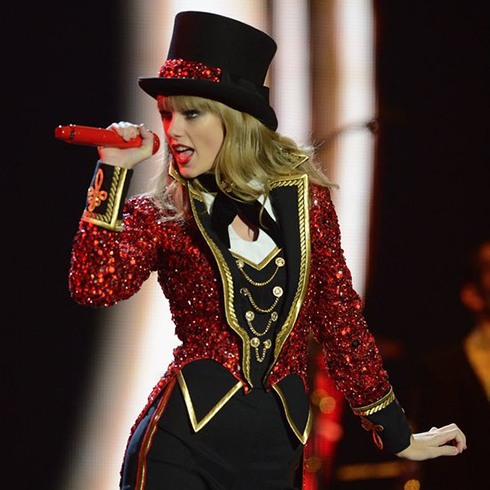 The next look is something everyone can slip into for a sleepover. To loot the Stream.co treasury, the singer throws on an oversized black sweater with the words "Blind for Love" blinging – as though we don't she calling out all the haters that dragged her for being in one relationship after another. The hair is kept messy, and the look is rounded up by thigh high shiny maroon boots.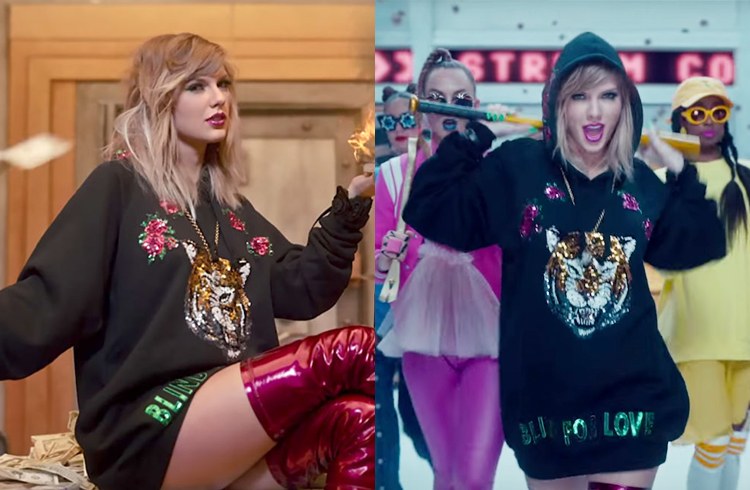 Finally we get to see Taylor in a rock punk avatar, and fans were fast to notice her similarity to yesteryear's pop queen Britany Spears. Her biker jacket is flooded with silver studs and so is her hat. She tore up her navy blue denims to her thigh so we could have a look at the high boots speckled with more studs. Now this is how to take badass to a whole new level.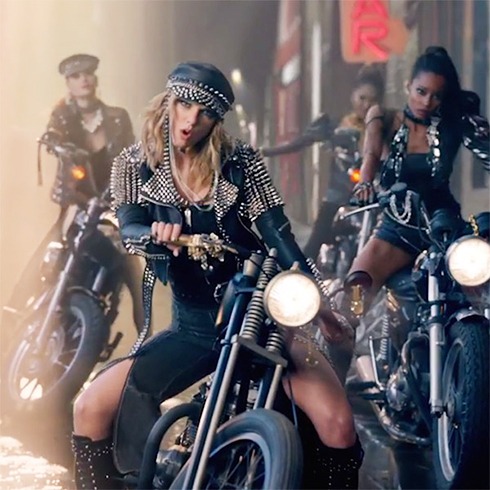 You know the video would have remained incomplete without a throwback to the historic moments that birthed the feud between Kanye and Taylor. So here we have, the iconic look of Taylor from the VMAs 2009 in her single shoulder white gown slathered in sequins – 8 years since that fateful evening and the 27 year old diva still looks equally gorgeous if not more.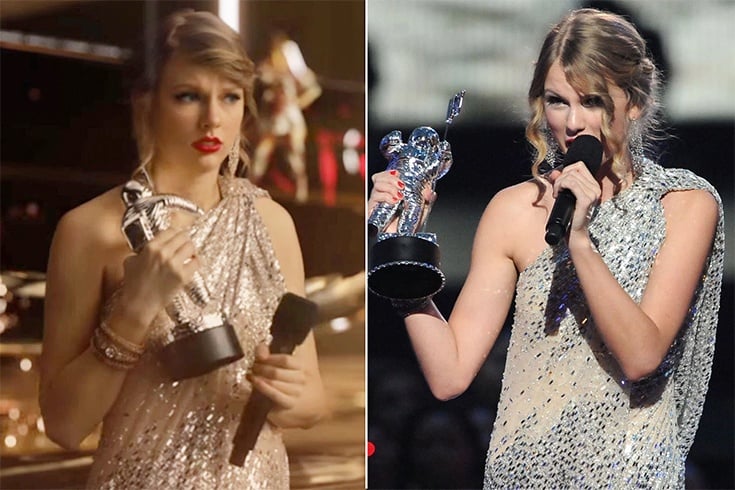 So these were our 10 picks from a myriad looks the Look What You Made Me Do singer. But we'd like to know which one was your favorite? Like and comment to let us know.
September 4th, 2017
Author: A Debnath
Recommended Articles:
Amy Schumer Latest Updates
Kylie Jenner Latest Updates
Megan Fox Latest Updates
Kim Kardashian Latest Updates
Demi Lovato Latest Updates
Kat Dennings Latest Updates
Ariel Winter Latest Updates
Jennifer Lopez Latest Updates
Mouni Roy Latest Updates