Having curly hair is a boon but managing it is an art. There are many hairstyles that you can opt for your cute short curly hair, but we only went for the best. Hence check out the below trendiest short curly hairstyles for women that will tempt you to chop your hair right away.
List of  top 15 Incredible Short Curly Hairstyles
Here is the list of short curly hairstyles that will make you look even more attractive than you ever thought.  Scroll down and pick the best one for yourself.
1. Layered Bob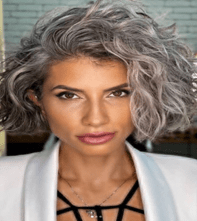 Pinterest – Fashion chaser
A layered bob on curly hair is the perfect choice you can ever make. The haircut not only makes you look younger but also gives you a sharper look. Not only does it give your face an enchanting shape but it also highlights your curl pattern. Additionally, it also creates an illusion of thickness and the fullness of hair. So if you have fine or thin curly hair, this hairstyle will totally work out for you.
2. Big Curls With Bangs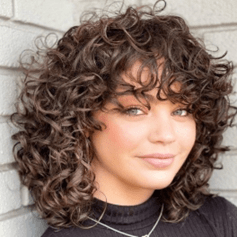 Pinterest – Hair Adviser
Big curls with bangs are actually a perfect match made in paradise. This cute curly hairstyle can actually add texture to your hair making it look full and fluffy. Moreover, curly hair works in your advantage, making you look different and appealing.
3. New Shag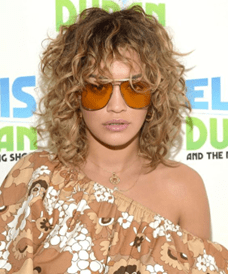 Pinterest – Instyle
The new shag short hairstyle from the 70s is back in a modernized and effortless way. However, this classic 70s hairstyle is more casual now and is great for balancing out your facial features as well as adding texture and depth to your hair. So, ladies go gaga over this hairstyle and look flawlessly effortlessly every day.
4. Curly Pixie Cut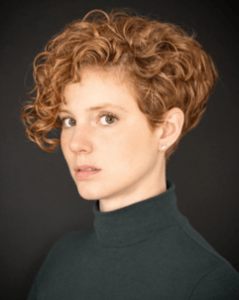 Pinterest –  Latest Hairstyles
A curly pixie cut is another hairstyle that made a comeback and how. This hairstyle is adored by many women because not only does it give edgy high fashion appeal but is also perfect for adding volume to your curly hair. Moreover, a curly pixie haircut can make anyone look super gorgeous and sharp.
5. Wavy Pixie Cut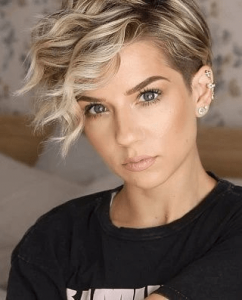 Pinterest – voluflex
A wavy pixie cut is another hairstyle that you can try if you have curly hair. This hairstyle has volume at the crown so that it gets room for styling your hair the way you want. And going with waves is one of the best decisions you can ever make for your hairstyle as waves are in the trend and they make you look elegant and graceful.
6. Curly Balayage Bob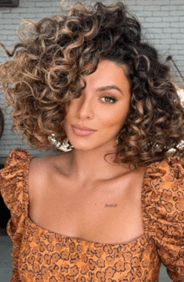 Pinterest – Thetrendspotter
A curly balayage bob is another great favor you can do to your short curly hair. The balayage bob gives highlighting to every curl making it look stylish and classy. Moreover, the color looks way more natural and glossy. So if you are aiming to look fancy and exquisite, you should definitely consider a balayage bob.
7. Buzz Cut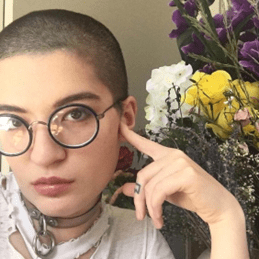 Pinterest – Allure
The buzz cut is the ultimate short hairstyle one can opt for. If you are tired of managing your curls, this can be your final solution. Moreover, this hairstyle is fuzz free and the easiest to manage.
8. Short Kinky Afro Curls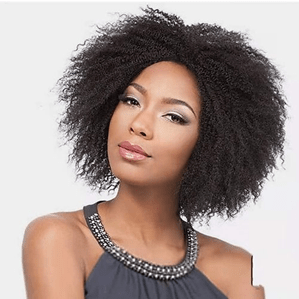 Pinterest- Lightinthebox
Kinky Afro curls are another way you can style your hair differently. The minute curls along with the afro are in trend these days and will remain so in the future as well. Moreover, this look will not only make you stand out but will give you a transformation. Thus, if looking for going completely unique and unexpected, go for this hairstyle.
9. The Meg Ryan Cut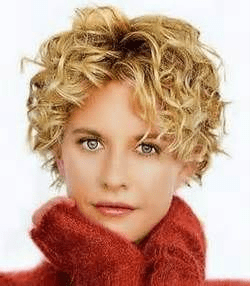 Pinterest – Stylecraze
One of the celebrities who popularized the short curly hairstyles was Meg Ryan. Remember her adorable curly hairstyle in the movie 'City of angels'? It was a short messy look and it totally worked. If you want to go in for this look, just talk with your stylist to determine if it will suit your face shape and structure. Moreover, this short curly hairstyle is still in running and can give you a nice messy yet polished look as well. However, Always listen to your stylist and take their opinion into consideration, but make sure the final decision is yours.
10. The Graduated Bob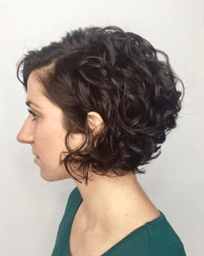 Pinterest – All Things Hair
The graduated bob is a twist on the traditional bob. Here the stylist works to create a bob that has graduated layers. This cut creates an interesting shape and is ideal for curly hair as the curls will hold the shape.
11. The Pixie Cut with Curly Top Section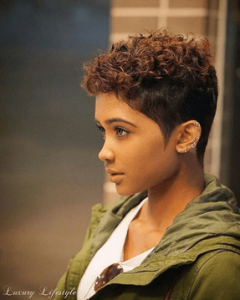 Pinterest – Brit + Co
This is an extreme look for those who like being different and couldn't care about any odd looks or criticisms that come their way. This pixie cut with a curly section at the top that will give you an extraordinarily unique look that no one could expect. In this fashion, if you want to give yourself an unconventional look, then this hairstyle can be your pick.
12. The Fluffy Bob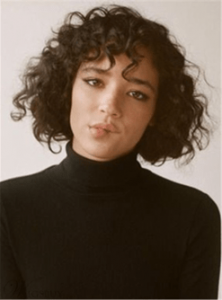 Pinterest – Wigs Buy
This is a very cute hairstyle. It's a bob cut with soft curls and a side swept fringe. You need to blow dry your hair with a big round brush to achieve big soft curls to get this look. Mousse and hairspray are a must for this do. While it might seem intimidating at first, once you get the hang of it, this is a pretty easy look to create. The idea is to play with your curls and show them to their best advantage. Moreover, it is a hairstyle that will also make you look the best and how. Therefore, get ready to slay this look with your short curly lustrous hair.
13. The Crop Cut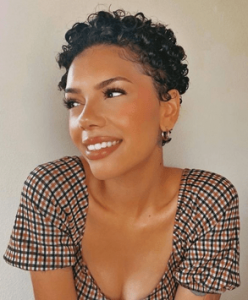 Pinterest – Latest Hairstyle
Take a cue from Halle Berry and go in for a super short cut. The stylist needs to give you a shortcut that expertly frames your face. You can then play with some styling gel to create some interesting looks, like combing it back to keep it super sleek or giving it some spikes to make your curls stand out. Such haircuts for curly hair are most easily manageable even during summers. Thus, go full in for this hairstyle, if you are looking for super short hair.
14. Short Curly Hairstyle With Bangs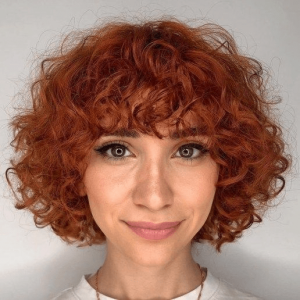 Pinterest – Hair Advisor
Curls are usually viewed as troublesome because they are hard-to-manage, But if you are looking for an easily manageable short curly hairstyle, then your search can end here. The Short Curly Hairstyle with Bangs can transform your look immensely and give you a rather soft look. Try this short curly hairstyle where the bangs are styled in such a way that they cover half of your forehead giving you a very charming look.
15. The Asymmetrical Short Curly Hairstyle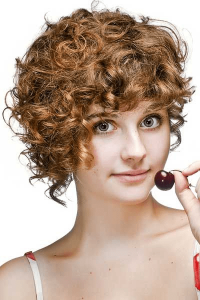 Pinterest – Dianne Nola nolastudio.com
The asymmetrical cut is the current trend that is making a huge impact in the world of haircuts. Because of its uniqueness, this haircut is suitable for everyone be it long hair, short hair, straight hair, or curly hair. The uneven hairstyle is a sure-shot way of getting attention. This looks great on people with short curly hair as they can easily add a chicness to their look with this no-fuss hairstyle.
Going for a short hairstyle can be a bit daunting but when done, it gives you kind of a big makeover feels. Therefore, if you are thinking of giving yourself a transformation, opt for short curly hairstyles.
Hope this post helps you all find your perfect hairstyle.
Tips To Style Your Curly Hair
Curly hair is far different from other types of hair textures.  Therefore, it needs a little special treatment and patience to make them look even and beautiful.  Here are some simple and easy tips to get the best out of your short curly hair.
Comb Your Hair From Bottom To Top: Detangling your hair from bottom to top is always advisable because you gently detangle each knot rather than combining knots towards the bottom.
Keep refreshing your curls with curly iron: Curls get uneven with days but you can even them out with your curling iron or a wand to keep them well-defined every time.
Use conditioner to prevent your hair from drying: Sometimes, our hair goes dull and dry, and we think we cannot do anything about it. But that's not true. Implementing conditioner in our hair regime will keep your hair frizz-free and shiny.
Get regular cuts to prevent split ends: Split ends are a sign of damaged hair. Thus, to avoid damaging your hair further, get regular cuts.
These were some simple tips that can help you maintain your curly hair efficiently.