Looking for tattoo ideas to get inked?
Your hunt for riveting butterfly tattoo designs can end here. We have curated a list of some of the tempting butterfly tattoos that will push you to visit that tattoo studio.
List of 41 Best Butterfly Tattoos
Here is the list of best butterfly tattoos to look for inspiration from. You can get these tattoos inked on your hands, wrist, thighs or any body part you are willing to get tattooed. Scroll down to find out.
Butterfly Tattoos On Hands
Hand is great place to get inked. You can show it to the world easily and it is a pretty decent place to get tattooed. Moreover, Butterfly arm tattoos and butterfly forearm tattoos are quite popular and can range from dainty to elaborate designs! The entire sleeve tattoo is for the bold and the beautiful!So Take your pick!
1. Classy Small Butterfly Hand Tattoo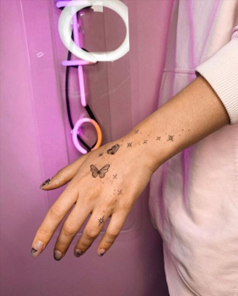 Source – Pinterest(fashionchaser)
Small Butterfly tattoos will win your hearts with their simplistic nature. Moreover, these tattoos are also the most preferred ones because of their pattern of wings. Additionally, the life cycle of any animal is fascinating and can be given different meanings. So if you are looking for something meaningful, simplistic, and classy, I guess this is your perfect match.
2. In The Element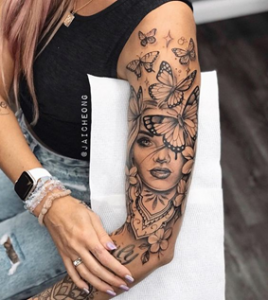 Pinterest –  iNKPPL Tattoo Magazine
If you want to go a little overboard with butterfly tattoo, go for this one. This tattoo design has everything from little detailing to beautiful butterflies. Moreover this design is a full package in itself. Thus, get yourself this bold and beautiful butterfly tattoo and look stunning as always.
3. Beauty Lies In Details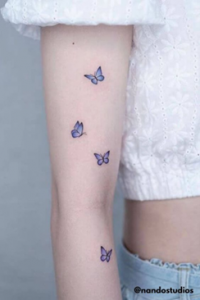 Pinterest- Self Tattoo
Are you a fan of little butterflies? Then your search for one of a kind butterfly tattoo design can end here because these butterflies will make you fall for themselves easily.
Butterfly Tattoos On Wrist
With these beautiful butterfly tattoos on your wrist, you'll never want to wear a bracelet and cover the area.
4. Single Butterfly Wrist Tattoo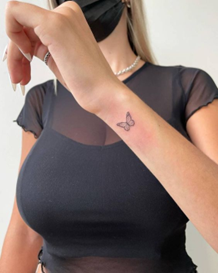 Source – Pinterest(Tattoofilter)
If you are someone who doesn't want to go overboard with butterflies,  a single butterfly tattoo will definitely work. Single butterfly tattoos have their own charm and are enchanting in nature. So make your choice and get that lovely butterfly inked to your wrist.
5. Realistic Butterfly Tattoo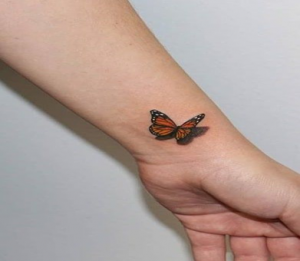 Source – Pinterest(Tattmag)
Butterflies hold deep meanings. They generally symbolize rebirth, transformation, change, and hope. And that's the reason women go gaga over butterfly tattoos. So here's another beautiful design that is appealing, eye-catchy, and has a 3D effect.
6. Flashing The Neon Vibe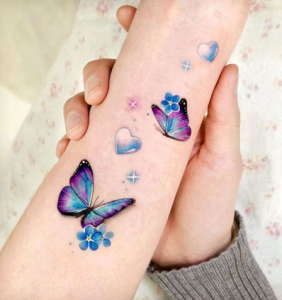 Source: Pinterest(Our Mindful Life)
These pretty butterflies don't leave room for a moment of dullness. The design looks enchanting enough to catch one's attention. Moreover, it is so adorable that it could really make your day.
7. Black Is The New Black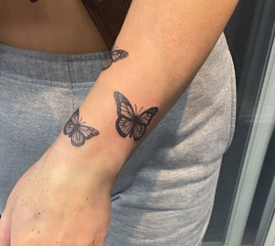 Source – Pinterest(Kailyn)
Love the idea of tattoos on hands? A simple design with the timeless charm of the black color, never goes out of style! Additionally, getting beautiful butterflies inked on top of that could really amp up your style.
Butterfly Tattoos On Thigh
Witness some elegant thigh butterfly tattoos and get inspired to get one of them inked.
8. Bejeweled Butterfly Thigh Tattoo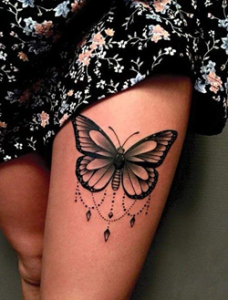 Source – Pinterest(TheTrendSpotter)
Butterflies are the evergreen option when it comes to tattoo design and this butterfly thigh tattoo is to die for. Be it its design or its finishing, every detail about this tattoo is simply alluring. Moreover, it can't look cooler than this. Also, it sends a great message, if you have your wings then wear them with pride. So ladies, if you are thinking of getting inked at the thigh, this design can be the one.
9. Intricate Butterfly Thigh Tattoo Design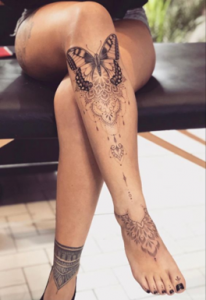 Source: Pinterest(Kathryn Vintage)
Are you a fan of Mandala art work? Merge it with beautiful butterfly design and adorn your thighs to the fullest. Also, go all bold with this design and stand out from the crowd.
10. Color Porn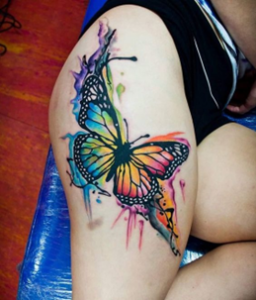 Source: Pinterest(Cuded Art & Design)
Butterflies are the sign of happiness itself and adding colors to the design is just adding cherry on the cake. Thus, bring out the happy colors and let it spread contagious happiness all day!
11. Butterfly Adorn With Leaves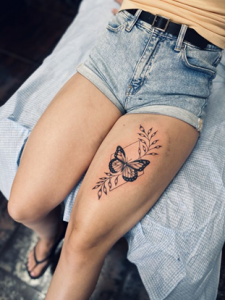 Source: Pinterest(Morgan Corrigan)
A simple butterfly tattoo design decorated with leaves looks simply aesthetic and eye-soothing. This simple design looks great on thighs and can make heads turn. Thus, if you like this design, just go for it and get this incredible design etched to your body.
12. Magical Charm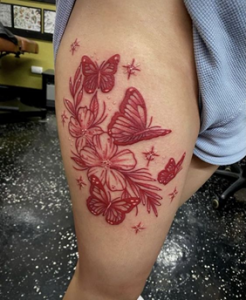 Source – Pinterest(Rozas)
Let your tattoo feel nothing less than a lucky charm. Ofcourse, magic in every way holds a special place in your heart. Thus, get this beautifully unique butterfly tattoo design on your thighs and commemorate your love for  butterflies.
Minimalistic Butterfly Tattoos:
If you are new to tattoos and would like to get the experience of getting tattooed; then a small or minimalistic butterfly would fit the bill to the tee! Crafted in numerous designs and hues, they look spectacular all by themselves. Later, you can transform it into inspirational and mesmerizing designs and motifs combining a bunch of small butterflies.
13. Free Spirited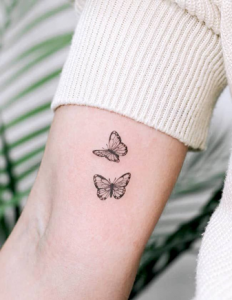 Source: Pinterest(Our Mindful Life)
A minimalistic butterfly tattoo is an ideal choice for the free spirited soul. Since butterflies are known for freedom, peace, and happiness. Thus get your hands on this hand butterfly tattoo and be the free spirit as you are.
14. Put A Ring On It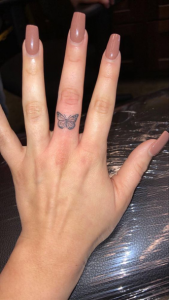 Source: Pinterest(Helena Posy)
If you like it, then put a ring on it. This holds true in the case of butterfly tattoos as well. Get this simple finger tattoo done if you want to keep it sweet and simple.
15. Flaunt the Fly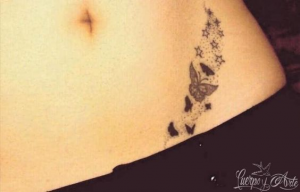 Source: Pinterest(Alma Mendoza)
Butterfly tattoo designs have remained quite constant, but the destination for the tattoo has evolved. Flaunt the butterfly the way you want!
16. Color Play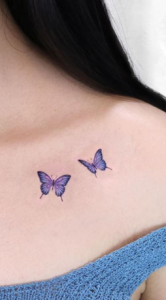 Pinterest(Tattoo Me Now)
Notice how the butterfly tattoo has been played around with subtle colors and a detailed eye. Fabulous! Thus when confused, this design can go a long way and never go out of trend.
17. Moon With Butterfly Tattoo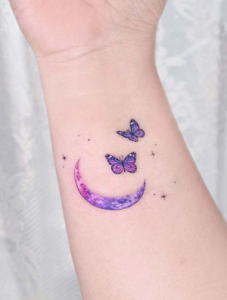 Source – Pinterest(Glaminati)
Hands down, it is one of the uber-cool butterfly tattoo designs you could ever encounter. The moon, butterfly, twinkling little stars, all these components in this single design are making it work like a charm. So if you are a lover of the moon, stars, and butterflies, then what are you waiting for?
Simple Butterfly Tattoos
If you think that for a tattoo, the butterfly has to be complex with intricate designs to look dazzling, you cannot be more off the mark! Simple butterfly line designs or easy butterfly tattoos on various parts of the body in different styles can look equally swag and make heads turn! The one line butterfly designs can almost pass like somebody's signature from one angle or maybe a flower from another! It is a terrific tattoo for somebody wanting to show the kaleidoscope of life from various perspectives!
18. Pleasing Butterfly-Plant Tattoo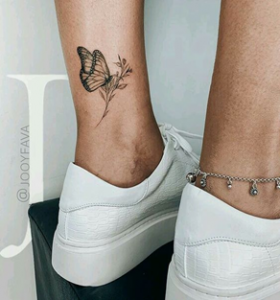 Source – Pinterest(mai)
This butterfly tattoo is simply pleasing and delightful. This design consists of everything a nature lover would admire. Hence, get this beautiful design inked right away.
19. Butterfly Tattoo With Infinity Sign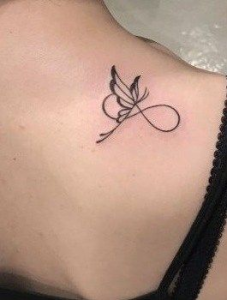 Source – Pinterest(TattMag)
Here's another simple tattoo that is simply elegant and full of grace. A-infinity symbol along with the butterfly holds deep meanings and symbolizes positivity, freedom, and a period of transformation. So if you are thinking of getting inked something meaningful, then this design can be the one you are looking for.
20. Flora & Fauna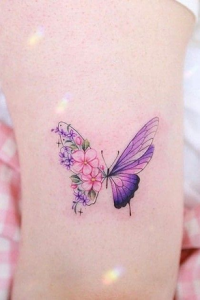 Source: Pinterest(Beauty Photography)
A simple butterfly tattoo design can stretch your imagination to lengths and bring out the best. Moreover, this small purple butterfly tattoo with little flowers by its side looks endearing enough to catch one's attention.
21. Artsy Butterfly Tattoo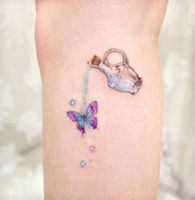 Source – Pinterest(Our Mindful Life)
If you love art and its unconventional way, then get this small and intricate butterfly tattoo that is certainly distinctive and creative in its own way.
22. Get Noticed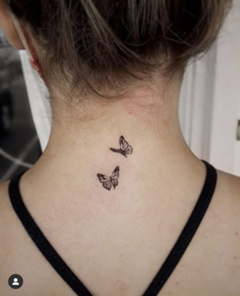 Source: Pinterest(Angela)
While neck tattoos could be a huge commitment, make sure there are no regrets by adopting butterfly designs such as these.
Stars And Butterfly Tattoos
Stars are mostly related to good fortune and luck. In olden times, it was used to find direction and navigate towards a particular destination. Combining it with the freedom and soul of the butterfly, the entire design takes a deeper meaning of spiritual quest and guidance towards peace and happiness. It may also mean fun and frolic. Combined with flowers as well, the star and butterfly tattoos are excellent to flaunt your independence and the inner peace! On the fun part, they look extremely exotic just about anywhere!
23. Blingy Butterfly Tattoo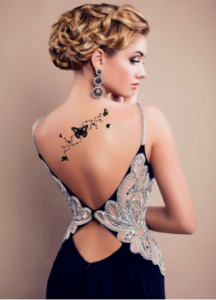 Source – Pinterest(ADDTTOO)
Here's a blingy, stylish butterfly tattoo adorned with stars. Hence if you are thinking of making a bold statement, a blingy butterfly tattoo on the back is the correct way to do it. So get this design bookmarked and show off your eye-catchy butterfly tattoo.
24. Cute Butterfly and Star Tattoo Design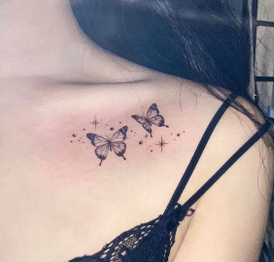 Source – Pinterest(Wattpad)
This cutesy butterfly design at the collar bone is looking sophisticated and classy. The design is not over the top and not too simple but is perfect in all aspects. Hence get this statement-making tattoo design done and flaunt it like a pro.
25. The Sweet Sting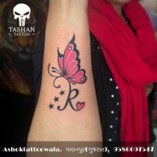 Source: Pinterest(Ashoktattoowala)
Look no further ladies and get your initial or your loved ones initials inked with the timeless and classic butterfly tattoo design. Show your  love to the world with this beautiful tattoo design.
26. The Kid Scribble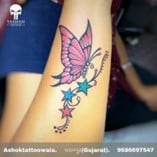 Source: Pinterest(Ashoktattoowala)
If you are a kid at heart and want to have a vibrant starry butterfly tattoo, then this design is for you.
27. A Trail Of Beauty

Source: Pinterest(Silver)
What's better than a trail of stars along with one beautiful butterfly beautifying your back. Well, get this super adorable butterfly design on your back and stand out from the world.
Butterfly And Flower Tattoos
Floral designs never go out of fashion. Check out the beautiful floral tattoo on the back! It looks so glamorous and chic despite oozing an abstract vibe! Such butterfly tattoos on shoulders, foot, arms, etc., look dazzling!
28. An Eye-Soothing Butterfly Flower Design Tattoo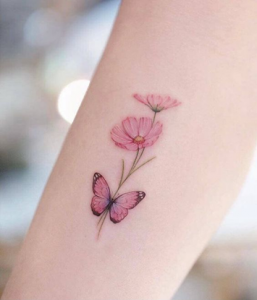 Source – Pinterest(IdeasDonuts)
This minimalistic design of a butterfly tattoo with a flower is simply soothing. Be it details, intricate design, or color, everything is top-notch. Hence get this endearing tattoo design done and embrace its simplicity with grace.
29. Colorful Butterfly Flower Design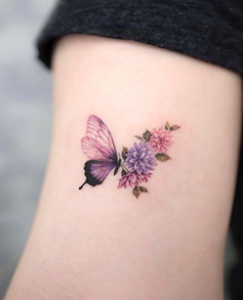 Source – Pinterest(TheTrendSpotter)
This is another super elegant butterfly flower design one could ever imagine. It's super clean finish is making it uber-cool and cute at the same time.
30. Rose & Beautiful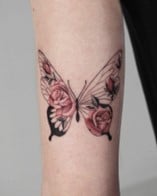 Source: Pinterest(Mamas Uncut)
No matter what you pair with rose, it turns everything into a beautiful piece of art. Just like the above butterfly design. Be it colors or placement of rose, everything is beyond pretty.
31. Half Flower Butterfly Tattoo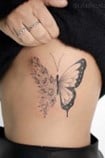 Source:Pinterest(Your Classy Look)
A butterfly is incomplete without a flower and a flower is incomplete without a butterfly. Thus, if you are fan of both and get this half flower butterfly tattoo.
32. Floral Fantasies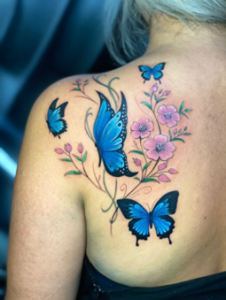 Source: Pinterest(The end tattoo)
You can add oomph to every floral fantasy with these sleek butterflies. Flowers and Butterflies go hand in hand because together they create a whole enchanting picture.
Butterfly Tattoos With Writings
Another very popular style is combining them with engravings, quotes, etc. One of the latest trends is butterfly tattoos with names – either yours or of the one that you love the most. Combining with the design, it oozes an ethereal look and kind of immortalizes your love. Quotes are often something that matches with your attitude towards life. Check out our top picks!
33. Self Love Quote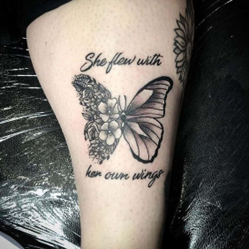 Source – Pinterest(Next Luxury)
Self-love quotes will always be in trend and won't go out of style at all. This tattoo has it all from perfect design to perfect quote. So make that tattoo appointment you were thinking to make and get this beautiful quote inked to your body.
34. Quote with 3D Butterfly Design Tattoo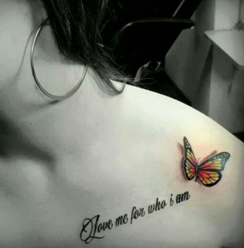 Source – Pinterest(Lively)
3D is everywhere, so why should fashion be left behind? A 3D butterfly along with your favorite quote that you relate it with the most is the most amazing thing you can do for yourself.
35. Self Love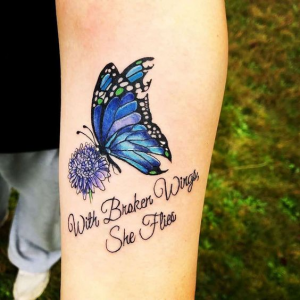 Source: Pinterest(Next Luxury)
Nothing more touching and endearing than getting a self appreciating quote for life because people come and go but you live with yourself for life. So why not develop and celebrate the self love we deserve with a permanent butterfly tattoo that signifies nothing but happiness.
36. All Things Bright & Meaningful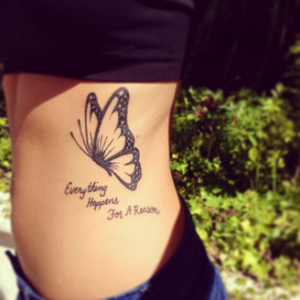 Source: Pinterest(thepaws.net)
When you are a sucker for text, something that holds a meaning in your life would be the perfect kind of butterfly tattoo. This design is super appealing and holds a true deep meaning as well.
Butterfly Back Tattoos
Back is a great place to get inked for all those women who do not like minimalistic designs. Flaunting a desire for freedom and free will, the back provides a larger space area to tattoo some amazing butterflies. One of the distinctive patterns is to ink just the wings with the spinal cord working as the body! The inclined pattern also looks awesome!
37. Giant Colorful Butterfly Back Tattoo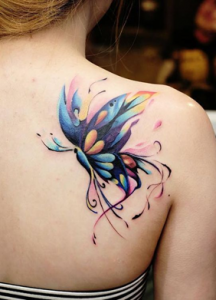 Source – Pinterest (kickassthings)
This giant bright color butterfly tattoo is the show-stopper of the show. Just look at the colors, finishing, design, everything is falling into place perfectly. Moreover, it elevates the back in an artistic way. So if you are thinking of going overboard with your love for tattoos, do consider this design.
38. Back Butterfly Tattoo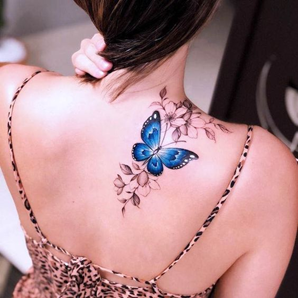 Source – Pinterest(Our Mindful Life)
Are you confused about choosing between color and a black and white tattoo? Well, here's your solution. Take the best of both worlds and stand apart from the crowd. This tattoo looks uniquely attractive, eye-catchy, and makes sense in every way.
39. Butterfly Delight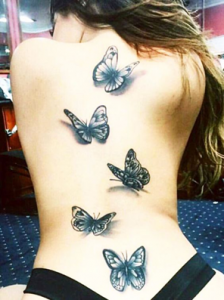 Source:Pinterest(BeautyHolo)
If you are thinking of going a little overboard with butterfly tattoos, go for this one. This design basically covers all your back elegantly. Moreover, you can either go with black butterflies or colorful ones according to your taste.
40. Pretty Butterfly Tattoo Design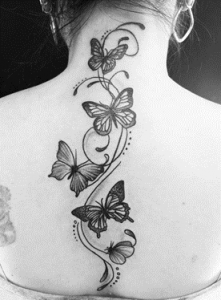 Source: Pinterest(Tattoo Me Now)
If you are an aesthetic lover, then this butterfly tattoo design is for you. This design has mesmerizing butterflies arranged in a trail. Moreover, it will make your back look gorgeous than ever. Thus, adorn your back with this one of a kind butterfly tattoo design.
41. Basic Back Butterfly Tattoo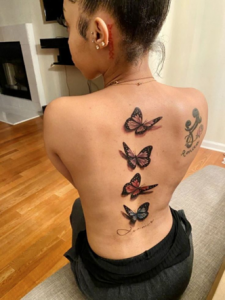 Source: Pinterest(Rozas)
These cute colorful butterflies that are simple yet elegant deserve to always have your back! Look how adorable they appear. Thus, back your back with these cute butterflies!!
Selecting tattoos that are neither too loud nor too overboard is always a good choice. Getting inked in butterfly style tattoos lends a subtle yet distinct persona to your style statement. These tattoos being a classic feminine style will go a long way and you won't feel the need to remove it with changing age, mood or phase.