Looking for tattoo ideas to get inked?
Before getting a tattoo, research is most important. Here, you can keep your worries behind as we've already done a whole lot of research for you.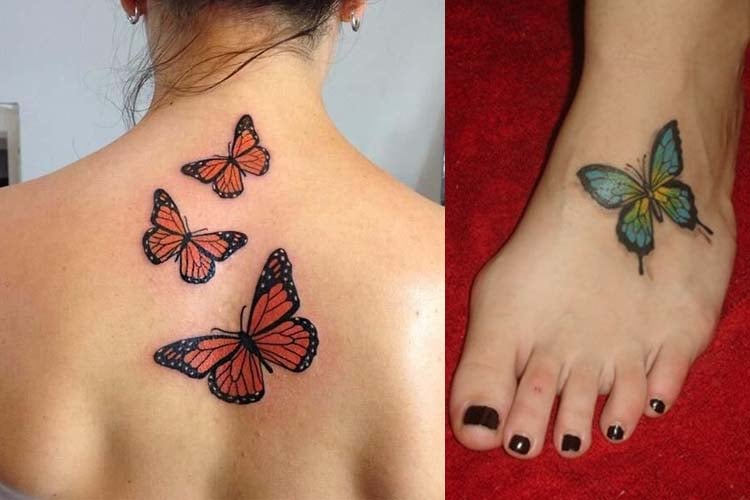 Why Butterfly Tattoos?
While getting an insect inked may not be a welcome thought but a butterfly tattoo is definitely an exception! Not only are they fascinating, colorful and mesmerizing but their short life inspires plenty of metamorphic and philosophical meaning like beauty, grace, freedom, complete transformation, etc. Their winged structure, vibrant vibe of color and deep symbolic meanings are something that every female can relate to! Thus, it's natural that no woman who gets inked can go without getting one of the amazing butterfly tattoo designs! Despite being the most common design, it still finds itself in a new expression and design every time.
Butterfly Tattoos For Women:
To inspire all you beautiful ladies, we have rounded up some of the most unique butterfly tattoos. Scroll down and prepare to be amazed and wowed!
Butterfly Tattoos On Hands:
Hand is another great place to get inked. Butterfly arm tattoos and butterfly forearm tattoos are quite popular and can range from dainty to elaborate designs! The entire sleeve tattoo is for the bold and the beautiful! Take your pick!
1. In The Element:
Look how beautifully the butterflies are blending into the garden-like background.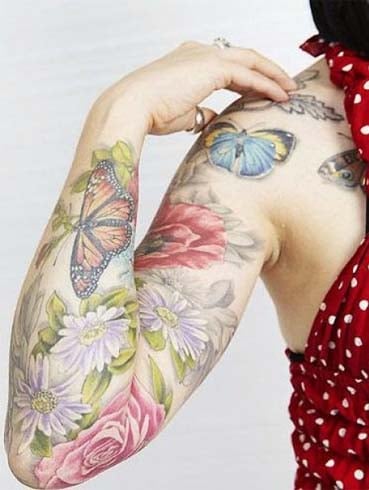 2. Flashing The Neon Vibe:
These pretty butterflies don't leave room for a moment of dullness.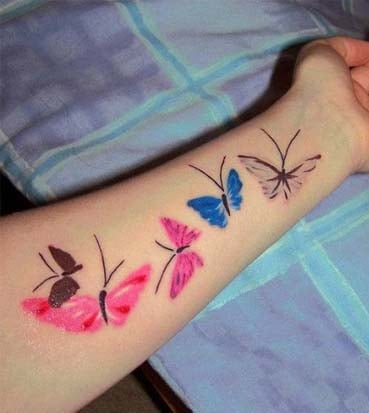 3. Black Is The New Black:
Love the idea of tattoos on hands? A simply design with the timeless charm of the black colour, never goes out of style!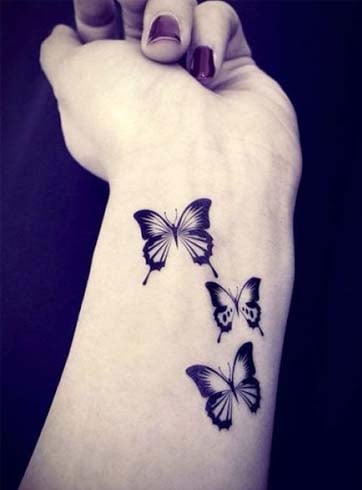 4. Beauty Lies In Details:
A unique take on the new-age butterfly tattoos, where the mere outline goes skin deep to create a powerful impact.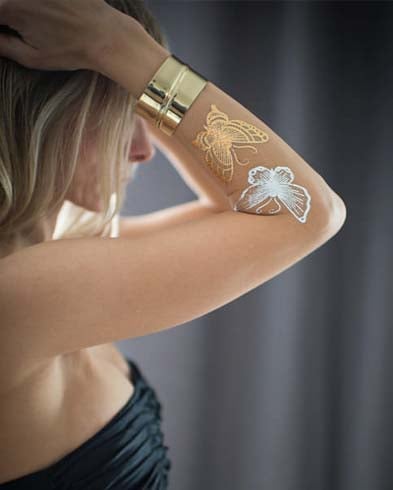 Butterfly Tattoos On Wrist:
With these beautiful butterfly tattoos on your wrist, you'll never want to wear a bracelet and cover the area.
1. Strokes Of Life:
These few strokes have created a butterfly that is hard to forget and easy to crave for.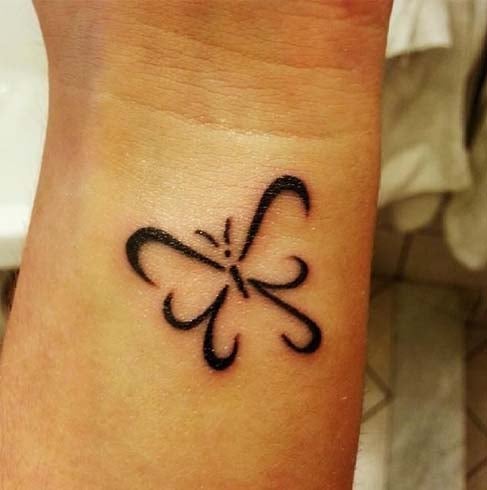 2. Paint The Canvas:
Your body is a canvas, so it is only right to paint it carefully into a beautiful design like this.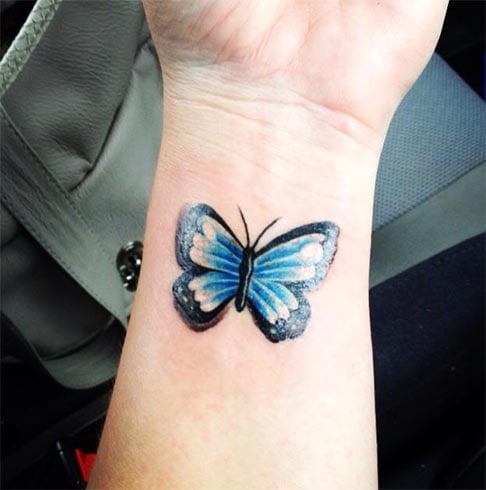 3. Childs Play:
Relive childhood with butterflies so imperfectly perfect. Don't let the kid in you die.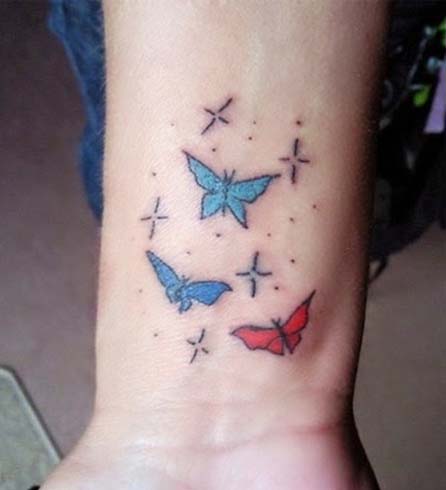 Butterfly Tattoos On Thigh:
Getting a tattoo on your thigh is incredible sexy as it is normally not visible and comes out as a stunning surprise when adorning a swim suit or giving tantalizing glimpses with a deep side slit gown! Whether it's colored or all black, the effect needs to be experienced! Some amazing butterfly tattoos can be inked out there!
[sc:mediad]
1. Roses Aren't Red:
Give your butterfly tattoo a twist with black roses and a pop of colour on the butterfly. Incredibly sexy!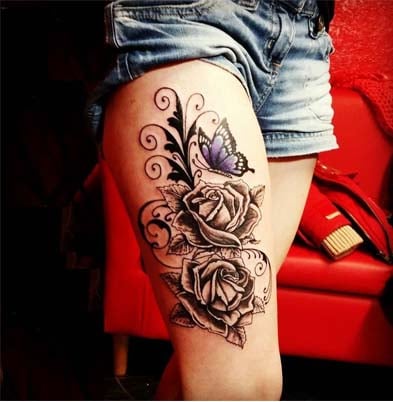 2. Colour Porn:
Bring out the happy colours and let it spread a contagious happiness all day!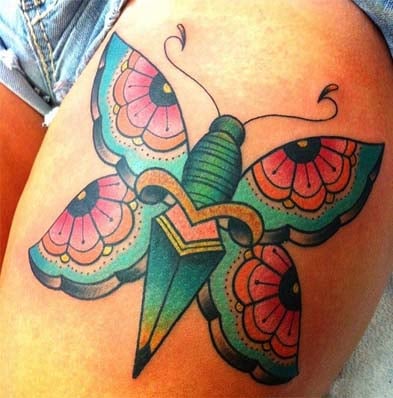 3. Flower Power:
Are you the flower power kind of person? Here is a butterfly tattoo just for you.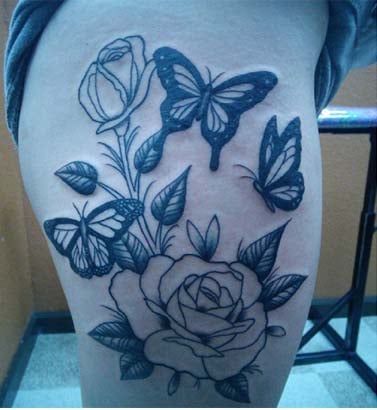 4. Magical Charm:
Let your tattoo feel nothing less than a lucky charm. Ofcourse, magical in every way holding a special place in your heart.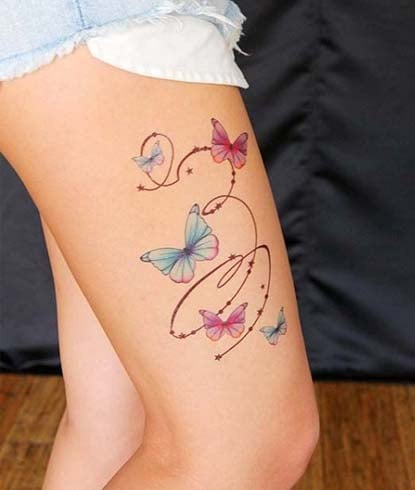 Minimalistic Butterfly Tattoos:
If you are new to tattoos and would like to get the experience of getting tattooed; then a small or minimalistic butterfly would fit the bill to the tee! Crafted in numerous designs and hues, they look spectacular all by themselves. Later, you can transform it into inspirational and mesmerizing designs and motifs combining a bunch of small butterflies.
1. Free Spirited:
A minimalistic butterfly tattoo on the upper chest is an ideal choice for the free spirited soul.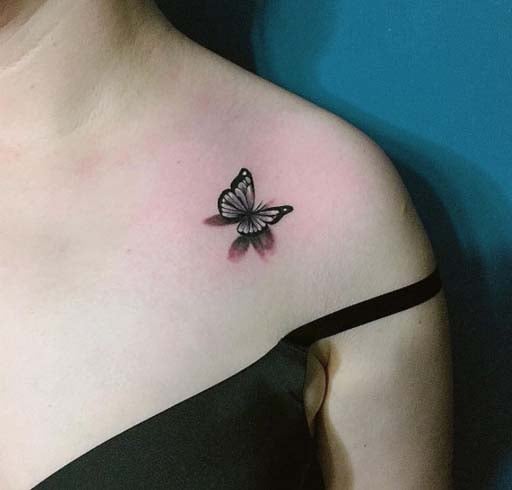 2. Put A Ring On It:
If you like it, then put a ring on it. This holds true in the case of butterfly tattoos for girls too!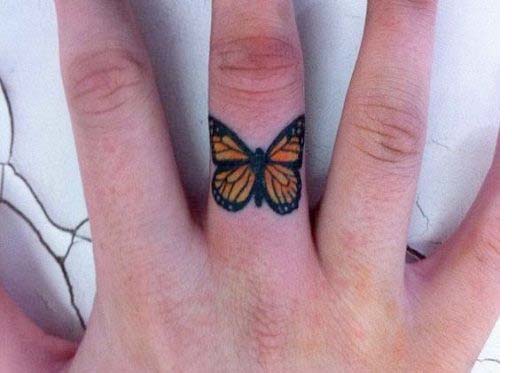 3. Flaunt the Fly:
Butterfly tattoo designs have remained quiet constant, but the destination for the tattoo has evolved. Flaunt the butterfly!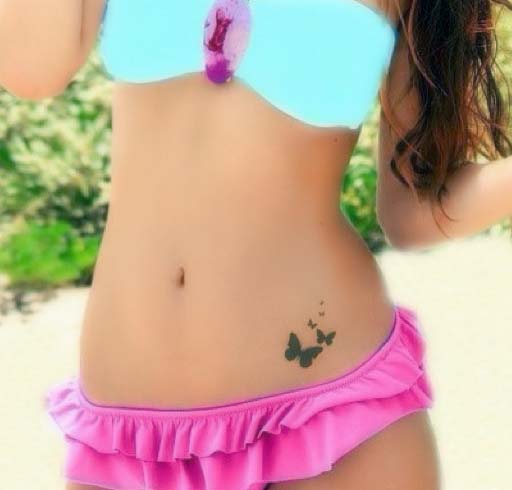 4. Colour Play:
Notice how the butterfly tattoo has been played around with subtle colours and a detailed eye. Fabulous!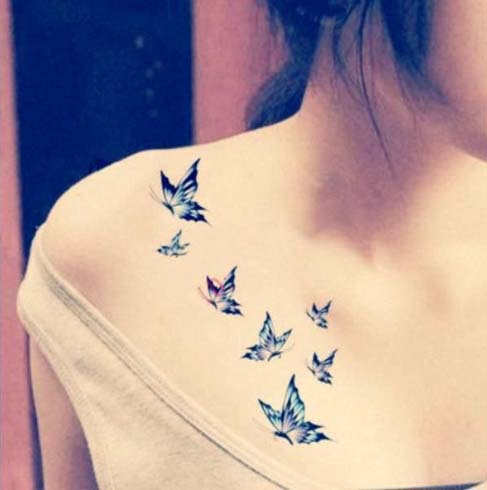 Simple Butterfly Tattoos:
If you think that for a tattoo, the butterfly has to be complex with intricate designs to look dazzling, you cannot be more off the mark! Simple butterfly line designs or easy butterfly tattoos on various parts of body in different styles can look equally swag and make heads turn! The one line butterfly designs can almost pass like somebody's signature from one angle or maybe a flower from another! It is a terrific tattoo for somebody wanting to show the kaleidoscope of life from various perspectives!
1. Flora & Fauna:
A simple butterfly tattoo design can stretch your imagination to lengths and bring out the best.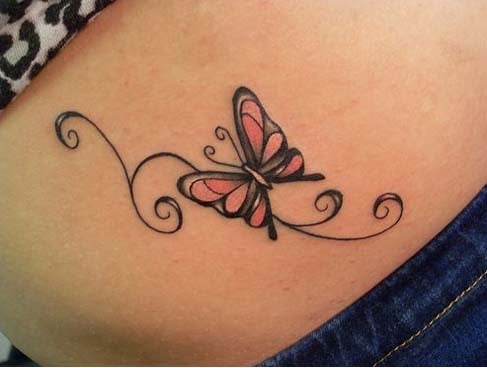 2. Dreamer:
Dreamers reach the most idealistic situations, and here is one – the tattoo itself.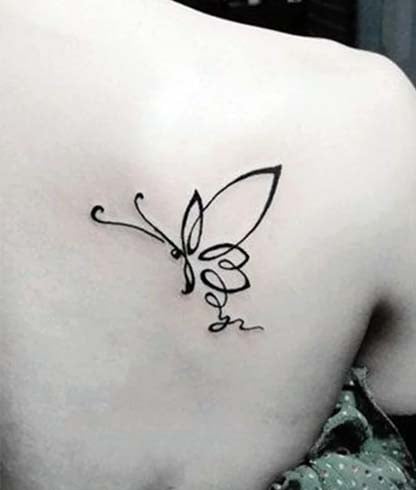 3. Get Noticed:
While neck tattoos could be a huge commitment, make sure there are no regrets by adopting butterfly designs such as these.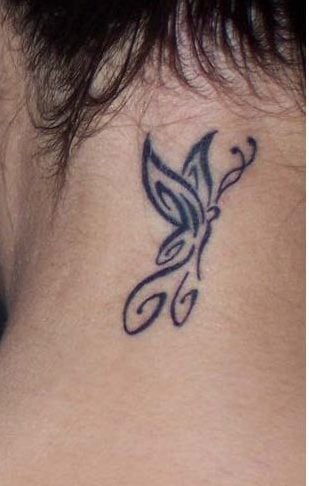 Stars And Butterfly Tattoos:
Stars are mostly related to good fortune and luck. In olden times, it was used to find direction and navigate towards a particular destination. Combining it with the freedom and soul of the butterfly, the entire design takes a deeper meaning of spiritual quest and guidance towards peace and happiness. It may also mean fun and frolic. Combined with flowers as well, the star and butterfly tattoos are excellent to flaunt your independence and the inner peace! On the fun part, they look extremely exotic just about anywhere!
1. The Sweet Sting:
Get stung by this refreshing tattoo, full of colour and life. Look no further, ladies!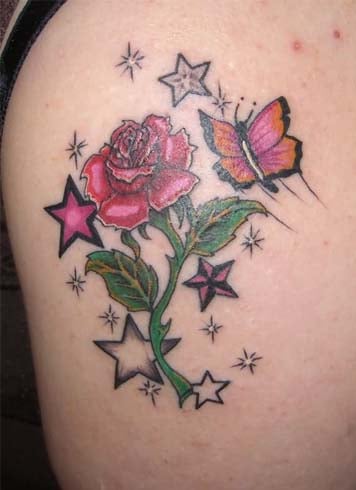 2. The Kid Scribble:
If your baby the love of your life? Get their drawings tattooed for a brilliant memory.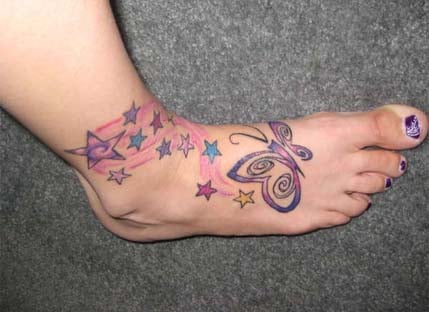 3. A Trail Of Beauty:
What's better than a galaxy of stars leading a troop of butterflies?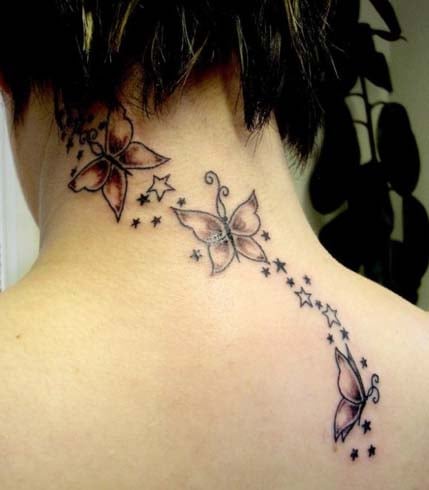 Butterfly And Flower Tattoos:
Flowers, especially a rose, denote love and passion. Combined with butterfly, they can well represent the change and transformation in you induced by love. Predominantly, they symbolize your love life. However, they can also represent positivity and happiness towards life. Moreover, floral designs never go out of fashion. Check out the beautiful floral tattoo on the back! It looks so glamorous and chic despite oozing an abstract vibe! Such butterfly tattoos on shoulders, foot, arms, etc., look dazzling!
1. Bold & Beautiful:
The 'Bold and Beautiful' combo pack has always topped our lists!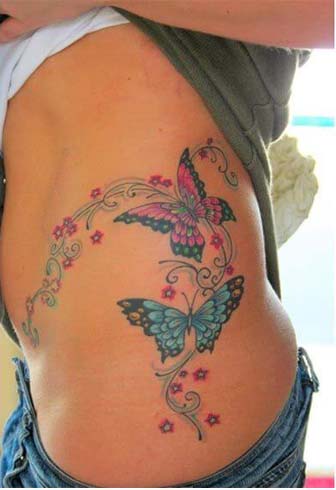 2. Midsummer Night's Dream:
Fall back every night into this summer dream.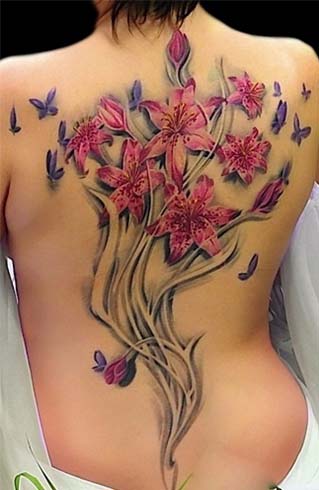 3. Floral Fantasies:
You can add oomph to every floral fantasy with this sleek butterfly.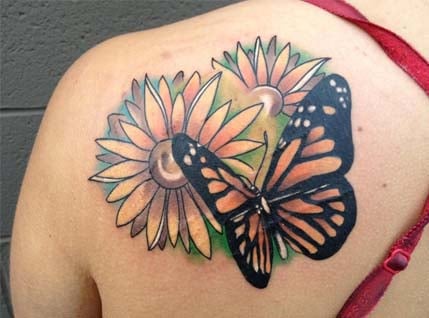 Butterfly Tattoos With Writings:
Another very popular style is combining them with engravings, quotes, etc. One of the latest trends is butterfly tattoos with names – either yours or of the one that you love the most. Combining with the design, it oozes an ethereal look and kind of immortalizes your love. Quotes are often something that matches with your attitude towards life. Check out our top picks!
1. Family Love:
Nothing more touching and endearing than getting the family names etched.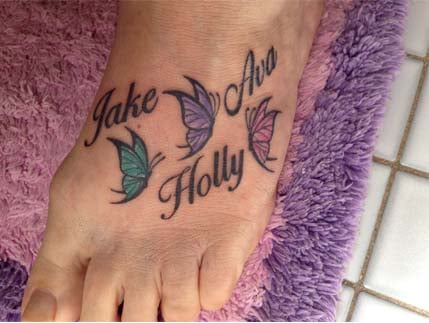 2. All Things Bright & Meaningful:
When you are a sucker for text, something that holds a meaning in your life would be the perfect kind of butterfly tattoo.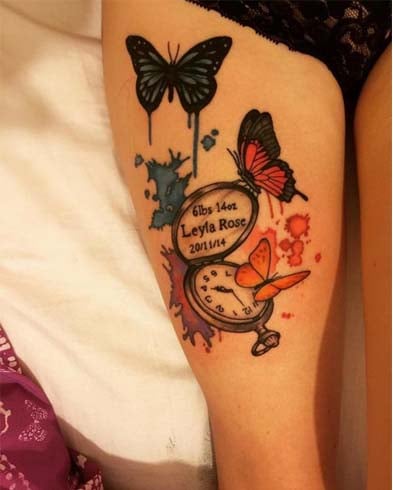 3. Quotes For Life:
A quote which has been in your favourites for long needs to be tattooed, ofcourse with butterflies flying around.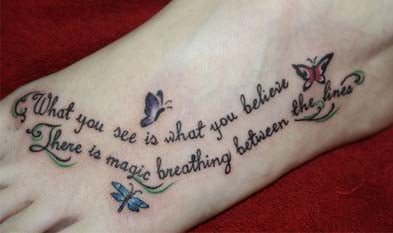 Butterfly Back Tattoos:
Back is a great place to get inked for all those women who do not like minimalistic designs. Flaunting a desire for freedom and free will, the back provides a larger space area to tattoo some amazing butterflies. One of the distinctive patterns is to ink just the wings with the spinal cord working as the body! The inclined pattern also looks awesome!
1. Diagonal Delight:
The caption 'diagonal delight' itself says more than the picture.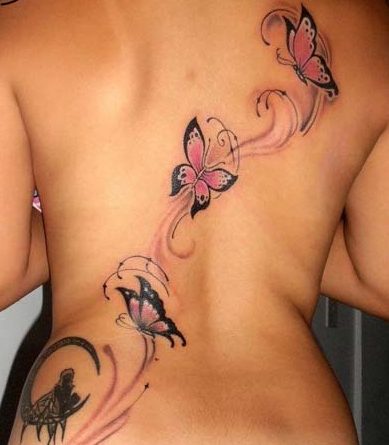 2. Wings Of Fire:
How attractive are these pair of blue wings? So real and grabbing eyeballs.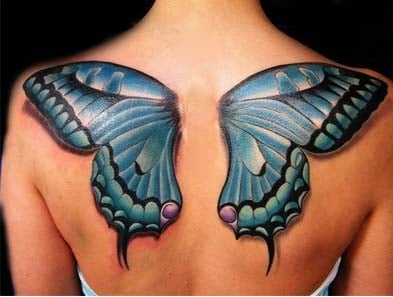 3. Baesic:
These cute butterflies that are simple yet elegant deserve to always have your back!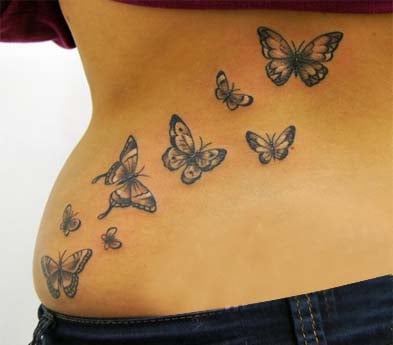 Selecting tattoos that are neither too loud nor too overboard is always a good choice. Getting inked in butterfly style tattoos lends a subtle yet distinct persona to your style statement. Being a classic feminine style it will go long way and you won't feel the need to remove it with changing age, mood or phase.
Trendy yet characteristic, butterfly tattoo designs are here to stay!
Tell us which was your favourite!