Looking out for inspiration for your new finger tattoos? Look no further! These tattoos are inspired by some of the coolest and most popular trends in tattoos right now, and they're sure to add some spice to your ink collection. From intricate flower designs to minimalist texts, these tattoos are sure to turn heads wherever you go. So what are you waiting for?
36 Adorable Finger Tattoos Designs
From simple designs to intricate masterpieces, there's something for everyone when it comes to our list of finger tattoos. Scroll down and get started!
1. Howling Dog
Dog finger tattoos are a popular choice for those who want to show their support for their favorite furry friend. They can be created in various designs and sizes. Some of the most popular tattoos include paw prints and dogbones.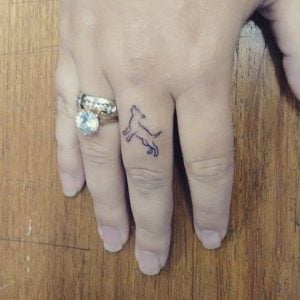 PC: Pintertest (@PetPress)
2. Pretty Butterfly
A butterfly finger tattoo may be the perfect addition to your body art collection. With its beautiful wings spread out, this tattoo is a symbol of freedom and – most importantly – elegance. And while tattoos are often associated with rock stars and rebellious youth, butterfly finger tattoos also have a timeless appeal that can suit just about any individual.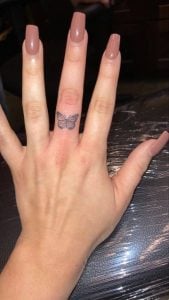 PC: Pintertest (@helena3986)
3. Peacock Feather
Peacock feather tattoos have become increasingly popular in the last few years, as they are seen as incredibly stylish and eye-catching. They can be used to symbolize many different things, such as power, beauty, love, or luck. Some people even believe that peacock feathers have magical powers that help to bring good luck and fortune into your life.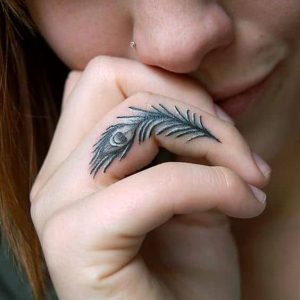 PC: Pintertest (@thefashionspot)
4. Blue Lavender
Check out this amazing blue lavender tattoo featuring a green colored stem, which looks best on the middle finger. It's perfect if you're looking for something creative and different that will really stand out.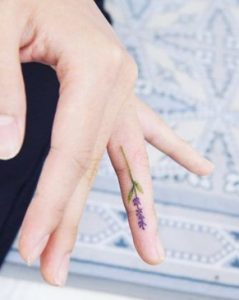 PC: Instagram (@glaminati)
5. Extended Vine
This finger tattoo is a powerful form of body art that incorporates vines into the design of your fingers. The vines are designed to represent growth and change, which can be symbolic of your own life journey. The tattoo looks when done on both hands.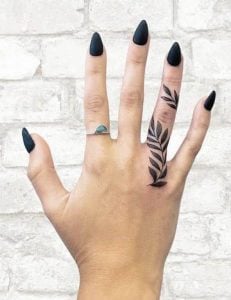 PC: Pinterest (@ourmindfulllife)
6. Classy Zodiac Sign
These tattoos are a popular choice for those who want to show their personality and reflect their astrological sign. This tattoo can be custom designed with the symbol of your zodiac sign inked onto your finger. Additionally, it comes in various colors and styles so that you can find exactly what fits your unique personality best. Below is one of the classy Libra zodiac tattoos we discovered.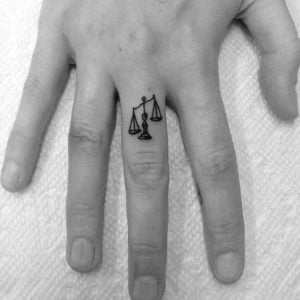 PC: Pinterest (@StatementMadeUK)
7. King & Queen
This is a really cool tattoo for couples to represent their love for each other in an eye-catching way. It is simple yet elegant, with just the right amount of detail to make it stand out. This finger tattoo features two silhouettes of royalty – a king and queen.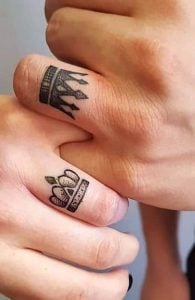 PC: Pinterest (@TheTrendSpotter)
8. Perfect Ring
This is another couple specific finger tattoo with a design consisting of two beautiful rings, one on each one's hand. You also have total customization over how big/small/thick your tattoo appears on your fingers. It would make a gorgeous wedding gift or special anniversary present!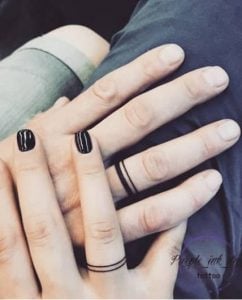 PC: Pinterest (@andihasley)
9. Detailed Dandelion Tattoo
There are many interesting tattoos that can be considered symbols of good luck. One such tattoo is dandelion finger tattoo. This design features a dandelion with blowing away petals, which is often regarded as a symbol of good luck. Additionally, this tattoo may also represent the diversity and renewal that comes with springtime.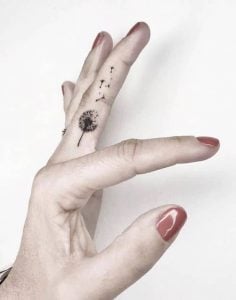 PC: Instagram (@CKS)
10. Coiled Serpent
Snake finger tattoos are a popular choice for those who are looking for an unusual but stylish tattoo. The design typically consists of a loop or S-shape that starts at the fingertip and curves up towards the palm, with the neck of the snake just visible between the fingers. This type of design can be very versatile and can be used to represent many different things, such as love, happiness, determination, and luck.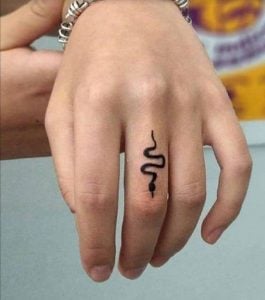 PC: Pintertest (@EcE)
11. Wild Wolf
Wild wolf tattoos are often associated with badassery and strength. They are also seen as symbols of courage, independence, and rebellion. This tattoo design is perfect for those who live life on their own terms and want to express themselves in a unique way. It can be flattering on any body type, but works best when it's used together with other bold tattoos that create contrast.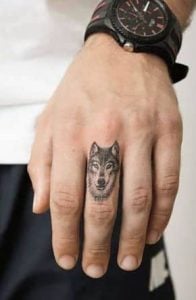 PC: Pintertest (@TheTrendSpotter)
12. Simple Cross
This is a popular design that is often associated with Christianity faith. The cross finger tattoo can be used to show your devotion to the Christian faith and serve as a visual reminder of how much you believe in God. It can also symbolize strength and perseverance, two key values that are closely related to Christianity.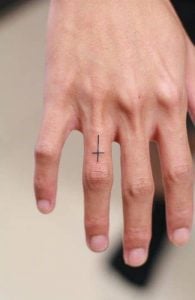 PC: Pinterest (@TheTrendSpotter)
13. White Ink
This white ink "Dream" inner finger tattoo is an unconventional yet highly personal tattoo that will remind you of all the dreams that lay ahead of you. Plus, it's an excellent way to reflect on your innermost desires and aspirations.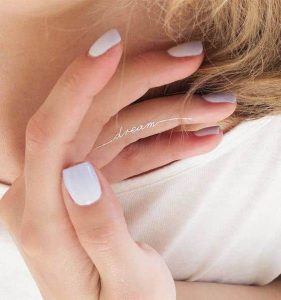 PC: Pinterest (@ourmindfullife)
14. Favorite Sports Icon
A sports symbol finger tattoo can be a great way to identify with your favorite sports while displaying your personal style at the same time. Some of the most popular sports symbols for tattoos include basketballs, footballs, baseball bats and even MMA gloves! Here is one minimalist basketball icon tattoo that really stood out to us.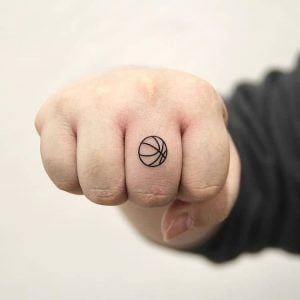 PC: Instagram (@banban_tattooer)
15. Elegant Electric
There are many reasons why electric symbols are so popular as tattoos. They are simple, elegant, and eye-catching. This intricate design is perfect for anyone who loves to stand out from the crowd. It isn't difficult to get this ink, so go ahead and put it on display!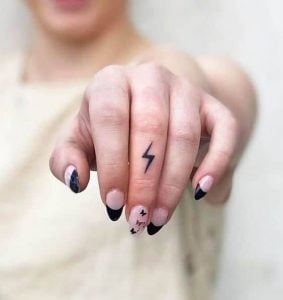 PC: Pinterest (@ourmindfullife)
16. Authentic Fire
This fire design finger tattoo is often associated with courage, power, and strength and can help you to stand out from the crowd. It may also represent passion or creativity. Besides its symbolic value, this tattoo also looks incredibly cool. So, why not get it done today?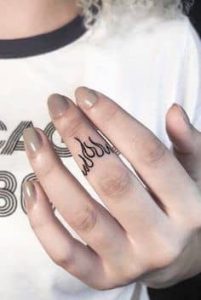 PC: Pinterest (@weheartit.com)
17. Inspiring Words
There's no doubt that tattoos are popular these days, but why not add a little extra motivational language to your ink? This can be done in the form of finger tattoos that say inspiring words or phrases. These small pieces of art can help you to focus on maintaining positive attitudes and living life with purpose.
They can also remind you of the courage it takes to face difficult challenges head-on and the strength it takes to overcome them. Here are some words that might make a good addition to your next tattoo: hope, resilience, persistence, willpower.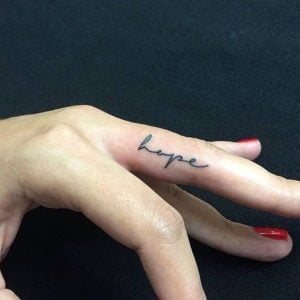 PC: Pinterest (@weheartit)
18. Crescent Moon
This crescent moon finger design is a unique and beautiful way to show your love for astronomy. Referred to as Islam's "moon symbol," this design is often associated with spirituality and mysticism. Symbolizing both completeness and new beginnings, this celestial emblem can also denote protection from evil or bad luck.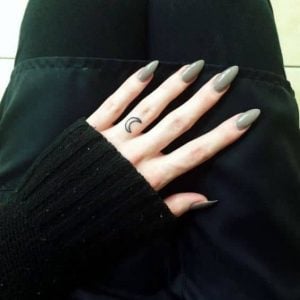 PC: Pinterest (@Otzi_app)
19. Modern Symbols
If you're looking for a stylish and minimalist tattoo design that covers all of your fingers, then check out this finger tattoo with modern symbols. The design is composed of simple geometric shapes that are combined to create an interesting and eye-catching look.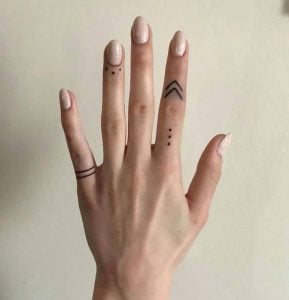 PC: Pinterest (@tattoosboygirl)
20. Ink That Year
For a truly unique and memorable experience, consider having a finger tattoo that showcases an important year in your life. Maybe it's the year you graduated from college or the year you got married. Maybe it's the year you started your own business or achieved some impressive feat. Whatever special year represents something significant to you, why not commemorate it with an attractive and permanent ink?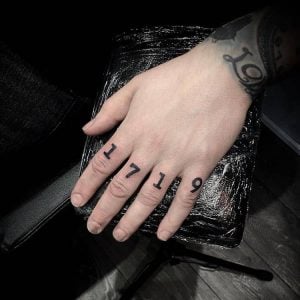 PC: Pinterest (@inkbyheather_)
21. Om Symbol
Om symbol finger tattoos are a popular and unique way of showing your allegiance to the spiritual path. It can be used as an influential reminder of your dedication to reaching higher levels of consciousness, meditation, and creativity. In Hinduism and Buddhism, this sacred syllable represents the first sound heard in creation which unified all things into One Unity.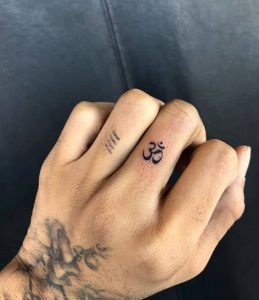 PC: Pinterest (@brxxxo)
Related Tattoo Articles You Might Also Like:
22. Minimalist Lotus
This finger tattoo is a new concept in tattoo design that strives to combine the beauty of traditional lotus designs with modern minimalism. The result is stunning and timeless tattoos that are perfect for any occasion.
23. Sparkling Diamond
This diamond-based finger tattoo is popular as a unique and beautiful tattoo. The symbol consists of three backward-pointing intersecting circles, each with a diamond in the center. This tattoo design can represent wealth, blessings, and prosperity.
24. Designer Rose
This rose-based inner finger tattoo design is a beautiful way to express your love for someone. The petals of the rose can be filled with different colors and symbols to represent different aspects of your relationship, including romance, commitment, and hope. This unique design can also symbolize femininity and purity.
[Also Read: DIY Temporary Tattoos]
25. Angled Arrows
This tattoo starts at the base of your nail and extends up towards the tip of your nail. The angle at which this line is drawn makes it look like an arrowhead, adding to its visual appeal. This is a badass finger tattoo design  associated with strength and power, and it can symbolize your unwavering determination and ambition.
[Also Read: Infinity Tattoos]
26. Fluttering Bird
This is a beautiful and creative tattoo design that features an adorable bird with its wings lifted in the air.,making it look like it is taking flight. This finger tattoo looks amazing on both men and women, and would make a great addition to anyone's body art collection.
[sc:mediad]
27. Cat Whiskers
As you can guess, this is a popular finger tattoo amongst those who love cats. This tattoo features three long, slender cat whiskers that are artfully intertwined with one another. This tattoo can be done in many different colors and styles to suit your unique personality and mood.
28. Elephant Tusk
This is a traditional yet modern tattoo which typically consists of an elongated tusk extending from the finger, with colorful strokes or designs running down it. The tusk may also have small bells or gemstones embedded in it which add texture and dimension to the overall look. This type of elephant tattoo design does have symbolic meaning for some people who believe that the tusks represent wisdom and enlightenment.
29. Wedding Announcement
A wedding announcement finger tattoo design is a great way to announce your engagement or impending marriage. This simple but personal tattoo can be done in minutes with any variety of ink, and it is sure to get you noticed!
30. Minimalist Smiley
If you're looking for something to keep things lighthearted and fun, try opting for a simple smiley finger tattoo. The minimalist smiley finger tattoo design can easily be personalized by adding text or designs on top of the basic outline.
[Also Read: Cool Wrist Tattoos For Girls]
31. Music Icons
This finger tattoo is perfect for those who are music lovers and want to add some creative flair to their body art. This design can be customized with any type of music symbol that you like. These symbols can include notes from the scales used in various musical genres as well as instruments like guitars and drums.
32. Lord Ganesha
Lord Ganesha is the remover of obstacles and is known as the patron god of knowledge. As such, he is a perfect choice for anyone looking to beautify their finger with a tattoo design that celebrates all they know.
There are many different designs available that celebrate Lord Ganesha's majesty and power, so be sure to choose something that speaks to you and your spiritual values!
33. Ink That Date
This finger tattoo design provides you with a unique and memorable way to commemorate important dates in your life (like wedding date, birthday, retirement date, etc.). Not only is this a visually stunning design, but it also serves as a permanent reminder of all the great moments in your life.
34. Wrapped Chain
This finger tattoo design is inspired by the beautiful design of a chain wrapped around your index finger. The simple yet exquisite tattoo has become popular among people who appreciate simplicity and aesthetic beauty in their tattoos.
35. Infinite Love
This infinity heart finger tattoo features an infinite loop of hearts that can be the perfect reminder of your devotion and love. It can also represent the eternal bond that couples share and serves as a symbol of their unending faith in one another. This simple, elegant, and timeless tattoo design looks most balanced in black and red combination.
36. Love Worded
There's no denying that the word "love" is one of the most commonly used words in the English language. And for good reasons! That's why it makes a great subject for a finger tattoo design.
Some popular love finger tattoos include the heart symbol, butterfly wings, roses vines with thorns, infinity signs within open circles (representing love being eternal), and more complex designs. These symbols allude to different types of love- friendship love, romantic love, parent/child love etc.
37. Split Full Heart
This tattoo features a half heart on both the middle and ring finger, symbolizing the strong connection between two hearts. The split represents the duality within us all – our struggles and triumphs; our happy moments and tragic experiences. The simplicity of this design lends itself to many different interpretations.
More Tattoo-Related Articles To Check Out:
How To Take Care Of Finger Tattoos & Make Them Last Long
Finger tattoos can be beautiful, but they should not be treated like any other skin tattoo. That's because they are delicate and take a lot of time and effort to make them look good. Here are some tips that will help you to take care of your finger tattoos so that they last longer:
Avoid Strenuous Activities: Exercising too vigorously while your tattoo is in progress can cause undue stress on the area, which might speed up its deterioration. Save exercise for later when the ink is completely healed!
Use Sunscreen: Just like with any other sun exposure, apply sunscreen every day (even if you don't think you'll be outside). The UV rays from sunlight can damage both light and dark pigment in an inkjet tattoo machine, causing it to fade faster overall.
Clean Properly: Make sure to clean properly after applying henna or temporary tattoos to avoid scrubbing too hard as this could remove bacteria. Instead, use gentle soap and cool water.
Avoid Nail Polish Removers: Avoid contact with harsh chemicals or nail polish removers – these could potentially wip off the intricate details of your finger tattoo.
Popular FAQs On Finger Tattoos
How much do finger tattoos cost?
The average cost of a finger tattoo ranges from $50 to $100, but this price can vary depending on the complexity and size of the tattoo. Prices also depend on how much time is required for the artist to complete the project. In general, tattoos that take longer to finish will be more expensive than those that are done in a shorter amount of time.
How long do inner finger tattoos last?
Inner finger tattoos can last anywhere from six to eight months, but this is based on a variety of factors including the size and design of your tattoo, how often you wash it, and how active you are. In general, smaller designs that don't receive as much wear and tear will typically last longer than larger or more elaborate tattoos.
How often do finger tattoos need to be touched up?
Finger tattoos do not typically need to be touched up very often, but every eight to twelve months if you want them looking their absolute best all the time. If your finger tattoos are done professionally by a qualified artist, then they will probably only need to be touched up once or twice during the lifetime of the tattoo. However, if you get your finger tattoos done at a home or self-tattooing studio, then they may need to be touched up more frequently depending on how often they're used and worn.
Which finger is best for tattoos?
The majority of tattoo enthusiasts believe that the index finger is the best finger for tattoos. This is because it has a large surface area, which makes it easier to cover in ink. Other people think that the middle finger is a good option because it has fewer delicate areas and more flexibility. However, there are also some people who believe that any finger can be used for tattoos, provided you are comfortable with the risks involved.