Thinking of getting inked? We've picked out the best tattoos to help you pick your design. As much as we adore cute symbols, lovely loyalty tattoos can also work perfectly as a tattoo and mean more.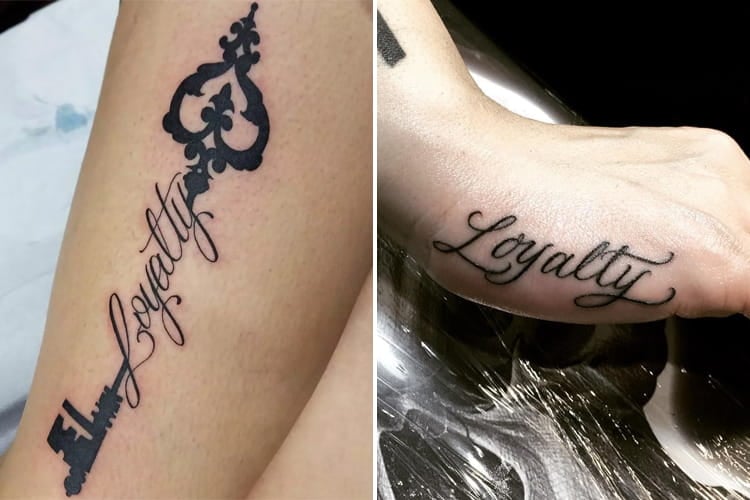 The loyalty tattoos are a positive affirmation towards someone you love. And it allows you to play with various fonts and designs. From the girl with 'loyalty' inked on her hand to one with Loyalty on her nape, these tattoo designs make a strong statement.
Loyalty Tattoos For Females:
If chic designs are more your thing, check out our guide on loyalty tattoos for female design ideas. We also can't get enough of the number of designs you can choose from. If you fancy a loyalty tattoo, then take a look below.
Let Us Take A Look At Loyalty Tattoos Designs:
While flowers and wine may be another way to show love for one another, there's also something you can do to commemorate your love permanently. Celebrate your feelings for someone special by heading to a tattoo parlor to get inked with someone special. You can try sweet quotes or honesty tattoos to declare trust for each other.
1. Loyalty Symbols Tattoos:
A good way to show your affection in the form of a tattoo design is by getting loyalty symbol tattoos. If words aren't your forte, then try matching symbols, like the hands holding each other are a perfect reminder of loyalty and friendship.
This loyalty symbol tattoo serves as a reminder of power through tough times! Loyalty symbol tattoos are perfectly designed and also describe a story without using words. These tattoos are described using symbols.
2. Loyalty Tattoos On Forearm:
If there's a place in the world that captures your heart, prove it with ink on your forearm.
This pretty loyalty tattoo looks gorgeous on the inner arm.
3. Loyalty Tattoo On Hand:
The cute little loyalty tattoo on hand is perfect as a symbol of friendship.
Love all things loyalty-approved? This cute loyalty tattoo on hand is for you.
4. Loyalty Tattoo On Fingers:
Words like loyalty, trust, and respect on your fingers can look stunning.
How adorable is this loyalty tattoo inked on fingers?
5. Loyalty Tattoo On Navel:
The loyalty tattoo on the navel has an edge, and the respect tattoo is very unique. These designs are selected by couples who want to show off their love for each other. But, this symbol can also be used by family and friends to nurture their relationship.
[sc:mediad]
A loyalty tattoo on the navel is a classic choice.
6. Twinning Loyalty Tattoos:
Like commitment? Try twinning with your partner or friend with inked loyalty tattoos.
The identical loyalty tattoo has character and is creative.
7. Loyalty Tattoos On Ribs:
How understated yet trendy is this loyalty tattoo? We love the positioning of this one too.
Tattoo your loyalty affirmation to your ribs.
8. Family Loyalty Tattoos:
You can express your loyalty towards your family with your tattoo designs. This one, in particular, is a great way to express your bond, commitment, and assurance towards your other half, children, sisters, brothers, parents, etc.
You can try symbols and designs as well.
9. Loyalty Swallow Tattoos:
Swallow loyalty tattoo is a popular tattoo symbol. The swallow is a bird that represents a partner for the entire life.
The designs of loyalty signs are diverse and are found in the form of images and quotes. The most popular meaning of swallow tattoos is travel. Different swallow species travel from Europe to Africa.
Loyalty swallow tattoos can be a symbol of home or patriotism. It is a way of showing honor to a country or family. Every year, the swallow returns home. Hence, the bird makes for an ideal symbol of loyalty and love.
10. Tribal Loyalty Tattoos:
Tribal communities began decorating their body for several decades. They made use of wooden metals and reeds to create their tattoo symbols on their body.
Tribal loyalty tattoos are applied using thick, black marks. They are an inspiration for people today.
Tips:
Have a strong determination to describe or display your emotions to the world through loyalty designs.
If you have strong faith to ink your body, loyalty tattoos are the best as they can offer you unlimited ideas.
If it was not obvious, loyalty tattoos post-care is a little different. It can mean more skin trauma and longer healing time. Avoid picking any scabs as it may pull the ink out and probably scar, making it difficult to touch-up.
If the tattoo is to be worn under clothing, its best to wrap it. This is especially important if your tattoo is more than just a line work.
Disclaimer:
All material on this article is provided for your information only and may not be construed as professional advice or instruction. No action should be taken based solely on the contents of this information; instead, readers should consult appropriate tattoo professionals on any matter related to getting inked.
While these tattoos become a part of you in a way, the loyalty tattoos are straightforward and earnest. So if you are the type of person who loves to keep it straight, then this is for you.