For women, getting a foot tattoo can be the most straightforward decision they can ever make because you can cover it up or show off whenever you want. Hence here we are listing some of the fantastic Foot tattoo ideas you can take inspiration from. However, we have organized them into categories so that it becomes easy for you to make a decision.
Types of Foot Tattoos
We have categorized foot tattoos into five types depending upon the location. Look out which side or part of your foot you'll love to get tattooed. Hence keep on reading to find out.
Side Foot Tattoo
Bottom Foot Tattoo
Full Foot Tattoo
Small Foot Tattoo
Ankle Foot Tattoo
Side Foot Tattoo
Tattoos that can be inked on the side part of your foot are known as side foot tattoos. And here are some side tattoos to look out for!
1. Motivational Quote Foot Tattoo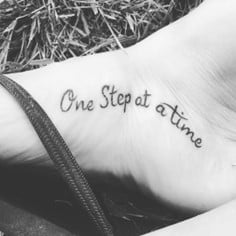 Source – Instagram(cruzsandau.adventurepack)
Women are expressive beings and getting a quote as a tattoo is a great way to express yourself. The 'One Step At A Time' quote is one of the most motivating quotes you can get inked over your foot. Since it makes perfect sense. However, you can get inked any quote you resonate the most with.
2. Minimalistic Side Foot Women Tattoo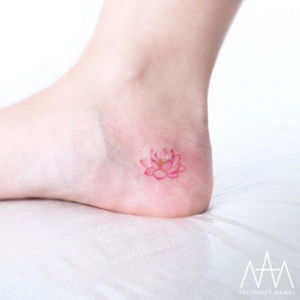 Source – Pinterest(TattooAdore)
If you are someone who is getting inked for the first time, minimalistic tattoos can be your pick. They look elegant and cool and the above picture is the perfect example of it. A simple design like a lotus symbolizes spirituality, knowledge, and illumination. Hence if you are someone who resonates with these things, this foot tattoo can be your choice.
3. Bird Foot Tattoo Design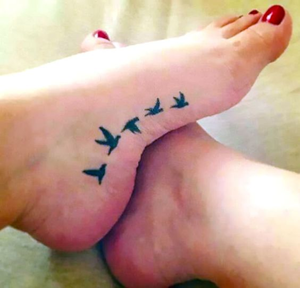 Source – Pinterest(Find Tattoo Designs) 
A unique bird design on a side foot can look pretty amazing as shown in the picture. The design is simple, seems effortless, and beautiful at the very first sight. Moreover, birds make for a classic statement tattoo too. They are simply versatile and timeless.  Also, they symbolize freedom, vitality, and spirituality. Hence if you are a woman who resonates with the symbolism should definitely consider the above design. Moreover, this design can be used as a wrist tattoo as well giving a cool look to your wrist altogether.
4. Nature-inspire Foot Tattoo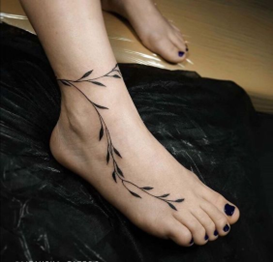 Source – Pinterest(Jdea)
If you are someone who loves adorning feet, then this design is for you. The above design is graceful, pleasant, and looks pretty cool. Leaves-based tattoos are classic statement designs that can be improvised by you according to your preference or your tattoo ideas.
5. Henna Design Foot Tattoo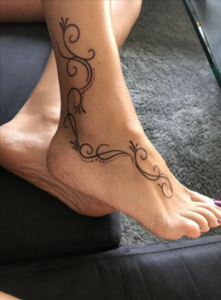 Source – Pinterest(TattoosBoyGirl)
If you are a big fan of henna designs, this tattoo can be your inspiration. It's super clean design and graceful look can make your foot stand out. Additionally, you can have this tattoo design inked at any body part of yours.
Bottom Foot Tattoo
Women are slowly getting inclined towards bottom foot tattoos and here are some cool tattoo design inspirations.
6. Arabic Design Inspired Flower Foot Tattoo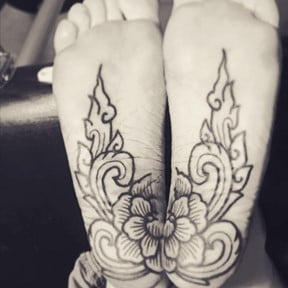 Source – Instagram(ink.tattoo.pl)
Flower-based tattoo designs can never go wrong. They are the ones that add beauty to your feet and look classic. As flower designs are versatile and statement designs you can easily opt for.
7. Mandala Form Foot Tattoo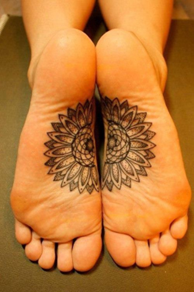 Source – Pinterest(Inked Magazine)
An eye-catchy mandala design is something you can consider for your foot tattoo. The intricate design and the detailing is the most amazing aspect of a mandala. More the detailing, the more beautiful it becomes. Also, you need to be sure of your tattoo artist if he/she can pull off such a complex design. So, before going for it, consult your tattoo artist.
8. Quote Bottom Foot Tattoo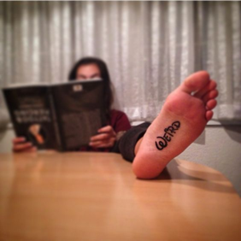 Source – Pinterest(Buzzfeed)
Getting inked at your foot is something you will never regret. So why not get it inked with something you relate with your soul. The above picture is picture-perfect, funny, and makes a lot of sense. If you are someone who identifies yourself as 'Weird' or some other word, here's your sign to get it inked.
9. Star Foot Tattoo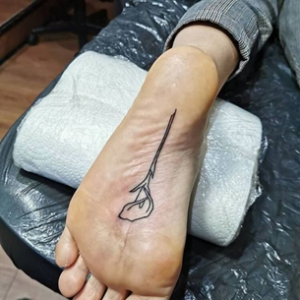 Source – Pinterest(Deavita.fr)
Getting inked at the bottom doesn't mean you need to mandatorily occupy the whole space. A simple rose like the above picture looks uber cool and is kinda perfect to have. Its simple, clear design is what makes it beautiful in its own way. Additionally, you can also use this design for your spine tattoo as well if you are thinking of going minimalistic.
10. Artistic Colorful Foot Tattoo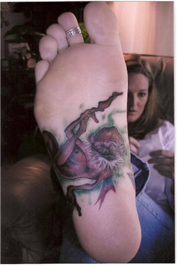 Source – Pinterest(A C)
Artistic tattoos have their own charm. They are beyond everyone's imagination and look refreshing. Moreover, colors accentuate the design even more as you can look into the above image. So, get your favorite character inked and add beauty to your foot with foot tattoos.
Full Foot Tattoo
Tattoo designs that cover the foot are full foot tattoos. And here are some statement-making design inspirations.
11. Rose Foot Tattoo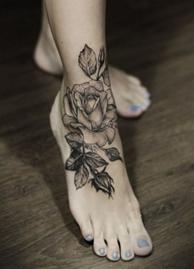 Source – Pinterest(Allwomenstalk – girl rules)
We all are aware of the beauty of a rose. They are super elegant and can make any foot look graceful. And that's the beauty of a rose, the king of flowers. In the above picture, you can see how beautiful the design is, making the foot even more pleasing. Also, this design can work really well as a rib tattoo because the floral designs can never go wrong.
12. Tribal Foot Tattoo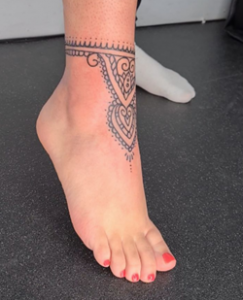 Source – Instagram(ninareymondtattoo)
This tribal tattoo design took our breath away. It is super clean, refreshing, unique, and eye-catchy. All adjectives may fall short of this beauty. The design of this tattoo is 10 on 10. Simply effortless. So if you love mandala designs, we would definitely recommend this foot tattoo.
13. Butterfly + Wild Flower Foot Tattoo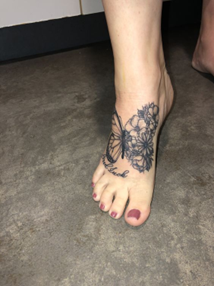 Source – Pinterest(Orilodwick)
A unique combination of butterfly and wildflower is simply unconventional. Moreover, the detailing of this particular design is above par. The crux of the design is butterfly and flower, the ultimate and most common tattoo designs clubbed together to complement each other beautifully. Hence if you are a fan of both of these(butterfly and flower), then what are you waiting for?
14. Sun and Moon Foot Tattoo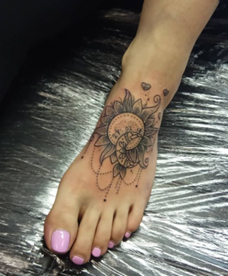 Source – Pinterest(kickassthings)
If you are someone who believes in tattoos that has meaning or a message, what's better than sun and moon tattoo designs that hold deep life lessons. The sun and moon have been the subject of arts, poetry expressing different feelings, and lessons altogether. And here is one mesmerizing foot tattoo design for women which will make you go awestruck. The beautiful sun and moon merged together to make up for a perfect tattoo design one cannot ignore. Hence, save this picture and get yourself inked with this beautiful one.
15. Fiery Foot Tattoo Design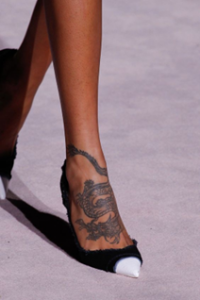 Source – Pinterest(Vogue Magazine)
A snake in a foot tattoo looks extremely desirable and is mostly looked upon. They give out a clear-cut message of being fierce, powerful, and invincible. Hence if you have a powerful personality, I guess, you don't need to search further for tattoo designs. Just go for this one and showcase the powerhouse you are. Additionally, you can use this design for your arm tattoo as well to show off your fierce personality clearly.
Ankle Foot Tattoos
Did you know Ankle tattoos are the most preferred place for women? Yes, they are and will be in the future. So here are some uber-cool ankle tattoos you should be looking at.
16. Bracelet-like Ankle Foot Tattoo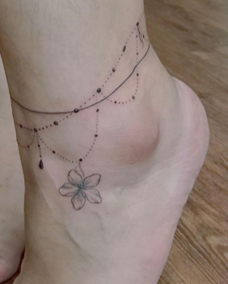 Source – Pinterest(Dicas De Mulher)
Here's an idea, if you love wearing anklets, get yourself a permanent one. As you can see in the above picture, this leaf-based anklet looks damn pretty and any woman can pull this off with utter grace. It looks cute, unique, and enticing for sure. Hence, if you are a fan of anklets, do consider this design.
17. Leaf Design Ankle Foot Tattoo
Source – Pinterest(Tattoo2me Tatuagem)
This one is a classic timeless tattoo design one can go for. It is minimalist in nature and looks super cool on the ankle. Moreover, it adds an oomph to your personality. Also, it makes you fall in love with its beautiful sight. So, if this tattoo had your heart just like mine, go for it without any second thoughts.
18. Tiny Ankle Foot Tattoo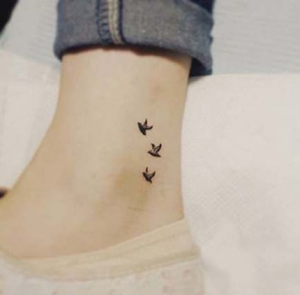 Source – Pinterest(Society19)
Here's to the teenie tiny tattoo one can go for. It is simple, looks super cute, and is easy to hide if you want to. Moreover, birds are versatile ones and can never go wrong. Also, their site itself is calming and one can easily resonate with this design. So if you can relate to this design, get this inked. Also, this design would definitely look awesome as neck tattoos as well. Do think about it.
19. Decorative Ankle Foot Tattoo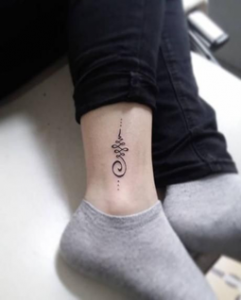 Pinterest – Source(es.paperblog)
This is another small ankle foot tattoo you can opt for if you love decorative designs. Adorning your ankle with these kinds of designs can never turn out to be a bad idea. They look simply stunning. So, go and save this one for your next tattoo appointment. Moreover, you can also use this design for your finger tattoo as well.
20. Butterfly Inspired Foot Ankle Tattoo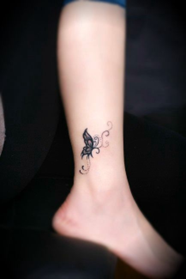 Source – Pinterest(Medium)
Butterflies are beautiful creatures one cannot get their eyes off. They are colorful and an inspiration to many of us. It tells us to keep up the faith and believe in the transformation. Hence, that's the reason many women go with butterfly designs because they are beautiful and meaningful as well.
21. Sunflower Ankle Foot Tattoo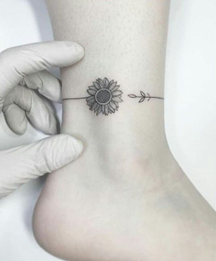 Source – Pinterest(Inspirationfeed)
This sunflower design ankle tattoo is the cutest thing you'll find on the internet today. Just look at the sunflower, isn't it giving you all the right vibes. Well, if you think you are the sunshine in everyone's life, we will totally recommend this tattoo.
Other Foot Tattoos
22. Adorn Your Ankles
A lot of women like to have a foot tattoo around their ankles. It looks a little like an anklet and is a wonderful way to accentuate this part of the feet. There are tons of designs that you can have, but most women prefer to have something which goes around their foot. Here are a few designs.
[Also Read: How To Prevent Blisters]
[sc:mediad]
23. Animal Motifs
If you are an animal lover, you can show your love to them by having an animal symbol tattooed on your feet. You can either have a coloured or a black and white tattoo depending on your preference. So, you can have a cute owl as shown below or it can even be some other bird. The choice is yours!
24. Rope in your love for your pet
Sometimes pet owners also pay tribute to their pets with the help of these tattoos. For
Sometimes pet owners also pay tribute to their pets with the help of these tattoos. For instance if you are a dog lover, you can have the paw print of your pet and can base a design on your foot with that as the center. It's a great idea and your pet will always remain close to your heart.
[Also Read: Labret Piercing]
25. Immortalize your favourite quote
We all have that one quote which inspires us to move forward in life. We would love to have something inspiring to see each and every day and what better way to have it than to have a beautiful tattoo of the same. There are tons of different fonts that tattoo artists can use to have your quote on your foot. Just make sure that all the spellings are alright! A tattoo is a permanent item and one spelling mistake can ruin it and make you a laughing stock.
So, research very well if you want to have a foreign language sentence tattooed. Also, while having English sentences tattooed, double check all the spellings and make sure every t is crossed.
26. Tattoo your Zodiac Sign
Whether you are the calm Libra or the fiery Taurus, you can flaunt your sun sign in the form of a tattoo too. It is not necessary to have the sign of the zodiac tattooed, but you can have some symbol or motif of your sun sign tattooed.
[sc:mediad]
27. Quote your Favourite Movie or Book
Besides an inspiring quote, you may still have certain dialogues from movies or lines from books which have a special meaning for you. You can get these tattooed on yourself too.
We'll leave you with more 15 foot tattoo designs
[sc:mediad]
There you have it! A compilation of 42 cool and trendy foot tattoos that you will love to get right now. Whether you're looking for a unique and creative tattoo that will turn heads, or something that will commemorate a special event, these tattoos will have everything you're looking for! Be sure to check out our website for more updates about the latest tattoo trends and designs!
Things To Know About Foot Tattoos
Before you decide to get a foot tattoo, don't think at all that this place would hurt less. Some parts may not be as painful but it totally depends on your tolerance power. So, if you have low tolerance, getting inked on the foot would be a challenging part for you because the foot is mostly bone, skin, and little fleshy parts. Even if you choose your sole to get inked, it would still hurt. So, before deciding to get the tattoo done, make sure you have already considered all the products used for decreasing pain. For instance, pain-relieving cream or spray.
Foot Tattoo After-Care
Having a foot tattoo done is just winning half a battle. How appealing your tattoo will look all depends on how you will take care of it.
Forget wearing shoes for 3-4 weeks.
Your feet must be covered until the pain heals.
Try to keep your foot clean and dry as much as possible
Hence these are things you need to take care of after getting a foot tattoo.