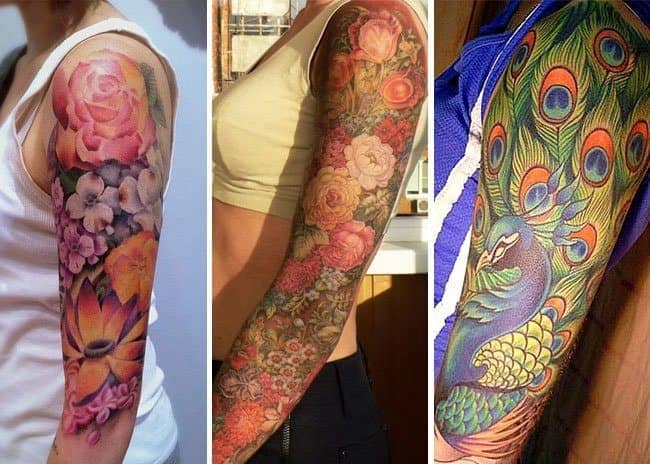 Getting inked? Heck yeah!! The first tattoos most people get are the most special to them. However, it's also the most modified or covered up tattoo as well. Because people initially have zero knowledge about tattoos and what they should be getting or even where they should be getting the tattoo. That is why this article will cover a wide variety of womens arm tattoos and what they mean. But don't shy away from getting tattoos on other body parts like your finger, finger tattoos are the new trend these days.
How to take care of your tattoo?
You must know that tattoos are forever but how long will they keep looking good? Depends upon how well you take care of the tattoo. Many people think getting inked is just a one and done deal but that is furthest from the truth.
Tattoos require proper care and maintenance similar to every other good thing in life. This is especially true in the initial stages of the tattoo. So, here is how you can take care of your tattoos:
After getting a new tattoo, the first and foremost thing is to cover your tattoo in a thin layer of petroleum jelly and saran wrap.
After 24 hours take off the saran wrap and wash the area with antibacterial soap. Don't forget to pat dry the area rather than scrubbing it.
Now just apply vaseline twice a day without putting on the saran wrap. This will help keep the area moisturised and healthy.
60 Best arm tattoo designs for women
We have got for you some beautiful arm tattoo designs for women. These are done on the arms, but you can get them done anywhere you wish. Make sure that if your tattoo designs are big, choose a larger area for canvassing the entire picture beautifully.
1. Fade into calmness
The artist has created a faded out effect. Clean lines and minimalism are the main focus. Of course, you need to find a tattoo artist who can actually do the faded out effect. Good luck with that, it is not gonna be easy.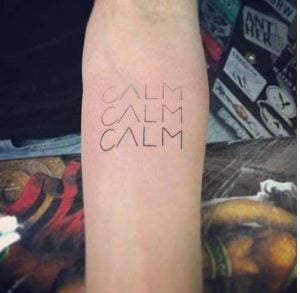 [Source – Pinterest – GIOVANNA FARIA]
2. Tri-Angle Life
Minimalism is taken to another level with this tattoo design. These arm designs are arresting. Just the small triangle on both the arms are all it takes to create a unique piece of art.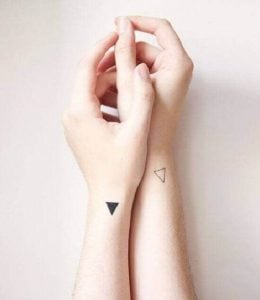 [Source – Pinterest – Brit + Co]
3. Emotions to words
You can get a word, phrase or a quote that you love tattooed onto your arm. Try having them done in unique places and from different angles.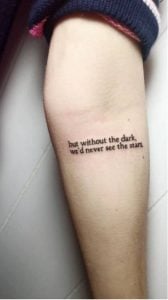 [Source – Pinterest – Self Tattoo]
4. Flower Power
Of course, flowers are an ever-popular arm tattoo design. You can either go in for a colour tattoo or keep it black and white. A lot of people get these kinds of tattoos on their feet as well.

[Source – Pinterest – Colossal]
5. Upper Arm Beauty
Half sleeve tattoos cover the entire upper arm and look like a sleeve covering the skin, hence the name. These are definitely not for the faint-hearted.
[Source – Pinterest – Meagan Bilodeau]
6. Armband Tattoos
This design wraps around the arm much like an armband. Similar tattoo designs for women are endless.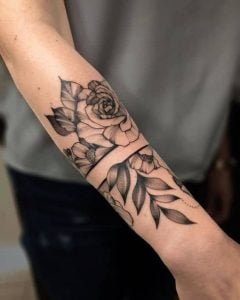 [Source – Pinterest – Outsons]
7. Dreamy Luck
A dream catcher is designed for those free spirits who love to dream, who live in a world of their own, sailing through life as if they're floating in the air. Also, these are associated with good omen and keep bad dreams away.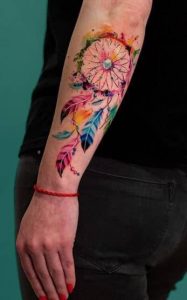 [Source – Pinterest – Tattoo Me Now]
8. The Devil is a woman
This tattoo signifies that you are a strong woman, perhaps the strongest of them all. The tattoo exudes confidence and power. Just replicating this piece of art can be challenging, let alone customising/modifying it. Hats off to the artist for making the sidearm tattoo so detailed, each and every line is distinguishable portraying excellent use of colours.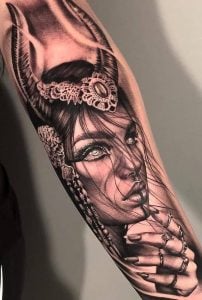 [Source – Pinterest – Her Way]
9. Medusa with a twist
The portrait of Medusa in this tattoo is enhanced with a sort of puzzle. It adds more depth to the tattoo, which will make anyone think about what the artist intended to express through this piece of art. Your upper arm would be the best place to get this tattoo, as it takes up a lot of space.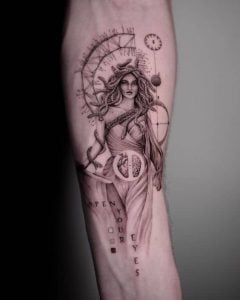 [Source – Pinterest – iNKPPL]
10. Sassy Hands
One of the most popular tattoo design ideas amongst women. It actually looks like a painted fabric draped over the arm. But don't let this amazing design end at your arm, extend it to your neck. In case you are looking for neck tattoos checkout the list of the best neck tattoos.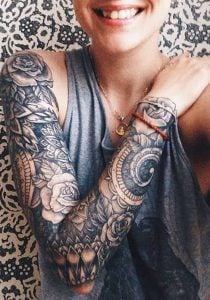 [Source – Pinterest – MyBodiArt]
11. Owl Howl
The owl has a distinctive appearance that will draw the attention of onlookers. This tattoo can be interpreted in a variety of ways, making it a highly intuitive tattoo for women.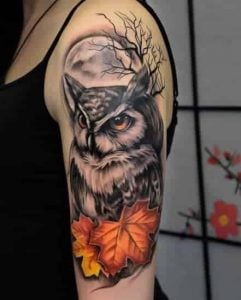 [Source – Pinterest – Stylesatlife]
12. Phoenix Legacy
A phoenix signifies strength and an unwavering will of never giving up. As the phoenix itself rises from the ashes of its own dead body.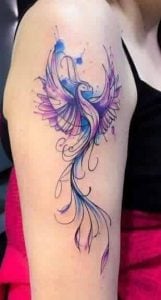 [Source – Pinterest – TattMag]
13. Stairway To Endless Love
A cute cherub kid. Could signify good luck and love. You could get this tattoo on your forearm or upper arm. But don't just limit yourself to the arm, you can get this tattoo on your rib as well.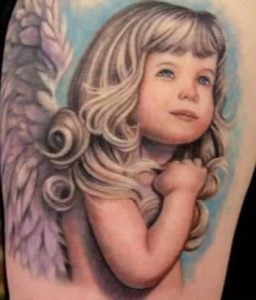 [Source – Pinterest – Jennifer Stroman]
14. Colours Infusion
Of course, you cannot ignore the faces in the tattoo. With its vivid colour, it translates excellently into a tattoo. But this is not for everyone. Some people might find it too vibrant for their liking.
Butterfly and peacock tattoos are most famous among women and young girls.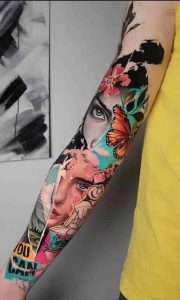 [Source – Pinterest – jessica boaglio]
15. Bird Tattoo
Such a simple yet sweet design. It can be interpreted in a number of ways. It could mean that the birds represent freedom & hope, or are symbolic of life's journey. How you interpret it depends on your personal understanding of the design and what it means to you. The women's tattoo design of small birds flying can be done either one at a time or all at once depending upon your pain tolerance.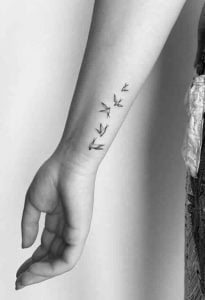 [Source – Pinterest – TheTatt]
16. Aztec Tattoo
Graphic geometric patterns and tribal designs make for excellent tattoos. These sleeve tattoos look like a fabric covered over your arm.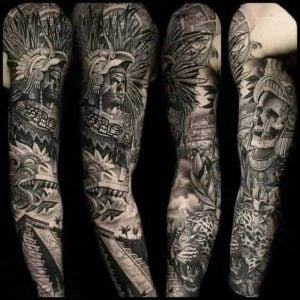 [Source – Pinterest – The Body is a Canvas]
17. Bird of Prey
The Lower arm tattoo of a female Aztek huntress within a silhouette of a bird represents strength and prosperity. It's a unique design for modern strong women.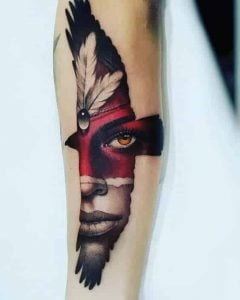 [Source – Pinterest – Beatriz Mello]
18. Solar Eclipse
The tattoo depicts rare natural occurrences, such as a solar eclipse. The way a much smaller Moon covers the massive Sun, symbolising our ability to achieve anything. Even the tattoo is one-of-a-kind. The artist has given the celestial bodies human facial expressions that will linger in the imaginations of viewers.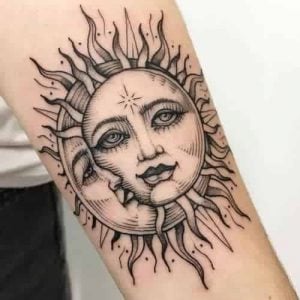 [Source – Pinterest – SooShell]
19. Geometry & Buddha
Everything in this physical universe is made up of Geometry. And who can explain the universe better than Lord Buddha? That's why the artist has created a custom tattoo which showcases Buddha emerging from the infinite conjunction of shapes. The tattoo is trying to convey that just like the universe everything else will also come to an end at some point.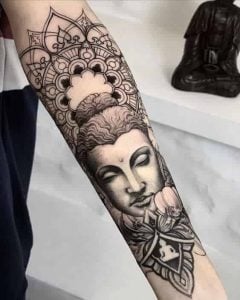 [Source – Pinterest – Tattoo-Spirit]
20. Colour Splash
This sleeve tattoo represents nature taking over after humans have gone extinct. With so many colours, it looks lived in.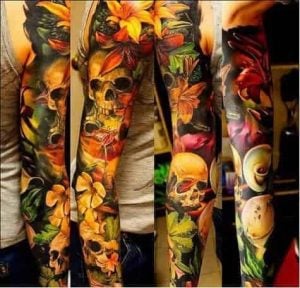 [Source – Pinterest – Tediado]
21. Mighty & strong
The elephant tattoo looks great. But if you are planning to get an animal design, make sure they mean something to you. You cannot just get random animals tattooed onto your skin.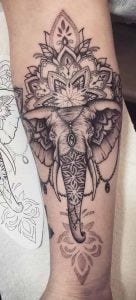 [Source – Pinterest – Carmen]
22. Pine Your Way Through Life
A pine tree that looks so fragile and yet so alive at the same time. This tattoo doesn't take much space so you could get it at any part of your body.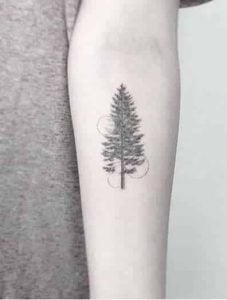 [Source – Pinterest – Tattoofilter]
23. Deep And Small
A very feminine floral design. Apart from flowers, women's butterfly tattoo designs are also very feminine and look extremely cute when done on the nape of the neck, shoulders, back, at the ankle, and so on.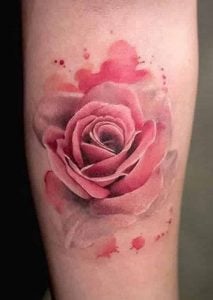 [Source – Pinterest – MyBodiArt]
24. Scattering Butterfly
Butterflies are pretty common but you have to accept the fact that this one is something else entirely. From one perspective it shows the anatomy of a butterfly and from another how even the most beautiful things in the world come to an end.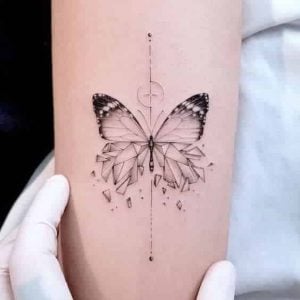 [Source – Pinterest – Our Mindful Life]
25. Directional Life
These designs of arrows are done in a tribal/Aztec pattern. These are very popular amongst couples as Couple tattoos show their love and affection for each other.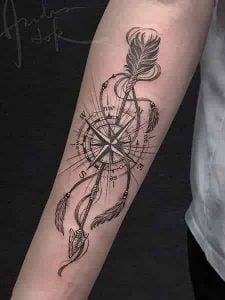 [Source – Pinterest – TheTrendSpotter]
26. Mythical Lady
If you are into abstract and mythological art, this tattoo should interest you. The tattoo is drawn with reference to all things found in nature from the shapes to the beings. The only words that can do justice to this tattoo are "astonishingly creative".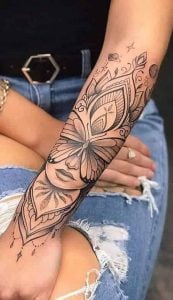 [Source – Pinterest – SooShell]
27. The Wanderer
Unleash the wanderer in you, and explore more. The lower arm tattoo for women represents love for travel.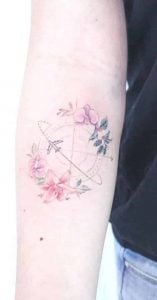 [Source – Pinterest – MyBodiArt]
28. Mandala Tattoo
This colourful mandala on your arm has a secret behind its beauty and enchantment. Make sure you get this tattoo done by a seasoned artist because it needs a lot of intricate detailing.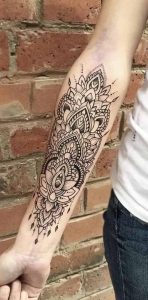 [Source – Pinterest – MyBodiArt]
29. Lace Sleeve Tattoo
This extremely fashionable tattoo doesn't require full sleeves outfits to bring in the sexy!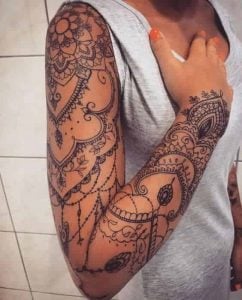 [Source – Pinterest – Kath Rin]
30. Express Don't Scream
This tattoo might show your love and admiration for quotes, phrases or something someone said to you that inspired you and the writings you believe in.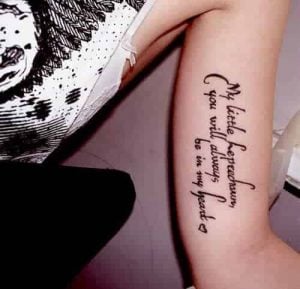 [Source – Pinterest – Tattoos Women]
31. Take a break
The tattoo represents a complete day, morning on top & night at the bottom. The space in the middle signifies the importance of a break that people should take to enjoy the smaller things in life.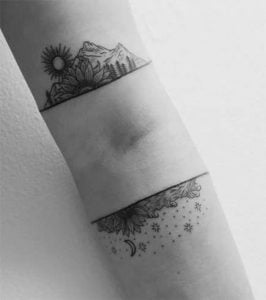 [Source – Pinterest -auts]
32. Love for The Ocean
See this mermaid themed tattoo, that signifies love for water and everything within.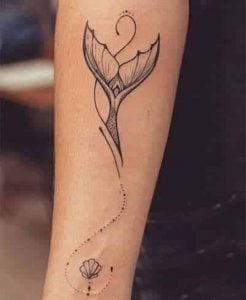 [Source – Pinterest -Jessica Lorraine]
33. White Ink Tattoos
This is a perception tattoo, as some people perceive white as all things good and beautiful. So if you are one of those, go ahead. Besides tattoos you could also go for white henna designs for body art.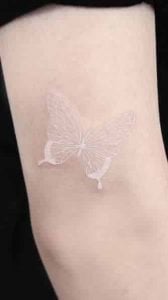 [Source – Pinterest -Self Tattoo]
34. Directional Life
This compass is not ordinary but has been tattooed with a beautiful vibe and represents your direction in life. Life can never be directionless.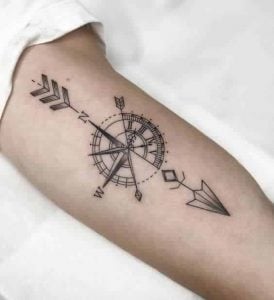 [Source – Pinterest -IdeasDonuts]
35. Quill of many words
A feather tattoo. A little whimsical, a little dreamy. This is one of the most common arm tattoo designs for girls.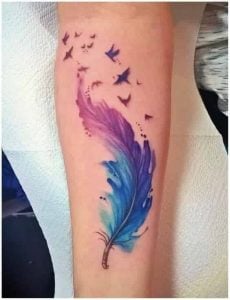 [Source – Pinterest – Inspirationfeed]
36. One In A Million
Placed right at your forearm. It can be a palm print or two people walking hand in hand. A unique design comes from a one in a million artist. This is a very intricately done tattoo design that needs a fine hand to create.
[Also Read: Best Realistic Watercolour Tattoo]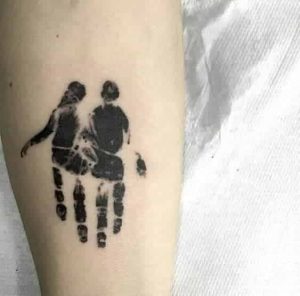 [Source – Pinterest – TattoosBoyGirl]
37. Foxy Life
This geometric fox has so much depth to the design at the first sight itself. Who wouldn't love this?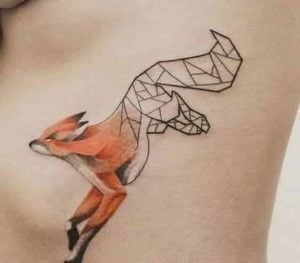 [Source – Pinterest -Emily]
38. Ferocious Leader
Tiger tattoos are common. What makes this beautifully curated tattoo any different? See for yourself.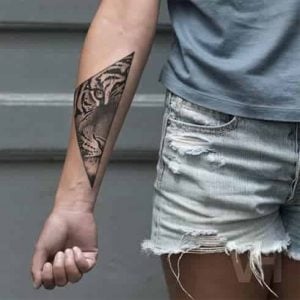 [Source – Pinterest -Tattoodo]
39. Family Love
A tattoo design that shows love for your family is always enchanting. This particular one is very ingenious and unique.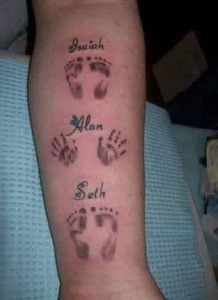 [Source – Pinterest – Anthony Jones]
40. Screaming Sexy
The three slashes look like a wild animal clawed at her. Very intense, the artist has conveyed the significance through four small lines.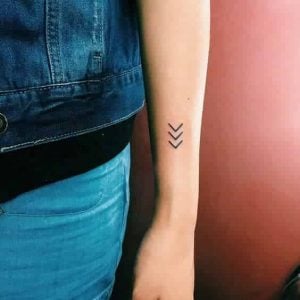 [Source – Pinterest – The Mighty]
41. Role Model Tattoo
Each one of us has different role models, it can be a celebrity, an industrialist or even our parents. So tattoo your role model on your arm, and be inspired each moment.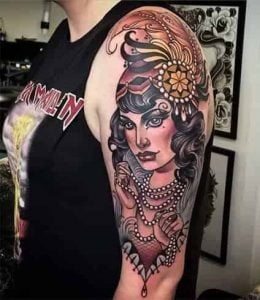 [Source – Pinterest -Dubuddha tattoo]
42. Over The Moon
These kinds of tattoos generally don't have any specific meaning behind them but they make for very intuitive body art. Although, most enthusiasts use these tattoos to express their feelings for a loved one.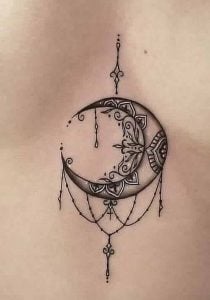 [Source – Pinterest – SooShell]
43. Of Patterns
This design might take a bit of accuracy and time. But the end result is trippy and just what you'd love. You might want to sit down with your artist to come up with a unique design, as a lot of people have these tattoos.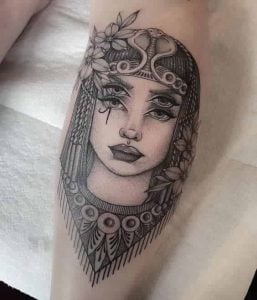 [Source – Pinterest – Outsons]
44. Roman Dates
Have you ever thought of getting an important date tattooed? Why not do it the roman way?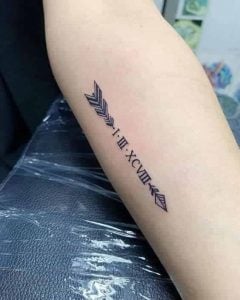 [Source – Pinterest – Prodsec]
45. Strings of Life
For all you people seeking closure and those deep thinkers. This tattoo is something you'll relate to, broken strings represent sudden detachment from people you loved and cared about. Do you know where else this tattoo would look great? Your spine. Or checkout the best spine tattoos.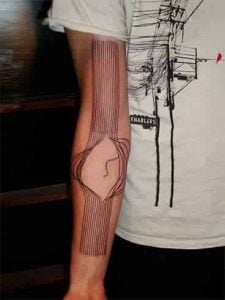 [Source – Pinterest – Next Luxury]
46. Free Spirit
This particular tattoo has a Moth but you don't have to get a Moth tattooed on your arm. Get something that lifts your mood. If you have a spirit animal why not go for that? In case you are into insect tattoos here is a list of dragonfly tattoos to inspire you.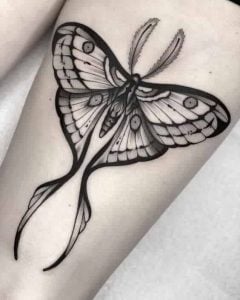 [Source – Pinterest – Youseffeili]
47. Highway To Heaven
Angel wings to make you feel like a guardian is always at your side. A colourful tattoo of a wing will look great on your forearm or biceps.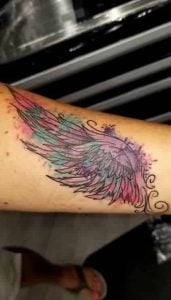 [Source – Pinterest – Tattoo Me Now]
48. Random Interests
Let's face it you might love more than one thing. And getting them all tattooed on your arm can be a great idea if done properly. So, find an experienced tattoo artist for this one.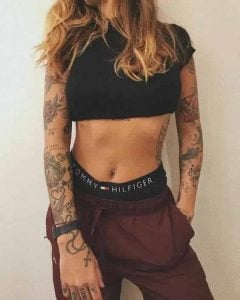 [Source – Pinterest – Wattpad]
49. Pause & Play
The "Pause & Play" tattoo to tune your life. It's simple yet classy, giving you a neat and clean look. Get this tattoo on the side of your arm, possibly near the wrist.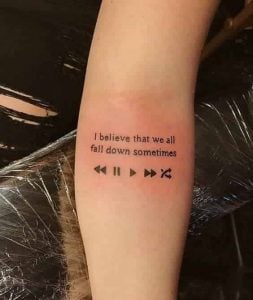 [Source – Pinterest – We Heart It]
50. Stars for a star
A forearm tattoo of stars is ideal for women who adore gazing at the glittering stars in the night sky. You can also get each star separately for when you achieve something in life, such as checking items off your bucket list or getting a promotion, the possibilities are endless.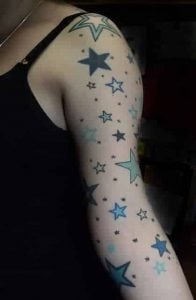 [Source – Pinterest – Nat Bkr]
51. Tribal Trouble
A tattoo of a gorgeous woman dressed in tribal garb makes perfect sense. Everything about her is unique and captivating. The artist has gone all out to give her a gorgeous face with dangerous intent, from the makeup to the jewellery. You can get this tattoo on your sidearm or upper arm.
[Source – Pinterest – TattooMagZ]
52. Sky and Sea Meet
This abstract arm tattoo of a sky and sea tells us that there is no limit, we can go from being nothing to everything.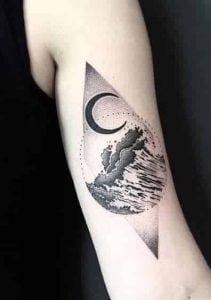 [Source – Pinterest -calah]
53. The Many Masks We Put On
Everyone wears a mask to hide their true identity from others. They are afraid of what others will think of them? And it doesn't stop there; we all have different masks for different people, including ones for our friends, family, and others. These tattoos are very intuitive and thought provoking.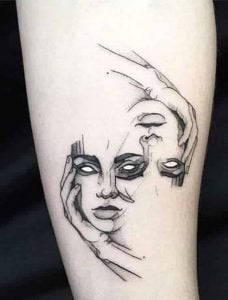 [Source – Pinterest – Chronic Ink Tattoo]
54. Birdies
We have all seen snakes, lions and whatnot turned into tattoos but rarely do we come across such designs for birds. The bird duo represents how two different people can live together in harmony.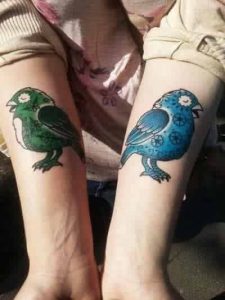 [Source – Pinterest – Nicole Daniels]
55. Dog with a monocle
Sometimes all it takes is a special aspect of your life. A person, a pet or anything else. You don't have to think like Shakespeare to get a new tattoo. Like this tattoo of her pet in a monocle. It's simple, cute and interesting.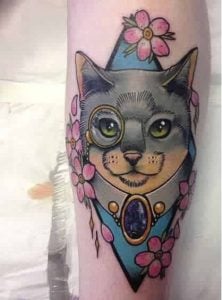 [Source – Pinterest – Melissa Meszaros]
56. An Unusual Bouquet
This bouquet is out to impress any lady, in order to get this on her arm. Combining natural beauty with an art twist is an ideal choice.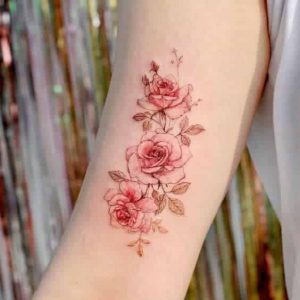 [Source – Pinterest -Beautyholo]
57. Lavender Dream
This is the pick of any girl who wants to get a tattoo but something not too flamboyant. It defines a delicate soul with a rebellious attitude.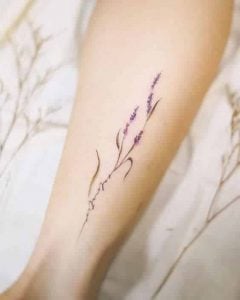 [Source – Pinterest -Beautyholo]
58. Blue is the warmest colour
This intense blue coloured floral tattoo is the best outlook when it comes to floral tattoos. Grabbing all attention, it is a delight for all fans of this colour.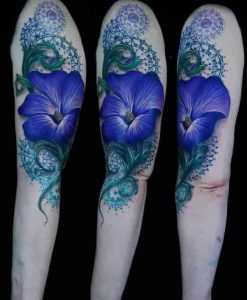 [Source – Pinterest -A C]
59. Ink Bracelet
Ever thought of such a classy bracelet? Be unique, and get this delicate tulip bracelet tattoo. In case you like this one, here is a list of the best wrist tattoos for girls.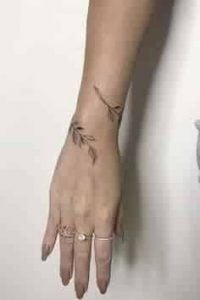 [Source – Pinterest -POP SUGAR]
60. Warrior Princess
Not quite Game of thrones but definitely inspired by Cersei. This tattoo captures the ferocity of a vengeful mother and calmness of a queen. This tattoo will look great on your upper arm or forearm.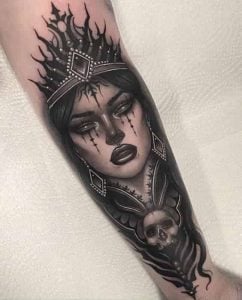 [Source – Pinterest -Tattoodo]
The bottom line is to do your research and get an idea about what you're looking for. You can also talk to the artist about what you want, as they have years of expertise they can help you visualise your thoughts and ideas. Finally, the hope is this helped you find the best arm tattoo design for yourself.