Tattoo designs are as permanent as it can get. It is liberating, exhilarating, and stays on forever. While some love to ink their entire leg, back and arms with tattoo, there are some others, who prefer dainty designs. If you have been holding back your plan of getting one on account of pain alone, then trust us, it won't hurt as much.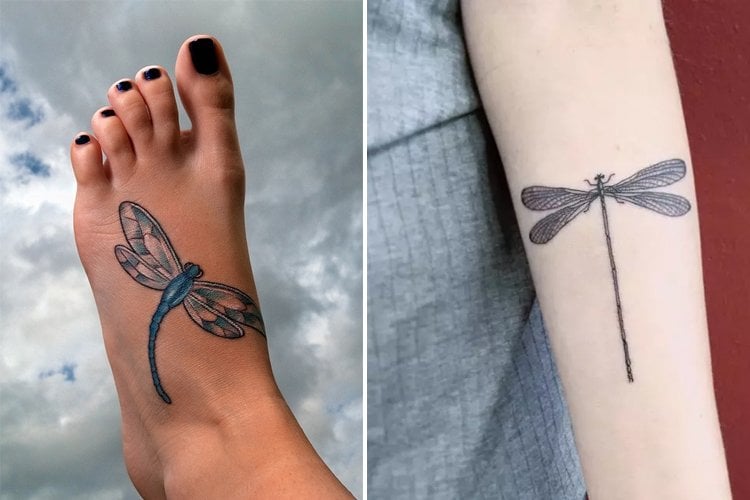 Top 15 Dragonfly Tattoo Ideas
If you are half convinced with this or just prefer a minimal design like a dragonfly over a full sleeve or arm, then we've compiled 15 dragonfly tattoos that are simple and meaningful.
1. Flower and Dragonfly Tattoo
Floral dragonfly tattoo designs make for a beautiful visual. Get yourself a floral spread tattoo along with a dragonfly design. Tiny roses or petals with dragonfly designs can make for pretty designs for arms.
2. Dragonfly with Text Tattoo
Love words and quotes? We don't blame you. Take your words-loving heart and paste it onto your sleeves. Adding words makes for a more customized version of the tattoo. Whether it is your favorite nickname or phrases, this flowing script design can look as good as the other.
3. Watercolor Dragonfly Tattoo
You may know that watercolor tattoos are generally more contrasting in comparison to the traditional ones as seen in the image. There are no bold or stark outlines, and no proper procedures on how to color it. A watercolor dragonfly can make an equally beautifully mess that watercolors can provide.
4. The dangling design
Even though the body can seem a little crooked, the overall design of this piece is simply gorgeous. You can also come up with creative designs similar to this one.
5. Black Work Shin Dragonfly Tattoo
The geometric accents are pretty impressive but what grabs our attention is the transition of the black ink in the middle of the design.
6. Single Needle Dragonfly
For something unique, pick a small needle outline for dragonfly tattoo designs. You can see how delicate the little dragonfly turned out to be in the image.
7. Abstract Dragonfly Work
This is a popular tattoo design choice for most people. It is clean, simple, and yet makes a dramatic finish. You can add a longer tail to the dragonfly than usual for a more whimsical touch.
8. Fanciful Dragonfly Tattoo
This is another quirky dragonfly design which has a more fluid nature. It features an abstract design with proper outlines and does not seem like the traditional ones.
9. Negative Space Dragonfly Piece
Most times, negative space design goes unnoticed especially if you are not adding anything meaningful to the image. It may as well remain invisible. But if you fill this area with something drastic like a dragonfly piece, then it can transform the way we look. Originally created in European countries, negative space tattoos are popular amongst youth and now this trend is a adopted all over the world by lovers to express their heart out.
10. Fairy like Dragonfly Tattoo
This design makes use of simple colors but gives out a drastic effect. The wings are kept light for a subtle effect. This allows giving a fairly like feeling to the dragonfly tattoo. This is for girls who love a feminine touch.
11. Small Dragonfly Tattoo on Wrist
Your spectrum of dragonfly tattoo designs may be wide, but you can have your entire body painted in several designs and still not have everything you'd want. For an extremely tiny tattoo on wrist, pick a small outline or sign. Tattoo designs like the dragonfly will appeal to those who love minimal designs. And besides it all, it looks cute!
12. Airbrush Dragonfly Design
Now with the help of airbrush tattoos, you can fulfill your wish of getting a dragonfly design. As it does not involve any pain while designing and is even safer, you can try some cool versions of the airbrush designs. If you prefer your tattoo to stay on longer, then try permanent airbrush tattoo which can fade with ageing but cannot be removed completely. They remain permanently on the body. There are a number of airbrush dragonfly designs available online which you can choose to suit your personality in the best way possible.
13. Red and yellow dragonfly tattoo
Since we do not limit our wardrobe or makeup to just plain black and white, why not with tattoos? Some of the best tattoos are made up of the brightest colors. A colorful dragonfly tattoo as shown in the image can be exactly same as black and white tattoo but tattoo artists can use the brightest borderline inks. And the truth is all tattoos fade with time, but the colorful ones definitely fade faster compared to black ones. So to keep your colored dragonfly tattoo intact, rub some sunscreen over it daily to keep from fading faster.
14. The Neck Dragonfly Tattoo
Neck tattoos are a bold choice. They are fast becoming a popular choice for both men and women. If you really love a statement tattoo, then a neck tattoo can be ideal for you. If you are looking to get a neck tattoo, you should be willing to be in submission to the designs. There are a wide variety of sizes that you can choose from and you should be mindful that you cannot hide them. So something at the base of your neck or behind your ears can be fairly easy to conceal. A dragonfly tattoo idea for instance can be a cool choice. If this is a tattoo choice that you would love to go for, you should consider using in more color as well, since the effects that can be created will bring more depth to the design.
15. Lowly Foot Tattoo
The dragonfly tattoo shown in the image has a three-dimensional design to it with a color scheme that is spectacular. The sheen used on top of the head gives an appearance of two large eyes.
These are our top favorite of dragonfly tattoos on different areas of body. Do you have a favorite? Shoot a comment below.